Abstract

This paper essays collision-free avoidance maneuvers of a quadrotor aircraft. We use the artificial potential field method via a scheme, known as the Lyapunov-based control scheme to extract the inputs of the control laws that will be utilized to govern the autonomous navigation of the quadrotor. The hollow cylinder, which becomes an obstacle for the quadrotor, is avoided via the minimum distance technique. The surface wall of the cylinder is avoided whereby we compute the minimum Euclidean distance from the centre of the quadrotor to the surface wall of the cylinder and then avoid this resultant point. The quadrotor autonomously navigates itself past the obstacle to reach its target. The effectiveness of the proposed nonlinear control inputs are demonstrated of a virtual scenario via a computer simulation.
Keywords
Cylindrical obstacle

Quadrotor

Minimum distance technique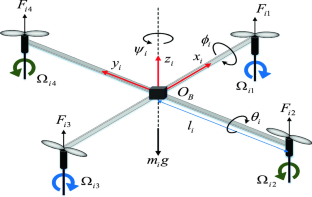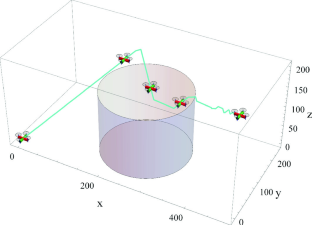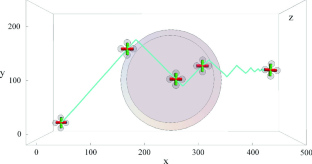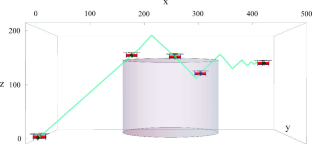 References
K.D. Nguyen, C. Ha, Design of synchronization controller for the station-keeping hovering mode of quad-rotor unmanned aerial vehicles. Int. J. Aeronaut. Space Sci. 20(1), 228–237 (2019)

H. Shraim, A. Awada, R. Youness, A survey on quadrotors: configurations, modeling and identification, control, collision avoidance, fault diagnosis and tolerant control. IEEE Aerospace Electron. Syst. Mag. 33(7), 14–33 (2018). July

K. Raghuwaiya, S. Singh, Formation types of multiple steerable 1-trailer mobile robots via split/rejoin maneuvers. N. Z. J. Math. 43, 7–21 (2013)

B.N. Sharma, J. Raj, J. Vanualailai, Navigation of carlike robots in an extended dynamic environment with swarm avoidance. Int. J. Robust Nonlinear Control 28(2), 678–698 (2018)

JJ. Raj, K. Raghuwaiya, S. Singh, B. Sharma, J. Vanualailai, Swarming intelligence of 1-trailer systems, in Advanced Computer and Communication Engineering Technology, ed. by H. A. Sulaiman, M. A. Othman, M.F.I. Othman, Y.A. Rahim, N.C. Pee (Springer International Publishing, Cham, 2016), pp. 251–264

J. Vanualailai, J. Ha, S. Nakagiri, A solution to the two-dimensional findpath problem. Dynamics Stability Syst. 13, 373–401 (1998)

K. Raghuwaiya, B. Sharma, J. Vanualailai, Leader-follower based locally rigid formation control. J. Adv. Transport. 1–14, 2018 (2018)

B. Sharma. New Directions in the Applications of the Lyapunov-based Control Scheme to the Findpath Problem. Ph.D. thesis, University of the South Pacific, Suva, Fiji Islands, July 2008
Copyright information

© 2021 Springer Nature Singapore Pte Ltd.
About this paper
Cite this paper
Vanualailai, J., Raj, J., Raghuwaiya, K. (2021). Autonomous Quadrotor Maneuvers in a 3D Complex Environment. In: Bhatia, S.K., Tiwari, S., Ruidan, S., Trivedi, M.C., Mishra, K.K. (eds) Advances in Computer, Communication and Computational Sciences. Advances in Intelligent Systems and Computing, vol 1158. Springer, Singapore. https://doi.org/10.1007/978-981-15-4409-5_20
DOI: https://doi.org/10.1007/978-981-15-4409-5_20

Published:

Publisher Name: Springer, Singapore

Print ISBN: 978-981-15-4408-8

Online ISBN: 978-981-15-4409-5