Abstract

The aim of this work is to respond to the need to rethink the behavior and motivation of employees in their relationship with managers and social groups, i.e., one's main goal is based on increasing engagement in order to reach organizational goals and job workers satisfaction, a complex concept that is influenced by different causes. Indeed, in this work it is analyzed the impact of working conditions on job satisfaction. This is where attention is drawn to the concept of entropy, since we are not focusing on the value a variable can take, but on the effort that has been expended to obtain it. The idea of entropy comes from a principle of thermodynamics dealing with energy. It usually refers to the idea that everything in the universe eventually moves from order to disorder, and entropy is the measurement of that change, that is used here to understand and assess the workers behavior and motivation. The subsequent formal model is based on a set of logical structures for knowledge representation and reasoning that conform to the above entropic view, then leading to an Artificial Neural Network approach to computation, an archetypal that considers the motive behind the action.
Keywords
Motivation and Behavior

Job Satisfaction

Entropy

Logic Programming

Knowledge Representation and Reasoning

Artificial Neural Networks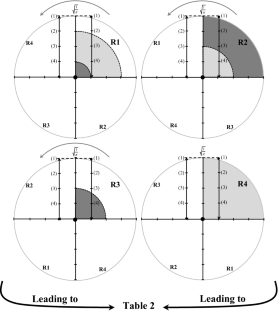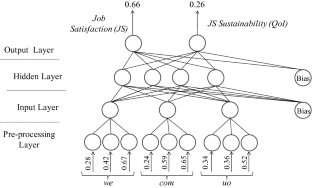 References
Alavi, H.R., Askaripur, M.R.: The relationship between self-esteem and job satisfaction of personnel in government organizations. Public Pers. Manag. 32(4), 591–600 (2003)

Kumar, N., Singh, V.: Job satisfaction and its correlates. Int. J. Res. Econ. Soc. Sci. 1(2), 11–24 (2011)

Neves, J.: A logic interpreter to handle time and negation in logic databases. In: Muller, R., Pottmyer, J. (eds.) Proceedings of the 1984 Annual Conference of the ACM on the 5th Generation Challenge, pp. 50–54. ACM, New York (1984)

Ferraz, F., Vicente, H., Costa, A., Neves, J.: Analysis of dyscalculia evidences through artificial intelligence systems. J. Softw. Netw. 2016, 53–78 (2016)

Cortez, P., Rocha, M., Neves, J.: Evolving time series forecasting ARMA models. J. Heuristics 10, 415–429 (2004)

Fernández-Delgado, M., Cernadas, E., Barro, S., Ribeiro, J., Neves, J.: Direct kernel perceptron (DKP): ultra-fast kernel ELM-based classification with non-iterative closed-form weight calculation. J. Neural Netw. 50, 60–71 (2014)

Wenterodt, T., Herwig, H.: The entropic potential concept: a new way to look at energy transfer operations. Entropy 16, 2071–2084 (2014)

Neves, J., et al.: Entropy and organizational performance. In: Pérez García, H., Sánchez González, L., Castejón Limas, M., Quintián Pardo, H., Corchado Rodríguez, E. (eds.) HAIS 2019. LNCS (LNAI), vol. 11734, pp. 206–217. Springer, Cham (2019). https://doi.org/10.1007/978-3-030-29859-3_18

Fernandes, B., Vicente, H., Ribeiro, J., Capita, A., Analide, C., Neves, J.: Fully informed vulnerable road users – simpler, maybe better. In: Proceedings of the 21st International Conference on Information Integration and Web-Based Applications & Services (iiWAS 2019), pp 600–604. ACM, New York (2019)

Goleman, D.: Working with Emotional Intelligence. Bantam Book, New York (1998)

Damásio, A.: Looking for Spinoza – Joy, Sorrow and the Feeling Brain. A Harvest Book Harcourt Inc., London (2003)

Luhtanen, R., Crocker, J.: A collective self-esteem scale: self-evaluation of one's social identity. Pers. Soc. Psychol. Bull. 18, 302–318 (1992)

Drucker, P.: Management Challenges for the 21 Century. HarperCollins Publishers, New York (1999)
Acknowledgments

This work has been supported by national funds through FCT – Fundação para a Ciência e Tecnologia within the Project Scope UID/CEC/00319/2019 and UID/QUI/0619/2019.
Copyright information

© 2020 Springer Nature Singapore Pte Ltd.
About this paper
Cite this paper
Maia, N. et al. (2020). Social Role in Organizational Management Understanding People Behavior and Motivation. In: Sitek, P., Pietranik, M., Krótkiewicz, M., Srinilta, C. (eds) Intelligent Information and Database Systems. ACIIDS 2020. Communications in Computer and Information Science, vol 1178. Springer, Singapore. https://doi.org/10.1007/978-981-15-3380-8_46
DOI: https://doi.org/10.1007/978-981-15-3380-8_46

Published:

Publisher Name: Springer, Singapore

Print ISBN: 978-981-15-3379-2

Online ISBN: 978-981-15-3380-8

eBook Packages: Computer ScienceComputer Science (R0)