Abstract

Cancer is one of the prominent death causing diseases around the globe. About 1 in 6 deaths is due to cancer and its related diseases. Cancer mortality can be reduced by early diagnosis and screening, implementing effective treatments. A precise cancer identification is vital for effective treatment, because each cancer type requires a definite treatment procedure, such as radiotherapy, surgery, and chemotherapy. The brisk expansion of herbal therapy and escalating ongoing clinical studies are becoming trendy and useful in the drug development against cancer. Pomegranate (Punica granatum) is a prehistoric fruit with illustrious dietary and remedial properties in alternative traditional systems of medicine. The current chapter is aiming to understand various model systems (in silico, in vitro, and in vivo), employed for studying its anti-cancerous properties and diverse molecular effects exhibited by the pomegranate peel and its phytoconstituents. It also highlights the importance of secondary metabolites of P. granatum, especially ellagitannins and their anticancer properties. Although there are enormous in vitro and preclinical data, human clinical trials are sorely lacking. The major focus is on up-to-date investigations into the outcomes of previously reported pomegranate peel components against a diverse type of cancers.
Keywords
Cancer

Ellagitannins

Molecular targets

Punica granatum

Pomegranate

Treatment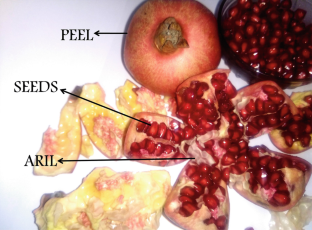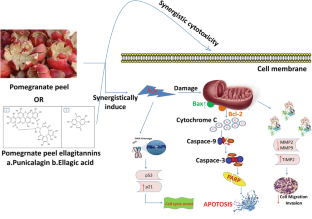 References
Ahmadiankia N, Bagheri M, Fazli M (2018) Gene expression changes in pomegranate peel extract-treated triple-negative breast cancer cells. Rep Biochem Mol Biol 7:102–109

Akhtar S, Ismail T, Fraternale D, Sestili P (2015) Pomegranate peel and peel extracts: chemistry and food features. Food Chem 174:417–425

Al-Rawahi AS, Edwards G, Al-Sibani M, Al-Thani G, Al-Harrasi AS, Rahman MS (2014) Phenolic constituents of pomegranate peels (Punica granatum L.) cultivated in Oman. Eur J Med Plants 4:315–331

Aqil F, Munagala R, Vadhanam MV, Kausar H, Jeyabalan J, Schultz DJ, Gupta RC (2012) Anti-proliferative activity and protection against oxidative DNA damage by punicalagin isolated from pomegranate husk. Food Res Int 49(1):345–353

Arnoni Y, Berry EM (2015) On the origins and evolution of the Mediterranean diet. The Mediterranean diet, 3–11.doi:https://doi.org/10.1016/b978-0-12-407849-9.00001-4

Aslam MN, Lansky EP, Varani J (2006) Pomegranate as a cosmeceutical source: pomegranate fractions promote proliferation and procollagen synthesis and inhibit matrix metalloproteinase-1 production in human skin cells. J Ethnopharmacol 103:311–318

Asmaa MJ, Ali AJ, Farid JM, Azman S (2015) Growth inhibitory effects of crude pomegranate peel extract on chronic myeloid leukemia, K562 cells. Int J Appl Basic Med Res 5:100–105

Badawi NM, Teaima MH, El-Say KM, Attia DA, El-Nabarawi MA, Elmazar MM (2018) Pomegranate extract-loaded solid lipid nanoparticles: design, optimization, and in vitro cytotoxicity study. Int J Nanomed 13:1313–1326

Bagheri M, Fazli M, Saeednia S, Kor A, Ahmadiankia N (2018) Pomegranate peel extract inhibits expression of beta-catenin, epithelial mesenchymal transition, and metastasis in triple negative breast cancer cells. Cell Mol Biol (Noisy-le-Grand France) 64:86–91

Baldwin AS Jr (2001) Series introduction: the transcription factor NF-kappaB and human disease. J Clin Invest 107:3–6

Barathikannan K, Venkatadri B, Khusro A, Al-Dhabi NA, Agastian P et al (2016) Chemical analysis of Punica granatum fruit peel and its in vitro and in vivo biological properties. BMC Complement Altern Med 16:264

Bensky D (1993) Gamble a Chinese herbal medicine Materia Medica, Revised edn. Eastland Press, Seattle, WA

Chen XX, Lam KK, Feng YB, Xu K, Sze SC, Tang SC et al (2018) Ellagitannins from pomegranate ameliorates 5-fluorouracil-induced intestinal mucositis in rats while enhancing its chemotoxicity against HT-29 colorectal cancer cells through intrinsic apoptosis induction. J Agric Food Chem 66:7054–7064

Deng Y, Li Y, Yang F, Zeng A, Yang S, Luo Y, Zhang Y et al (2017) The extract from Punica granatum (pomegranate) peel induces apoptosis and impairs metastasis in prostate cancer cells. Biomed Pharmacother 93:976–984

Devanesan S, AlSalhi MS, Balaji RV, Ranjitsingh A, Ahamed A, Alfuraydi AA, AlQahtani FY, Aleanizy FS, Othman AH (2018) Antimicrobial and cytotoxicity effects of synthesized silver nanoparticles from Punica granatum peel extract. Nanoscale Res Lett 13:315

Dikmen M, Ozturk N, Ozturk Y (2011) The antioxidant potency of Punica granatum L. fruit peel reduces cell proliferation and induces apoptosis on breast cancer. J Med Food 14:1638–1646

Donaldson MS (2004) Nutrition and cancer: a review of the evidence for an anti-cancer diet. Nutr J 3:19. https://doi.org/10.1186/1475-2891-3-19

Ebbell B. (Translator) (1937) The papyrus ebers: the greatest egyptian medical document. Copenhagen:Levin & Munksgaard. http://web.archive.org/web/20050226100008/http://www.macalester.edu/~cuffel/ebers.htm. Accessed 11 Aug 2018

El-Ashmawy NE, Khedr EG, El-Bahrawy HA, Abd El-Fattah EE (2016) Effect of pomegranate Hull extract on liver neoplastic changes in rats: more than an antioxidant. Nutr Cancer 68:1044–1051

Eleonora T, Ferruzzi L, Fimognari C (2015) Potential effects of pomegranate polyphenols in cancer prevention and therapy. Oxidative Med Cell Longev 2015:938475. https://doi.org/10.1155/2015/938475

Elfalleh W, Tlili N, Nasri N, Yahia Y, Hannachi H, Chaira N et al (2011) Antioxidant capacities of phenolic compounds and tocopherols from Tunisian pomegranate (Punica granatum) fruits. J Food Sci 76(5):C707–C713

Fawole OA, Makunga NP, Opara UL (2012) Antibacterial, antioxidant and tyrosinase-inhibition activities of pomegranate fruit peel methanolic extract. BMC Complement Altern Med 12:200

Fazio A, Iacopetta D, La-Torre C, Ceramella J, Muià N, Catalano A, Carocci A, Sinicropi MS (2018) Finding solutions for agricultural wastes: antioxidant and antitumor properties of pomegranate Akko peel extracts and β-glucan recovery. Food Funct 9:6618–6631

Fischer UA, Carle R, Kammerer DR (2011) Identification and quantification of phenolic compounds from pomegranate (Punica granatum L.) peel, mesocarp, aril and differently produced juices by HPLC-DAD–ESI/MS n. Food Chem 127(2):807–821

Foster S, Johnson RL (2006) National Geographic Desk Reference to Nature's Medicine. National Geographic, Washington, DC

Guo H, Zhang D, Fu Q (2016) Inhibition of cervical cancer by promoting IGFBP7 expression using Ellagic acid from pomegranate Peel. Med Sci Monitor 22:4881–4886

Heber D (2008) Multitargeted therapy of cancer by ellagitannins. Cancer Lett 269:262–268

Jain V, Viswanatha GL, Manohar D, Shivaprasad HN (2012) Isolation of antidiabetic principle from fruit rinds of Punica granatum. Evid Based Complement Alternat Med 2012:147202. https://doi.org/10.1155/2012/147202

Jeune MA, Kumi-Diaka J, Brown J (2005) Anticancer activities of pomegranate extracts and genistein in human breast cancer cells. J Med Food 8:469–475

Kamala A, Middha SK, Karigar CS (2018) Plants in traditional medicine with special reference to Cyperus rotundus L.: a review. 3 Biotech 8(7):309

Kohnen PW, Drach G (1979) Patterns of inflammation in prostatic hyperplasia: a histologic and bacteriologic study. The J Urol 121:755–760

Lee KH, Morris-Natschke SL, Yang X, Huang R, Zhou T, Wu SF, Shi Q, Itokawa H (2012) Recent progress of research on medicinal mushrooms, foods, and other herbal products used in traditional Chinese medicine. J Trad Complement Med 2:84–95

Li J, Zhang F, Wang SA (2014) A polysaccharide from pomegranate peels induces the apoptosis of human osteosarcoma cells via the mitochondrial apoptotic pathway. Tumour Biol 35:7475–7482

Li Y, Ye T, Yang F, Hu M, Liang L, He H, Li Z, Zeng A, Li Y et al (2016) Punica granatum (pomegranate) peel extract exerts potent antitumor and anti-metastasis activity in thyroid cancer. RSC Adv 6:84523–84535

Lu J, Wei Y, Yuan Q (2007) Preparative separation of punicalagin from pomegranate husk by high-speed countercurrent chromatography. J Chromatogr B 857:175–179

Ma GZ, Wang CM, Li L, Ding N, Gao X-L (2015) Effect of pomegranate peel polyphenols on human prostate cancer PC-3 cells in vivo. Food Sci Biotechnol 24:1887–1892

Masci A, Coccia A, Lendaro E, Mosca L, Paolicelli P, Cesa S (2016) Evaluation of different extraction methods from pomegranate whole fruit or peels and the antioxidant and antiproliferative activity of the polyphenolic fraction. Food Chem 202:59–69

Middha SK, Usha T, Basistha BC, Goyal AK (2019) Amelioration of antioxidant potential, toxicity, and antihyperglycemic activity of Hippophae salicifolia D. Don leaf extracts in alloxan-induced diabetic rats. 3 Biotech 9(8):308

Middha SK, Usha T, Pande V (2013a) A review on antihyperglycemic and antihepatoprotective activity of eco-friendly Punica granatum peel waste. Evid Based Complement Alt Med: eCAM 2013:656172

Middha SK, Usha T, Pande V (2013b) HPLC evaluation of phenolic profile, nutritive content, and antioxidant capacity of extracts obtained from Punica granatum fruit peel. Adv Pharmacol Sci 1–6:296236

Middha SK, Usha T, Pande V (2014) Pomegranate peel attenuates hyperglycemic effects of alloxan-induced diabetic rats. EXCLI J 13:223–224

Middha SK, Usha T, Pande V (2016) Insights Into the causes and anti-hyperglycemic effects of Punica granatum rind in alloxan-induced diabetic rats. Chiang Mai J Sci 43(1):112–122

Modaeinama S, Abasi M, Abbasi MM, Jahanban-Esfahlan R (2015) Anti tumoral properties of Punica granatum (pomegranate) Peel extract on different human cancer cells. Asian Pac J Cancer Prev 16:5697–56701

Moradian S, Almasi H, Moini S (2017) Development of bacterial cellulose-based active membranes containing herbal extracts for shelf life extension of button mushrooms (Agaricus bisporus). J Food Process Pres 42(3):e13537. https://doi.org/10.1111/jfpp.13537

Moreira H, Slezak A, Szyjka A, Oszmianski J, Gasiorowski K (2017) Antioxidant and cancer chemopreventive activities of cistus and pomegranate polyphenols. Acta Pol Pharm 74:688–698

Mushtaq M, Sultana B, Anwar F, Adnan A, Rizvi SS (2015) Enzyme-assisted supercritical fluid extraction of phenolic antioxidants from pomegranate peel. J Supercrit Fluid 104:122–131

Negi P, Jayaprakasha G, Jena B (2003) Antioxidant and antimutagenic activities of pomegranate peel extracts. Food Chem 80:393–397

Ng SY, Davids MS (2014) Selective Bcl-2 inhibition to treat chronic lymphocytic leukemia & non-Hodgkin lymphoma. Clin Adv Hematol Oncol 12:224–229

Patel C, Dadhaniya P, Hingorani L, Soni MG (2008) Safety assessment of pomegranate fruit extract: acute and subchronic toxicity studies. Food Chem Toxicol 46:2728–2735

Prashanth Kumar HP, Panda P, Karunakar P, Shiksha K, Singh L, Ramesh N, Usha T, Middha SK (2019) Potential Cyclooxygenase (COX-2) enzyme inhibitors from Myrica nagi-from in-silico to in-vitro investigation. Pharmacogn Mag 15(64):280

Qin G, Xu C, Ming R, Tang H, Guyot R, Kramer EM et al (2017) The pomegranate (Punica granatum L.) genome and the genomics of punicalagin biosynthesis. Plant J 91:1108–1128

Qnais EY, Elokda AS, Ghalyun YYA, Abdulla FA (2007) Antidiarrheal activity of the aqueous extract of Punica granatum (pomegranate) peels. Pharm Biol 45:715–720

Qu W, Li P, Hong J et al (2013) Thermal stability of liquid antioxidative extracts from pomegranate peel. J Food Agri 94:1005–1012

Rahmani AH, Alsahli MA, Almatroodi SA (2017) Active constituents of pomegranates (Punica granatum) as potential candidates in the Management of Health through modulation of biological activities. Phcog J 9:689–695

Rettig MB, Heber D, An J, Seeram NP, Rao JY, Liu H, Klatte T, Belldegrun A et al (2008) Pomegranate extract inhibits androgen-independent prostate cancer growth through a nuclear factor-kappa B-dependent mechanism. Mol Cancer Ther 7:2662–2671

Ricci D, Giamperi L, Bucchini A, Fraternale D (2006) Antioxidant activity of Punica granatum fruits. Fitoterapia 77:310–312

Rummun N, Somanah J, Ramsaha S, Bahorun T, Neergheen-Bhujun VS (2013) Bioactivity of nonedible parts of Punica granatum L.: a potential source of functional ingredients. Int J Food Sci 2013:602312

Sahin B, Demir E, Aygun A, Gunduz H, Sen F (2017) Investigation of the effect of pomegranate extract and monodisperse silver nanoparticle combination on MCF-7 cell line. J Biotechnol 260:79–83

Sahin B, Aygun A, Gunduz H, Sahin K, Demir E, Akocak S, Sen F (2018) Cytotoxic effects of platinum nanoparticles obtained from pomegranate extract by the green synthesis method on the MCF-7 cell line. Colloid Surf Biointerf 163:119–124

Sanchez-Lamar A, Fonseca G, Fuentes JL, Cozzi R, Cundari E, Fiore M et al (2008) Assessment of the genotoxic risk of Punica granatum L. (Punicaceae) whole fruit extracts. J Ethnopharmacol 115:416–422

Saruwatari A, Okamura S, Nakajima Y, Narukawa Y, Takeda T, Tamura H (2008) Pomegranate juice inhibits sulfoconjugation in Caco-2 human colon carcinoma cells. J Med Food 11:623–628

Satomi H, Umemura K, Ueno A, Hatano T, Okuda T, Noro T (1993) Carbonic anhydrase inhibitors from the pericarps of Punica granatum L. Biol Pharm Bull 16:787–790

Seeram N, Lee R, Hardy M, Heber D (2005) Rapid large-scale purification of ellagitannins from pomegranate husk, a by-product of the commercial juice industry. Sep Purif Technol 41:49–55

Settheetham W, Ishida T (1995) Study of genotoxic effects of antidiarrheal medicinal herbs on human cells in vitro. Southeast Asian J Trop Med Public Health 26:306–310

Sharma P, McClees SF, Afaq F (2017) Pomegranate for prevention and treatment of Cancer: An update. Molecules 22:E177

Siegel RL, Miller KD, Jemal A (2016) Cancer statistics. CA: Cancer J Clin 66:7–30

Singh B, Singh JP, Kaur A, Singh N (2018) Phenolic compounds as beneficial phytochemicals in pomegranate (Punica granatum L.) peel: a review. Food Chem 261:75–86

Song B, Li J, Li J (2016) Pomegranate peel extract polyphenols induced apoptosis in human hepatoma cells by mitochondrial pathway. Food Chem Toxicol 93:158–166

Sreeja S, SanthoshKumar TR, Lakshmi BS, Sreeja S (2012) Pomegranate extract demonstrate a selective estrogen receptor modulator profile in human tumor cell lines and in vivo models of estrogen deprivation. J Nutr Biochem 23:725–732

Stover E, Mercure EW (2017) The pomegranate: a new look at the fruit of paradise. Hort Sci 42:1088–1092

Sun W, Yan C, Frost B, Wang X, Hou C, Zeng M, Gao H, Kang Y, Liu J (2016) Pomegranate extract decreases oxidative stress and alleviates mitochondrial impairment by activating AMPK-Nrf2 in hypothalamic paraventricular nucleus of spontaneously hypertensive rats. Sci Rep 6(1)

Syed DN, Chamcheu JC, Adhami VM, Mukhtar H (2013) Pomegranate extracts and cancer prevention: molecular and cellular activities. Anti Cancer Agents Med Chem 13:1149–1161

Thomford NE, Senthebane DA, Rowe A et al (2018) Natural products for drug discovery in the 21st century: innovations for novel drug discovery. Int J Mol Sci 19(6):1578

Tortora K, Femia AP, Romagnoli A, Sineo I, Khatib M, Mulinacci N, Giovannelli L, Caderni G (2018) Pomegranate by-products in colorectal cancer chemoprevention: effects in Apc-mutated Pirc rats and mechanistic studies In-vitro and Ex Vivo. Mol Nutr Food Res 62:1700401

Usha T, Goyal AK, Lubna S, Prashanth HP, Mohan MT, Pande V, Middha SK (2015) Identification of anti-cancer targets of eco-friendly waste Punica granatum peel by dual reverse virtual screening and binding analysis. Asian Pac J Cancer Prev 15:10345–10350

Van-Wyk BE, Wink M (2004) Medicinal plants of the world. Timber Press, Portland, OR

Veloso SRS, Ferreira PMT, Martins JA, Coutinho PJG, Castanheira EMS (2018) Magnetogels: prospects and main challenges in biomedical applications. Pharmaceutics 10(3):145

Vini R, Juberiya AM, Sreeja S (2016) Evidence of pomegranate methanolic extract in antagonizing the endogenous SERM, 27-hydroxycholesterol. IUBMB Life 68:116–121

Viuda-Martos M, Fernández-López J, Pérez-Álvarez JA (2010) Pomegranate and its many functional components as related to human health: a review. Compr Rev Food Sci 9(6):635–654

Wafa BA, Makni M, Ammar S, Khannous L, Hassana AB, Bouaziz M et al (2017) Antimicrobial effect of the Tunisian Nana variety Punica granatum L. extracts against Salmonella enterica (serovars Kentucky and Enteritidis) isolated from chicken meat and phenolic composition of its peel extract. Int J Food Microbiol 241:123–131

Waly MI, Ali A, Guizani N, Al-Rawahi AS, Farooq SA, Rahman MS (2012) Pomegranate (Punica granatum) peel extract efficacy as a dietary antioxidant against azoxymethane-induced colon cancer in rat. Asian Pac J Cancer Prev 13:4051–4055

Wang R, Xie W, Xing D, Ding Y, Wang W, Ma C, Du L (2004) Bioactive compounds from the seeds of Punica granatum (pomegranate). J Nat Product 67:2096–2098

Wu S, Tian L (2017) Diverse phytochemicals and bioactivities in the ancient fruit and modern functional food pomegranate (Punica granatum). Molecules 22(10):1606. https://doi.org/10.3390/molecules22101606

Yin SY, Wei WC, Jian FY, Yang NS (2013) Therapeutic applications of herbal medicines for cancer patients. Evid Based Complementary Alt Med- eCAM 2013:302426

Y-q S, Tao X, Men X-m, Z-w X, Wang T (2017) In vitro and in vivo antioxidant activities of three major polyphenolic compounds in pomegranate peel: Ellagic acid, punicalin, and punicalagin. J Int Agri 16:1808–1818

Zahin M, Aqil F, Ahmad I (2010) Broad spectrum antimutagenic activity of antioxidant active fraction of Punica granatum L. peel extracts. Mutat Res Gen Toxicol Environ Mutagen 703(2):99–107

Zahin M, Ahmad I, Gupta RC, Aqil F (2014) Punicalagin and ellagic acid demonstrate antimutagenic activity and inhibition of benzo[a]pyrene induced DNA adducts. Biomed Res Int 2014:467465

Zarfeshany A, Asgary S, Javanmard SH (2014) Potent health effects of pomegranate. Adv Biomed Res 3:100

Zhou B, Yi H, Tan J, Wu Y, Liu G, Qiu Z (2015) Anti-proliferative effects of polyphenols from pomegranate rind (Punica granatum L.) on EJ bladder cancer cells via regulation of p53/miR-34a axis. Phytother Res 29:415–422
Acknowledgments

The authors wish to thank DBT-Bioinformatics Infrastructure Facility (BIF), Maharani Lakshmi Ammanni College for Women, Bangalore, India, for providing the facilities. Dr. Dinesh Babu, University of Alberta, Canada gave a critical reading of the manuscript. We are grateful to Dr. V.R. Devaraj and Dr. C.S. Karighar, Banglore University, India, for their valuable suggestions and providing necessary support.
Copyright information

© 2020 Springer Nature Singapore Pte Ltd.
About this chapter
Cite this chapter
Usha, T., Middha, S.K., Sidhalinghamurthy, K.R. (2020). Pomegranate Peel and Its Anticancer Activity: A Mechanism-Based Review. In: Swamy, M. (eds) Plant-derived Bioactives. Springer, Singapore. https://doi.org/10.1007/978-981-15-2361-8_10