Abstract

The fast depletion of fossil fuels and the associated environmental problems increased the demand for an alternate energy source. One such promising renewable energy technology is the solar energy, with a common application of photovoltaic (PV) systems. Conventional PV system faces the serious disadvantage of occupying vast land resources for installation in megawatt scale. Thus, the novel concept of floating photovoltaic (FPV) technology is developed by accounting the value of land in agriculture and urban sites. The electrical yield in FPV-based system is comparatively due to the cooling effect from water which prevents overheating of solar panels. Out of several energy extracting technologies available in FPV systems, thin film technology is found to be highly efficient. It can also be seen as a propitious technology for future large-scale FPV systems. This paper presents a detailed review of thin film technology adopted in the FPV system.
Keywords
Floating photovoltaic

Solar energy

Thin film

Efficiency

Offshore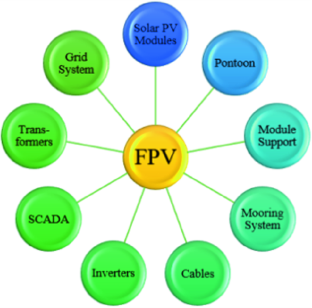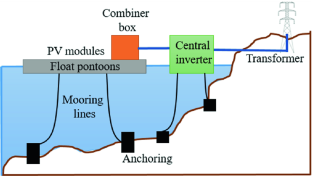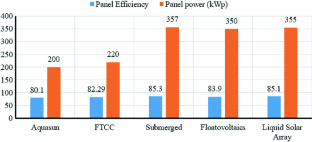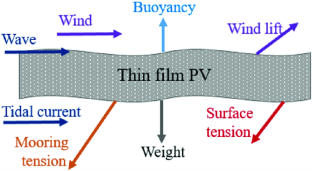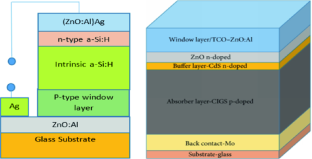 References
Trapani, K., Redón Santafé, M.: A review of floating photovoltaic installations: 2007–2013. Prog. Photovolt. Res. Appl. 23(4), 524–532 (2015)

Trapani, K.: Flexible floating thin film photovoltaic (PV) array concept for marine and lacustrine environments. Doctoral dissertation, Laurentian University of Sudbury (2014)

Trapani, K., Millar, D.L.: The thin film flexible floating PV (T3F-PV) array: the concept and development of the prototype. Renew. Energy 71, 43–50 (2014)

Trapani, K., Millar, D.L., Smith, H.C.: Novel offshore application of photovoltaics in comparison to conventional marine renewable energy technologies. Renew. Energy 50, 879–888 (2013)

Trapani, K., Millar, D.L.: Floating photovoltaic arrays to power the mining industry: a case study for the McFaulds lake (Ring of Fire). Env. Progr. Sustain. Energy 35(3), 898–905 (2016)

Cazzaniga, R., Cicu, M., Rosa-Clot, M., Rosa-Clot, P., Tina, G.M., Ventura, C.: Floating photovoltaic plants: performance analysis and design solutions. Renew. Sustain. Energy Rev. 81, 1730–1741 (2018)

Liu, L., Wang, Q., Lin, H., Li, H., Sun, Q.: Power generation efficiency and prospects of floating photovoltaic systems. Energy Proc. 105, 1136–1142 (2017)

Diendorfer, C., Haider, M., Lauermann, M.: Performance analysis of offshore solar power plants. Energy Proc. 49, 2462–2471 (2014)

Sahu, A., Yadav, N., Sudhakar, K.: Floating photovoltaic power plant: a review. Renew. Sustain. Energy Rev. 66, 815–824 (2016)

Lee, Y.G., Joo, H.J., Yoon, S.J.: Design and installation of floating type photovoltaic energy generation system using FRP members. Sol. Energy 108, 13–27 (2014)

Ciel & Yerre: The floating solar expert, www.ciel-et-terre.net/essential_grid/floating-solar-plant-kato-shi/

Solar Energy Research Institute of Singapore at the National University of Singapore, www.nanalyze.com/2019/02/floating-solar-farms/

Floating solar market, www.solarpowerportal.co.uk/news

Cazzaniga, R., Rosa-Clot, M., Rosa-Clot, P., Tina, G.M.: Floating tracking cooling concentrating (FTCC) systems. In: 2012 38th IEEE Photovoltaic Specialists Conference, pp. 000514–000519. IEEE (2012)

Kougias, I., Szabó, S., Monforti-Ferrario, F., Huld, T., Bódis, K.: A methodology for optimization of the complementarity between small-hydropower plants and solar PV systems. Renew. Energy 87, 1023–1030 (2016)

Thin film solar panels do they make sense for residential? www.news.energysage.com/thin-film-solar-panels-make-sense

Lee, T.D., Ebong, A.U.: A review of thin film solar cell technologies and challenges. Renew. Sustain. Energy Rev. 70, 1286–1297 (2017)

Thin film solar panels do they make sense for residential? Online. Available https://news.energysage.com/thin-film-solar-panels-make-sense/

Powalla, M., Paetel, S., Hariskos, D., Wuerz, R., Kessler, F., Lechner, P., Friedlmeier, T.M.: Advances in cost-efficient thin-film photovoltaics based on Cu (In, Ga) Se2. Engineering 3(4), 445–451 (2017)

Parisi, A., Pernice, R., Rocca, V., Curcio, L., Stivala, S., Cino, A.C., Busacca, A.C.: Graded carrier concentration absorber profile for high efficiency CIGS solar cells. Int J Photoenergy (2015)
Copyright information

© 2020 Springer Nature Singapore Pte Ltd.
About this paper
Cite this paper
Nagananthini, R., Nagavinothini, R., Balamurugan, P. (2020). Floating Photovoltaic Thin Film Technology—A Review. In: Reddy, A., Marla, D., Simic, M., Favorskaya, M., Satapathy, S. (eds) Intelligent Manufacturing and Energy Sustainability. Smart Innovation, Systems and Technologies, vol 169. Springer, Singapore. https://doi.org/10.1007/978-981-15-1616-0_32
DOI: https://doi.org/10.1007/978-981-15-1616-0_32

Published:

Publisher Name: Springer, Singapore

Print ISBN: 978-981-15-1615-3

Online ISBN: 978-981-15-1616-0

eBook Packages: EngineeringEngineering (R0)