Abstract

Evidence suggests that climate change is real and accelerating. This has led to a great deal of research on improving energy efficiency and reducing per capita energy consumption, as well as on the sources of air polluting emissions such as carbon, and possible policy options for limiting permanent environmental damage. The top regions in the world in terms of these carbon emissions are China, the United States, the European Union, India, Russia, and Japan. This chapter uses the World Input-Output Database (WIOD) and structural decomposition analysis to determine for these six countries and regions whether observed improvements in energy intensity and carbon dioxide emissions are due to the adoption of new energy technology or changes in trade relationships, final demand structures, or other structural economic changes.
Keywords
Global climate change

Mega-regional carbon emissions

Energy and the environment

Structural decomposition analysis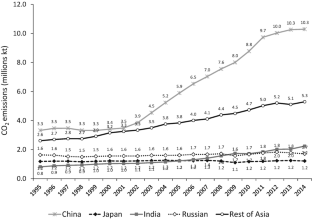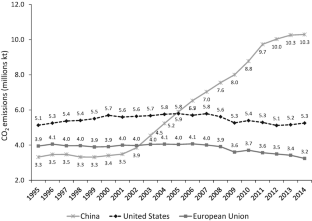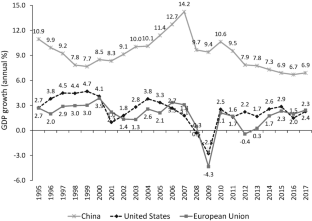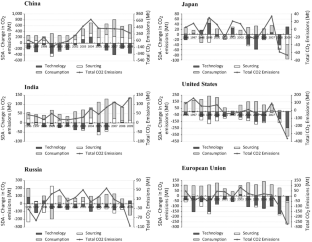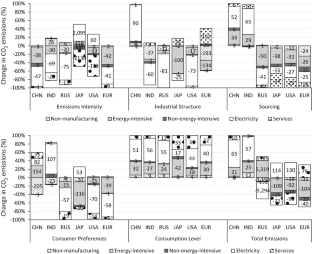 Notes
1.

Please refer to Genty et al. (2012) for a detailed explanation of the environmental accounts in the WIOD.

2.

The reason the electricity value (2095%) is so out of line with all of the other values may be that "The Liberal Democratic Party, which governed Japan almost continuously from 1955 to 2009 and returned to power in December, wasn't proactive in cleaning up the country's air and water." https://latitude.blogs.nytimes.com/2013/02/15/japans-pollution-diet/ (last accessed on 5/6/2019).

3.
References
Araújo I, Jackson R, Neto ABF, Perobelli F (2018) Environmental costs of European union membership: a structural decomposition analysis. Working papers working paper 2018-04, Regional Research Institute, West Virginia University

Arto I, Dietzenbacher E (2014) Drivers of the growth in global greenhouse gas emissions. Environ Sci Technol 48(10):5388–5394

Brohan P, Kennedy JJ, Harris I, Tett SFB, Jones PD (2006) Uncertainty estimates in regional and global observed surface temperature changes: a new data set from 1850. J Geophys Res 111(D12106):1–21

Brown MA, Kim G, Smith AM, Southworth K (2017) Exploring the impact of energy efficiency as a carbon mitigation strategy in the U.S. Energy Policy 109:249–259

Chang N, Lahr ML (2016) Changes in China's production-source CO2 emissions: insights from structural decomposition analysis and linkage analysis. Econ Syst Res 28(2):224–242

Chen X, Wang L, Tong L, Sun S, Yue X, Yin S, Zheng L (2014) Mode selection of China's urban heating and its potential for reducing energy consumption and CO2 emission. Energy Policy 67:756–764

De Hann M (2001) A structural decomposition analysis of pollution in the Netherlands. Econ Syst Res 13(2):181–196

Dietzenbacher E, Hoen AR (1998) Deflation of input-output tables from the user's point of view: a heuristic approach. Rev Income Wealth 44:111–122

Dietzenbacher E, Los B (1998) Structural decomposition techniques: sense and sensitivity. Econ Syst Res 10(4):307–324

Genty A, Arto I, Neuwahl F (2012) Final database of environmental satellite accounts: technical report on their compilation. WIOD Deliverable 4.6, Documentation

Hallegatte S (2009) Strategies to adapt to an uncertain climate change. Glob Environ Chang Hum Policy Dimens 19(2):240–247

Haynes KE (1984) Environment and coal production. In: Proceedings of the modeling and simulation conference. University of Pittsburgh, Pittsburgh

Haynes KE, Hazleton JE, Kleeman T (1977) Environment and energy on the Texas gulf coast: a short run economic impact model of alternative policies. In: Burkhardt DE, Ittelson WH (eds) Environmental assessment of socio-economic systems. Plenum Press, London, pp 493–518

Haynes KE, Ratick S, Bowen WM, Cummings-Saxton J (1993) Environmental decision models: U.S. experience and a new approach to pollution management. Environ Int 19:261–275

Haynes KE, Ratick S, Cummings-Saxton J (1997) Pollution prevention frontiers: a data envelopment simulation. In: Knapp GJ, Kim TJ (eds) Environmental program evaluation: a primer. University of Illinois Press, Urbana, pp 68–84

Hertwich EG, Peters GP (2009) Carbon footprint of nations: a global trade-linked analysis. Environ Sci Technol 43:6414–6420

Hoekstra R, Michel B, Suh S (2016) The emission cost of international sourcing: using structural decomposition analysis to calculate the contribution of international sourcing to CO2–emission growth. Econ Syst Res 28(2):151–167

Junius T, Oosterhaven J (2003) The solution of updating or regionalizing a matrix with both positive and negative entries. Econ Syst Res 15:87–96

Kangas HL, Lazarevic D, Kivimaa P (2018) Technical skills, disinterest and non-functional regulation: barriers to building energy efficiency in Finland viewed by energy service companies. Energy Policy 114:63–76

Lenzen M, Wood R, Gallego B (2007) Some comments on the GRAS method. Econ Syst Res 19:461–465

Lenzen M, Kanemoto K, Moran D, Geschke A (2012) Mapping the structure of the world economy. Environ Sci Technol 46(15):8374–8381

Los B, Gouma R, Timmer M, IJtsma P (2014) Note on the construction of wiots in previous years prices. Technical report, WIOD

Malik A, Lan J (2016) The role of outsourcing in driving global carbon emissions. Econ Syst Res 28(2):168–182

Masson-Delmotte V, Zhai P, Pörtner HO, Roberts D, Skea J, Shukla JR, Pirani A, Moufouma-Okia W, Péan C, Pidcock R, Connors S, Matthews JBR, Chen Y, Zhou X, Gomis MI, Lonnoy E, Maycock T, Tignor M, Waterfield T (eds) Intergovernmental Panel on Climate Change (2018) Summary for policymakers. In: Global warming of 1.5°C. An IPCC special report on the impacts of global warming of 1.5°C above pre-industrial levels and related global greenhouse gas emission pathways, in the context of strengthening the global response to the threat of climate change, sustainable development, and efforts to eradicate poverty. World Meteorological Organization, Geneva, Switzerland, 32 pp

Meng L, Crijn-Graus WHJ, Worrell E, Huang B (2018) Impacts of booming economic growth and urbanization on carbon dioxide emissions in Chinese megalopolises over 1985–2010: an index decomposition analysis. Energy Effic 11:203–223

Mi Z, Men J, Guan D, Sham Y, Song M, Wei Y-M, Liu Z, Hubacek K (2017) Chinese CO2 emission flows have reversed since the global financial crisis. Nat Commun 8:1712

Miller RE, Blair PD (2009) Input–output analysis: foundations and extensions. Cambridge University Press, Cambridge

Minx JC, Lamb WF, Callaghan MW, Fuss S, Hilaire J, Creutzig F, Amann T, Beringer T, de Loiveira Garcia W, Hartmann J, Khanna T, Lenzi D, Luderer G, Nemet GF, Rogelj J, Smith P, Vicente JL, Wilcox J, del Mar Zamora Dominguez M (2018) Negative emissions—part 1: research landscape and synthesis. Environ Res Lett 13:063001

Moss RH, Edmonds JA, Hibbard KA, Manning MR, Rose SK, van Vuuren DP, Carter TR, Emori S, Kainuma M, Kram T, Meehl GA, Mitchell JFB, Nakicenovic N, Riahi K, Smith SJ, Stouffer RJ, Thomson AM, Weyant JP, Wilbanks TJ (2010) The next generation of scenarios for climate change research and assessment. Nature 463(7282):747–756

Oosterhaven J, Van Der Linden J (1997) European technology, trade and income changes for 1975–85: an intercountry input–output decomposition. Econ Syst Res 9(4):393–412

Ozan C, Haldenbilen S, Halim C (2011) Estimating emissions on vehicular traffic based on projected energy and transport demand on rural roads: policies for reducing air pollutant emissions and energy consumption. Energy Policy 39(5):2542–2549

Peters GP, Minx JC, Weber CL, Edenhofer O (2011) Growth in emission transfers via international trade from 1990 to 2008. PNAS 108(21):8903–8908

Petit JR, Jouzel J, Raynaud D, Barkov NI, Barnola JM, Basile I, Bender M, Chappellaz J, Davis M, Delaygue G, Delmotte M, Kotlyakov VM, Legrand M, Lipenkov VY, Lorius C, Pepin L, Ritz C, Saltzman E, Stievenard M (1999) Climate and atmospheric history of the past 420,000 years from the Vostok ice core, Antarctica. Nature 399:429–436. https://doi.org/10.1038/20859

Qu Y, Long H (2018) The economic and environmental effects of land se transitions under rapid urbanization and the implications for land use management. Habitat Int 82:113–121

Ramanathan V (1988) The greenhouse gas theory of climate change: a test by an inadvertent global experiment. Science (April 15: 240, 4850):293–299

Steinberger JK, van Niel J, Bourg D (2009) Profiting from negawatts: reducing absolute consumption and emissions through a performance-based energy economy. Energy Policy 37:361–370

Timmer MP, Dietzenbacher E, Los B, Stehrer R, De Vries GJ (2015) An illustrated user guide to the world input–output database: the case of global automotive production. Rev Int Econ 23(3):575–605

Turner K, Lenzen K, Wiedmann T, Barrett J (2007) Examining the global environmental impact of regional consumption activities – part 1: a technical note on combining input output and ecological footprint analysis. Ecol Econ 62(1):6–10

Vale VA, Perobelli FS, Chimeli AB (2018) International trade, pollution, and economic structure: evidence on CO2 emissions for the North and the South. Econ Syst Res 30(1):1–17

Wang XR, Hui EC, Choguill CM, Jia SH (2015) The new urbanization in China: which way forward? Habitat Int 47:279–284

Wiedmann T, Lenzen M, Turner K, Barrett T (2007) Examining the global environmental impact of regional consumption activities – Part 2: review of input–output models for the assessment of environmental impacts embodied in trade. Ecol Econ 61(1):37–44

Wier M (1998) Sources of changes in emissions from energy: a structural decomposition analysis. Econ Syst Res 10(2):99–113

Xu S-C, He Z-X, Long R-Y (2014) Factors that influence carbon emissions due to energy consumption in China: decomposition analysis using LMDI. Appl Energy 127:182–193

Yamakawa A, Peters GP (2011) Structural decomposition analysis of greenhouse gas emissions in Norway. Econ Syst Res 23(3):303–318

Yang XJ (2013) China's rapid urbanization. Science 342(6156):310

Zhang H, Lahr ML (2014) Can the carbonizing dragon be domesticated? Insights from a decomposition of energy consumption and intensity in China, 1987–2007. Econ Syst Res 26(2):119–140

Zhang YJ, Liu Z, Qin CX, Tan TD (2017a) The direct and indirect CO2 rebound effect for private cars in China. Energy Policy 100:149–161

Zhang Z, Zhu K, Hewings GJ (2017b) A multi-regional input-output analysis of the pollution haven hypothesis from the perspective of global production fragmentation. Energy Econ 64:13–23
Appendix
Appendix
Copyright information

© 2020 Springer Nature Singapore Pte Ltd.
About this chapter
Cite this chapter
de Araújo, I.F., Bowen, W.M., Jackson, R., Ferreira Neto, A.B. (2020). Proximate Causes of Worldwide Mega-Regional CO2 Emission Changes, 1995–2009. In: Chen, Z., Bowen, W.M., Whittington, D. (eds) Development Studies in Regional Science. New Frontiers in Regional Science: Asian Perspectives, vol 42. Springer, Singapore. https://doi.org/10.1007/978-981-15-1435-7_11