Abstract

In this paper, the design of a dual-band microstrip antenna is presented. The proposed design is based upon the T-shaped structure with two strips. The antenna is fed by coaxial probe feeding. The presented antenna gives wide bandwidth for both frequency bands. The antenna is simple in structure and is compact in size. The design is simulated and optimized using CST Microwave studio software. Various antenna parameters such as reflection coefficient, resonant frequencies, bandwidth, radiation patterns, gain, directivity, and efficiencies are presented and discussed. The presented antenna resonates at two resonances at 3.7 and 6 GHz. The designed antenna is suitable for dual-band wireless applications.
Keywords
Mirostrip patch antenna

Dual band

Reflection coefficient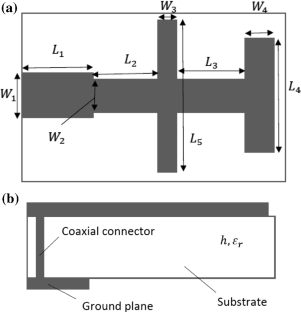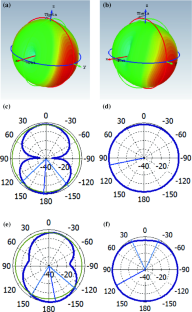 References
Rabbani MS, Ghafouri-Shiraz H (2017) A dual band patch antenna designed with size improvement method for 60 GHz-band duplexer applications. Microw Opt Technol Lett 59(1):2867–2870

Jandi Y, Gharnati F, Said AO (2017) Design of a compact dual bands patch antenna for 5G applications. In: 2017 international conference on wireless technologies, embedded and intelligent systems, pp 1–4

Kumar P (2014) Computation of resonant frequency of gap-coupled circular ring microstrip patch antennas. Int J Autom Comput 11(6):671–675

Mapare VV, Mapare SV, Sarate GG (2012) Nonradiating edges gap-coupled multiple resonator dual and tri-band microstrip antennas. Int J Comput Appl 56(3):6–10

Kumar P, Singh G, Bhooshan S, Chakravarty T (2007) Gap-coupled microstrip antennas. In: Proceedings of international conference on computational intelligence and multimedia applications, pp 435–438, India

Kumar P, Singh G (2009) Microstrip antennas loaded with shorting post. Engineering 1(1):41–45

Kumar P, Singh G (2011) Theoretical investigation of the input impedance of gap-coupled circular microstrip patch antennas loaded with shorting post. J Comput Electron 10(1):195–200

Kumar P, Bisht N (2011) Stacked coupled circular microstrip patch antenna for dual band applications. In: Progress in electromagnetics research symposium, Chinam, pp 629–632

Vishwakarma RK, Tiwari S (2010) Experimental study of stacked rectangular microstrip antenna for dual-band. Engineering 2:85–90

Meng F, Sharma S (2016) A single feed dual-band (2.4 GHz/5 GHz) miniaturized patch antenna for wireless local area network (WLAN) communications. J Electromagn Waves Appl 30(18):2390–2401

Saturday JC, Udofia KM, Jimoh AJ (2016) Design of dual band microstrip antenna using reactive loading technique. Math Softw Eng 2(2):114–121

Rafique U, Khalil H, Rehman SU (2017) Dual-band microstrip patch antenna array for 5G mobile communications. In: 2017 progress in electromagnetics research symposium, Singapore, pp 55–59

Rambe AH, Abdillah K (2018) A low profile rectangular patch microstrip antenna for dual-band operation of wireless communication system. IOP Conf Ser Mater Sci Eng 309:012046

Mabaso M, Kumar P (2018) A dual band patch antenna for Bluetooth and wireless local area networks applications. Int J Microw Technol 13(5):393–400

Kumar P (217) A T shaped microstrip patch antenna for WLAN applications. In: Proceedings of the international conference on multimedia, signal processing and communication technologies, pp 157–160
Copyright information

© 2020 Springer Nature Singapore Pte Ltd.
About this paper
Cite this paper
Kumar, P. (2020). A Dual-Band Microstrip Patch Antenna for Wireless Applications. In: Kalam, A., Niazi, K., Soni, A., Siddiqui, S., Mundra, A. (eds) Intelligent Computing Techniques for Smart Energy Systems. Lecture Notes in Electrical Engineering, vol 607. Springer, Singapore. https://doi.org/10.1007/978-981-15-0214-9_26
DOI: https://doi.org/10.1007/978-981-15-0214-9_26

Published:

Publisher Name: Springer, Singapore

Print ISBN: 978-981-15-0213-2

Online ISBN: 978-981-15-0214-9

eBook Packages: EngineeringEngineering (R0)