Abstract

A6082-ZrO2-SiC hybrid metal matrix composite successfully fabricated by the combined stir and squeeze casting method. The fine grain structure is observed in the optical microstructure of base alloy and hybrid composites. SEM images of A6082 with 1 wt% of SiC and 1 wt% ZrO2 composites observed with uniform distribution of reinforcement particles. Hardness 18.6% increase in hybrid composite reinforced with 1 wt% ZrO2 compared to the base alloy. Izod impact strength 18% increased with 1 wt% addition of ZrO2 compared to the base alloy. Compression strength increased up to 20% in A6082 reinforced with 1 wt% ZrO2 and SiC 1 wt%.
Keywords
Stir-squeeze casting method

Hybrid composites A6082-SiC-ZrO2

Izod test

Compression strength

SEM images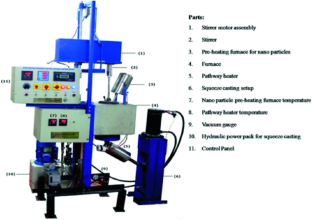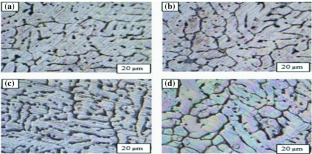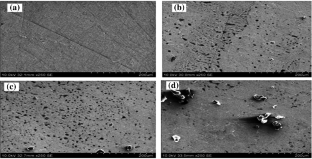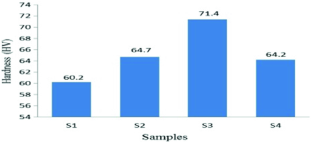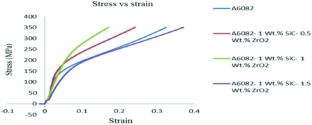 References
Moosa, M.M., Al-Khazraji, K.K., Muhammed, O.S.: Tensile strength of squeeze cast carbon fibers reinforced al-Si matrix composites. J. Miner. Mater. Charact. Eng. 10(2), 127–141 (2011)

Geng, L., Imai, T., Mao, J.F.: Microstructure and high strain rate superplasticity of in situ composite synthesised from aluminium and nanoZrO2 particles by powder metallurgy. Mater. Sci. Technol. 17 (2001)

Hajizamani, M., Baharvandi, H.: Fabrication and studying the mechanical properties of A356 alloy reinforced with Al2O3-10% Vol. ZrO2 nanoparticles through stir casting. Adv. Mater. Phys. Chem. 1, 26–30 (2011)

Murtya, S.V.S.N., Rao, B.N., Kashyap, B.P.: On the hot working characteristics of 6061Al–SiC and 6061–Al2O3 particulate reinforced metal matrix composites. Compos. Sci. Technol. 63, 119–135 (2003)

Patel, D.R., Patel, N.S.: Development of Al-Sic MMCs for making valves. IJARIIE 2(3) (2016)

Gurwinder Singh and Charanjeet Singh Kalra: Fabrication and characterisation of al-based hybrid composite reinforced with Sic, Al2O3 and C particles by squeeze casting. Mech. Confab 3(1) (2014)

Sekar, K., Allesu, K., Joseph, M.A.: Mechanical and wear properties of Al–Al2O3 metal matrix composites fabricated by the combined effect of stir and squeeze casting method. Trans. Indian Inst. Met. 68(2), 115–121 (2015)

Sekar, K., Manohar, M., Jayakumar, K.: Mechanical and tribological properties of A356/Al2O3/MoS2 hybrid composites synthesized through combined stir and squeeze casting. Adv. Mater. Metall. Lecture Notes in Mechanical Engineering, https://doi.org/10.1007/978-981-13-1780-4_13
Copyright information

© 2019 Springer Nature Singapore Pte Ltd.
About this paper
Cite this paper
Sekar, K. (2019). Investigation of Mechanical Properties of A6082-ZrO2-SiC Hybrid Composite by Stir and Squeeze Casting. In: Singh, I., Bajpai, P., Panwar, K. (eds) Trends in Materials Engineering. Lecture Notes on Multidisciplinary Industrial Engineering. Springer, Singapore. https://doi.org/10.1007/978-981-13-9016-6_13
DOI: https://doi.org/10.1007/978-981-13-9016-6_13

Published:

Publisher Name: Springer, Singapore

Print ISBN: 978-981-13-9015-9

Online ISBN: 978-981-13-9016-6