Abstract

Floating architecture has a new dimension: from completely static and permanent forms on land to becoming non-stationary. The aim of this paper is to define the new meaning of mobility when it comes to modern, floating space and to analyze opportunities it offers in the future. Through analysis of some examples of good practices, different ideas and aspects are presented. For example, floating buildings can be readily relocated when necessary, be used only periodically on specific locations or for a specific purpose, and be moved only vertically during the tide. Movable architecture is more adaptable and sustainable. The design approach changes a lot as we can now manipulate space in a more dynamic and flexible manner. Water, as an unstable environment, requires people to be more active and provokes their curiosity. Since structures are movable and can be relocated elsewhere offshore, users may need to use alternative ways of getting to them or might employ specific modes while using the space. Mobility, being the pivot of contemporary society, gives ability to movable structures to follow the pace of modern life and global tendencies, while understanding and satisfying people's needs.
Keywords
Mobility

Floating structures

Water-friendly architecture

Sustainability

Architectural designing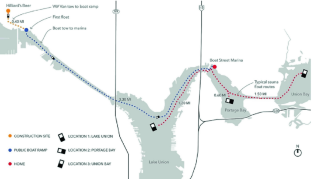 Notes
1.

Sikko Valk is ward-winning Dutch industrial designer, working as independent industrial designer & consultant, as well as creating products for his collections & design-label SIGU®. Designer of a floating hotel, Good Hotel, located in London, UK.

2.

3.

Koen Olthuis is a Dutch architect, studied Architecture and Industrial Design at the Delft University of Technology. founder of Dutch architecture practice Waterstudio. Since 2003, he has worked on floating houses, schools, resorts, swimming pools and other projects, all of them enabled by a proprietary floating base technology. In 2007 he was chosen as no. 122 on Time Magazine's list of most influential people in the world due to the increasing worldwide interest in water developments. In addition, the French magazine, Terra Eco, choose him in 2011 as one of 100 green persons that will change the world.

4.

Gia Wolff is an associate professor at Pratt University and is an adjunct assistant professor at Irwin S. Chanin School of Architecture at Cooper Union. In past projects, Wolff contributed to urban installations, theatre and set design productions.

5.

Marshall Blecher and Magnus Maarbjerg, Australian architects working in Danish design studio Fokstrot.

6.

Designed by Studio Weave in 2011. An old work boat re-imagined into a cinema for intimate on-board film screenings, larger outdoor film events and other film-related activities.

7.

Nina Pope and Karen Guthrie, the film-maker artistic duo.
References
Macmillan, E. (2007). Macmillan english dictionary (2nd ed.). London, England: Macmillan ELT.

Kayal, P., Singh, R., & Kumar, M. (2014). Defining sustainable urban mobility, Teri-NFA [Online]. Available at: http://www.teriin.org/projects/nfa/2008-2013/pdf/working-paper-11-Defining-Sustainable-Urban-Mobility.pdf. Accessed January 12, 2019.

Aldridge, S. (2001). Social mobility-a discussion paper. London: s.n.

Acharya, L. (2013). Flexible architecture for the dynamic societies. Toronto: Faculty of Humanities, Social Sciences and Education.

Wang, C. M., & Wang, B. T. (2015). Great ideas float to the top. In Large floating structures (pp. 1–36). Singapore: Springer.

DeWolf, C. (2018). Water world. CLAD Magazine, 4(1), 102–106.

Olthuis, K. (2018). Rise of the blue city for gif im Fokus. Interview; Interwier: Koen Toblis. January 2018.

Moon, C. (2015). Architectural characteristics of floating building. In World architects congress (pp. 1–6). UIA 2017 Seoul, Korea: SEOUL.

Mairs, J. (2015). Thatched office for Amsterdam's canal cleaners is "the biggest ark in the Netherlands" [Online]. Available at: https://www.dezeen.com/2015/01/22/floating-thatched-office-amsterdam-canal-cleaners-attika-architekten/. Accessed January 15, 2019.

Harvard Graduate School of Design. (2013). Floating city: the community-based architecture of parade floats. New York: Harvard University.

Sebastian, J. (2011). Floating OffShore stadium/stadiumconcept [Online]. Available at: https://www.archdaily.com/138162/floating-offshore-stadium-stadiumconcept. Accessed January 10, 2019.

Valk, S. (2016). The good hotel [Online]. Available at: https://sikkovalk.nl/good-hotel-amsterdam. Accessed January 18, 2019.

Witsen, P. P. (2012). Floating Amsterdam: The development of Ijburg's Waterbuurt. Amsterdam: Municipality of Amsterdam, Projectbureau IJburg, Ontwikkelingscombinatie Waterbuurt West.

Lim, Y. B., & Koh, H. S. (2015). Floating performance stage at the Marina bay, Singapore. In Large floating structures (pp. 37–60).

Scheeren, O. (2012). Archipelago cinema/Buro Ole Scheeren + film on the Rocks Yao Noi Foundation [Online]. Available at: https://www.archdaily.com/226936/archipelago-cinema-buro-ole-scheeren-film-on-the25e2%2580%258b-rocks-yao-noi-foundation. Accessed January 10, 2019.

Ravenscroft, T. (2018). Artificial Island creates floating events space in Copenhagen harbour [Online]. Available at: https://www.dezeen.com/2018/03/13/copenhagen-islands-marshall-blecher-magnus-maarbjerg-fokstrot-floating-artificial-island-harbour/. Accessed January 13, 2019.

Slawik, H. (2010). IBA dock [Online] pdf available at: http://www.slawik.net/images/bautenundprojekte/pdf/Slawik_IBA%20DOCK_projekt%20paneel_EN.pdf. Accessed January 14, 2019.

Borgobello, B. (2013). Floating cinema sets in London for the summer [Online]. Available at: https://newatlas.com/floating-cinema-london/28580/. Accessed January 10, 2019.

McKnight, J. (2016). WA Sauna by goCstudio floats on Seattle's Lake Union [Online]. Available at: https://www.dezeen.com/2016/03/30/wa-floating-mobile-sauna-gocstudio-seattle-lakes-washington-state/. Accessed January 10, 2019.

MacLeod, F. (2014). OfficeUS propose floating museum for Guggenheim Helsinki competition [Online]. Available at: https://www.archdaily.com/546245/officeus-propose-floating-museum-for-guggenheim-helsinki-competition. Accessed January 13, 2019.
Copyright information

© 2020 Springer Nature Singapore Pte Ltd.
About this paper
Cite this paper
Simovic, M., Krasic, S., Nikolic, M. (2020). Floating Solutions: The New Meaning of Mobility. In: Wang, C., Lim, S., Tay, Z. (eds) WCFS2019. Lecture Notes in Civil Engineering , vol 41. Springer, Singapore. https://doi.org/10.1007/978-981-13-8743-2_23
DOI: https://doi.org/10.1007/978-981-13-8743-2_23

Published:

Publisher Name: Springer, Singapore

Print ISBN: 978-981-13-8742-5

Online ISBN: 978-981-13-8743-2

eBook Packages: EngineeringEngineering (R0)