Abstract

Previous chapters covered our literature review (including relevant examples from our own research work). In this chapter, we relate drivers and blockers in an integrative manner to leadership development practice. We present the "Drivers and Blockers Exploration Tool", with detailed examples from our field research, to uncover an individual's drivers and blockers—connected to a defined leadership aspiration, specific development objective(s) and context. Our research suggests that forming a picture of one's drivers and blockers should enhance self-awareness in leaders, increasing the possibility of their accepting and internalizing both the positive and negative forces involved with personal change. This is based on our review of the literature and our experience of designing and delivering leadership development programs for senior executives around the world.
Keywords
Leadership development

Self-awareness

Conscious and unconscious

Drivers

Blockers

Drivers and blockers

Immunity to change

Insightfully aware leadership

Leadership transformation

Individual change

Leadership development objectives

Coaching approaches and tools
People need to know that they have all the tools within themselves. Self-awareness, which means awareness of their body, awareness of their mental space, awareness of their relationships—not only with each other, but with life and the ecosystem.

Deepak Chopra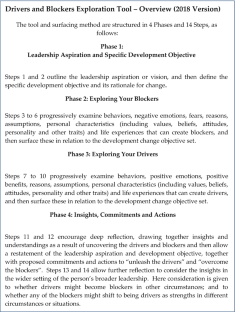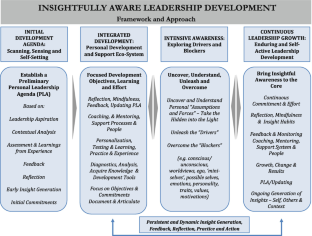 Notes
1.

Insightfully Aware Leadership Development Framework V3.1—Ian C Woodward—September 2017.
References
Avolio, B. J., Luthans, F., & Walumba, F. O. (2004). Authentic Leadership: Theory Building for Veritable Sustained Performance (Working Paper Series).

Diener, E. (2000). Subjective well-being: the science of happiness and a proposal for a national index. American Psychologist, 55(1), 34–43.

Dominé, V. H. (2012). The Illusion of Control in Leadership Development: The Goals and Fears of INSEAD GEMBA Participants. INSEAD.

Gardner, W. L., & Avolio, B. J. (1998). The charismatic relationship: A dramaturgical perspective. Academy of Management Review, 23(1), 32–58.

Goleman, D. (1996). Emotional intelligence: Why it can matter more than IQ. London, UK: Bloomsbury Publishing.

Heifetz, R. A., Linsky, M., & Grashow, A. (2009). The Practice of Adaptive Leadership: Tools and Tactics for Changing Your Organization and the World. Boston: Harvard Business Press.

Kegan, R., & Lahey, L. (2001a). The real reason people won't change. Harvard Business Review, 79(10), 85–92.

Kegan, R., & Lahey, L. (2009). Immunity to change: How to overcome it and unlock the potential in yourself and in your organization. Boston: Harvard Business Press.

Peterson, C. (2000). The future of optimism. American Psychologist, 55(1), 44–55.

Petriglieri, G., Wood, J. D., & Petriglieri, J. L. (2011). Up Close and Personal: Developing Foundations for Leader Development through Personalization of Management Learning. Academy of Management Learning and Education, 10(3), 430–450.

Seligman, M. E. P. (1998a). Building human strengths: psychology's forgotten mission. APA Monitor, 29(1), 2.

Seligman, M. E. P. (1998b). Positive social science. APA Monitor, 29(4), 5.

Snyder, C. R. (2000). Handbook of hope. San Diego, CA: Academic Press.

Woodward, I. C., (2017). Insightfully Aware Leadership – From Aspiration to Practice. INSEAD Advanced Management Programme Materials Article, Fontainebleau.

Woodward, I. C., & Shaffakat, S. (2016). Understanding values for insightfully aware leadership (No. 2016/05/OBH). INSEAD Research Working Paper, Singapore. Retrieved from https://doi.org/10.2139/ssrn.2471492
About this chapter
Cite this chapter
Woodward, I.C., Shaffakat, S., Dominé, V.H. (2019). Uncovering, Understanding, Unleashing, Overcoming: Exploring Drivers and Blockers in Leadership Development Practice. In: Exploring Leadership Drivers and Blockers. Palgrave Macmillan, Singapore. https://doi.org/10.1007/978-981-13-6276-7_8