Abstract

Selecting the best location to establish a new business site is very important in order to achieve success. It is therefore one of the most important aspect in any business plan. Multi-criteria decision-making methods such as the Analytic Hierarchy Process (AHP) has been used to elicit information that supports the decision of business site selection. However, AHP often involves multiple decision makers, each with their own opinions and biases. Different decision makers will have different opinions and views on the importance of the criteria and sub-criteria in the AHP model. In this study, three aggregation methods that can be used to carefully aggregate the resultant judgements from the multiple decision makers to form a single group judgement are discussed. The goal of obtaining the single group judgement is to use it as input to the AHP model in order to achieve the goal of selecting the most suitable business location. The study case for this paper is that of the selection of a location for a telecommunication payment point. From this study case, a conclusion can be drawn for the best aggregation method for the selection of the best location to set up a business of the telecommunication nature.
Keywords
AHP

Decision support

Location

Site selection

Data analytics

Decision analysis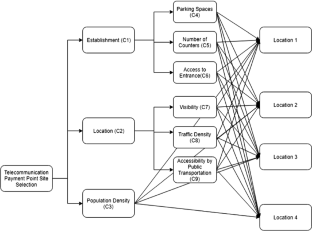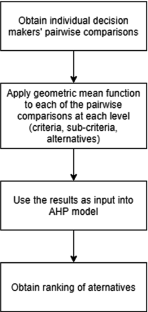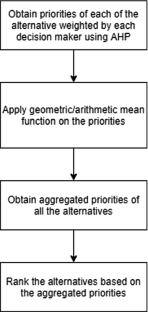 References
Karande K, Lombard JR (2005) Location strategies of broad-line retailers: an empirical investigation. J Bus Res 58:687–695. https://doi.org/10.1016/j.jbusres.2003.09.008

Durvasula S, Sharma S, Andrews CJ (1992) STORELOC: a retail store location model based on managerial judgments. J Retail 68:420–444

Pope JA, Lane WR, Stein J (2012) A multiple-attribute decision model for retail store location. Southern Bus Rev 37:15

Grošelj P, Zadnik Stirn L, Ayrilmis N, Kuzman MK (2015) Comparison of some aggregation techniques using group analytic hierarchy process. Expert Syst Appl 42:2198–2204. https://doi.org/10.1016/j.eswa.2014.09.060

Bernasconi M, Choirat C, Seri R (2014) Empirical properties of group preference aggregation methods employed in AHP: theory and evidence. Eur J Oper Res 232:584–592. https://doi.org/10.1016/j.ejor.2013.06.014

Yap JYL, Ho CC, Ting C-Y (2017) Analytic Hierarchy process (AHP) for business site selection. In: Proceedings—2017 6th international conference on computer science and computational mathematics

Levy M, Weitz B (2001) Retailing management. McGrawHill 688. Retrieved from https://doi.org/10.1057/jors.1992.174

Claudio D, Chen J, Okudan GE (2008) AHP based Borda count: a hybrid multi-person decision making method for design concept selection. In: IIE annual conference. Proceedings. Institute of Industrial and Systems Engineers (IISE), p 776

Escobar MT, Moreno-Jiménez JM (2007) Aggregation of individual preference structures in AHP-group decision making. Group Decis Negot 16:287–301. https://doi.org/10.1007/s10726-006-9050-x

Forman E, Peniwati K (1998) Aggregating individual judgments and priorities with the analytic hierarchy process. Eur J Oper Res 108:165–169. https://doi.org/10.1016/S0377-2217(97)00244-0
Acknowledgements

This study was supported by Telekom Malaysia.
Copyright information

© 2019 Springer Nature Singapore Pte Ltd.
About this paper
Cite this paper
Yap, J.Y.L., Ho, C.C., Ting, CY. (2019). Aggregating Multiple Decision Makers' Judgement. In: Piuri, V., Balas, V., Borah, S., Syed Ahmad, S. (eds) Intelligent and Interactive Computing. Lecture Notes in Networks and Systems, vol 67. Springer, Singapore. https://doi.org/10.1007/978-981-13-6031-2_26
DOI: https://doi.org/10.1007/978-981-13-6031-2_26

Published:

Publisher Name: Springer, Singapore

Print ISBN: 978-981-13-6030-5

Online ISBN: 978-981-13-6031-2