Abstract

Manifested by population loss, shrinking cities are currently under heated discussion in the developed countries. The emerging shrinking cities in developing world, however, have not attracted enough attention. This paper focuses on the shrinking cities in China, where has been witnessed fast economic growth, rapid urban expansion, and massive urbanization in the last decades. By collecting and analyzing township-level demographic data of the Census in 2000 and 2010, we identified 180 shrinking cities. We then classified them into two sets of categories based on their causalities and spatial patterns of depopulation, respectively. Despite their great quantity, shrinking cities are largely disregarded by China's planners and local authorities during the plan-making process. We conceptualized the causalities of the disregard into the systematic paradox and technological paradox, both of which are the effects of a combination of China's specific planning system, land marketization, cadre promotion system, and the national urbanization policy. We then further conceptualize the overwhelming growth-oriented paradigm into a vicious cycle that continuously exacerbates oversupply of the built environment in shrinking cities. This paper ends with a discussion of appealing for more attention on shrinking cities in China and a paradigm shift from the growth-oriented planning, as well as the future research agenda for shrinking cities' research in China.
Keywords
Shrinking cities

Depopulation

Chinese cities

Growth-oriented paradigm
Ying Long and Shuqi Gao contributed equally to this chapter.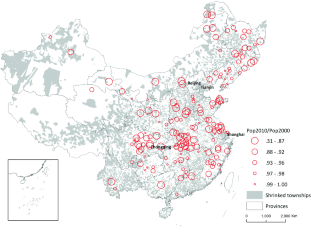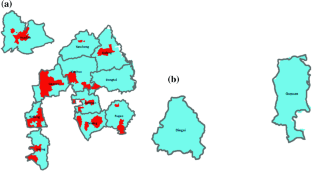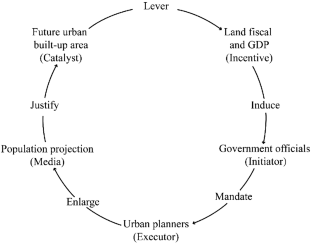 Notes
1.

The information of Chinese cities from spatial entity dimension (urbanized areas) and functional dimension (e.g., functional urban areas) is not open in China officially, and we use the administrative cities as the study area and object of this paper. We admit that identifying shrinking cities using the cities defined from spatial entity or functional dimension is more feasible.

2.

As what we have mentioned in Sect. 1.4.3, almost all identified shrinking cities in China have experienced increased economy during 2000–2010. Therefore, it is not feasible to incorporate economy factors into the identification of shrinking cities in China at the current stage.

3.

We admit that the inconsistent between spatial entity of a city and the administrative area of a city (city proper). Generally, a city proper contains several natural cities if we refer to the USA or EU definition on a city. In this paper, we do not challenge the definition of a city in China and still use the administrative-oriented city proper.

4.
References
Bernt M (2009) Partnerships for demolition: the governance of urban renewal in East Germany's shrinking cities. Int J Urban Reg Res 33(3):754–769

Bernt M (2016) The limits of shrinkage: conceptual pitfalls and alternatives in the discussion of urban population loss. Int J Urban Reg Res 40(2):441–450

Bluestone B, Harrison B (1982) The deindustrialization of America. Basic Books, New York

Bontje M (2005) Facing the challenge of shrinking cities in East Germany: the case of Leipzig. GeoJournal 61(1):13–21

Chan KW, Zhang L (1999) The hukou system and rural-urban migration in China: processes and changes. China Quarter 160:818–855

Chan KW (2007) Misconceptions and complexities in the study of China's cities: definitions, statistics, and implications. Eurasian Geogr Econ 48(4):383–412

Ding C (2003) Land policy reform in China: assessment and prospects. Land Use Policy 20(2):109–120

Harvey D (1978) The urban process under capitalism: a framework for analysis. Int J Urban Reg Res 2:101–131

He SY, Lee J, Zhou T, Wu D (2017) Shrinking cities and resource-based economy: the economic restructuring in China's mining cities. Cities 60:75–83

Hollander JB, Pallagst K, Schwarz T, Popper FJ (2009) Planning shrinking cities. Prog Plann 72(4):223–232

Hollander JB (2011) Sunburnt cities: the great recession, depopulation and urban planning in the American sunbelt. Routledge

Holzer M, Zhang M (2004) China's fiscal reform: The issue of extra budgeting. J Public Budget Account Financial Manag 16(1):19

Jin X, Long Y, Sun W, Lu Y, Yang X, Tang J (2017) Evaluating cities' vitality and identifying ghost cities in China with emerging geographical data. Cities 63:98–109

Li H, Zhou LA (2005) Political turnover and economic performance: the incentive role of personnel control in China. J Public Econom 89(9):1743–1762

Lichtenberg E, Ding C (2009) Local officials as land developers: Urban spatial expansion in China. J Urban Econom 66(1):57–64

Lin GC, Yi F (2011) Urbanization of capital or capitalization on urban land? Land development and local public finance in urbanizing China. Urban Geograp 32(1):50–79

Logan JR, Molotch H (1987) Urban fortunes: the political economy of place. University of California Press, Berkeley, CA, USA

Long Y, Wu K (2016) Shrinking cities in a rapidly urbanizing China. Environ Plann A 48(2):220–222

Mallach A (2011) Comment on Hollander's "The bounds of smart decline: a foundational theory for planning shrinking cities". Housing Policy Debate 21(3):369–375

Mao Q, Long Y, Wu K (2016) Spatio-temporal changes of population density and urbanization pattern in China (2000–2010). China City Plann Rev 25(4):8–14

National People's Congress (2004) Land Administration Law of the People's Republic of China. http://www.npc.gov.cn/englishnpc/Law/2007–12/12/content_1383939.htm. Last accessed June 7, 2017

NBS (2000) The population census data for townships, towns and sub-districts of 2000. http://www.stats.gov.cn/tjsj/ndsj/renkoupucha/2000jiedao/jiedao.htm (in Chinese, last visited, February 7, 2017)

Pallagst K (2010) Viewpoint: the planning research agenda: shrinking cities–a challenge for planning cultures. Town Plann Rev 81(5):i–vi

Population Census Office under the State Council & Department of Population and Employment Statistics under the National Bureau of Statistics (2012) Tabulation on the 2010 Population Census of the People's Republic of China by Township. China Statistics Press, Beijing, China (in Chinese)

Rhodes J, Russo J (2013) Shrinking 'Smart'?: Urban redevelopment and shrinkage in youngstown. Ohio Urban Geogr 34(3):305–326

Rybczynski W, Linneman P (1999) How to save our shrinking cities. Public Interest 135:30–44

Rydin Y (2013) The future of planning: beyond growth dependence. Policy Press, Bristol, UK

Schetke S, Haase D (2008) Multi-criteria assessment of socio-environmental aspects in shrinking cities. Experiences from Eastern Germany. Environ Impact Assess Rev 28(7):483–503

Schilling J, Logan J (2008) Greening the rust belt: a green infrastructure model for right sizing America's shrinking cities. J Am Plann Assoc 74(4):451–466

Turok I, Mykhnenko V (2007) The trajectories of European cities, 1960–2005. Cities 24(3):165–182

UN DESA (2014) World urbanization prospects: the 2014 revision. Population Division of the Department of Economic and Social Affairs of the United Nations Secretariat, New York. https://esa.un.org/unpd/wup/publications/files/wup2014-highlights.Pdf (last visited, February 7, 2017)

UN DESA (2015) World population prospects: the 2015 revision. Population Division of the Department of Economic and Social Affairs of the United Nations Secretariat, New York. https://esa.un.org/unpd/wpp/publications/files/key_findings_wpp_2015.pdf (last visited, February 7, 2017)

UN-HABITAT (2008) State of the world's cities 2008–2009: Harmonious Cities. UN-Habitat

Wiechmann T (2007) Between spectacular projects and pragmatic deconstruction. The future of shrinking cities: Problems, patterns, & strategies of urban transformation in a global context. In: Conference on the Future of Shrinking Cities. Berkeley, CA, USA

Wiechmann T, Pallagst KM (2012) Urban shrinkage in Germany and the USA: a comparison of transformation patterns and local strategies. Int J Urban Reg Res 36(2):261–280

World Bank (2002) China: national development and sub-national finance: a review of provincial expenditures vol 3. World Bank, Washington DC, pp 106–107

Wu C, Zhang X, Cui G, Cui S (2014) Shrinkage and expansion in peri-urban China. In: Pallagst K, Wiechmann, Martinez-Fernandez C Shrinking Cities: International Perspectives and Policy Implications. New York, NY: Routledge

Wu F (2001) China's recent urban development in the process of land and housing marketisation and economic globalisation. Habitat Int 25(3):273–289

Wu F (2015) Planning for growth: Urban and regional planning in China. Routledge, New York, NY

Wu C, Zhang X, Cui G, Cui S (2014b) Shrinkage and Expansion in Peri-Urban China. In: Pallagst K, Wiechmann T, Martinez-Fernandez C (eds) Shrinking Cities: international perspectives and policy implications. Routledge, New York, NY

Zhang T (2002) Challenges facing Chinese planners in transitional China. J Plann Educat Res 22(1):64–76

Zhao P (2011) Managing urban growth in a transforming China: evidence from Beijing. Land Use Policy 28(1):96–109
Copyright information

© 2019 Springer Nature Singapore Pte Ltd.
About this chapter
Cite this chapter
Long, Y., Gao, S. (2019). Shrinking Cities in China: The Overall Profile and Paradox in Planning. In: Long, Y., Gao, S. (eds) Shrinking Cities in China. The Urban Book Series. Springer, Singapore. https://doi.org/10.1007/978-981-13-2646-2_1
DOI: https://doi.org/10.1007/978-981-13-2646-2_1

Published:

Publisher Name: Springer, Singapore

Print ISBN: 978-981-13-2645-5

Online ISBN: 978-981-13-2646-2