Abstract
The primary concern of this chapter is the long-term financing of improved elder care. By beginning their detailed discussions with this point, the authors anticipate a primary scruple of those who would resist elder care reform. The chapter begins with a discussion of elder care demand and its anticipated increase over the coming decades. With growing need come growing barriers to action; the chapter covers such barriers as public knowledge (or the lack thereof), cost, reimbursement policy, and long-term care insurance. This chapter also includes the first interview subject of Aging Well, Claude Thau of Thau Incorporated, a company that provides consulting services to insurers, employers, regulators, and businesses who assist the long-term care insurance industry.
An estimated 12 million people in the United States currently need long-term care.
1
In the United States, long-term care is often referred to as long-term services and supports (LTSS), which include healthcare and assistance with activities of daily living (ADLs).
2
Some common services and supports include caregiver assistance, nursing home care, adult daycare, home health and personal assistance, and transportation. By 2050, the number of those needing long-term care is projected to more than double to 27 million
3
(Fig.
3.1
). Nearly 70 percent of those 65 and older will need some form of long-term care in their lifetime,
4
and 20 percent will need it for five or more years.
5
The annual cost of long-term care today is approximately US$725 billion.
6
As the population continues to age, healthcare costs could potentially reach unsustainable levels. Medicaid estimates that their spending on LTSS will increase six percent annually through 2021.
7
When the baby boom generation
8
begins to reach age 85 in 2030, the spending growth for LTSS will be further accelerated and will represent three percent of the GDP.
9
The percentage of GDP of public long-term care expenditures of the OECD countries is projected to grow from 0.8 in 2010 to 1.6 in 2060. For the BRIICS countries (Brazil, Russia, India, Indonesia, China, and South Africa), the growth projection of long-term care expenditures is from 0.1 to 0.9 percent of GDP.
10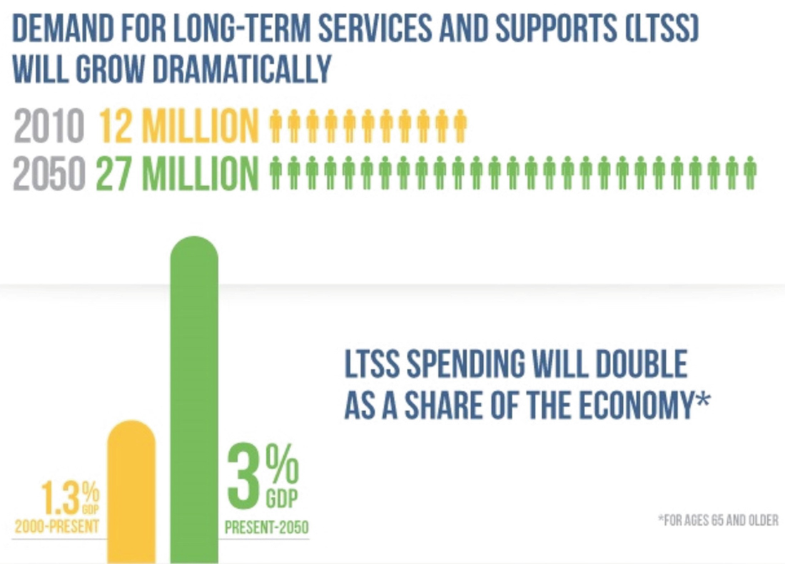 Managed care and home-based care are two trends that can lower costs and improve care. Government-funded Medicaid contracts with managed care organizations and pays a monthly capitated payment per patient. As described in Chap.  1, this value-based care reimbursement arrangement is an incentive for healthcare systems to be efficiently integrated and provide higher-quality, lower-cost care. As mentioned previously, in an effort to lower costs and improve quality of life for older patients, health providers are moving toward person-centered home-based models and away from institutional care. This trend is also taking place globally. Other housing models that can contribute to lower LTSS costs are neighborhoods such as villages (V2V) and naturally occurring retirement communities (NORCs), where residents receive care and support collectively. We will describe these housing models in Chap.  7.
Even with better emerging delivery and reimbursement models, health systems around the world are facing challenges in financing higher-quality, lower-cost long-term services and supports for their older citizens.
Global Funding Goals
The global demographic shift indicates that many nations around the world are faced with the pressing need of financially sustainable health systems to provide long-term care. Lower- and middle-income countries are less prepared to address the need. Global data regarding the lack of access to long-term care exists only on a national level, and according to the World Health Organization, it "reveals large gaps in the provision of and access to such services in many low and middle-income countries."11
AARP distilled the common goals of developed countries with differing models of long-term care financing and health and service delivery that include
12
:
Providing "consumer-directed" home care and programs to enhance choice and independence;

Encouraging home and community-based services rather than institutional care;

Encouraging family support of persons with disabilities;

Providing universal coverage for long-term care services;

Insuring individuals against the high costs of long-term care through a mix of public and private financing;

Improving the coordination between chronic medical care and long-term care services.
Barriers to Sustainable Long-Term Care Financing in the United States
Copyright information
© The Author(s) 2019
Open Access This chapter is licensed under the terms of the Creative Commons Attribution 4.0 International License (http://creativecommons.org/licenses/by/4.0/), which permits use, sharing, adaptation, distribution and reproduction in any medium or format, as long as you give appropriate credit to the original author(s) and the source, provide a link to the Creative Commons licence and indicate if changes were made.
The images or other third party material in this chapter are included in the chapter's Creative Commons licence, unless indicated otherwise in a credit line to the material. If material is not included in the chapter's Creative Commons licence and your intended use is not permitted by statutory regulation or exceeds the permitted use, you will need to obtain permission directly from the copyright holder.