Abstract

this chapter focuses on wind power. At present, wind turbines are installed with variable wind speed. Using intelligent systems, we can harness this energy that stores the wind and transforms it into electrical energy relying on such machines. In order to produce the maximum amount of electricity, the obstacles due to synergistic effects must be taken into consideration. The chapter also presents a solution enabling to convert the final energy demanded. A design of an intelligent wind turbine (3.8 kW) pitch angle control with a permanent magnet synchronous generator (PMSG) (3.5 kW), with the DC bus voltage controller, output from the converter for a 150 V pumping load, where a mechanism of fuzzy inference is used to estimate the upper limit of uncertainties. In addition, the fuzzy inference makes it possible to adjust the output voltage, obtain greater efficiency in the use of wind energy and protect the blades of the turbine. In the first part, we presented the modeling system with a pitch angle control. In the second part, a presentation of the results of the simulation system is analyzed and validated by the simulations in the MatLab/simulink environment.
Keywords
Turbine

PMSG

Wind

Pitch control

Fuzzy logic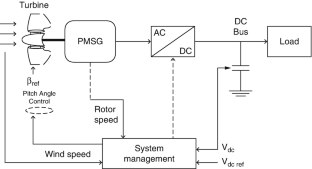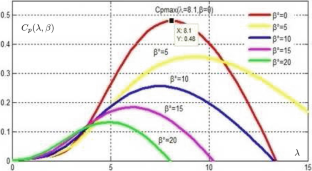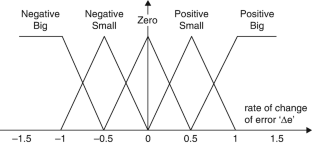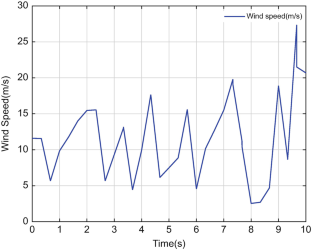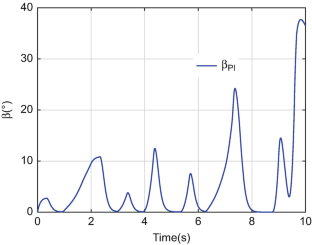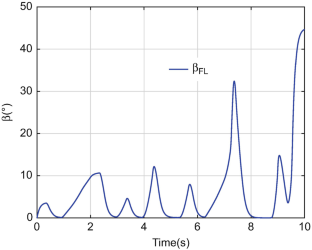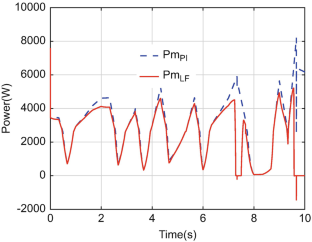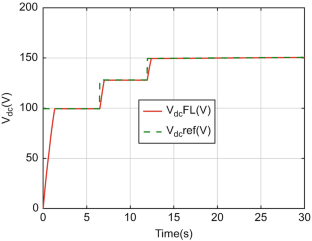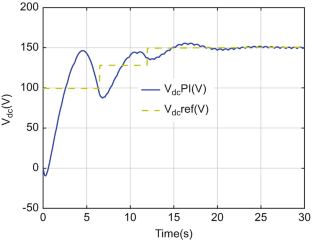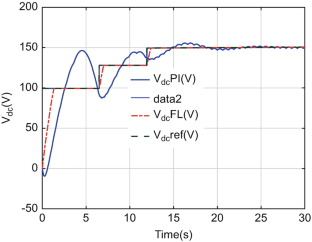 References
Akhmatov, V. (2001). Note concerning the mutual effects of grid and wind turbine voltage stability control. Wind Engineering, 25, 367–371.

Akhmatov, V. (2002). Speed wind turbines with doubly-fed induction generators – Part I: Modelling in dynamic simulation tools. Wind Engineering, 26, 85–108.

Akhmatov, V., Knudsen, H., Nielsen, A. H., & Poulsen, J. (2003). Modelling and transient stability of large wind farms. International Journal Electrical Power and Energy Systems, 25(2), 123–144

Anjun, X., Hao, X., Shuju, H., & Honghua, X. (2011). Pitch control of large scale wind turbine based on expert PID control. In International Conference on Electronics, Communications and Control (ICECC), Ningbo, September 9–11, 2011 (pp. 3836–3839).

Hafsi, S., Dhaoui, M., & Sbita, L. (2016). Advanced control of a PMSG wind turbine. International Journal of Modern Nonlinear Theory and Application, 5, 1–10.

Hansen, A. D., Sorensen, P., Loy, F., & Blaabjer, F. (2004). Speed wind turbines with doubly-fed induction. Engineering, 28, 247–263.

Lopes, J. A. P., & Almeida, R. G. (2004). Descrição de Modelos Matemáticos de Máquinas de Indução Convencional e Duplamente Alimentada e Estratégias de Controlo para Estudo Dinâmico e de Estabilidade Transitória, Trabalho de Consultoria parao ONS Brasil, INESC PORTO.

Macêdo, A. V. A., & Mota, W. S. (2012). Wind turbine pitch angle control using fuzzy logic. In IEEE/PES Transmission and Distribution: Latin America Conference and Exposition (T&D-LA), Montevideo, September 3–5, 2012 (pp. 1–6).

Miller, N. W., Price, W., & Sanchez-Gasca, J. J. (2003). Dynamic modelling of GE 1.5 and 3.6 wind turbine generators (p. 31). Technical Report, Power Systems Energy Consulting, General Electric Int., Shenectady.

Mota, W. S. (2006). Simulação de Transitórios Eletromec â Potência (p. 368). Campina Grande, Epgraf.

Nguen, H. M., & Naidu, S. (2011). Advanced control strategies for wind energy systems. In IEEE PES, Power Systems Conference & Exposition (PSCE), Phoenix, March 20–23, 2011.

Rolan, A., Luna, A., Vazquez, G., Aguilar, D., & Azevedo, G. (2009). Modeling of a variable speed wind turbine with a permanent magnet synchronous generator. In IEEE International Symposium on Industrial Electronics (ISlE 2009), Seoul, July 5–8, 2009 (pp. 734–739).

Simães, M. G., & Shaw, I. S. (2007). Controle Modelagem Fuzzy, 2nd edn (p. 186). SãoPaulo: Blucher.

Slimen, A., Tlijani, H., Dhaoui, M., & Ben Younes, R. (2016). Study of wind turbine system based on PMSG with fuzzy-PI controller. In International Journal of Control Theory and Applications (pp. 111–123).

Slootweg, J. G. (2003). Modelling and Impact on Power System Dynamics. PhD Thesis, University of Technology, Delft.

Veermani, C., & Mohan, G. (2011). A fuzzy based pitch angle control for variable speed wind turbines. In IEEE, Student Conference on Research and Development (SCOReD) (pp. 36–39).

Yang, S., & Zhang, L. (2013). Modeling and control of the PMSG wind generation system with a novel controller. In 3rd International Conference on Intelligent System Design and Engineering Applications, Hong Kong, January 16–18, 2013 (pp. 946–949).

Yin, M., Li, G., & Zhou, M. (2007). Modeling of the wind turbine with a permanent magnet synchronous generator for integration. In IEEE, Power Engineering Society General Meeting (pp. 1–6).

Zadeh, L. A. (1965). Fuzzy sets. Information and Control, 8, 338–353.
Copyright information

© 2019 Springer Nature Singapore Pte Ltd.
About this chapter
Cite this chapter
Slimen, A., Tlijani, H., Dhaoui, M., Younes, R.B. (2019). Control of Wind Turbine Based on PMSG Using Pitch Angle Control. In: Derbel, N., Zhu, Q. (eds) Modeling, Identification and Control Methods in Renewable Energy Systems. Green Energy and Technology. Springer, Singapore. https://doi.org/10.1007/978-981-13-1945-7_7
DOI: https://doi.org/10.1007/978-981-13-1945-7_7

Published:

Publisher Name: Springer, Singapore

Print ISBN: 978-981-13-1944-0

Online ISBN: 978-981-13-1945-7

eBook Packages: EnergyEnergy (R0)