Abstract

Optical mark recognition (OMR) is a prevalent data gathering technique which is widely used in educational institutes for examinations consisting of multiple-choice questions (MCQ). The students have to fill the appropriate circle for the respective questions. Current techniques for evaluating the OMR sheets need dedicated scanner, OMR software, high-quality paper for OMR sheet and high precision layout of OMR sheet. As these techniques are costly but very accurate, these techniques are being used to conduct many competitive entrance examinations in most of the countries. But, small institutes, individual teachers and tutors cannot use these techniques because of high expense. So, they resort to manually grading the answer sheets because of the absence of any accurate, robust, fast and low-cost OMR software. In this paper, we propose the robust technique that uses the low-quality images captured using mobile phone camera for OMR detection that gives \(100\%\) accuracy with less computation time. We exploit the property that the principal component analysis (PCA) basis identifies the direction of maximum variance of the data, to design the template (introducing the vertical bar in the OMR sheet) without compromising the look of OMR answer sheet. Experiments are performed with 140 images to demonstrate the proposed robust technique.
Keywords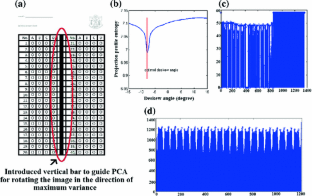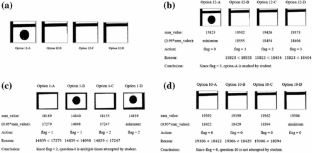 References
Sattayakawee N (2013) Test scoring for non-optical grid answer sheet based on projection profile method. Int J Inf Educ Technol 3(2):273–277

Krishna G, Rana HM, Madan I et al (2013) Implementation of OMR technology with the help of ordinary scanner. Int J Adv Res Comput Sci Softw Eng 3(4):714–719

Nalan K (2015) OMR sheet evaluation by web camera using template matching approach. Int J Res Emerg Sci Technol 2(8):40–44

Gaikwad SB (2015) Image processing based OMR sheet scanning. Int J Adv Res Electron Commun Eng 4(3):519–522

Steinherz T, Intrator N, Rivlin E (1999) Skew detection via principal components analysis. Fifth international conference on document analysis and recognition, Sept 1999:153–156

Nirali P, Ghanshyam P (2015) Various techniques for assessment of OMR sheets through ordinary 2D scanner: a survey. Int J Eng Res Technol 4(9):803–807

Smith AM (1981) Optical mark reading—Making it easy for users. In: Proceedings of the 9th annual ACM SIGUCCS conference on user services, United States, pp. 257–263

Krisana C, Yuttapong R (1999) An image-processing oriented mark reader. In: Applications of digital image processing XXII. Denver CO, pp 702–708

Hussmann S, Chan L, Fung C et al (2003) Low cost and high speed Optical mark reader based on Intelligent line camera. In: Proceedings of the SPIE aero sense 2003, optical pattern recognition XIV, vol 5106. Orlando, Florida, USA, pp 200–208

Hussmann S, Deng PW (2005) A high speed optical mark reader hardware implementation at low cost using programmable logic. Sci Dir Real-Time imaging 11(1):19–30

Chidrewar V, Yang J, Moon D (2014) Mobile based auto grading of answer sheets. Stanford University. https://stacks.stanford.edu/file/druid:yt916dh6570/Moon_Chidrewar_Yang_Mobile_OMR_System.pdf

Arvind KR, Kumar J, Ramakrishnan AG (2007) Entropy based skew correction of document images. In: Pattern recognition and machine intelligence. Lecture notes in computer science, vol 4815. Springer, pp 495–502

Lathi BP, Ding Z (1998) Modern digital and analog communication systems, 4th edn. Oxford University Press, Oxford

Mahdi F, Al-Salbi M (2012) Rotation and scaling image using PCA. Comput Inf Sci 5(1):97–106

Basavanna M, Gornale SS (2015) Skew detection and skew correction in scanned document image using principal component analysis. Int. J. Sci. Eng. Res 6(1):1414–1417

Sunita M, Ekta W, Maitreyee D (2015) Time and accuracy analysis of skew detection methods for document images. Int J Inf Technol Comput Sci 11:43–54

Nobuyuki O (1979) A threshold selection method from grey-level histograms. IEEE Trans Syst Man Cybern 9:62–66

Gonzalez RC, Woods RE (1977) Digital image processing, 3rd edn. Pearson Prentice Hall, Upper Saddle River

Images Dataset. http://silver.nitt.edu/~esgopi/OMR_Database
Copyright information

© 2019 Springer Nature Singapore Pte Ltd.
About this paper
Cite this paper
Rachchh, K., Gopi, E.S. (2019). Inclusion of Vertical Bar in the OMR Sheet for Image-Based Robust and Fast OMR Evaluation Technique Using Mobile Phone Camera. In: Kulkarni, A., Satapathy, S., Kang, T., Kashan, A. (eds) Proceedings of the 2nd International Conference on Data Engineering and Communication Technology. Advances in Intelligent Systems and Computing, vol 828. Springer, Singapore. https://doi.org/10.1007/978-981-13-1610-4_4
DOI: https://doi.org/10.1007/978-981-13-1610-4_4

Published:

Publisher Name: Springer, Singapore

Print ISBN: 978-981-13-1609-8

Online ISBN: 978-981-13-1610-4

eBook Packages: EngineeringEngineering (R0)