Abstract

Satellite communications have been widely used to provide connectivity around the world. However, regions such as the Arctic still have limited coverage, despite the need to monitor this region. Currently, several sensors are deployed in the Arctic, but are limited by poor and costly connectivity. Constellations of small satellites, or CubeSats, have been proposed in order to overcome this lack of connectivity, offering an alternative to typical satellite solutions. However, these constellations face challenges in their deployment and in orbital station keeping. In this paper, we propose a simpler deployment of small satellites, in the form of a drifting swarm, integrated with networking protocols widely used in the Internet of Things (IoT). A realistic setup is considered, evaluating this solution taking into account the position of sensor nodes, ground stations and the dynamics of such a drifting swarm. The topology evolution of the small-satellite swarm is studied and all its link characteristics are emulated using a real network stack and protocols. The obtained results prove the feasibility of the proposed solution and show that a freely drifting satellite swarm, with three small satellites, outperforms more costly solutions. Our results also show that by using standardised networking protocols, a satellite architecture with two ground stations connected over the Internet, can reduce the average end-to-end time of a request from 88 to 38 min. The obtained results motivate the use of freely drifting swarms of small satellites for reaching sensor nodes in remote locations, as well as the use of IoT protocols for improved performance.
Keywords
IoT

Arctic

CubeSat

Satellite swarms

Network emulation

CoAP

WSN

Sensor networks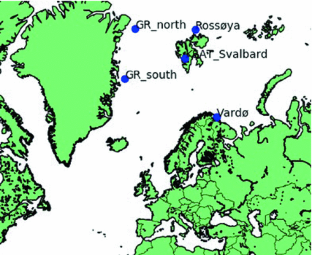 Notes
1.

2.

3.

4.

Since the TLEs strictly are not valid for more than a few weeks, the resulting orbits must be interpreted as representative examples only.

5.
References
Aalborg University (2014) AAUSAT3. http://www.space.aau.dk/aausat3/, online

Berge J (2017) Mare incognitum—arctic abc project summary, online, nFR projects 244319 and 245923

Berge J, Geoffroy M, Johnsen G, Cottier F, Bluhm B, Vogedes D (2016) Ice-tethered observational platforms in the arctic ocean pack ice. IFAC-PapersOnLine 49(23):494–499. http://dx.doi.org/10.1016/j.ifacol.2016.10.484, http://www.sciencedirect.com/science/article/pii/S2405896316320742

Birkeland R (2014) An overview of existing and future satellite systems for arctic communication. In: Proceedings of ESA small satellites systems and services 2014

Birkeland R (2014) Proposal for a satellite communication payload for sensor networks in the arctic area. In: Proceedings of the 65th international astronautical congress

Birkeland R (2017) Freely drifting cubesat constellations for improving coverage for arcticsensor networks. In: 2017 IEEE international conference on communications (ICC), pp 1–6, https://doi.org/10.1109/icc.2017.7997293

Birkeland R, Palma D, Zolich A (2017) Integrated smallsats and unmanned vehicles for networking in remote locations. In: Proceedings of the 68th international astronautical congress

Bormann C, Hartke K, Shelby Z (2014) The constrained application protocol (CoAP). RFC 7252, https://doi.org/10.17487/rfc7252, https://rfc-editor.org/rfc/rfc7252.txt

Burleigh SC, Farrell S, Ramadas M (2008) Licklider transmission protocol specification. RFC 5326, https://doi.org/10.17487/rfc5326, https://rfc-editor.org/rfc/rfc5326.txt

Chakrabarti S, Montenegro G, Droms R, Woodyatt J (2017) IPv6 over low-power wireless personal area network (6LoWPAN) ESC dispatch code points and guidelines. RFC 8066, https://doi.org/10.17487/rfc8066, https://rfc-editor.org/rfc/rfc8066.txt

Foundation PS (2017) Python 3.5.3 documentation, online, https://docs.python.org/3.5/

Graphics A (2016) Stk. Online, http://www.agi.com/products/stk/. Accessed Apr 2016

Insider T (2015) Spacex is working on a 'pizza box' that should scare your internet company. Online, http://www.techinsider.io/spacex-satellite-program-brings-global-internet-access-2015-9

Iridium Communications Inc (2014) Iridium communications. https://iridium.com/ProductList.aspx?productCategoryID=9. Accessed 15 Dec 2014

ITU (2015) Technical characteristics for a VHF data exchange system in the VHF maritime mobile band. https://www.itu.int/rec/R-REC-M.2092, recommendation ITU-R M.2092-0

Kelso DT (1998) Frequently asked questions: two-line element set format. Available at https://celestrak.com/columns/v04n03/

Merkel D (2014) Docker: Lightweight linux containers for consistent development and deployment. Linux J 2014(239). http://dl.acm.org/citation.cfm?id=2600239. 2600241

Norwegian Space Centre (2015) Satkom i Arktis (ASK). Online, http://www.romsenter.no/Fagomraader/Satellittkommunikasjon/\Satkom-i-Arktis-ASK. Accessed June 2015

OneWeb (2015) Oneweb homepage, online, http://oneweb.world/. Accessed Oct 2015

Palma D, Zolich A, Jiang Y, Johansen TA (2017) Unmanned aerial vehicles as data mules: An experimental assessment. IEEE Access 5:24716–24726, https://doi.org/10.1109/access.2017. 2769658

Puig-Suari J, Zohar G, Leveque K (2013) Deployment of CubeSat constellations utilizing current launch opportunities. In: 27th annual AIAA/USU conference on small satellites

Rhodes B (2015) Pyephem home page. http://rhodesmill.org/pyephem/. Accessed Oct 2015

Salopek D, Vasić V, Zec M, Mikuc M, Vašarević M, Končar V (2014) A network testbed for commercial telecommunications product testing. In: 2014 22nd international conference on software, telecommunications and computer networks (SoftCOM), pp 372–377, https://doi.org/10.1109/softcom.2014.7039061

Sanctis MD, Cianca E, Araniti G, Bisio I, Prasad R (2016) Satellite communications supporting internet of remote things. IEEE Internet Things J 3(1):113–123. https://doi.org/10.1109/JIOT.2015.2487046

Scott K, Burleigh SC (2007) Bundle protocol specification. RFC 5050. https://doi.org/10.17487/rfc5050, https://rfc-editor.org/rfc/rfc5050.txt

Tanganelli G, Vallati C, Mingozzi E (2015) Coapthon: easy development of coap-based IoT applications with python. In: 2015 IEEE 2nd world forum on internet of things (WF-IoT), pp 63–68, https://doi.org/10.1109/wf-iot.2015.7389028

Thubert P, Hui J (2011) Compression format for IPv6 datagrams over IEEE 802.15.4 Based networks. RFC 6282, https://doi.org/10.17487/rfc6282. https://rfc-editor.org/rfc/rfc6282.txt

Whitaker J (2017) Basemap Matplotlib Toolkit 1.0.8 documentation, online, http: //matplotlib.org/basemap/

Zohar GG (2013) Ad-hoc regional coverage constellations of cubesats using secondary launches. Master's thesis, Faculty of California Polytechnic State University, San Luis Obispo
Acknowledgements

This work was partially funded by the European Union's Horizon 2020 research and innovation programme under the Marie Skłodowska-Curie Grant Agreement No. 699924, SINet.
Copyright information

© 2019 Springer Nature Singapore Pte Ltd.
About this paper
Cite this paper
Birkeland, R., Palma, D. (2019). Freely Drifting Small-Satellite Swarms for Sensor Networks in the Arctic. In: Yang, XS., Sherratt, S., Dey, N., Joshi, A. (eds) Third International Congress on Information and Communication Technology. Advances in Intelligent Systems and Computing, vol 797. Springer, Singapore. https://doi.org/10.1007/978-981-13-1165-9_16
DOI: https://doi.org/10.1007/978-981-13-1165-9_16

Published:

Publisher Name: Springer, Singapore

Print ISBN: 978-981-13-1164-2

Online ISBN: 978-981-13-1165-9

eBook Packages: EngineeringEngineering (R0)