Probiotics as Functional Foods in Enhancing Gut Immunity
Abstract
Probiotics as microbes when administered in sufficient amounts as functional food impose beneficial effects on gut microbiota and thus enhance health of host. The indigenous microflora of gastrointestinal tract acts as an anatomic barrier against antigens present in food, invading microorganisms which regulates the immunophysiologic mechanism. Many factors may lower the resistance of the body which may lead to inflammatory, infectious, neoplastic, and degenerative conditions. There are other means of treatment like using antibiotics, irradiation, and immunosuppressive therapy which may change normal composition of gut flora. A variety of functional properties of probiotics bound their consideration as conventional, medicinal foods, and dietary supplements.
The most commonly used probiotics are of two genera, Lactobacillus and Bifidobacterium. Healthy microflora is the chief basis of probiotic therapy in literature. Probiotic bacteria demonstrate various immunomodulatory effects and therefore may be treated as novel tool to reduce inflammation in the intestine and dysfunction of gut mucosa, including acute gastroenteritis, inflammatory bowel disease, and food allergy, and downregulate hypersensitivity reactions. A large number of probiotic effects are explained by regulating immunity, especially the balance between anti-inflammatory and proinflammatory cytokines. Probiotics stabilize microbial environment of the gut and the intestinal permeability barrier. This leads to enhanced mucosal IgA responses which promote further the immunological barrier and responses of gut mucosa. In addition, providing immunomodulatory effect on gut mucosa, probiotic therapy is now also being used to cure infections in other organs such as respiratory tract, urogenital tract, and others. This chapter focuses on roles of probiotics as functional foods.
Keywords
Probiotics 
Functional food 
Immunomodulation 
Gastrointestinal tract 
Respiratory tract 
Urogenital tract 
Oral infection 
4.1

Introduction

In recent years, the beneficiary health reasons of functional food have been felt worldwide. Probiotic is preferred as a new and healthy component in functional food market because of its functional properties and consumer's preference. Today, probiotics as functional food ingredients are being consumed by humans as fermented milks, yogurts, baby foods, energy drinks, confectionery, and chewing gum [1, 2]. Several efforts have been attempted to affect the intestinal microbiota by functional food which is beneficiary for host's health.

Since infectious illness, malnutrition, old age, and stress decline immune system, many natural and chemical products exist with immunomodulatory properties that help in modulating the functioning of immune system under such conditions. Unfortunately, many of such immunostimulatory products leave behind deleterious side effects [

3

]. The manufacturing of natural food products which bear both immunoenhancing properties and free of side effects would therefore be beneficial to individuals with declined immunity. Consumption of probiotics as functional food is thus one of the most significant benefits to enhance host's immunity [

4

,

5

]. Probiotic organisms are capable of improving human health by modifying the intestinal flora which affects the physiology, metabolism, and pathological process of the host. Some beneficial health effects of probiotics include anticarcinogenic effect, hypocholesterolemic effect, and alleviation of lactose malabsorption and allergy (Fig.

4.1

). These effects are because of maintaining the balance between indigenous microbiota and inhibition of pathogenic microbial growth, thereby enhancing the innate and acquired immunity of the host.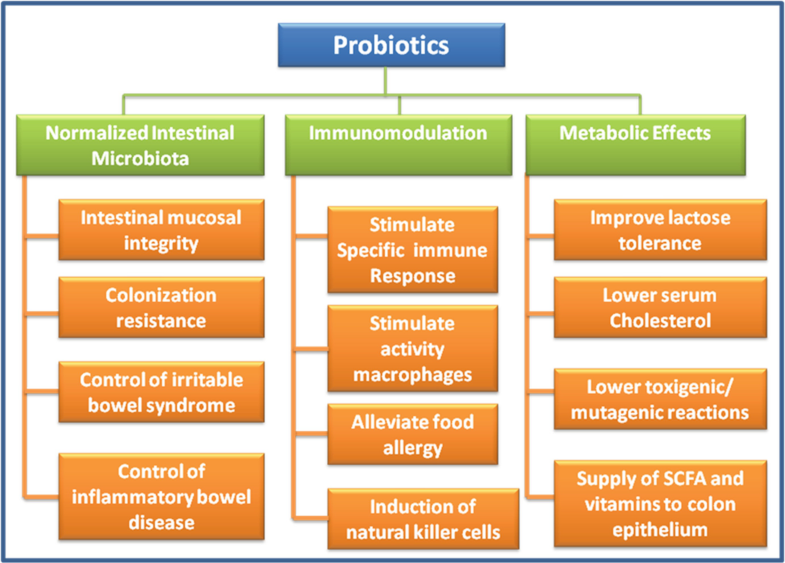 The human body is a macrocosm of microorganisms that reside at different body sites. These sites provide an environment where specific microorganisms are more favored than others. These resident microorganisms participate in commensal, mutualistic, and parasitic relationships with the host [6]. The diverse group of commensal (nonpathogenic) bacteria may be differentiated into normal flora (native inhabitants) and transient flora. Native microorganisms colonize specific sites in the human body. Transient flora colonizes the body from the external environment and can persist until some sites are filled with native flora [7]. The normal flora may prevent the colonization of pathogenic microorganisms and thus gives health benefits to host. This phenomenon is called microbial antagonism (Fig. 4.1). When the balance between the normal microbiota and pathogenic microbes is disturbed, it may lead to diseases [8].These microorganisms colonize mainly in the mucosal surfaces of gastrointestinal (GI) tract, the upper respiratory tract, and the urogenital tract, on the skin and oral cavity [9, 10, 11, 12, 13]. The present chapter enlightens the relationship between probiotics and immunity at the gastrointestinal tract because probiotics primarily affect the gut and improve its morphology and functions. However, probiotics also aid in improving immune components at other mentioned mucosal surfaces. The next section of the chapter focuses the same.
4.2

Microflora of Gastrointestinal Tract and Other Organs
4.3

Immunomodulation by Probiotics

Probiotic bacteria are shown to elevate the endogenous host defense mechanisms. In addition to stabilization of the gut microflora (nonimmunologic gut defense), probiotic bacteria enhance humoral immune responses and thus promote the immunologic barrier of the intestine [26].

Probiotics modulate non-specific or innate immunity in various ways including decreasing gut permeability, promoting production of mucin, competing with and inhibiting growth of opportunistic pathogens and increasing cytotoxic activity of natural killer cell, and activating macrophage and its phagocytic activity [36, 59]. Probiotics enhance specific or adaptive immune response by modulating inflammatory gut immune responses and raise IgA-, IgG-, and IgM-secreting plasma cells. Probiotics also increase total and specific sIgA in serum and gut lumen [38].

Oral supplements of lactobacilli can increase innate immunity of host against microbial pathogens and thereby facilitate the elimination of pathogens in the gut. A number of strains of live lactic acid bacteria (LAB) are found to stimulate the release of the proinflammatory cytokines such as TNF-α, IL-6, and IL-10 which reflect stimulation of` nonspecific immunity [85]. Oral intake of Lactobacillus casei and L. bulgaricus activates the biosynthesis of macrophages, while phagocytic activity is stimulated by L. helveticus and L. acidophilus. Phagocytosis triggers the inflammatory response before antibody production by releasing lethal agents including reactive oxygen and nitrogen intermediates and degradative enzymes [37, 52, 86]. Probiotics are capable of modulating phagocytosis differently in healthy and allergic persons: in healthy people immunostimulatory effects have been detected, whereas in allergic persons, downregulation of inflammatory response was shown [87]. In rotavirus diarrhea, proinflammatory mediator fecal urease activity gets increased that leads to ammonia-induced destruction of gut mucosa and thus promotes overgrowth of urease-producing bacteria [88]. In patients with rheumatoid arthritis, bacterial composition is altered in gut as compared to healthy persons. This suggests that the intestinal microflora is responsible for inflammation beyond the gut [89]. Therapeutic use of probiotics thus may help to stabilize the gut microflora and thereby prevent the generation of inflammatory mediators by GALT, which are triggered in response to exposure of intestinal lumen by potentially harmful antigens [26, 87]. Proinflammatory cytokines such as IL-6, TNF-α, and IFN- γ may play a key role in inflammation and also stimulate production of adaptive immune cells. Intake of lactobacilli in fermented milk products or as live-attenuated bacteria potentiates production of IFN- γ by peripheral blood mononuclear cells. IFN promotes the uptake of antigens in Peyer's patches, where IgA-committed cells are generated in follicles [90, 91]. Oral administration of Lactobacillus rhamnosus GG (LGG) was shown to reduce high fecal concentrations of TNF-α in patients suffering from atopic dermatitis and cow milk allergy [35, 92]. In this way, probiotic bacteria may stabilize the immunologic barrier of the gut mucosa by reducing the generation of local proinflammatory molecule TNF-α and by reinforcing the systemic production of IFN. However, abnormal production of IFN interferes with the oral tolerance and disturbs gut epithelial cell integrity. Thus, immunomodulating effects shown by probiotics may depend on the immunological status of the host [20, 21].

It has been postulated that partial lactose digestion and stimulation of the intestinal lactase activity act as a mechanism against some types of diarrhea. In case of acute gastroenteritis or recurrent abdominal distress, disaccharidase activity in the small intestine produces osmotic diarrhea as transport of monosaccharides is affected [93]. Lactobacilli have active β-galactosidase which is used to decrease the lactose concentration in dairy products that may improve osmotic diarrhea due to pathogenic organisms [88, 94]. Many metabolites produced by LAB act as antimicrobial substances, such as organic acids, hydrogen peroxide, ammonia, free fatty acids, and bacteriocins. These substances are used in dairy to extend the shelf life of food and to suppress food spoilage [95]. L. casei strain GG (LGG) which has unique colonial morphology that makes it easy to identify in a mixed culture of other lactobacilli and Streptococci has the ability to produce a low-molecular-weight antibacterial substance that inhibits both gram-positive and gram-negative enteric bacteria in mice [96]. Similarly, it has been observed that IgA-specific antibody-secreting cell counts are increased in most patients suffering with rotavirus diarrhea when they received viable LGG at the convalescent stage [60].

Another mechanism used by probiotics is to block toxin-mediated diseases by modifying toxin receptors and. For example, S. boulardii disintegrates Clostridium difficile toxin receptors in the human colon and blocks cholera-induced secretion in rat jejunum by the production of polyamines [97, 98]. It has been shown that LGG and L. plantarum competitively inhibit the adhesion site of enteropathogenic E. coli 0157H7 to human colonic cancer cell HT-29 [99]. Similarly, S. boulardii also decreases attachment of Entamoeba histolytica trophozoites to erythrocytes in vitro [100]. Different strains of LAB stimulate production of IFN-γ, IL-12, and IL-18 by human blood lymphocytes [85]. Mucosal-associated lactobacilli (mainly L. paracasei) can translocate over the gut barrier and enable to influence gut mucosal immune by strongly stimulating IL-12 secretion which in turn stimulates cytotoxic activity of T cells and natural killer cells. However, IL-12 may also downregulate the TH-2 response, decreasing IL-4 and IgE production [59].

Whole bacterial cells are able to induce proinflammatory cytokines, such as TNF-α and IL-6 as well as accelerate proliferation of immune cells [101]. Contrary to this, probiotic bacteria mediate suppress cytokine production and lymphocyte proliferation which indicates that probiotic bacteria possess considerable anti-inflammatory properties as good as therapeutic efficacy. For example, Feacalibacterium prausnitzii suppresses release of proinflammatory cytokines IL-12 and IL-17 and TH-17 cells which play role in inflammatory bowel disease [102, 103]. Oral administration of LGG has been shown to elevate serum IL-10 levels in atopic children. This implies that specific probiotics may exhibit anti-inflammatory effects which may be mediated through modification in intestinal microfloral niche [32, 57].

Bifidobacterium longum was shown to increase antibody response when orally incorporated in patients of allergen ovalbumin-induced lung inflammation and also stimulates IgA response to cholera toxin [104, 105]. Likewise, humoral immune response (rotavirus-specific IgA) was increased by LGG administration in children who were suffering with acute rotavirus diarrhea [106, 107]. Cow milk proteins cause type 1 hypersensitivity and lead to defective generation of local IgA responses in human infants [34]. In addition to certain gastrointestinal microfloral species which release low-molecular-weight peptides, incorporation of lactobacilli and bifidobacteria in diet stimulates immune responses through several mechanisms. However, in healthy individuals, milk protein degradative enzymes are released from intestinal bacteria into tolerogenic peptides and thereby exert suppressive effects on the lymphocyte proliferation and downregulate cow's milk allergy [108].
4.4

Sources of Probiotics as Functional Food

Yogurt, cheese, cultured buttermilk, fermented milk, and ice cream are the main sources of probiotics. Although many other nondairy probiotic food products like Japanese miso, kimchi, sauerkraut, pickles, tempeh, bread, sour dough, chocolate, olives, beer, and soy-based drinks are produced by bacterial fermentation, yogurts and fermented milks are still dominant medium as probiotics. It is because they provide a relatively low pH environment suitable for probiotic bacteria to survive [

109

]. Probiotic strains are also found in nondairy fermented foods like soy-based products, cabbage, legumes, sorghum, pearl millet, cereals, maize, etc. [109, 11l]. Table

4.1

demonstrates various probiotic-based functional foods. Probiotic soy products, such as soya yogurts, beverages, and fruit juices, are lactose-intolerant.

Table 4.1

Various probiotic-based dairy and nondairy products
| Cultured dairy/nondairy product | Beneficial bacteria |
| --- | --- |
| Yogurt | L. bulgaricus, L. acidophilus, S. thermophilus |
| Cheese | L. casei, L. brevis, L. lactis, L. acidophilus, L. plantarum, S. cremoris, S. faecium |
| Buttermilk | S. cremoris |
| Fermented probiotic milk | L. casei, L. acidophilus, L. rhamnosus, L. johnsonii, B. lactis, B. bifidum, B. breve |
| Fermented sausages | P. acidilactici, P. pentosaceus, L. sakei, L. curvatus |
| Fermented pickles | Leuconostoc mesenteroides, Pediococcus cerevisiae, L. brevis, L. plantarum |
| Fermented olives | Leuconostoc mesenteroids, L. plantarum, L. pentosus |
| Sauerkraut | P. acidilactici, L. plantarum |
| Fermented soy | L. casei, L. acidophilus |
| Brown rice | L. acidophilus, L. plantarum, L. salivarius, B. lactis |
| Fermented beverage | L. delbrueckii, L. acidophilus |
Although the wide variety of probiotics is being used as functional food, the following criteria must be considered while selecting probiotic strains:
Selection of nontoxic and nonpathogenic organism [111]

Isolation from the same species as its targeted host [112]

Ability to be tolerant of acid and bile at time of transit through the GI tract and not conjugating with bile acids [112, 113]

Not carrying transferable antibiotic resistance genes and susceptible to antibiotics.

Ability to stabilize the normal intestinal microbiota [114]

Ability to produce antimicrobial substances to antagonize pathogens [115]

Potential to show beneficial effect on the host [116]

Durability to endure the complexity of commercial handling [113]

Abovementioned criterion is useful for selecting probiotic strains, especially at the time for preparation of function food processing and commercial packaging. It has been identified in researches that viability of probiotics during food processing on commercial scale is an important thought for health benefits which is mentioned in the next section of the chapter.
4.5

Viability of Probiotic in Probiotic Foods

Several reports show that many manufactured health products available in the market worldwide have poor viability of probiotic than mentioned and claimed on label of packaging. As the shelf life is less, it is important to make the product sustainable in market. Therefore, it becomes important to ensure higher viability of probiotic and their ability to show probiotic effect for their long-term existence as functional foods.

Study and market survey reveal the functional foods, and other health-care products had either undetectable level or very low microbial contents. Sometimes, the identified strains in the packages do not match in quantity as declared on the label. Many surveys reveal that a number of products for which companies claim to be "probiotic" often do not fulfill the standard criteria for viable count at end of shelf life. Seeing the situation, International Scientific Association for Probiotics and Prebiotics decided that the term "probiotic" should be referred only to the products which have live and well-defined strains of microorganisms with sufficient counts [119].

Probiotic-based milk products must maintain suitable population of viable microorganisms during whole shelf life to exhibit prophylactic properties [120]. The biotherapeutic effect of probiotic is dose-dependent with a daily recommended dosage (106–109 cfu/ml) [121] to balance viability loss due to heat, pressure, and high acidity [122] and to sustain dosage up to 21 days/5 °C [30]. Fecal lactobacilli and bifidobacteria are elevated by ingesting various cultured milk products which contain 106–109 cfu/g that declines coliforms and consecutively alleviates certain human diseases. Viability of LAB is influenced by many physiological factors including gastric acidity, bile salts, and digestive enzymes [123]. It is observed that only 20–40% of the cultures survive in gastric transit in gut environment. High tolerance to low pH and bile salts is exhibited by L. plantarum G1, and L. casei G3 strains in the GI tract of rats suggest the use of these strains as functional food [124]. Thus, it is significant to retain viability of probiotic strains in all phases, i.e., during processing, storage, and transit, through GIT to manifest clinical effects, but researches indicate that even in nonviable or heat-killed probiotic strains, components of dead probiotic cells from culture can confer anti-inflammatory responses [124, 125, 126, 127]. It is also noted that resting cells and dead cells of lactobacilli and Bifidobacterium strains can be able to remove cholesterol from a medium [128].

There exist many factors affecting the viability of probiotic strains in yogurt during all phases of manufacturing, storage, and GIT transit.
Amount of acids and other substances like hydrogen peroxide produced by cultures in yogurt.

Amount of dissolved oxygen contents in the product.

Amount of acids such as lactic acid and acetic acid in the product.

Quantity of fat in milk.

Heat treatment of milk during process.

Temperature of incubation.

Concentration of buffers, for instance, whey protein concentrate.

Physiological condition of probiotic cultures.

Oxygen permeability through the packaging of the final probiotic product.

Physical status of product storage.
4.6

Existing Regulations for Probiotics

Growing globalization of probiotics commercially resulted in globally accepted standards to ensure quality- and viability-based probiotic products to consumers as functional food and drugs. Table

4.2

demonstrates the complete summary of various classifications and standards in major country worldwide. In India, probiotics are standardized as functional food, not as pharmaceutical drugs, and are regulated by the Food Safety and Standards Act (FSSA) of 2005. According to FSSA, functional foods are defined legally, but in the categorization of food, such as nutraceuticals, biotherapeutic agent is not clear. The Prevention of Food Adulteration Act (PFA) Rules which decides minimum standards related to quality and content for food products regulates labeling and packaging of food products including the ingredients, date of expiry, nutritional information, manufacturing details, etc. [

129

,

130

]. A task force was constituted by the Indian Council of Medical Research (ICMR) and Department of Biotechnology (DBT) to frame regulatory guidelines and to evaluate and set parameters to define a product/strain of probiotics. These guidelines are dealing with the use of probiotics as functional food and safety requirements associated with [

131

].

Table 4.2

Summary of standards adopted by major countries worldwide
Country

Mode of intake

Regulatory body

Definition key points

USA

Dietary supplements

DSHEA

Intended to supplement the diet, taken as any form [132, 139]

Drugs

FDA

Intended for the prevention, alleviation, cure, diagnosis of disease [140]

Biological products

BLA

Containing a virus, serum, toxin for prevention and treatment [141]

Medical food

FDA

Dietary management of a disease, medical evaluation, supervision under physician [142]

Live biotherapeutic

FDA

Live organisms, such as bacteria; for prevention and treatment of a disease and not vaccine [142]

India

Functional food and drugs

FSSA, PFA, FDA

Physiological functions, regulation of biorhythms, nervous system, the immune system, and defense beyond nutrient facts [129, 130, 131, 143]

China

Functional food

SFDA

Health beneficial and able to regulate health body functions [144]

Japan

Probiotic

FAO/WHO

The live microorganisms, administered in sufficient amounts for health benefit [145]

Functional food and nutraceuticals

MHLW/FOSHU

Products with different category as food for certain foods, with a regulatory process boosted with vitamins, minerals, and other supplements not carrying FOSHU claims, herbal supplements [136, 146]

Europe

Functional food

FUFOSE

Beneficially affects one or more functions and consumed as improved state of health and reduction of risk of disease not as medicine [147]

New Zealand and Australia

Functional food

FSANZA

Physiological roles beyond simple nutrient requirement [148]

Brazil

Functional food

ANVISA

Healthy food, physiological function, enhanced with added ingredients than normal food, beyond nutritional value [138]
The USA regulates probiotics as intended usage and dealing bodies such as the Dietary Supplement Health and Education Act (DSHEA) and Food and Drug Administration (FDA). In the USA, FDA enlists microorganisms and their secreting substances, used as probiotics and in foods. DSHEA regulates a food in which probiotic is used in the form of dietary supplement. The probiotics as drugs for therapeutic purposes are regulated by FDA for ensuring safe and effective usage [132]. In case of biological products, an approval from Biologic License Application (BLA) is applied in the USA. In the USA, National Yogurt Association (NYA) forces to use "live and active culture seal." It is mandatory to declare the bacterial genera and species on the labels of probiotic-containing food products including amount of live and active cultures; however differentiation between LAB and other probiotic bacteria or assurance of viability of cultures at end of shelf life is not provided.
In the European Union, microbial cultures present in food need qualified presumption of safety (QPS) assessment in foods and food supplements [133]. European regulatory framework is still not considered as probiotics as food supplement or as are regulated by the Food Products Directive and Regulation (Regulation 178/2002/EC; Directive 2000/13/EU) and under as traditional herbal products by Herbal Medicinal Products Directive (2004/24/EC). Finally, probiotics as herbal medicinal product and registered drugs are covered under the Drug Law (65/65/EC, amended) [134, 135].
As per Japanese regulations, these probiotic products are listed in separate category of foods by the Foods for Specified Health Uses (FOSHU). The Ministry of Health and Welfare (MHLW) allows mentioning the efficacy claims of probiotic food product labels only through special permission [136]. For adopting the FOSHU label, the product must contain dietary ingredients with beneficial effects on the physiological functions and enhance and improve health issue. However, FOSHU does not allow claims of disease-risk reduction on the labels.
In China, the State Food and Drug Administration (SFDA) is the body for regulating functional foods and nutraceuticals in China. The functional food is considered as food which has special health functions or is able to supply mineral and vitamin health benefits [137].
Brazil becomes the first country to issue legislation for functional food. Probiotics are considered as functional foods. It considered being different from food and legislation address for safety and efficacy labels on food products by registering and approving health authority called National Health Surveillance Agency Brazil (ANVISA) [138].
4.7

Conclusion

It is concluded that probiotic bacteria have various immunomodulatory effects and therefore may be treated as effective means to examine intestinal inflammation and gut mucosal dysfunction including acute gastroenteritis, inflammatory bowel disease and food allergy and downregulate hypersensitivity reactions. Several probiotic effects are exhibited through keeping a balance between secretion of proinflammatory and anti-inflammatory cytokines which play indispensable role in immune regulation. Probiotics may help to balance the gut microbial milieu and mucosal permeability barrier and increase systemic and mucosal IgA immune reactions, therefore mediating the immunological barrier of the gut mucosa. In addition, providing immunomodulating effect on the gut mucosa, probiotic therapy is now also being used to cure infections in other organs such as respiratory tract, urogenital tract, and others.

It is further noted that probiotics as functional food do not exist not only as human health beneficial agents as there are evidences in literature that exist for their side effects. Although the present products in the market are excellent for human health, still there is scope for researchers to study the safety aspects involving the use of probiotics as functional food. Many epidemiological and clinical studies are done to ensure and monitor on consumer safety and their nutritional aspects too. Most of the available probiotics are "generally recognized as safe" (GRAS), but their selection and scrutiny are crucial, especially in the case of patients of immune disorders, GI disorders, or any other critical illnesses. Hence, the focus is needed to be given on identification of responders and non-responders, determining effective size, identifying strain-specific effects, and determining mechanisms to recommend future dietary usage.

The whole process of probiotic manufacturing and its trading also plays an important role in health beneficiary efficacy. Therefore, almost all countries have adopted standards for probiotic products in global markets. The viability and success of probiotic in the future as functional foods for consumers depend on many factors. Consumer's acceptance and choice of such products are the main issues. It is important to establish the effectiveness of probiotic products and the claims of manufacturers through clear, truthful, and unambiguous information on the labels of the products.
Copyright information
© Springer Nature Singapore Pte Ltd. 2018