Abstract

In today's era, there are many fastest growing industries in this world and automobile industry is one of them. Today's automobile industry plays an important role in consumer life. Consumer search for a car that packs together best feature at a reasonable/affordable cost. Every year, various models with latest technology and excellent features are introduced in the market as a result consumer has to face difficulties for selecting the best car among the available alternative from the market according to their need. A number of criteria are involved while selecting the best car among the available alternative hence, this is a multi-criteria decision-making problem (MCDM). In this work, Fuzzy AHP- and TOPSIS-based approaches have been used to solve the selection problem of a sedan car. To select the best sedan car on the basis of car criteria and sub-criteria's which are Performance, Comfort, etc. A Fuzzy AHP has been used for calculating the weight of each criteria and sub-criteria and for ranking of the cars TOPSIS method has been applied. The main aim of this work is to minimize the consumer effort for selection of car and to allow them to take accurate decision.
Keywords
MCDM (Multi-Criteria Decision-Making) approach

Fuzzy AHP

TOPSIS

Car selection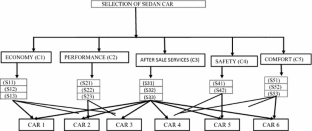 References
Chand, M., Avikal, S.: An MCDM based approach for purchasing a car from Indian car market. Engineering and systems (SCES) (2015)

Byun, D.: The AHP approach for selecting an automobile purchase model. Inf. Manag. 38, 289–297 (2001)

Sahin, Y., Akyer, H.: Efficient use of country resources: practice of the AHP and TOPSIS methods in selection of 4 × 4 search and rescue (SAR) vehicle. J. Visionary (Suleyman Demirel University), 72–87 (2011)

Chand, M., Hatwal, D., Singh, S., Mundepi, V., Raturi, V., Rashmi., Avikal, S.: An approach for purchasing a sedan car from indian car market under fuzzy environment. In: Proceedings of Sixth International Conference on Soft Computing for Problem Solving, pp. 239–244 (2017)

Govindan, K., Kaliyan, M., Kannan, D., Haq, A.N.: Barriers analysis for green supply chain management implementation in Indian industries using analytic hierarchy process. Int. J. Prod. Econ. 147, 555–568 (2014)

Dermirel, T., Demirel, N.C., Kahraman, C.: Fuzzy analytic hierarchy process and its application. In: Kahraman, C. (ed.) Fuzzy Multi-Criteria Decision Making. Theory and Applications with Recent Developments, pp. 53–84. Springer, New York (2009)

Mahendran, P., Moorthy, M.B.K., Saravanan, S.: A fuzzy AHP approach for selection of measuring instrument for engineering college selection. Appl. Math. Sci. 8(44), 2149–2161 (2014)

Saaty, T.L.: The Analytic Hierarchy Process. McGraw-Hill, New York, USA (1980)

Avikal, S., Mishra, P.K., Jain, R.: A fuzzy AHP and PROMETHEE method-based heuristic for disassembly line balancing problems. Int. J. Prod. Res. 52(5), 1306–1317 (2013)

Avikal, S., Jain, R., Mishra, P.K.: A Kano Model, AHP and M-TOPSIS method based technique for disassembly line balancing under Fuzzy environment. Appl. Soft Comput. 25, 519–529 (2014)

Benitez, J.M., Martin, J.C., Roman, C.: Using fuzzy number for measuring quality of service in the hotel industry. Tour. Manag. 28(2), 544–555 (2007)
Copyright information

© 2019 Springer Nature Singapore Pte Ltd.
About this paper
Cite this paper
Singh, R., Rashmi, Avikal, S. (2019). A MCDM-Based Approach for Selection of a Sedan Car from Indian Car Market. In: Yadav, N., Yadav, A., Bansal, J., Deep, K., Kim, J. (eds) Harmony Search and Nature Inspired Optimization Algorithms. Advances in Intelligent Systems and Computing, vol 741. Springer, Singapore. https://doi.org/10.1007/978-981-13-0761-4_55
DOI: https://doi.org/10.1007/978-981-13-0761-4_55

Published:

Publisher Name: Springer, Singapore

Print ISBN: 978-981-13-0760-7

Online ISBN: 978-981-13-0761-4