Abstract

The gait-related disease, such as osteoarthritis (OA) is a crippling disease which is the most prevalent form of arthritis in the elderly with an incidence rate of more than 50%. In today's clinical diagnosing, the physicians always judge and record the gait of a patient qualitatively. Therefore, a cheap, easy-to-use gait analyzing system is important to achieve a quantified description and recording for both newly diagnosed patients and the follow-up patients. This study proposed an accurate gait analysis method by using RGB-D camera and supervised classifier. Firstly, we set up a gait assessment framework for OA patients using the RGB-D camera; design a joint data acquisition software to build a clinical setting. Secondly, the joint data of both patients and healthy controls from the sensor are analyzed to acquire fourteen quantitative gait parameters. Finally, a supervised SVM classifier is trained on the gait parameters of OA patients to help automatically diagnosis the gait anomalies. Experimental results demonstrated that gait parameters between OA patient and healthy controls shows significant different according to unpaired t-test. The average accuracy of the gait classification could reach 97%. Therefore, our study offers a scientific approach for quantitative, non-interactive and low-cost analysis of the gait, which can facilitate the diagnosis and treatment of the gait-related disease.
Keywords
Gait analysis

RGB-D camera

Osteoarthritis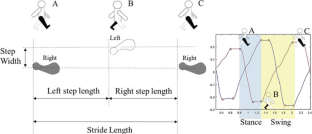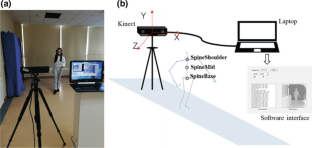 References
Sutherland D, The evolution of clinical gait analysis part III—Kinetics and energy assessment. Gait Posture, 21(4), 447–461(2005).

Chen S, Lach J, Lo B, et al. Toward Pervasive Gait Analysis with Wearable Sensors: A Systematic Review. IEEE J Biomed Health Inform, 20(6), 1521–1537(2016).

Clark R A, Bower K J, Mentiplay B F, et al. Concurrent validity of the Microsoft Kinect for assessment of spatiotemporal gait variables. Journal of Biomechanics, 46(15), 2722–5(2013).

Baldewijns G, Verheyden G, Vanrumste B, et al. Validation of the kinect for gait analysis using the GAITRite walkway Engineering in Medicine and Biology Society. IEEE, 5920–5923(2014).

Li Q, Wang Y, Sharf A, et al. Classification of gait anomalies from kinect. Visual Computer, 1–13(2016).

Higa M, Kawabata F, Kobayashi Y, et al. Impact of gait modifications on hip joint loads during level walking. World Congress on Medical Physics and Biomedical Engineering, pp. 346–349. Springer International Publishing, Toronto (2015)

Levine, David, Richards, Jim, Whittle, Michael W. Whittle's Gait Analysis. 5th edn Whittle's Gait Analysis. Elsevier LTD, Oxford, (2012).

Veeraraghavan A, Roychowdhury A K, Chellappa R. Matching shape sequences in video with applications in human movement analysis. IEEE Trans Pattern Anal Mach Intell, 27(12):1896–1909(2005).

Kecman V. Learning and Soft Computing: Support Vector Machines, Neural Networks, and Fuzzy Logic Models. MIT Press (2001).

Kaufman K R, Hughes C, Morrey B F, et al. Gait characteristics of patients with knee osteoarthritis. Journal of Biomechanics, 34(7):907–915(2001).
Acknowledgements

The authors thank the support of Beijing Municipal Science & Technology Commission (Z151100003915079), National Key Technology R&D Program of China (2015BAI01B03), Beijing Municipal Natural Science Foundation (7172122, L172003), National Natural Science Foundation of China (81427803, 81771940) and Soochow-Tsinghua Innovation Project (2016SZ0206).
Ethics declarations

The authors declare that they have no conflict of interest.
Copyright information

© 2019 Springer Nature Singapore Pte Ltd.
About this paper
Cite this paper
Cui, X., Zhao, Z., Ma, C., Chen, F., Liao, H. (2019). A Gait Character Analyzing System for Osteoarthritis Pre-diagnosis Using RGB-D Camera and Supervised Classifier. In: Lhotska, L., Sukupova, L., Lacković, I., Ibbott, G.S. (eds) World Congress on Medical Physics and Biomedical Engineering 2018. IFMBE Proceedings, vol 68/1. Springer, Singapore. https://doi.org/10.1007/978-981-10-9035-6_53
DOI: https://doi.org/10.1007/978-981-10-9035-6_53

Published:

Publisher Name: Springer, Singapore

Print ISBN: 978-981-10-9034-9

Online ISBN: 978-981-10-9035-6

eBook Packages: EngineeringEngineering (R0)