Abstract

Today survival of any organization depends on its innovative efforts in process, management, and product. Several studies have been conducted by researchers, focusing on enhancing creative ability of an individual and flaring organizational innovation, but significantly less work has been done on boosting organizational initiative as an input which addresses the influence of it on increasing creative instinct of an individual and innovation at the organizational level. Pertaining to the harsher reality of competition, the study explores the association between organizational initiative and organizational innovation, focusing on the mediating effect of employee creativity. The study examined 250 valid responses of employees working in private automobile units. The ideation of the hypothesized research model illustrates that employee creativity partially mediates the association between organizational initiatives and organizational innovation. The integral mediating effect of employee creativity signifies that the organization should show optimism toward employee encouragement, training, and challenges to enhance creative instinct within an individual. This convenient form allows managers to take corrective action for fostering innovation in its product and service by augmenting individual's creative approach. A model was developed, which may provide the practitioners a conceptual framework while developing a methodical approach toward organizational innovation.
Keywords
Creativity

Innovation

Organizational initiatives

Structural model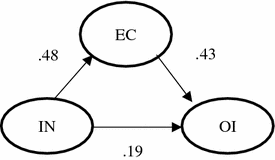 References
Alirezaei, A., & Tavalaei, R. (2008). Innovation in the organizations. Journal of Managing Human Resources in the Oil & Gas Industry, 2(3), 69–70.

Amabile, T. M. (1988). A model of creativity and innovation in organizations. Research in Organizational Behavior, 10(1), 123–167.

Amabile, T. M. (1997). Motivating creativity in organizations: On doing what you love and loving what you do. California Management Review, 40(1), 39–58.

Amabile, T. M., Conti, R., Coon, H., Lazenby, J., & Herron, M. (1996). Assessing the work environment for creativity. Academy of Management Journal, 39(5), 1154–1184.

Anderson, D. M. (2014). Introduction. In Leveraging (pp. 3–34). Springer International Publishing.

Andriopoulos, C., & Lowe, A. (2000). Enhancing organizational creativity: The process of perpetual challenging. Management Decision, 38(10), 734–742.

Barney, J. B. (2001). Resource-based theories of competitive advantage: A ten-year retrospective on the resource-based view. Journal of Management, 27(6), 643–650.

Basadur, M., Graen, G., & Wakabayashi, M. (1990). Identifying individual differences in creative problem solving style. The Journal of Creative Behavior, 24(2), 111–131.

Beheshtifar, M., & Kamani-Fard, F. B. (2013). Organizational creativity: A substantial factor to growth. International Journal of Academic Research in Business and Social Sciences, 3(3), 98.

Bharadwaj, R., & Menon, M. B. (2002). Inventing selves: The sex workers' movement in Kerala and the reception of the film Susanna. Ernakulam: Sacred Heart College.

Birdi, K., Leach, D., & Magadley, W. (2012). Evaluating the impact of TRIZ creativity training: An organizational field study. R&D Management, 42(4), 315–326.

Bishwas, S. K. (2015). Achieving organization vitality through innovation and flexibility: An empirical study. Global Journal of Flexible Systems Management, 16(2), 145–156.

Bolívar-Ramos, M. T., García-Morales, V. J., & García-Sánchez, E. (2012). Technological distinctive competencies and organizational learning: Effects on organizational innovation to improve firm performance. Journal of Engineering and Technology Management, 29(3), 331–357.

Camisón, C., & Villar-López, A. (2014). Organizational innovation as an enabler of technological innovation capabilities and firm performance. Journal of Business Research, 67(1), 2891–2902.

Chesbrough, H. (2003). The logic of open innovation: Managing intellectual property. California Management Review, 45(3), 33–58.

Cummings, L. (1965). Organizational climates for creativity. Academy of Management Journal, 8(3), 220–227.

Dewett, T. (2006). Exploring the role of risk in employee creativity. The Journal of Creative Behavior, 40(1), 27–45.

Dewett, T. (2007). Linking intrinsic motivation, risk taking, and employee creativity in an R&D environment. R&D Management, 37(3), 197–208.

Dhir, S., & Sushil. (2017). Flexibility in modification and termination of cross-border joint ventures. Global Journal of Flexible Systems Management, 18(2), 139–151.

Dhir, S., & Dhir, S. (2017). Adoption of open-source software versus proprietary software: An exploratory study. Strategic Change, 26(4), 363–371.

Dhir, S., Mahajan, V., & Bhal, K. T. (2016). Himbunkar: Turnaround of a social public sector enterprise. South Asian Journal of Management, 23(4), 175.

Dul, J., & Ceylan, C. (2014). The impact of a creativity-supporting work environment on a firm's product innovation performance. Journal of Product Innovation Management, 31(6), 1254–1267.

Elnaga, A., & Imran, A. (2013). The effect of training on employee performance. European Journal of Business and Management, 5(4), 137–147.

Epstein, R., Schmidt, S. M., & Warfel, R. (2008). Measuring and training creativity competencies: Validation of a new test. Creativity Research Journal, 20(1), 7–12.

Ernst and Young. (2016). EY India Sustainability Report 2016—EY. Retrieved October 6, 2016 from http://www.ey.com/in/en/about-us/corporate-responsibility/ey-india-sustainability-report-2016.

Flynn, M., Dooley, L., O'sullivan, D., & Cormican, K. (2003). Idea management for organizational innovation. International Journal of Innovation Management, 7(04), 417–442.

Gong, Y., Huang, J. C., & Farh, J. L. (2009). Employee learning orientation transformational leadership, and employee creativity: The mediating role of employee creative self-efficacy. Academy of Management Journal, 52(4), 765–778.

Hon, A. H. (2012). Shaping environments conductive to creativity: The role of intrinsic motivation. Cornell Hospitality Quarterly, 53(1), 53–64.

Kanter, R. M. (1983). Frontiers for strategic human resource planning and management. Human Resource Management, 22(1–2), 9–21.

Lau, C. M., & Ngo, H. Y. (2004). The HR system, organizational culture, and product innovation. International Business Review, 13(6), 685–703.

Neves, P., & Eisenberger, R. (2014). Perceived organizational support and risk taking. Journal of Managerial Psychology, 29(2), 187–205.

Parameswar, N., Dhir, S., & Dhir, S. (2017). Banking on innovation, innovation in banking at ICICI bank. Global Business and Organizational Excellence, 36(2), 6–16.

Prajogo, D. I., & Ahmed, P. K. (2007). The Relationships between quality, innovation and business performance: An empirical study. International Journal of Business Performance Management, 9(4), 380–405.

Rickards, T., & De Cock, C. (1994). Creativity in MS/OR: Training for creativity—Findings in a European Context. Interfaces, 24(6), 59–65.

Scott, S. G., & Bruce, R. A. (1994). Determinants of innovative behavior: A path model of individual innovation in the workplace. Academy of Management Journal, 37(3), 580–607.

Somech, A., & Drach-Zahavy, A. (2011). Translating team creativity to innovation implementation: The role of team composition and climate for innovation. Journal of Management, 39(3), 684–708.

Sternberg, R. J., & Lubart, T. I. (1991). An investment theory of creativity and its development. Human Development, 34(1), 1–31.

Teodorescu, N., Stăncioiu, A. F., Răvar, A. S., & Botoș, A. (2015). Creativity and innovation-sources of competitive advantage in the value chain of tourism enterprises. Theoretical and Applied Economics, 22(1), 35–48.

Tierney, P., Farmer, S. M., & Graen, G. B. (1999). An examination of leadership and employee creativity: The relevance of traits and relationships. Personnel Psychology, 52(3), 591–620.

Torrance, E. P. (1963). The creative personality and the ideal pupil. Teachers College Record, 65(3), 220–226.

Tsai, K. H., & Yang, S. Y. (2013). Firm innovativeness and business performance: The joint moderating effects of market turbulence and competition. Industrial Marketing Management, 42(8), 1279–1294.

Urbancova, H. (2013). Competitive advantage achievement through innovation and knowledge. Journal of Competitiveness, 5(1), 82–96.

Wang, G., & Ma, X. (2013). The effect of psychological climate for innovation on salespeople's creativity and turnover intention. Journal of Personal Selling & Sales Management, 33(4), 373–387.

Zhang, X., & Bartol, K. M. (2010). Linking empowering leadership and employee creativity: The influence of psychological empowerment, intrinsic motivation, and creative process engagement. Academy of Management Journal, 53(1), 107–128.

Zhou, J., & Shalley, C. E. (2003). Research on employee creativity: A critical review and directions for future research. In Research in personnel and human resources management (pp. 165–217). Emerald Group Publishing Limited.

Zhou, Y., Zhang, Y., & Montoro-Sánchez, Á. (2011). Utilitarianism or romanticism: The effect of rewards on employees' innovative behaviour. International Journal of Manpower, 32(1), 81–98.
Copyright information

© 2018 Springer Nature Singapore Pte Ltd.
About this chapter
Cite this chapter
Chaubey, A., Sahoo, C.K. (2018). Flourishing Innovation Through Organizational Initiatives: An Analytical Study. In: Dhir, S., Sushil (eds) Flexible Strategies in VUCA Markets. Flexible Systems Management. Springer, Singapore. https://doi.org/10.1007/978-981-10-8926-8_2