Building Resilience in Times of Uncertainty and Complexity: Teacher Educator Perceptions of Pre-service Teacher Resilience
Abstract
An emphasis on teacher quality in Australia has resulted in many changes in teacher education including a recent emphasis on non-academic capabilities (such as resilience) of prospective teachers. Reporting data obtained through an online survey of 73 teacher educators, this chapter presents their views about pre-service teacher resilience and the role of teacher educators and education programs in promoting resilience for pre-service teachers. Findings illustrate the multiple contexts important in the development of teacher resilience and how resilience can be demonstrated during the pre-service years. Barriers and supports for embedding resilience in teacher education programs are discussed. We argue that in times of uncertainty and complexity in teacher education, resilience is critical for sustained effectiveness and growth.
Keywords
Teacher education 
Teacher resilience 
Non-academic capabilities, context 
Introduction
Over the last decade, initial teacher education (ITE) in Australia has undergone a plethora of changes in response to broader policy agendas aimed at improving the quality of graduates entering the teaching profession. Changes have entailed an explicit focus on the knowledge and skills developed in ITE through the implementation of Australian Professional Standards for Teaching (APST) (Australian Institute for Teaching and School Leadership (AITSL), 2011) and rigorous accreditation requirements for teacher education providers (AITSL, 2015a). Furthermore, the role of non-academic capabilities for teaching such as empathy, motivation and resilience has also come under scrutiny, and testing for these has become a suggested way of selecting teacher education candidates (AITSL, 2015b).
While understanding non-academic capabilities at the point of entry to teacher education has benefits and measuring such capabilities is indeed a strategy used in other professions, the extent to which some of the measured capabilities are innate and fixed, or alternatively can be developed over time and in a contextually responsive manner needs consideration. As Ungar argues, (2012) "to understand resilience we must explore the context in which the individual experiences adversity, making resilience first a quality of the broader social and physical ecology and second a quality of the individual" (p. 27). Uncertainty exists about the ways in which screening tests provide meaningful insight into the nature of resilience for pre-service teachers and of how teacher educators will embed opportunities in their programs for pre-service teachers to further enhance capacities that will enable them to deal with the complex and uncertain nature of teaching. As Connell (2009 p. 226) indicates, we cannot create a model of "the good teacher"; rather we need to employ the view of teachers that allows ITE to support diverse and creative approaches to teaching. A focus on the personal and contextual factors of resilience is central to this.
Alongside these developments, there has also been much research focused on teacher resilience. Gu (2014) argues that teacher resilience is both context and role specific and entails more than just "bouncing back". According to Gu and Day (2013), resilience for teachers is characterised by "the capacity to maintain equilibrium and a sense of commitment and agency in the everyday worlds in which teachers teach" (p. 26). Researchers in Australia have argued that teacher resilience is a capacity and process by which individuals draw on personal and contextual supports and engage effective strategies to manage challenges of the profession in a way that results in positive adaptation and professional growth (see, e.g., Strangeways & Papatraianou, 2017; Johnson et al., 2015). A focus on teacher resilience provides a way of supporting teachers to build personal resources for resilience (such as optimistic thinking, self-efficacy and problem-solving skills), understand how to mobilise contextual resources (such as seeking help from others) and build confidence for managing difficult situations.
With the current emphasis on teacher retention, teacher quality is an important element to take into account when examining teacher resilience. Motivation and commitment are central to teacher quality and enabling individuals to thrive makes for the "quality retention" of beginning teachers (Day & Gu, 2007, p. 1314). Research has shown that teacher effectiveness and commitment are related to teacher quality (Day & Gu, 2007) and are a key element to understanding the work, the lives and the effectiveness of teachers (Day, 2008). Day draws on the work of Crosswell's (2006) dimensions of commitment when describing his conception of resilience as "enduring commitment" (Day, 2008, p. 255). This enduring commitment is evident in passion; investment of "extra" time; a focus on the student; maintaining professional knowledge; transmitting knowledge and/or values; and engagement with the school community (Crosswell, 2006, pp. 111–112). In other words, sustaining these various dimensions of commitment means to "be resilient" (Day, 2008, p. 255) and it is not only about the physical retention of teachers, rather the quality of teachers remaining in the profession. However, it is also important to recognise that the stratification of the APST suggests a focus on improving the quality teachers. Yet the construction of the APST lends itself back to a focus on individual attributes of teachers. As argued by Connell (2009), "It embeds an individualized model of the teacher that is deeply problematic [… and …] an arbitrary narrowing of practice" (p. 220). It is therefore pertinent to focus on teacher quality in a way that recognises the personal and contextual influences on teacher resilience and practice.
Within the context of ITE, few studies have investigated the resilience of pre-service teachers (see, e.g. Le Cornu, 2009). Yet it is well known that beginning teachers may experience "reality shock" (Friedman, 2004) or "praxis shock"; the umbrella terms used to describe the challenges experienced by beginning teachers, marking the transition from pre-service teacher to early career teacher. While this shock explains the increased rates of early career teacher attrition (Kelly, Reushle, Chakrabarty, & Kinnane, 2014), some authors blame insufficient preparation during ITE as the cause (Abbott-Chapman, 2005). Others report key contextual challenges such as physical and professional isolation, high workloads (Ballantyne, 2007), inadequate induction (Sharp, 2006) and "the condition of not knowing" can also contribute towards praxis shock (Corcoran, 1981, p. 20). For example, not knowing from whom to seek support and not knowing the norms, policies and procedures that operate within the school community can intensify feelings of praxis shock (Corcoran, 1981). Even so, how resilience may be developed in teacher education programs has been left largely to individual institutions and driven by teacher educator "champions". The importance of the explicit integration and teaching of resilience and well-being in ITE to combat such challenges is evident in new induction guidelines (AITSL, 2016) with professional identity and well-being comprising two of the four given areas for focus. However, the views of teacher educators in this field, to whom blame is often attributed, have been neglected. It is therefore timely for the voices of teacher educators to be heard and for the wealth of collective experience to inform policy and practice in ITE.
This chapter reports an empirical study of teacher educators' perceptions of teacher resilience and the role of teacher education programs in promoting resilience for pre-service teachers. Specifically, four research questions are explored:
1.

How do teacher educators describe teacher resilience?

 

2.

How do teacher educators perceive pre-service teachers to demonstrate their resilience?

 

3.

What challenges do teacher educators describe pre-service teachers experiencing?

 

4.

How do teacher educators perceive their role in promoting and facilitating resilience in teacher education?

 
Conceptual Framework
In this chapter, we conceptualise resilience from a social ecological perspective which emphasises the role of social and physical ecologies in the resilience process (Ungar, 2011). For pre-service teachers, such ecologies include the initial teacher education context (university- and faculty-/school-level influences such as degree structure, minors and specific units undertaken) and relationships with teacher educators. Sites of professional experience provide important "real-world" opportunities to build resilience through classroom teaching and relationships with students, colleagues, mentors and the broader school community. Influencing each of these levels is the broader "profession" including governmental and regulatory policies and practices (i.e. AITSL, teacher registration authorities, mandated curriculum and standardised testing) along with societal and community expectations of teachers. The process of building resilience for pre-service teachers involves the capacity to draw on personal and contextual resources to successfully navigate challenges at these multiple levels and to promote adaptive outcomes such as engagement, commitment and job fulfilment (Mansfield, Beltman, Weatherby-Fell, & Broadley, 2016).
Figure 
6.1
illustrates the ecologies that may influence the resilience process for pre-service teachers. The vertical wedge represents the views of teacher educators on the contextual factors involved in the resilience process as per the aim of this study.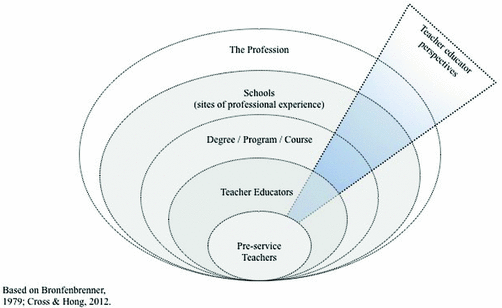 Methodology
Data were gathered from 73 Australian teacher educators as part of a larger study examining ways in which resilience can be embedded in higher education curriculum (Mansfield, 2016). An online survey consisting of open-ended questions was used to elicit their views regarding pre-service teacher resilience and the role of teacher educators and ITE courses in developing pre-service teacher resilience. Ethics approval for the study was granted by Murdoch University, and all participants were volunteers. All names and other specific identifiers have been changed to protect the participants' anonymity.
For each of the demographic questions, participants were given the option of "prefer not to say" and only 45% named their place of employment. Those named universities represented each state in Australia. Fifty-four participants gave their role, which included lecturers (28), senior lecturers (13), associate professors (5), program coordinators (5), one professor and one dean. Fifty-two taught in bachelor-level programs, 14 Graduate Diploma and 41 Master of Teaching. Thirty participants taught into Bachelor and Master of Teaching programs. Twenty-seven taught in early years' programs, 47 primary, 24 middle years and 43 secondary. Only 4 of the 73 participants had not previously been classroom teachers.
The data were analysed using thematic analysis (Braun & Clarke, 2006) and managed using NVivo 10. We first analysed the data by employing an inductive approach which enabled the identification of the common themes and patterns (Patton, 2002). We then analysed and re-coded these data independently to identify the key descriptive codes within these patterns. The data were then grouped and regrouped until we developed the conceptual framework for this study and the five key contexts relevant to the teacher educators' perspectives on pre-service teacher (PST) resilience. In the findings, the total number of participants identified within the broader conceptual framework is identified with n values. The thematic analysis is then reflective in the findings whereby the number of references from all participants is identified.
Findings
How Do Teacher Educators Describe Teacher Resilience?
More than half the participants (n = 48, 66%) described resilience as a "capacity" or "ability" to think or behave in a particular way to enable adaptive outcomes, despite challenges, obstacles, adversity or changing circumstances. Specific thoughts and behaviours include:
managing emotions in challenging situations, keeping a positive attitude with students and not getting pulled down by circumstances (P8);

ability to carry on regardless of challenges … staying positive with students … remaining cheerful, empathetic and focused (P45);

being able to maintain your mental and physical "equilibrium" when the demands and expectations placed upon you keep you in a state of stress/anxiety (P9);

sustain their work and their own well-being in the face of the many and often unexpected challenges that come with the role (P14);

to step forward from setbacks … learn from mistakes and search out solutions (P16); and

reflect upon professional challenges … by recognizing different and possible perspectives, and to respond to such challenges/setbacks with optimism, demonstrating a capacity to adapt, improve and change (P32).
Four respondents described resilience as a quality, personal attribute or characteristic, for example: "a personal attribute that makes them suitable for the teaching profession" (P69). Eleven respondents commented on the status of teacher resilience ranging from "very poor" (P22), "fair—it could be better" (P6) to "bloody marvelous, considering what they have to do" (P40).
How Do Teacher Educators Perceive Pre-service Teachers to Demonstrate Their Resilience?
Teacher educators observed pre-service teacher resilience in a range of ways. Most frequently noted was having a positive approach and optimistic outlook (26 references) through "willingness to learn" (P50) "having a go" (P67),"trying new ideas and being prepared to fail" (P44) and "participating actively in their learning" (P18). Overcoming challenges and recovering from setbacks (19 references) included "recovering from a poor grade" (P3), "facing challenges head-on" (P25) and "being 'real' about challenges and their outcomes" (P71). Perseverance and persistence were also noted (18 references) by "being willing to try something again" (P8), "keep on keeping on" (P17 and P34), "never giving up" (P17) and "continually striving to understand what makes a difference" (P4). Ways of responding to feedback also demonstrated resilience (15 references) "by choosing to respond positively to constructive feedback" (P2), by "accepting and acting on feedback, not taking criticisms personally" (P29) and by "asking for feedback on how they can improve, especially after a poor assessment result" (P51). Resilience was also seen through pre-service teachers' approaches to problem-solving (11 references) and capacity to cope (10 references) with stress, heavy workload and "demonstrating their ability to cope effectively in a wide variety of situations" (P19). The capacity to seek assistance when needed was noted (9 references) and building positive relationships (9 references), "developing professional relationships with tutors and other leaders and seeing the relevance of these relationships within and beyond the immediate environment" (P11). There were 8 references to flexibility and adaptability, including being "flexible and responsive" (P42) and "adapting to the constraints of situated practice" (P32).
What Challenges Do Teacher Educators Perceive Pre-service Teachers Experience?
Participants were asked for up to 10 responses to the question "What do you consider to be the main challenges pre-service teachers encounter when learning to become a teacher?" Responses indicated that pre-service teachers experienced personal challenges as well as challenges in school and university contexts.
Personal Challenges
Teacher educators noted that pre-service teachers often experience personal challenges during their teacher education experience (n = 69, 95%). These included 31 references to "juggling life/work/family/study commitments" (P2), time management (23 references), managing and "balancing workloads" (P22) (19 references), constructively responding to feedback (16 references), adopting a "teacher" mindset and developing "identity as teacher" (P39) (16 references), navigating conflicting beliefs between own experiences, university learning and schools (14 references), confidence (12 references), managing and being responsible for their own learning (12 references), professionalism and managing expectations (10 references each). Managing emotions, anxiety and mental health (8 references) was noted with the comment, "they need to be confident in the management of these issues before they can get in front of a class" (P30). Feeling overwhelmed and overloaded, along with financial challenges was also stated (8 references each).
Professional Experience Challenges
Similarly, challenges experienced in schools when on professional experience were noted. The most frequently mentioned was classroom, and more specifically, behaviour management (40 references) and "understanding how to respond to challenging students" (P2). "Navigating relationships with all stakeholders" (P28) could also be challenging (34 references). Colleagues could be "difficult or unsupportive" (P10), and pre-service teachers could have difficulty "understanding and reading what is appropriate interaction with colleagues" (P51) and "knowing how to deflect the negativity of older teaching staff" (P63). Similarly, parents may be "unsupportive of their child" (P51) or "question your practices" (P22). It could also be difficult to "support students who have troubled or traumatic home lives" (P29) and to "establish positive relationships with difficult students" (P36). Other challenges while in schools included planning and organisation (16 references) managing teaching, learning and assessment (24 references), lack of content knowledge (15 references) and meeting expectations (16 references). With regard to school culture, it was noted that some pre-service teachers experience difficulties "integrating into the school community" (P5), "understanding the system and the intricacies of school environments" (P42) and "dealing with the complex politics of a school staff" (P64) (18 references). Challenges with mentor relationships (12 references) were also mentioned—"unsupportive, even destructive, mentor teachers" (P62).
University Challenges
There were 95 references to the challenges pre-service teachers experience at university. Among these inadequate courses at university were most frequently mentioned (35 references) with specific examples of "crowded curriculum" (P10), lack of coherence through "disconnected assignments across units" (P9) and "too many assessments that are boring and not practical" (P21). Also noted were adjustment to university, lack of resources, online delivery and meeting course requirements.
How Do Teacher Educators Perceive Their Role in Promoting and Facilitating Resilience in Teacher Education and How Might This Be Enacted?
Role of Teacher Educators
In response to the question "What role do you think teacher educators play in helping pre-service teachers develop resilience?", 75% (n = 55) of participants provided insight into their roles with 25 references made to the important role teacher educators play in promoting and facilitating resilience. The "critical" (P60) role of teacher educators was reflected in responses such as "Teacher educators are essential in helping pre-service teachers develop resilience" (P35). Teacher educators identified a number of dimensions in their role in helping to develop resilience including: teaching skills and strategies that help foster resilience (25 references) such as "teach coping strategies, mindfulness, through problem-solving, use of case studies" (P36); providing support to pre-service teachers or to directing them to further avenues for support (23 references), and "supporting students to re-frame setbacks/failures as opportunities to improve and develop" (P41); modelling resilience (19 references) through their own practices, "I think teacher educators should model resiliency strategies" (P5); and the sharing of their own experiences and strategies (15 references), "As experienced teachers, it is incumbent upon them to share their tried and tested strategies and approaches with the pre-service teachers" (P45).
Other identified roles included teaching about the complexity and reality of life in schools (12 references) as a way of helping pre-service teachers to build resilience; "Discussions on the 'real life' of a teacher, time management, learning that failure is ok and can build resilience." (P44). Having "honest discussion" (P2) and conversations (11 references) were identified as part of the teacher educators' role as was their role in giving honest, constructive feedback and in prompting self-evaluation among pre-service teachers (7 references). Highlighting the importance of the concept of resilience for pre-service teachers was also regarded as part of a teacher educator's role (7 references), "it would help if all teacher educators could share and promote information about strategies for developing resilience" (P9).
Challenges in Promoting Resilience
While teacher educators indicated the central role they could hold in promoting and facilitating resilience, they also identified factors that make it challenging to enact, with one teacher educator commenting that "Teacher educators need to be everything to everyone!" (P23). There were 11 references to the way that the prior experiences of teacher educators might mediate their capacity to support the development of resilience, particularly if teacher educators had not previously held teaching positions in schools, "there are significant numbers of teacher educators who have not worked as teachers, or have little personal experience of the contemporary teaching environment" (P27). The workloads of academics and their responsibilities (8 references) were also seen as a potential barrier impacting on the ability of teacher educators to support the development of pre-service teachers' resilience, as it "requires a different mindset while trying to accommodate competing agendas" (P37). There were 5 references to an increasing "reliance on sessional staff who may not have support themselves or be aware of resources" (P26), as a context-specific challenge that may make it difficult to enact a focus on promoting resilience. Other challenges noted included the need for teacher educators themselves to have professional learning (5 references); deficit views of pre-service teachers (5 references); and teacher educators holding different views about whether building resilience was a valuable concept to focus on in initial teacher education (5 references).
More than half the respondents (n = 54, 74%) identified a range of challenges to embedding resilience in initial teacher education programs. The majority of the respondents identified that inadequacies in teacher education courses prevented such inclusions (35 references), explaining that programs were burdened with a crowded curriculum and time constraints (14 references); "it is such an overloaded course that you don't always get the opportunity to include these specific skills" given that "teacher education programs are highly regulated by multiple accrediting bodies" (P4). While individual teacher educators wanted to embed resilience in programs, "the major issue, just like in schools, is what gets taken out or how to fit it in" (P3) making it difficult to explicitly embed such skills within courses. Other program barriers included, to a lesser extent, conflicting views on what should be embedded across programs (6 references), a lack of coherence across programs (7 references) and a lack of resources (16 references) such as reduced funding and "time restraints prevent[ing] teacher educators from playing a bigger role in developing resilience." (P2) Other challenges included difficulties faced by pre-service teachers adjusting to university and program requirements (7 references), online delivery of courses and subsequently reduced opportunities to develop the necessary social skills that enable resilience (8 references).
Suggestions for Improvement
The majority of respondents (n = 68, 93%) identified ways in which embedding resilience in ITE programs could be improved. Embedding resilience specifically within professional experience components of programs was most commonly identified (48 references), with the need for these components to support connections between theory and practice (29 references); "there needs to be more continuity between university classes and school placements"(P1), and the importance of providing authentic learning contexts and awareness of realistic challenges of the profession; "explicit connection to real-world application of theory, supported and guide teaching practice opportunities, before and after going on practicum"(P5). Suitably appointed school-based mentors and university-based mentors (23 references) and partnerships between schools and universities were also identified as crucial to embedding resilience skills in professional experience programs to "enable greater in school connections between theory and practice where the tertiary staff, supervisors and leadership team meet with PSTs in a dialogical manner" (P60). However, 35 respondents advocated for the need to have a whole degree approach to designing curriculum and programs (51 references) "… although there is movement in this area, Australian HEPs [Higher Education Providers] tend to have a subject/unit/course focus rather than whole of program/degree focus as their organising framework for curriculum development. It takes a village to raise an ITE graduate" (P4). The need to explicitly teach skills within particular subjects across a program was also recognised (32 references). However, there was a lack of consensus as to how this could be accomplished.
Whether the respondents opted for a program approach or a specific focus of embedding resilience skills within professional experience courses, the importance of building better relationships between pre-service teachers, teacher educators and schools were identified as an important element to embedding resilience in courses and programs (37 references). Providing safe contexts in which pre-service teachers can discuss issues was central to these references; "a good network of support between the professional experience officers at the university and many of the site coordinators in school to ensure there is a consistency in understanding of students' responsibilities when at schools" (P2). A culture of "empowering and celebrating PSTs" (P9), offering "support and empathy to students" (P22), "a united value of [resilience] amongst faculty" (P28) and "valuing resilience as a vital non-academic attribute for teachers to have/develop" (P1) were identified as important facets of developing such relationships within programs.
Discussion
The findings of this study highlight the critical role that teacher education plays in the development of resilience for pre-service teachers and provide insight into the ways that a focus on pre-service teacher resilience could be developed further within teacher education programs. Concerning our conceptual framework, the multiple layers of context at the personal (pre-service teacher), program and university (teacher educators), school (practising teachers) and profession (regulatory, societal) levels are potential spaces for the development of teacher resilience. Along with personal development opportunities, which may also be age appropriate for pre-service teachers entering teacher education directly from secondary school, teacher education experiences at university and in a variety of school settings enable a range of resilience-related strategies and skills to be developed in multiple authentic contexts. For example, learning to respond to feedback in a professional manner, developing realistic expectations, learning to work with mentors and negotiate collegial relationships, managing the roller coaster of emotions and learning strategies for self-preservation. In the development of teacher resilience, both context and role are critical (Gu, 2014).
Perhaps not surprisingly, the majority of respondents were in support of the idea of embedding resilience more explicitly in teacher education curriculum. Even so, structural barriers such as crowded curriculum and time constraints, policy and regulatory processes and the need for stronger partnerships between schools and universities were cited. Other barriers such as valuing and adequately resourcing resilience in the curriculum and overcoming entrenched practices and perspectives suggest that there may also be the need for a cultural shift in teacher education practices. With respect to supporting pre-service teacher resilience, respondents mentioned relational strategies, such as providing a high level of pastoral care, strengthening partnerships with stakeholders and providing realistic expectations and experiences. Teacher educators themselves were also seen to provide support through keeping up to date with current practice and their own role modelling of resilience in their daily work. These findings speak to the structural, curricular and policy challenges while at the same time highlighting the critical relational and personal supports for resilience in teacher education. The data show the importance of considering the issue on a range of levels and in a range of contexts, as illustrated in Fig. 6.1.
A thought-provoking finding is the view articulated by some respondents that teacher education curriculum in their institutions lacks coherence and relevance and that teacher educators themselves hinder through engaging in practices that do not explicitly model, embed or allow for discussion of the way resilience enables pre-service teachers to navigate the complexity and uncertainty of teaching. The issue of coherence "based on a common, clear vision of good teaching grounded in an understanding of learning" has been identified as a best practice principle for teacher education programs (Darling-Hammond, 2005a, cited in Ingvarson et al., 2014, p. x). However, the views of some respondents from this study echo an earlier statement that, "creating coherence has been difficult in teacher education because of departmental divides, individualistic norms, and the hiring of part-time adjunct instructors in some institutions that have used teacher education as a "cash cow" rather than an investment in our nation's future" (Darling-Hammond, 2006, p. 306).
The emphasis on the role of context in these findings raises questions about the issue of testing for "resilience" as a screening measure to be considered in a different light. If the degree to which an individual demonstrates resilience is also dependent on the context, perceived relational support and explicit teaching of skills and strategies that support the resilience process, then a "pretest" for teacher resilience may not provide an accurate assessment of resilience in an authentic context. While it may be useful to identify general outlook and attitudes, or the way in which resilience is demonstrated in their lives prior to teaching, the extent to which this predicts career resilience has not been verified. We argue that resilience develops with experience, within context, and over time and therefore, needs to be explicitly modelled, taught and embedded in teacher education curriculum.
Implications
This study has a number of implications for teacher education and the work of teacher educators. With respect to teacher education curriculum, there seems an enthusiasm for clearer and more explicit direction for ways to support and enhance pre-service teacher resilience. Teacher educators themselves, however, may need professional learning about non-cognitive capacities of teachers, including resilience. Many teacher educators rely almost exclusively on their own school teaching experience to inform their pedagogy in teacher education and as argued by Goodwin and Kosnick (2013), "teacher educators need formal preparation and induction" (p. 343). Similarly, Loughran (2014) contends that "professional development of teacher educators must be purposefully conceptualized, thoughtfully implemented, and meaningfully employed" (p. 280). We argue that teacher educators require opportunities to engage in collective, shared professional learning about the resilience process and contextual approaches within teacher education programs that foster and support the development of pre-service teacher resilience.
In times of uncertainty and complexity, where context matters, the development of resilience among pre-service teachers is especially critical, not only for survival but for sustained effectiveness and growth. Loughran and Hamilton (2016) argue that "learning to teach is far more about an educative experience rather than an approach to training" (p. 4), contending that pre-service teachers need to be able to deal with the complex, dynamic and uncertain nature of teaching. Along with the development of pedagogical skills and content knowledge, we argue that to navigate the uncertain and complex world of teaching, pre-service teachers require the opportunity and time to develop strategies and skills that support resilience in multiple and authentic contexts throughout their initial teacher education programs. Assessing teacher resilience as an innate, predetermined capacity that pre-service teachers may or may not possess is contrary to much of the recent research in the field.
Embedding contextually based approaches to the development of pre-service teacher resilience in teacher education programs requires further consideration of how resilience is viewed in policy and by the profession. There is a silence in the Australian Professional Standards for Teachers about teacher well-being and resilience, and as noted earlier in this chapter, while teacher well-being and resilience are included in AITSL (2016) induction guidelines, these are not explicitly acknowledged in the Standards. In the same way that personal and social capabilities are important in The Australian Curriculum for schools and "in developing and acting with personal and social capability, students become confident, resilient and adaptable" (ACARA, 2012) we argue that similar capabilities should be explicit in the Australian Professional Standards for Teachers.
The issue of program coherence identified in the findings of this research also has broader implications for the nature of policy in teacher education and where a focus on supporting the development of pre-service teacher resilience sits in relation to current policy directions. Policy agendas which regard teacher education as being able to "train students of teaching so that they are 'classroom ready'" (Loughran & Hamilton, 2016, p. 4) neglect the complex relationships that exist in teaching and learning. Moving beyond a technical, what works approach to teacher education towards one which recognises that the "teaching and learning of teaching matters" (Loughran, 2016, p. 258), requires a shift in policy agendas. Such a shift requires attention to both the unique pedagogy of teacher education; the role, practice and professional development of teacher educators themselves; and a recognition in policy and in the APST of the ways that non-cognitive attributes, such as resilience, are developmental and grounded in context.
This study has provided insight into a previously neglected area of research about the ways teacher educators perceive pre-service teacher resilience. Crowe and Berry (2007) argue that research enables teacher educator practice to be made "explicit, not only to themselves, but also more broadly to the community of teacher educators" (p. 31), and while the findings of the research indicate the key role that teacher educators can play in modelling, teaching and supporting the development of pre-service teacher resilience, future research is needed that explores the ways teacher educators are embedding approaches to resilience within teacher education programs.
Initial work in mapping the ways teacher educators are embedding contextually based approaches to resilience has occurred through a National Teaching Fellowship (Mansfield, 2016)—"Staying BRiTE: Promoting resilience in higher education" (www.stayingbrite.edu.au). This ongoing work has involved collaboration with colleagues at 6 Australian universities and key stakeholders (partner schools, Departments of Education, AITSL) to embed resilience in teacher education programs in ways that are contextually responsive and take into account location, demographics and student needs. Authentic cases illustrating approaches to building resilience have been developed (see www.stayingbrite.edu.au/authentic cases) as well as resources to assist teacher educators.
These authentic cases serve as exemplars of how teacher educators can embed the explicit teaching of resilience within their everyday work, in ways that are relevant to their context and in ways that address some of the concerns of teacher educators identified in this paper. The authentic cases serve as a reminder that individual championing can lead to meaningful changes within ITE. As argued earlier, providing the opportunity for teacher educators to respond to issues of inadequate ITE preparation and early career teacher attrition, for which they are often blamed, has given them a voice to articulate the many contexts and stakeholders responsible for PST resilience. These changes can have a significant impact on PST resilience in ways that not only addresses some of the concerns identified by teacher educators in this paper but recognises the importance of advocating for the integration of resilience in ITE in ways that prepare graduates for a profession that not only requires resilience but demands it.
Copyright information
© Springer Nature Singapore Pte Ltd. 2018