Abstract

The time-varying topology brings great challenge to the design of the satellite network routing. The key to designing high performance routing is how to handle the time-varying topology. Considering comprehensive advantages of both LEO and GEO satellite networks, a novel double-layered satellite network suitable for space networking is established in this paper. In this model, the ideas of virtual node strategy and satellite grouping are adopted, and the coverage of each LEO satellite is regarded as a virtual node of the network. Different from previous work, the influence of the polar boundary on the division of the satellite footprint is taken into account, such that the upper management satellites are able to accurately acquire the topology of the lower satellites. Using the improved virtual node strategy, the time slices in the network has significant changes, which are better than those in other models in terms of quantity, length and other aspects. The fact is verified by simulation.
Keywords
Satellite networks

Time slices

Coverage unit

Satellite grouping
This work is supported by the National Natural Science Foundation of China (Grants No. 61572435, 61472305, 61473222); the Natural Science Foundation of Shaanxi Province (Grants No. 2015JZ002, 2015JM6311); the Natural Science Foundation of Zhejiang; Province (No. LZ16F020001); Programs Supported by Ningbo Natural Science Foundation (Grant No. 2016A610035); Aerospace T.T. &.C. Innovation Program (KJCK1608).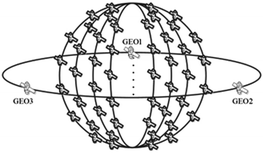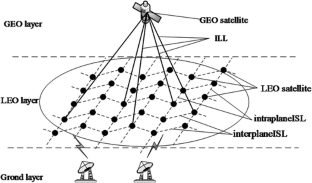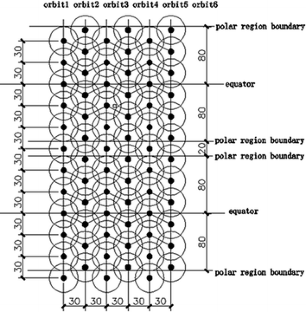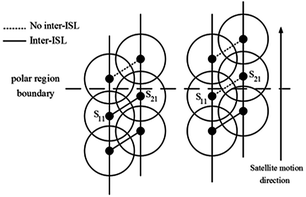 References
Li, D., Shen, X., Gong, J., et al.: On construction of China's space information network. Geomat. Inf. Sci. Wuhan Univ. 40(6), 711–715 (2015). (in Chinese)

Yu, Q., Wang, J., Bai, L.: Architecture and critical technologies of space information networks. J. Commun. Inf. Netw. 1(3), 1–9 (2016)

Qi, X., Ma, J., Wu, D., et al.: A survey of routing techniques for satellite networks. J. Commun. Inf. Netw. 1(4), 66–85 (2016)

Wu, Z., Hu, G., Jin, F., et al.: A novel routing design in the IP-based GEO/LEO hybrid satellite networks. Int. J. Satell. Commun. Network. 35(3), 179–199 (2017)

Wu, Z., Jin, F., Luo, J., et al.: A graph-based satellite handover framework for LEO satellite communication networks. IEEE Commun. Lett. 20(8), 1547–1550 (2016)

Ekici, E., Akyildiz, I., Bender, M.: A distributed routing algorithm for datagram traffic in LEO satellite networks. IEEE/ACM Trans. Network. 9(2), 137–147 (2001)

Korçak, Ö., Alagöz, F.: Virtual topology dynamics and handover mechanisms in Earth-fixed LEO satellite systems. Comput. Netw. 53(9), 1497–1511 (2009)

Liu, X., Jiang, Z., Liu, C., et al.: A low-complexity probabilistic routing algorithm for polar orbits satellite constellation networks. In: IEEE/CEC International Conference on Communications in China, pp. 1–5. IEEE (2016)

He, F., Liu, Q., Lv, T., et al.: Delay-bounded and minimal transmission broadcast in LEO satellite networks. In: ICC 2016 - 2016 IEEE International Conference on Communications, pp. 1–7. IEEE (2016)

Tan, H., Zhu, L.: A novel routing algorithm based on virtual topology snapshot in LEO satellite networks. In: IEEE International Conference on Computational Science and Engineering, pp. 357–361. IEEE (2014)

Jia, X., Lv, T., He, F., et al.: Collaborative data downloading by using inter-satellite links in LEO satellite networks. IEEE Trans. Wirel. Commun. 16(3), 1523–1532 (2017)

Wang, J., Li, L., Zhou, M.: Topological dynamics characterization for LEO satellite networks. Comput. Netw. 51(1), 43–53 (2007)

Chen, C., Ekici, E.: A routing protocol for hierarchical LEO/MEO satellite IP networks. Wirel. Netw. 11(4), 507–521 (2005)

Long, F., Xiong, N., Vasilakos, A., et al.: A sustainable heuristic QoS routing algorithm for pervasive multi-layered satellite wireless network. Wirel. Netw. 16(6), 1657–1673 (2010)

Zhou, Y., Sun, F., Zhang, B.: A hierarchical and distributed QoS routing protocol for two-layered satellite networks. In: IMACS Multiconference on Computational Engineering in Systems Applications, pp. 739–745. IEEE (2006)

Wang, Y., Sheng, M., Lui, K., et al.: Tailored load-aware routing for load balance in multilayered satellite networks. In: 2015 IEEE 82nd Vehicular Technology Conference (VTC Fall), pp. 1–5. IEEE (2015)

Pratt, S., Raines, R., Fossa, C., et al.: An operational and performance overview of the IRIDIUM low earth orbit satellite system. IEEE Commun. Surv. 2(2), 2–10 (1999)
Copyright information

© 2018 Springer Nature Singapore Pte Ltd.
About this paper
Cite this paper
Ma, J., Qi, X., Liu, L. (2018). An Effective Topology Design Based on LEO/GEO Satellite Networks. In: Yu, Q. (eds) Space Information Networks. SINC 2017. Communications in Computer and Information Science, vol 803. Springer, Singapore. https://doi.org/10.1007/978-981-10-7877-4_3
DOI: https://doi.org/10.1007/978-981-10-7877-4_3

Published:

Publisher Name: Springer, Singapore

Print ISBN: 978-981-10-7876-7

Online ISBN: 978-981-10-7877-4

eBook Packages: Computer ScienceComputer Science (R0)