Abstract

Expanded worldwide energy consumption and usage of fossil fuel cause its exhaustion and create energy crises, fuel security, global warming that have prompted a development of energy from alternative biomass that is renewable, economical, and eco-friendly. First- and second-generation biomass types, nonetheless, are frequently reprimanded because of displacement of food and the amount of crops it takes to deliver a gallon of oil. Algae to biodiesel (third-generation biofuel) have gained attention by many researchers, experts from petroleum industry as inexhaustible reliable and secure source of energy. Department of Energy, Govt. of USA, has investigated that algae grow much faster than terrestrial plants which give 30 times more energy yield per acre than land crops such as soybeans. Algae are a renewable bioresource that use sunlight, mitigate CO2 emissions, reduced nutrients (N, P, and K) from waste streams and water, and produce biomass in the form of sugars, proteins, and oils that can be processed into both biofuels and valuable coproducts. In light of utilization, worldwide algal products are separated into nutraceuticals, nourishment and bolster supplements, pharmaceuticals, paints, colorants, etc. Algal-derived coproducts such as carotenoids, β-carotene, omega 3 polyunsaturated fatty acids (docosahexaenoic acid and eicosahexaenoic), astaxanthin, squalene, phycobiliproteins have increased popularity from the neutraceuticals and pharmaceutical industry and are relied upon to give high income to the algae producing companies around the world. A few algal strains with a high wholesome esteem and vitality content are developed industrially as aquaculture feed and are also a potential source of lipids, ethanol, and hydrogen. In this chapter, we attempt to elucidate the primary existing and potential high-value coproducts and its commercial significance, algal species used and market sizes, trends, and future prospects.
Keywords
Algae

High-value coproducts

Protein

Fatty acids

Market size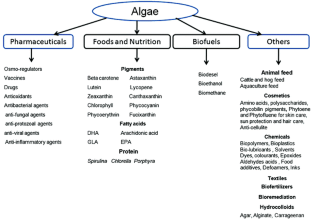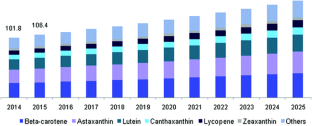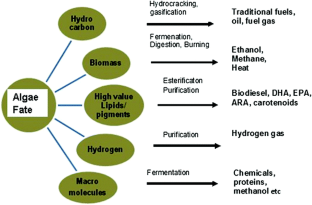 References
Adarme-Vega TC, Lim DKY, Timmins M, Vernen F, Li Y, Schenk PM (2012) Microalgal biofactories: a promising approach towards sustainable omega-3 fatty acid production. Microb Cell Factories 11:1–10

Amer L, Adhikari B, Pellegrino J (2011) Technoeconomic analysis of five algae-to-biofuels processes of varying complexity. Biores Technol 102:9350–9359

Arad S, Levy-Ontman O (2010) Red microalgal cell-wall polysaccharides: biotechnological aspects. Curr Opin Biotechnol 21:358–364

Barclay W, Weaver C, Metz J (2010) Development of docosahexaenoic acid production technology using Schizochytrium: historical perspective and update. In: Cohen Z, Ratledge C (eds) Single cell oils, microbial and algal oils. AOCS Press, Urbana, pp 75–96

Borowitzka MA (2010) Carotenoid production using microorganisms. In: Cohen Z, Ratledge C (eds) Single cell oils, microbial and algal oils. AOCS Press, Urbana, pp 225–240

Borowitzka MA (2013a) High-value products from algae—their development and commercialisation. J Appl Phycol 25:743–756

Borowitzka MA (2013b) Energy from algae: a short history. In: Borowitzka MA, Moheimani NR (eds) Algae for biofuels and energy. Spinger, Dordrecht, pp 1–15

Borowitzka MA, Borowitzka LJ (1988) Dunaliella. In: Borowitzka MA, Borowitzka LJ (eds) Micro-algal biotechnology. Cambridge University Press, Cambridge, pp 27–58

Borowitzka LJ, Borowitzka MA (1989) ß-Carotene (Provitamin A) production with algae. In: Vandamme EJ (ed) Biotechnology of vitamins, pigments and growth factors. Elsevier Applied Science, London, pp 15–26

Brennan L, Owende P (2009) Biofuels from algae—a review of technologies for production, processing, and extractions of biofuels and co-products. Renew Sustain Energy Rev. https://doi.org/10.1016/j.rser.2009.10.009

Brownbridge G, Azadi P, Smallbone A et al (2014) The future viability of algae-derived biodiesel under economic and technical uncertainties. Biores Technol 151:166–173

Cardoso SM, Carvalho LG, Silva PJ et al (2014) Bioproducts from seaweeds: a review with special focus on the Iberian Peninsula. Curr Org Chem 18(7):896–917

Cardozo KHM, Guaratini T, et al (2007) Metabolites from algae with economical impact. Comp Biochem Physiol Toxicol Pharmacol 146(1–2):60–78

Caroprese M, Albenzio M, Ciliberti MG et al (2012) A mixture of phytosterols from Dunaliella tertiolecta affects proliferation of peripheral blood mononuclear cells and cytokine production in sheep. Vet Immunol Immunopathol 150:27–35

Center for Biological Diversity (2012) http://www.biologicaldiversity.org/programs/climate_law_institute/energy_and_global_warming/index.html

Chauhan UK, Pathak N (2010) Effect of different conditions on the production of chlorophyll by Spirulina platensis. J Algal Biomass Utln 1(4):89–99

Chen J, Jiao R, Jiang Y et al (2014) Algal sterols are as effective as β-sitosterol in reducing plasma cholesterol concentration. J Agric 62:675–681

Costa Perez J (2003) Method of producing beta-carotene by means of mixed culture fermentation using (+) and (−) strains of Blakeslea trispora. European Patent Application 1,367,131

Cuellar-Bermudez SP, Aguilar-Hernandez I, Cardenas-Chavez DL et al (2010) Extraction and purification of high-value metabolites from algae: essential lipids, astaxanthin and phycobiliproteins. Microbial Biotechnolo 8(2):190–209

Davis R, Aden A, Pienkos PT et al (2011) Techno-economic analysis of autotrophic algae for fuel production. Appl Energy 88:3524–3531. https://doi.org/10.1016/j.apenergy.2011.04.018

De Philippis R, Colica G, Micheletti E (2011) Exopolysaccharide producing cyanobacteria in heavy metal removal from water: molecular basis and practical applicability of the biosorption process. Appl Microbiol Biotechnol 92:697–708

Delrue F, Setier P, Sahut C et al (2012) An economic, sustainability, and energetic model of biodiesel production from algae. Biores Technol 111:191–200

Deng R, Chow TJ (2010) Hyperlipidemic, antioxidant and antiinflammatory activities of algae Spirulina. Cardiovasc Ther 28:33–45

Dufosse L, Galaupa P, Yaron A (2005) Microorganisms and algae as sources of pigments for food use: a scientific oddity or an industrial reality? Trends Food Sci Technol 16:389–406

Enzing C, Ploeg M, Barbosa M (2014) Algae based products for the food and feed sector: an outlook for Europe. In: Vigani M, Parisi C, Rodíguez-Cerezo E (eds) JRC scientific and policy reports. https://ec.europa.eu/jrc/sites/default/files/final_version_online_ipts_jrc_85709.pdf

Francavilla M, Trotta P, Luque R (2010) Phytosterols from Dunaliella tertiolecta and Dunaliella salina: a potentially novel industrial application. Bioresour Technol 101:4144–4150

Francavilla M, Colaianna M, Zotti M, Morgese MG, Trotta P, Tucci P, Schiavone S, Cuomo V, Trabace L (2012) Extraction, characterization and in vivo neuromodulatory activity of phytosterols from microalga Dunaliella tertiolecta. Curr Med Chem 19:3058–3067

GRAS (2012) GRAS Notice 000424: notice to US Food and Drug Administration the use of CyaninPlus™ is generally recognised as safe. https://www.accessdata.fda.gov/scripts/fcn/gras_notices/GRN000424.pdf

Hannon M, Gimpel J, Tran M et al (2010) Biofuels from algae: challenges and potential. Biofuels 1(5):763–784

Hossain NB, Basu JK, Mamun M (2015) The production of ethanol from micro-algae Spirulina. Proc Eng 105:733–738

Hu L, Huang B, Zuo M, Wei H (2008) Preparation of the phycoerythrin subunit liposome in a photodynamic experiment on liver cancer cells. Acta Pharmacol Sin 29:1539–1546

Kim SK, Pangestuti R (2011) Biological properties of cosmeceuticals derived from marine algae. In: Kim S-K (ed) Marine cosmeceuticals. CRC Press, Boca Raton, pp 191–200

Kim YS, Li XF, Kang KH et al (2014) Stigmasterol isolated from marine algae Navicula incerta induces apoptosis in human hepatoma Hep G2 cells. BMB Rep 47:433

Kyle DJ (2005) The future development of single cell oils. In: Cohen Z, Ratledge C (eds) Single cell oils. AOCS, Urbana, pp 239–248

Lorenz RT, Cysewski GR (2000) Commercial potential for Haematococcus algae as a natural source of astaxanthin. Trends Biotechnol 18:160–167

Louw TM, Griffiths MJ, Jones SMJ et al (2016) Techno-economics of algal biodiesel algae biotechnol. https://doi.org/10.1007/978-3-319-12334-9_7

Lv J, Yang X, Ma H et al (2015) The oxidative stability of algae oil (Schizochytrium aggregatum) and its antioxidant ability after gastrointestinal digestion: relationship with constituents. Eur J Lipid Sci Technol. https://doi.org/10.1002/ejlt.201400588

Milledge JJ (2012) Algae: commercial potential for fuel, food and feed. Food Sci Technol 26(1):28–31

Mulbry W, Kondrad S, Buyer J (2008) Treatment of diary and swine manure effluents using freshwater algae: fatty acid content and composition of algal biomass at different manure loading rates. J Appl Phycol 20:1079–1085

Muller JM, Alegre RM (2007) Alginate production by Pseudomonas mendocina in a stirred draft fermenter. World J Microbiol Biotechnol 23(5):691–695

Munir N, Sharif N, Naz S (2013) Algae: a potent antioxidant source. Sky J Microbiol Res 1(3):22–31

Nagarajan S, Chou SK, Cao S et al (2013) An updated comprehensive techno-economic analysis of algae biodiesel. Biores Technol 145:150–156. https://doi.org/10.1016/j.biortech.2012.11.108

NREL U S Department of Energy (2016) National Algal Biofuels Technology Review. https://energy.gov/eere/bioenergy/downloads/2016-national-algal-biofuels-technology-review

Patterson GML, Larsen LK, Moore RE (1994) Bioactive natural products from blue-green algae. J Appl Phycol 6:151–157

Paudel YP, Pradhan S, Pant B (2012) Role of blue green algae in rice productivity. Agric Biol J N Am 3(8):332–335

Prakash S, Sasikala S, Aldous VHJ (2010) Isolation and identification of MDR-Mycobacterium tuberculosis and screening of partially characterised antimycobacterial compounds from chosen marine micro algae. Asian Pac J Trop Med 3:655–661

Priyadarshani I, Rath B (2012) Commercial and industrial applications of micro algae–A review. J Algal Biomass Utln 3(4):89–100

Pulz O, Gross W (2004) Valuable products from biotechnology of algae. Appl Microbiol Biotechnol 65(6):635–648

Rasmussen HE, Blobaum KR, Park YK et al (2008) Lipid extract of Nostoc commune var. sphaeroides Kützing. J Nutr 138:476–481

Ratledge C (2004) Fatty acid biosynthesis in microorganisms being used for single cell oil production. Biochimie 86:807–815

Rito-Palomares M, Nuñez L, Amador D (2001) Practical application of aqueous two-phase systems for the development of a prototype process for c-phycocyanin recovery from Spirulina maxima. J Chem Technol Biotechnol 76:1273–1280

Sánchez M, Bernal Castillo J, Rozo C (2003) Spirulina (Arthrospira): an edible microorganism: a review. Univ Sci 8:7–24

Soeder CJ, Pabst W (1970) Gesichtspunkte fur die Verwendung von Mikroalgen in der Ernahrung von Mensch und Tier. Ber Deutsch Bot Ges 83:607–625

Da Silva, TL, Gouveia L, Reis A (2014) Integrated microbial processes for biofuels and high value-added products: the way to improve the cost effectiveness of biofuel production. Appl Microbiol Biotechnol 98(3):1043–1053

Thiel T, Pratte BS, Zhong J et al (2014) Complete genome sequence of Anabaena variabilis ATCC 29413. Stand Genomic Sci 9(3):562–573

Venkataraman LV, Becker WE, Shamala TR (1977) Studies on the cultivation of the alga Scenedesmus acutus as a single cell protein. Life Sci 20:223–234

Vigani M, Parisi C, Rodrıguez-Cerezo E (2015) Food and feed products from algae: market opportunities and challenges for the EU. Trends Food Sci Technol 42:81–92

Volkman JV (2003) Sterols in microorganisms. Appl Microbiol Biotechnol 60:495–506

Worldometers (2015) http://www.worldometers.info/world-population

Wynn J, Behrens P, Sundararajan A (2010) Production of single cell oils from Dinoflagellates. In: Cohen Z, Ratledge C (eds) Single cell oils. Microbial and algal oils. AOCS Press, Urbana, pp 115–129

Yasukawa K, Akihisa T, Kanno H et al (1996) Inhibitory effects of sterols isolated from Chlorella vulgaris on 12-O-tetradecanoylphorbol-13-acetate-Induced inflammation and tumor promotion in mouse skin. Biol Pharm Bull 19:573–576
Acknowledgements

We acknowledge the Department of Biotechnology, Government of India and DBT-IOC Centre for Advanced Bio-Energy Research, Indian Oil Corporation Ltd., Research & Development Centre, Faridabad, India, for funding and support.
Copyright information

© 2018 Springer Nature Singapore Pte Ltd.
About this chapter
Cite this chapter
Mehta, P. et al. (2018). High-Value Coproducts from Algae—An Innovational Way to Deal with Advance Algal Industry. In: Singhania, R., Agarwal, R., Kumar, R., Sukumaran, R. (eds) Waste to Wealth. Energy, Environment, and Sustainability. Springer, Singapore. https://doi.org/10.1007/978-981-10-7431-8_15
DOI: https://doi.org/10.1007/978-981-10-7431-8_15

Published:

Publisher Name: Springer, Singapore

Print ISBN: 978-981-10-7430-1

Online ISBN: 978-981-10-7431-8