Abstract

Northeast British Columbia (NEBC) is estimated to hold large reserves of unconventional natural gas and has experienced rapid growth in shale gas development over recent decades. This industrial development has the potential to impact the quality and quantity of surface water and groundwater. In this study, hazard-specific vulnerability mapping was conducted across NEBC to identify areas most vulnerable to water quality and quantity deterioration due to shale gas development activities. Vulnerability represents the combination of a specific hazard threat and the susceptibility of the water system to that threat. Hazard threats (i.e. potential contamination sources and water abstraction) were mapped spatially across the region. The shallow aquifer susceptibility to contamination was assessed using the DRASTIC approach, while the aquifer susceptibility to abstraction was assessed according to aquifer productivity. Surface water susceptibility to contamination was assessed on a watershed basis to describe the propensity for overland flow (i.e. contaminant transport), while surface water susceptibility to water abstractions was assessed using watershed runoff estimates. The spatial distribution of hazard threats and susceptibility were combined to form hazard-specific vulnerability maps for groundwater quality, groundwater quantity, surface water quality and surface water quantity. The vulnerability maps identify priority areas for further research, monitoring and policy development.
Keywords
Shale gas

Hazards

Water security

Vulnerability

Northeast British Columbia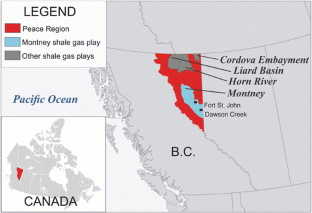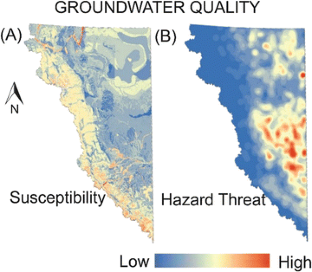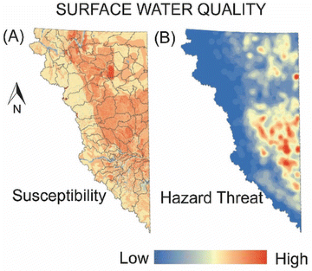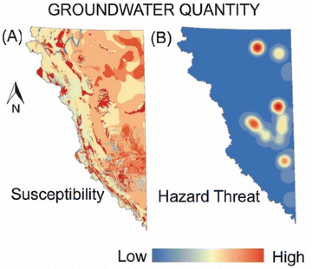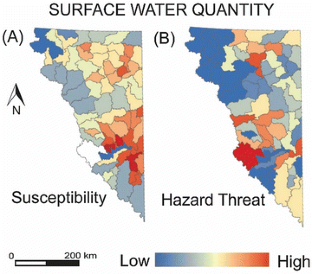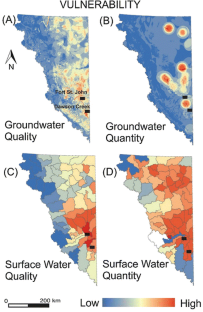 References
Aller L, T Bennett, J Lehr, R Petty and G Hackett (1987) DRASTIC: a standardized system for evaluating ground water pollution potential using Hydrogeologic settings. EPA-600/2-87-035, National Water Well Association, Dublin, Ohio / EPA Ada. Oklahoma

BC Oil and Gas Commission (BCOGC) (2013) Water use for oil and gas activity: annual report

BC Oil and Gas Commission (BCOGC) (2014) 2013/2014 Annual service plan report

Berardinucci J, Ronneseth K (2002) Guide to using the BC aquifer classification maps for the protection and Management of Groundwater. In: British Columbia Ministry of Water, Land and Air Protection, Victoria, 54 pages

Chapman A, Kerr B, Wilford D (2012) Hydrological modelling and decision-support tool development for water allocation, northeastern British Columbia. In: Geoscience BC summary of activities 2011, geoscience BC, report 2012–1, pp 81–86

Council of Canadian Academies (2014) Environmental impacts of shale gas extraction in Canada. The expert panel on harnessing science and technology to understand the environmental impacts of shale gas extraction. Council of Canadian Academies, Ottawa, p 266

Holding S, Allen DM (2015) Final report: shallow groundwater intrinsic vulnerability mapping in Northeast British Columbia. Prepared for Pacific Institute for Climate Solutions and BC Ministry of forests. Department of Earth Sciences, Simon Fraser University, Lands and Natural Resource Operations, p 41

Johnson EG and LA Johnson (2012) Hydraulic fracture water usage in Northeast British Columbia: locations, volumes and trends. Geoscience reports 2012, British Columbia Ministry of energy and mines, pp 41–63

Province of British Columbia (2015) Liquefied natural gas in British Columbia. https://lnginbc.gov.bc.ca/. Accessed July 2017

Vengosh A, Jackson RB, Warner N, Darrah TH, Kondash A (2014) A critical review of the risks to water resources from unconventional shale gas development and hydraulic fracturing in the United States. Environ Sci Technol 48:8334–8348
Acknowledgments

This research was supported by the Pacific Institute for Climate Solutions, Victoria, British Columbia, Canada and the Research Institute for Humanity and Nature, Kyoto, Japan.
Copyright information

© 2018 Springer Nature Singapore Pte Ltd.
About this chapter
Cite this chapter
Allen, D.M., Holding, S., McKoen, Z. (2018). Hazard-specific Vulnerability Mapping for Water Security in a Shale Gas Context. In: Endo, A., Oh, T. (eds) The Water-Energy-Food Nexus. Global Environmental Studies. Springer, Singapore. https://doi.org/10.1007/978-981-10-7383-0_3
DOI: https://doi.org/10.1007/978-981-10-7383-0_3

Published:

Publisher Name: Springer, Singapore

Print ISBN: 978-981-10-7382-3

Online ISBN: 978-981-10-7383-0