Abstract

With the proliferation of smart devices and sensors, the Internet of Things (IoT) has been rapidly emerged. The term of IoT generally refers to not only network connectivity of smart objects with computing capability but also applications based on the network connectivity. The smart objects generate, exchange and consume their data with only minimal human intervention. Smart Home is a service that connects various home appliances, such as refrigerators, televisions, air conditioners, and so on, in order to improve user experiences and provide combinational operations between them. In this paper, we introduce a design of Home IoT system based on mobile messaging applications with ChatBot, an artificial intelligence based agent to remotely control of home appliances and inquire their status through natural language messages. We propose the standard hierarchy of Home IoT system and demonstrate the proposed system by implementing Arduino based prototype systems.
Keywords
Chatbot

Home IoT

raspberryPi

Artificial intelligence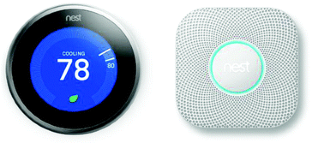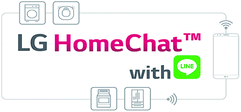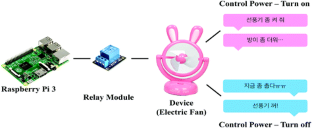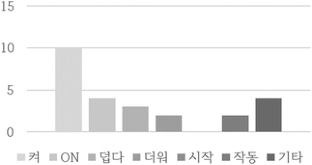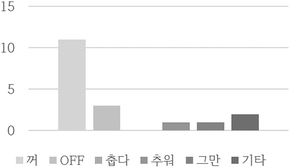 References
Rose, K., Eldridge, S., Chapin, L.: The Internet of Things: An Overview Understanding the Issues and Challenges of a More Connected World. The Internet Society (ISOC), 22 October 2015

Bea, S., Kim, J.: Korea Institute of Science and Technology Evaluation & Planning (KISTEP), Changing the paradigm of Internet of Things (IoT) development and security, 13 July 2016

Jang, H., Lee, S.: Prospects for Smart Home Development Based on the Internet. Institute for Information & Communications Technology Promotion, 9 September 2015

Kim, Y.: 6 Components of Smart Home (Home IoT) Ecosystem. KT Economics & Management Research Institute, 26 November 2014

Khanna, A., Pandey, B., Vashishta, K., Kalia, K., Pradeepkumar, B., Das, T.: A study of today's A.I. through Chatbots and rediscovery of machine intelligence. Int. J. ue Serv. Sci. Technol. 8(7), 277–284 (2015)

KB Financial Group Management Research Institute, KB knowledge Vitamin, A Study on the Introduction of Mobile messenger Chatbot and Its Implications, 11 May 2016

Weizenbaum, J.: Eliza—A computer program for the study of natural language communication between man and machine. Commun. ACM 9(1), 36–45 (1966)

Güven, G., Franchi, S.: Dialogues with colorful personalities of early AI. Constructions Mind. Artif. Intell. Humanit. Spec. Issue Stanford Humanit. Rev. 4, 161–170 (1995). http://web.stanford.edu/group/SHR/4-2/text/dialogues.html
Copyright information

© 2018 Springer Nature Singapore Pte Ltd.
About this paper
Cite this paper
Shin, S., Park, J., Kim, C. (2018). Design of Home IoT System Based on Mobile Messaging Applications. In: Lee, W., Choi, W., Jung, S., Song, M. (eds) Proceedings of the 7th International Conference on Emerging Databases. Lecture Notes in Electrical Engineering, vol 461. Springer, Singapore. https://doi.org/10.1007/978-981-10-6520-0_31
DOI: https://doi.org/10.1007/978-981-10-6520-0_31

Published:

Publisher Name: Springer, Singapore

Print ISBN: 978-981-10-6519-4

Online ISBN: 978-981-10-6520-0

eBook Packages: EngineeringEngineering (R0)