Abstract
There is a long research trail exploring the benefits of international education experiences for the learning of students in higher education (e.g., Bennett 1993; Deardorff 2006; Northcote et al. 2014). However, it is only recently that research has begun to focus on accompanying academics and the impact of international professional experiences on their professional and personal well-being (Casinader in press; see also the many authors in this book).
Keywords
International Professional Experience

Intercultural Competence

Mathematical Sentences

Mathematical Lens

Zembylas
These keywords were added by machine and not by the authors. This process is experimental and the keywords may be updated as the learning algorithm improves.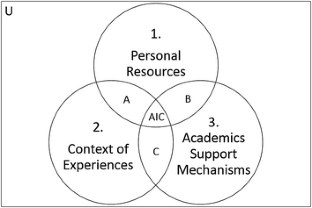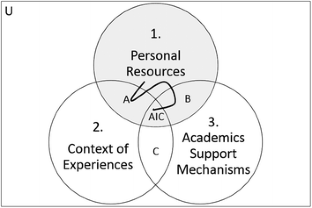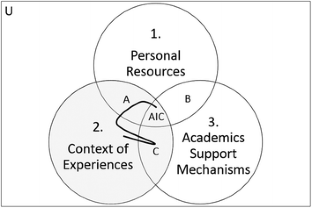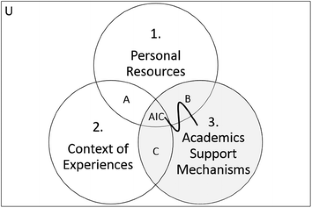 References
Barkhuizen, G., & Feryok, A. (2006). Pre-Service teachers' perceptions of a short-term international experience programme. Asia-Pacific Journal of Teacher Education, 34(1), 115–134.

Bennett, M. J. (1993). Towards ethnorelativism: A developmental model of intercultural sensitivity. In R. M. Paige (Ed.), Education for the intercultural experience (pp. 21–71). Yarmouth, ME: Intercultural Press.

Boler, M., & Zembylas, M. (2003). Discomforting truths: The emotional terrain of understanding difference. In P. Trifonas (Ed.), Pedagogies of difference: Rethinking education for social change, 110 135. New York: Routledge.

Brown, L. (2009). The transformative power of the international sojourn. An ethnographic study of the international student experience. Annals of Tourism Research, 36(3), 502–521.

Campbell, C. J., & Walta, C. (2015). Maximising intercultural learning in short term international placements: Findings associated with orientation programs, guided reflection and immersion. Australian Journal of Teacher Education, 40(10), 1–15.

Casinader, N. (in press). Transnational learning experiences and teacher transcultural capacity: the impact on professional practice—A comparative study of three Australian schools. Intercultural Education.

Casinader, N. (2014). Culture, transnational education and thinking: Case studies in global schooling. London: Routledge.

Casinader, N., & Walsh, L. (2015). Teacher transculturalism and cultural difference: Addressing Racism in Australian Schools. International Education Journal: Comparative Perspectives, Special Edition: ANZCIES Conference Proceedings, 14(2), 51–62.

Day, C. (1999). Researching teaching through reflective practice. In J. Loughran (Ed.), Researching teaching: Methodologies and practices for understanding pedagogy (pp. 215–232). London: Falmer Press.

Deardorff, D. (2006). The identification and assessment of intercultural competence as a student outcome of internationalization at institutions of higher education in the United States. Journal of Studies in International Education, 10(3), 241–266.

Doungphummes, N., & Cacciattolo, M. (2015). Intercultural Competence through Teaching Practicum in Thailand: A Reflexive Account of Australian Preservice Teachers. Journal of Asian Critical Education, 3, 12–28.


Holyoak, K. J. (1991). Symbolic connectionism: Toward third-generation theories of expertise. In K. A. Ericsson & J. Smith (Eds.), Toward a general theory of expertise: Prospects and limits (pp. 301–335). Cambridge, UK: Cambridge University Press.

Kissock, C., & Richardson, P. (2010). Calling for action within the teaching profession: It is time to internationalize teacher education. Teaching Education, 21(1), 89–101.

Lang, C., Cacciattolo, M., & Kidman, G. (2016). The Global Education Practicum: Perspectives from accompanying academics. Asia-Pacific Journal of Teacher Education. doi:10.1080/1359866X.2016.1204425

Lee, J. (2011). International field experience—What do student teachers learn? Australian Journal of Teacher Education, 36(10), 1–22.

Northcote, M., Kilgour, P., Reynaud, D., & Fitzsimmons, P. (2014). Engaging in deep cultural learning through the intersection of multiple contexts. Australian Journal of Teacher Education, 39(10), 47–63.

O'Reilly, F., McCaw, W., Matt, J., & Kero, P. (2013). International study tours: An avenue for personal growth. Journal of Cultural Diversity, 20(4), 163–169.

Parr, G. (2012). Leading an international teaching practicum: Negotiating tensions in a site of border pedagogy. Asia-Pacific Journal of Teacher Education, 40(2), 97–109.

Quine, W. V. (1982). Methods of logic. MA: Harvard University Press.

Schon, D. A. (1983). The reflective practitioner: How professionals think in action. New York: Basic Books.

Simmons, P. E., Emory, A., Carter, T., Coker, T., Finnegan, B., Crockett, D., et al. (1999). Beginning teachers: Beliefs and classroom actions. Journal of Research in Science Teaching, 36(8), 930–954.

Sleeter, C. (2008). Preparing white teachers for diverse students. In M. Cochran-Smith, S. Feiman-Nemser & D. J. McIntyre (Eds.), Handbook of research on teacher education (3rd ed., pp. 559–582). New York: Routledge.

Williams, J., & Grierson, A. (2016). Facilitating professional development during international practicum: Understanding our work as teacher educators through critical incidents. Studying Teacher Education, 12(1), 55–69.
Copyright information
© 2017 Springer Nature Singapore Pte Ltd.
About this chapter
Cite this chapter
Kidman, G., Lang, C., Cacciattolo, M. (2017). Pre-service Teachers' International Teaching Placement: Outcomes for the Accompanying Academic. In: Fitzgerald, A., Parr, G., Williams, J. (eds) Narratives of Learning Through International Professional Experience. Springer, Singapore. https://doi.org/10.1007/978-981-10-4867-8_3
DOI: https://doi.org/10.1007/978-981-10-4867-8_3

Published:

Publisher Name: Springer, Singapore

Print ISBN: 978-981-10-4866-1

Online ISBN: 978-981-10-4867-8

eBook Packages: EducationEducation (R0)