Abstract

This paper addresses a bimanual haptic simulator for training human hand palpation and needle insertion motor skills in lumbar puncture medical procedure using two haptic device for medical students and physicians. This virtual reality environment simulates the human hand palpation and needle puncture with visual and haptic feedback. In this work, we studied lateral haptic model for rendering human hand palpation and layered haptic model for lumbar needle puncture. We have developed a training simulator for detecting the lumbar position and spinal needle insertion skills for lumbar puncture that can be demonstrated as a concept prototype to the medical haptic simulations.
Keywords
Bimanual haptics

Medical simulation

Skill training

Lumbar puncture

Hand palpation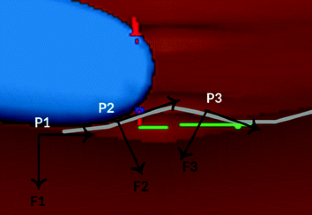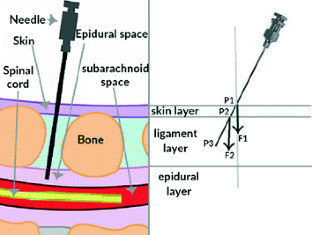 References
Jose, J., Ramesh, S., Akshay, N., Bhavani, R.R.: TryStrokes: Learning on a digital canvas to paint in the real world. In: Global Humanitarian Technology Conference: South Asia Satellite (GHTC-SAS), pp. 68–73. IEEE (2013). doi:10.1109/GHTC-SAS.2013.6629891

Jose, J., Unnikrishnan, R., Marshall, D., Bhavani, R.R.: Haptic simulations for training plumbing skills. In: 2014 IEEE International Symposium on Haptic, Audio and Visual Environments and Games (HAVE), pp. 65–70. IEEE (2014)

Jose, J., Akshay, N., Bhavani, R.R.: Learning elementary physics though haptic simulations. In: Proceedings of the 2014 International Conference on Interdisciplinary Advances in Applied Computing. ACM (2014)

Gorman, P., Krummel, T., Webster, R., Smith, M., Hutchens, D.: A prototype haptic lumbar puncture simulator. In: Studies in Health Technology and Informatics, pp. 106–109 (2000)

Webster, R.W., Zimmerman, D.I., Mohler, B.J., Melkonian, M.G., Haluck, R.S.: A prototype haptic suturing simulator. In: Studies in Health Technology and Informatics, pp. 567–569 (2001)

Okamura, A.M., Simone, C., O'Leary, M.D.: Force modeling for needle insertion into soft tissue. IEEE Trans. Biomed. Eng. 51(10), 1707–1716 (2004)

De, S., Srinivasan, M.A.: Thin walled models for haptic and graphical rendering of soft tissues in surgical simulations. In: Studies in Health Technology and Informatics, pp. 94–99 (1999)

Coles, T.R., John, N.W., Gould, D., Caldwell, D.G.: Integrating haptics with augmented reality in a femoral palpation and needle insertion training simulation. IEEE Trans. Haptics 4(3), 199–209 (2011)

Cleary, K., Lathan, C.: Surgical simulation: research review, computing challenges, and spine biopsy simulator. Parallel Comput. 1–15 (1997)

Bostrom, M., Singh, S.K., Wiley, C.W.: Design of an interactive lumbar puncture simulator with tactile feedback. In:  IEEE 1993 of Virtual Reality Annual International Symposium, pp. 280–286. IEEE (1993)

Farber, M., Hummel, F., Gerloff, C., Handels, H.: Virtual reality simulator for the training of lumbar punctures. Methods Inf. Med. 48(5), 493 (2009)

Ruspini, D.C., Kolarov, K., Khatib, O.: The haptic display of complex graphical environments. In: Proceedings of the 24th Annual Conference on Computer Graphics and Interactive Techniques, pp. 345–352. ACM Press/Addison-Wesley Publishing Co (1997)

Zilles, C.B., Salisbury, J.K.: A constraint-based god-object method for haptic display. In: Proceedings. 1995 IEEE/RSJ International Conference on Intelligent Robots and Systems 95. 'Human Robot Interaction and Cooperative Robots' vol. 3, pp. 146–151. IEEE (1995)

Lundin, K., Gudmundsson, B., Ynnerman, A.: General proxy-based haptics for volume visualization. In: World Haptics Conference First Joint EuroHaptics Conference and Symposium on Haptic Interfaces for Virtual Environment and Teleoperator Systems, pp. 557–560. IEEE (2005)
Acknowledgements

We wish to extend our sincere gratitude to Mata Amritanandamayi Devi, Chancellor, Amrita Vishwa Vidyapeetham for being an everlasting source of inspiration for our efforts. We also wholeheartedly thank the wonderful team at AMMACHI Labs for their support and encouragement and for providing constructive criticism and valuable inputs during the various stages of this work.
Copyright information

© 2018 Springer Nature Singapore Pte Ltd.
About this paper
Cite this paper
Jose, J., Bhavani, R.R. (2018). Bimanual Haptic Simulator for Training Hand Palpation and Lumbar Puncture. In: Hasegawa, S., Konyo, M., Kyung, KU., Nojima, T., Kajimoto, H. (eds) Haptic Interaction. AsiaHaptics 2016. Lecture Notes in Electrical Engineering, vol 432. Springer, Singapore. https://doi.org/10.1007/978-981-10-4157-0_59
DOI: https://doi.org/10.1007/978-981-10-4157-0_59

Published:

Publisher Name: Springer, Singapore

Print ISBN: 978-981-10-4156-3

Online ISBN: 978-981-10-4157-0

eBook Packages: EngineeringEngineering (R0)