Utilizing Various User Moods for Automatic Recipe-Metadata Generation
Abstract
In recent times, numerous cooking websites that recommend recipes have been launched. For example, Cookpad [
1
] and Rakuten Recipe [
2
] are very popular in Japan. Cookpad contains 2.2 million recipes and 50 million monthly access users, and Rakuten Recipe contains one million recipes. These statistics reflect the high demand for recipe-providing services. We believe that the addition of various metadata to the recipes is effective in improving the accuracy of the recipe recommendation system. For example, if the recipe has metadata such as "good for a bedtime snack", the system can effectively provide recipes for a specific user purpose, as shown in Fig.
1
.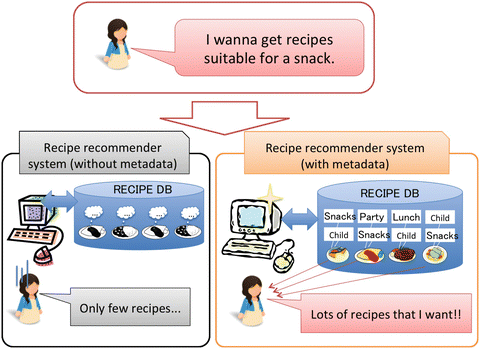 Keywords
Feature Vector 
Gain Score 
Recommendation Accuracy 
Master Recipe 
Cooking Action 
These keywords were added by machine and not by the authors. This process is experimental and the keywords may be updated as the learning algorithm improves.
Notes
Acknowledgements
This work was supported in part by the MEXT Grant-in Aid for Scientific Research(C)(#26330351).
Copyright information
© Springer Nature Singapore Pte Ltd. 2017