Abstract

The major breakthrough of graphene in 2004 has paved the way for various approaches to synthesize graphene and its derivatives for biomedical applications. With the interest in graphene as a cargo in drug delivery, the exploration has slowly shifted to metal-graphene materials as fluorescent probes. Metals such as Cu, Au, Fe, Ce and etc., have been incorporated into graphene for various applications such as sensing and imaging. With the success of graphene—metal nanoparticles (NPs), its more recently discovered counterpart, graphene—metal nanoclusters (NCs) has gained much interest lately. Loosely defined, NCs are a cluster of NPs with sizes of 1–20 nm with a narrow size distribution, which endows it with unique electronic properties compared to metal NPs. NCs are size-dependent fluorescent materials with good photostability. They have been largely investigated in biosensing, diagnosis and therapy applications, a term coined as theranostics. In more recent applications, graphene metal NCs were stabilized with protein biomarkers for targeted sensing of cancer cells and diseases. Smart delivery system allows diagnosis, imaging and targeted therapy simultaneously. This chapter focusses on the synthesis and biomedical applications of graphene—metal NCs with a detailed discussion on their properties and applications in the biomedical field. A brief description on the toxicity is addressed as well, together with future considerations for possible applications of graphene—metal NCs clinically.
Keywords
Graphene

Metal nanoclusters

Theranostics

Cancer

Diagnosis

Bioimaging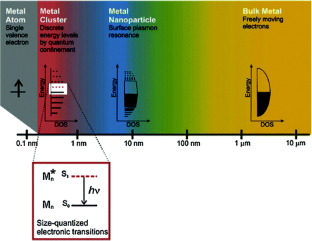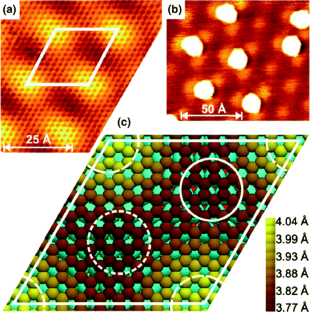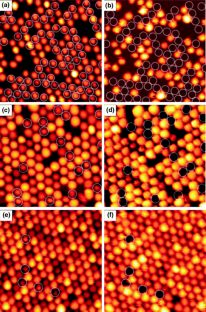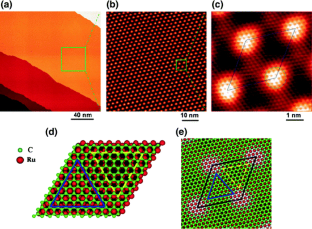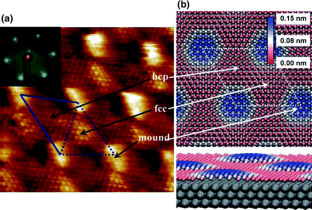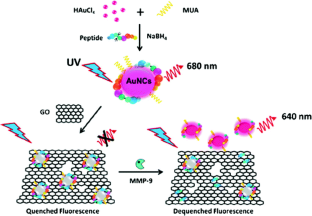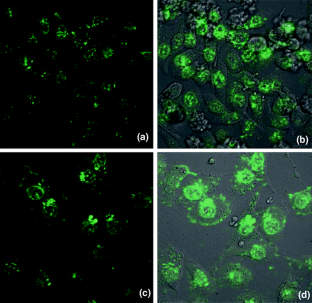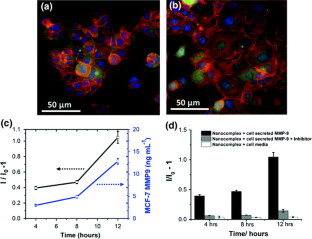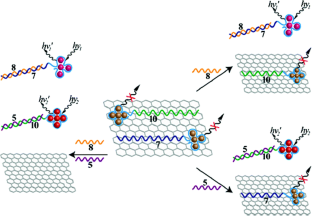 Abbreviations
2D:

Two dimensional

3D:

Three-dimensional

Ag:

Silver

Au:

Gold

CT:

Computed tomography

CTAB:

Cetyltrimethylammonium bromide

CVD:

Chemical vapour deposition

D:

Diffusion coefficient

DFT:

Density functional theory

DOS:

Density of states

Dox:

Doxorubicin

Gd:

Gadolinium

GO:

Graphene oxide

HREELS:

High-resolution electron energy loss spectrometer

HRTEM:

High-resolution transmission electron microscopy

IC50 :

Half-inhibitory concentration

IONP:

Iron oxide nanoparticles

LD50 :

Lethal dose 50%

LDH:

Lactate dehydrogenase

LEED:

Low energy electron diffraction

MMP:

Metalloproteinase-9

Mn:

Manganese

MR:

Magnetic resonance

MTT:

(3-(4,5-dimethylthiazol-2-yl)-2,5-diphenyltetrazolium bromide)

MUA:

Mercaptoundecanoic acid

NCs:

Nanoclusters

NIR:

Near Infrared

NOAEL:

No observed adverse effect level

NPs:

Nanoparticles

PET:

Positron emission tomography

PMA:

Phorbol myristate acetate

PM-IRAS:

Polarization modulation infrared reflection absorption spectrometer

PVP:

Polyvinyl-pyrrolidone

QUAMBO:

Quasi-atom minimal basis orbitals

RGO:

Reduced graphene oxide

ROS:

Reactive oxygen species

RT:

Room temperature

STM:

Scanning tunneling microscopy

TEM:

Transmission electron microscopy

TOAB:

Tetraoctylammonium bromide

UHV:

Ultrahigh vacuum

UV:

Ultra-violet

XPS:

X-ray photo-electron microscopy

XRD:

X-ray diffraction
References
Akhavan O, Ghaderi E, Akhavan A (2012) Size-dependent genotoxicity of graphene nanoplatelets in human stem cells. Biomaterials 33:8017–8025

Akhavan O, Ghaderi E, Emamy H, Akhavan F (2013) Genotoxicity of graphene nanoribbons in human mesenchymal stem cells. Carbon 54:419–431

Amidror I, Hersch RD (1999). Methods and apparatus for authentication of documents by using the intensity profile of moiré patterns. Google Patents

Auwärter W, Muntwiler M, Greber T, Osterwalder J (2002) Co on h-BN/Ni (111): from island to island-chain formation and Co intercalation. Surf Sci 511:379–386

Bai H, Li C, Shi G (2011) Functional composite materials based on chemically converted graphene. Adv Mater 23:1089–1115

Balcioglu M, Rana M, Yigit MV (2013) Doxorubicin loading on graphene oxide, iron oxide and gold nanoparticle hybrid. J Mater Chem B 1:6187–6193

Bartelt N, McCarty K (2012) Graphene growth on metal surfaces. MRS Bull 37:1158–1165

Berko A, Szökő J, Solymosi F (2004) Effect of CO on the morphology of Pt nanoparticles supported on TiO2 (110)-(1 × n). Surf Sci 566:337–342

Bianco A (2013) Graphene: Safe or toxic? The two faces of the medal. Angew Chem Int Ed 52:4986–4997

Biela A, Watkinson M, Meier UC, Baker D, Giovannoni G, Becer CR, Krause S (2015) Disposable MMP-9 sensor based on the degradation of peptide cross-linked hydrogel films using electrochemical impedance spectroscopy. Biosens Bioelectron 68:660–667

Binz SM, Hupalo M, Liu X, Wang CZ, Lu WC, Thiel PA, Ho KM, Conrad E, Tringides MC (2012) High island densities and long range repulsive interactions: Fe on epitaxial graphene. Phys Rev Lett 109:026103

Bo X, Ndamanisha JC, Bai J, Guo L (2010) Nonenzymatic amperometric sensor of hydrogen peroxide and glucose based on Pt nanoparticles/ordered mesoporous carbon nanocomposite. Talanta 82:85–91

Borodko Y, Habas SE, Koebel M, Yang P, Frei H, Somorjai GA (2006) Probing the interaction of poly (vinylpyrrolidone) with platinum nanocrystals by UV-Raman and FTIR. J Phys Chem B 110:23052–23059

Borodko Y, Humphrey SM, Tilley TD, Frei H, Somorjai GA (2007) Charge-transfer interaction of poly (vinylpyrrolidone) with platinum and rhodium nanoparticles. J Phys Chem C 111:6288–6295

Boyen HG, Kästle G, Weigl F, Koslowski B, Dietrich C, Ziemann P, Spatz J, Riethmüller S, Hartmann C, Möller M (2002) Oxidation-resistant gold-55 clusters. Science 297:1533–1536

Brihuega I, Michaelis CH, Zhang J, Bose S, Sessi V, Honolka J, Schneider MA, Enders A, Kern K (2008) Electronic decoupling and templating of Co nanocluster arrays on the boron nitride nanomesh. Surf Sci 602:L95–L99

Brune H (1998) Microscopic view of epitaxial metal growth: nucleation and aggregation. Surf Sci Rep 31:125–229

Brust M, Walker M, Bethell D, Schiffrin DJ, Whyman R (1994) Synthesis of thiol-derivatised gold nanoparticles in a two-phase Liquid-Liquid system. J Chem Soc Chem Commun 801–802

Brust M, Fink J, Bethell D, Schiffrin DJ, Kiely C (1995) Synthesis and reactions of functionalised gold nanoparticles. J Chem Soc Chem Commun 1655–1656

Campbell CT (2004) The active site in nanoparticle gold catalysis. Science 306:234–235

Cavallin A, Pozzo M, Africh C, Baraldi A, Vesselli E, Dri C, Comelli G, Larciprete R, Lacovig P, Lizzit S (2012) Local electronic structure and density of edge and facet atoms at Rh nanoclusters self-assembled on a graphene template. ACS Nano 6:3034–3043

Chan TL, Yao Y, Wang C, Lu W, Li J, Qian X, Yip S, Ho K (2007) Highly localized quasiatomic minimal basis orbitals for Mo from ab initio calculations. Physical Review B 76:205119

Chang G, Shu H, Huang Q, Oyama M, Ji K, Liu X, He Y (2015) Synthesis of highly dispersed Pt nanoclusters anchored graphene composites and their application for non-enzymatic glucose sensing. Electrochim Acta 157:149–157

Chella S, Kollu P, Komarala EVP, Doshi S, Saranya M, Felix S, Ramachandran R, Saravanan P, Koneru VL, Venugopal V (2015) Solvothermal synthesis of MnF2O4-graphene composite—investigation of its adsorption and antimicrobial properties. Appl Surf Sci 327:27–36

Chen M, Goodman D (2004) The structure of catalytically active gold on titania. Science 306:252–255

Chen M, Goodman D (2006a) Structure-activity relationships in supported Au catalysts. Catal Today 111:22–33

Chen M, Goodman DW (2006b) Catalytically active gold: from nanoparticles to ultrathin films. Acc Chem Res 39:739–746

Chen A, Holt Hindle P (2010) Platinum-based nanostructured materials: synthesis, properties, and applications. Chem Rev 110:3767–3804

Chen W, Loh KP, Xu H, Wee A (2004) Growth of monodispersed cobalt nanoparticles on 6H–SiC (0001) honeycomb template. Appl Phys Lett 84:281–283

Chen XM, Lin ZJ, Chen DJ, Jia TT, Cai ZM, Wang XR, Chen X, Chen GN, Oyama M (2010) Nonenzymatic amperometric sensing of glucose by using palladium nanoparticles supported on functional carbon nanotubes. Biosens Bioelectron 25:1803–1808

Chen Y, Xu P, Shu Z, Wu M, Wang L, Zhang S, Zheng Y, Chen H, Wang J, Li Y (2014) Multifunctional graphene oxidebased triple stimuliresponsive nanotheranostics. Adv Funct Mater 24:4386–4396

Chen H, Liu F, Lei Z, Ma L, Wang Z (2015) Fe2O3@ Au core@ shell nanoparticle–graphene nanocomposites as theranostic agents for bioimaging and chemo-photothermal synergistic therapy. RSC Adv 5:84980–84987

Chen H, Liu Z, Li S, Su C, Qiu X, Zhong H, Guo Z (2016) Fabrication of graphene and AuNP core polyaniline shell nanocomposites as multifunctional theranostic platforms for SERS real-time monitoring and chemo-photothermal therapy. Theranostics 6:1096

Chng ELK, Pumera M (2013) The toxicity of graphene oxides: dependence on the oxidative methods used. Chem-Eur J 19:8227–8235

Chng ELK, Pumera M (2015) Toxicity of graphene related materials and transition metal dichalcogenides. RSC Adv 5:3074–3080

Cho WS, Duffin R, Poland CA, Duschl A, Oostingh GJ, Macnee W, Bradley M, Megson IL, Donaldson K (2012) Differential pro-inflammatory effects of metal oxide nanoparticles and their soluble ions in vitro and in vivo; zinc and copper nanoparticles, but not their ions, recruit eosinophils to the lungs. Nanotoxicology 6:22–35

Choi S, Dickson RM, Yu J (2012) Developing luminescent silver nanodots for biological applications. Chem Soc Rev 41:1867–1891

Chowdhury SM, Lalwani G, Zhang K, Yang JY, Neville K, Sitharaman B (2013) Cell specific cytotoxicity and uptake of graphene nanoribbons. Biomaterials 34:283–293

Chuang MK, Lin SW, Chen FC, Chu CW, Hsu CS (2014) Gold nanoparticle-decorated graphene oxides for plasmonic-enhanced polymer photovoltaic devices. Nanoscale 6:1573–1579

Clark G, Kesmodel L (1993) Ultrahigh vacuum scanning tunneling microscopy studies of platinum on graphite. J Vac Sci Technol, B 11:131–136

Coraux J, N'Diaye AT, Busse C, Michely T (2008) Structural coherency of graphene on Ir (111). Nano Lett 8:565–570

Coraux J, Engler M, Busse C, Wall D, Buckanie N, Zu Heringdorf FJ. M., Van Gastel, R., Poelsema, B. & Michely, T. 2009. Growth of graphene on Ir (111). New Journal of Physics, 11, 023006

Couillard M, Pratontep S, Palmer R (2003) Metastable ordered arrays of size-selected Ag clusters on graphite. Appl Phys Lett 82:2595

Crespo P, Litrán R, Rojas T, Multigner M, de la Fuente J, Sánchez-López J, García M, Hernando A, Penadés S, Fernández A (2004) Permanent magnetism, magnetic anisotropy, and hysteresis of thiol-capped gold nanoparticles. Phys Rev Lett 93:087204

Cui M, Zhao Y, Song Q (2014) Synthesis, optical properties and applications of ultra-small luminescent gold nanoclusters. TrAC Trends Anal Chem 57:73–82

Danielsen PH, Cao Y, Roursgaard M, Møller P, Loft S (2015) Endothelial cell activation, oxidative stress and inflammation induced by a panel of metal-based nanomaterials. Nanotoxicology 9:813–824

Das S, Singh S, Singh V, Joung D, Dowding JM, Reid D, Anderson J, Zhai L, Khondaker SI, Self WT (2013) Oxygenated functional group density on graphene oxide: its effect on cell toxicity. Part Part Syst Charact 30:148–157

De Parga AV, Calleja F, Borca B, Passeggi Jr M, Hinarejos J, Guinea F, Miranda R (2008) Periodically rippled graphene: growth and spatially resolved electronic structure. Phys Rev Lett 100:056807

Dedkov YS, Fonin M, Rüdiger U, Laubschat C (2008) Graphene-protected iron layer on Ni (111). Appl Phys Lett 93:022509

Degen S, Becker C, Wandelt K (2004) Thin alumina films on Ni 3 Al (111): a template for nanostructured Pd cluster growth. Faraday Discuss 125:343–356

Dembereldorj U, Choi SY, Ganbold EO, Song NW, Kim D, Choo J, Lee SY, Kim S, Joo SW (2014) Gold nanorod assembled PEGylated graphene oxide nanocomposites for photothermal cancer therapy. Photochem Photobiol 90:659–666

di Vece M, Grandjean D, van Bael M, Romero C, Wang X, Decoster S, Vantomme A, Lievens P (2008) Hydrogen-induced ostwald ripening at room temperature in a Pd nanocluster film. Phys Rev Lett 100:236105

Dietsche R, Lim DC, Bubek M, Lopez Salido I, Ganteför G, Kim YD (2008) Comparison of electronic structures of mass-selected Ag clusters and thermally grown Ag islands on sputter-damaged graphite surfaces. Appl Phys A 90:395–398

Díez I, Ras RH (2011) Fluorescent silver nanoclusters. Nanoscale 3:1963–1970

Ding H, Schmid A, Keavney D, Li D, Cheng R, Pearson J, Fradin F, Bader S (2005) Selective growth of Co nanoislands on an oxygen-patterned Ru (0001) surface. Phys Rev B 72:035413

Djurišić AB, Leung YH, Ng A, Xu XY, Lee PK, Degger N (2015) Toxicity of metal oxide nanoparticles: mechanisms, characterization, and avoiding experimental artefacts. Small 11:26–44

Dong H, Gao W, Yan F, Ji H, Ju H (2010) Fluorescence resonance energy transfer between quantum dots and graphene oxide for sensing biomolecules. Anal Chem 82:5511–5517

Donner K, Jakob P (2009) Structural properties and site specific interactions of Pt with the graphene/Ru (0001) moiré overlayer. J Chem Phys 131:164701

Duffin R, Tran L, Brown D, Stone V, Donaldson K (2007) Proinflammogenic effects of low-toxicity and metal nanoparticles in vivo and in vitro: highlighting the role of particle surface area and surface reactivity. Inhalation Toxicol 19:849–856

Dupas C, Lahmani M (2007) Nanoscience: nanotechnologies and nanophysics, Springer Science & Business Media

Dupraz CJF, Nickels P, Beierlein U, Huynh WU, Simmel FC (2003) Towards molecular-scale electronics and biomolecular self-assembly. Superlattices Microstruct 33:369–379

Edgington LE, Berger AB, Blum G, Albrow VE, Paulick MG, Lineberry N, Bogyo M (2009) Noninvasive optical imaging of apoptosis by caspase-targeted activity-based probes. Nat Med 15:967–973

Enderlein C, Kim Y, Bostwick A, Rotenberg E, Horn K (2010) The formation of an energy gap in graphene on ruthenium by controlling the interface. New J Phys 12:033014

Evans J, Thiel P, Bartelt MC (2006) Morphological evolution during epitaxial thin film growth: Formation of 2D islands and 3D mounds. Surf Sci Rep 61:1–128

Fang J, Zhang B, Yao Q, Yang Y, Xie J, Yan N (2016) Recent advances in the synthesis and catalytic applications of ligand-protected, atomically precise metal nanoclusters. Coord Chem Rev 322:1–29

Feibelman PJ (2008) Pinning of graphene to Ir (111) by flat Ir dots. Phys Rev B 77:165419

Fiorillo M, Verre AF, Iliut M, Peiris Pagés M, Ozsvari B, Gandara R, Cappello AR, Sotgia F, Vijayaraghavan A, Lisanti MP (2015) Graphene oxide selectively targets cancer stem cells, across multiple tumor types: implications for non-toxic cancer treatment, via "differentiation-based nano-therapy". Oncotarget 6:3553–3562

Fonin M, Dedkov YS, Rüdiger U, Güntherodt G (2003) Growth and structure of Mn on Au (111) at room temperature. Surf Sci 529:L275–L280

Freire RL, Kiejna A, da Silva JL (2014) Adsorption of Rh, Pd, Ir, and Pt on the Au (111) and Cu (111) surfaces: A density functional theory investigation. J Phys Chem C 118:19051–19061

Fujita T, Kobayashi W, Oshima C (2005) Novel structures of carbon layers on a Pt (111) surface. Surf Interface Anal 37:120–123

Gao L, Guest JR, Guisinger NP (2010) Epitaxial graphene on Cu (111). Nano Lett 10:3512–3516

Gao H, Xiao F, Ching CB, Duan H (2011) One-step electrochemical synthesis of PtNi nanoparticle-graphene nanocomposites for nonenzymatic amperometric glucose detection. ACS App Mater Interfaces 3:3049–3057

Gautier C, Bürgi T (2008) Chiral inversion of gold nanoparticles. J Am Chem Soc 130:7077–7084

Geddes CD, Lakowicz JR (2009) Reviews in fluorescence 2007. Springer

Geetha Bai R, Kasturi M, Sivakumar M (2015) Nanotechnology applications for tissue engineering. In: Thomas S, Grohens Y, Ninan N (eds) Nanomedicine in theranostics. Elsevier, Netherlands, pp 195–213

Geetha Bai R, Muthoosamy K, Shipton FN, Pandikumar A, Rameshkumar P, Huang NM, Manickam S (2016) The biogenic synthesis of a reduced graphene oxide–silver (RGO–Ag) nanocomposite and its dual applications as an antibacterial agent and cancer biomarker sensor. RSC Adv 6:36576–36587

Gehrig S, Sami H, Ogris M (2014) Gene therapy and imaging in preclinical and clinical oncology: recent developments in therapy and theranostics. Ther Deliv 5:1275–1296

Geim AK (2009) Graphene: status and prospects. Science 324:1530–1534

Gerber T, Busse C, Mysliveček J, Coraux J, Michely T (2009) A versatile fabrication method for cluster superlattices. New J Phys 11:103045

Gerber T, Knudsen J, Feibelman PJ, Granas E, Stratmann P, Schulte K, Andersen JN, Michely T (2013) CO-induced Smoluchowski ripening of Pt cluster arrays on the graphene/Ir (111) Moiré. ACS Nano 7:2020–2031

Gierz I, Riedl C, Starke U, Ast CR, Kern K (2008) Atomic hole doping of graphene. Nano Lett 8:4603–4607

Giovannetti G, Khomyakov P, Brocks G, Karpan VV, van den Brink J, Kelly P (2008) Doping graphene with metal contacts. Phys Rev Lett 101:026803

Giovanni M, Yue J, Zhang L, Xie J, Ong CN, Leong DT (2015) Pro-inflammatory responses of RAW264. 7 macrophages when treated with ultralow concentrations of silver, titanium dioxide, and zinc oxide nanoparticles. J Hazard Mater 297:146–152

Goldby I, Kuipers L, von Issendorff B, Palmer R (1996) Diffusion and aggregation of sizeselected silver clusters on a graphite surface. Appl Phys Lett 69:2819–2821

Graham G, Schmitz P, Thiel PA (1990) Growth of Rh, Pd, and Pt films on Cu (100). Phys Rev B 41:3353

Gu Y, Wen Q, Kuang Y, Tang L, Jiang J (2014) Peptide-templated gold nanoclusters as a novel label-free biosensor for the detection of protease activity. RSC Advances 4:13753–13756

Guo S, Wen D, Zhai Y, Dong S, Wang E (2010) Platinum nanoparticle ensemble-on-graphene hybrid nanosheet: one-pot, rapid synthesis, and used as new electrode material for electrochemical sensing. ACS Nano 4:3959–3968

Habiba K, Encarnacion Rosado J, Garcia-Pabon K., Villalobos Santos JC, Makarov VI, Avalos JA, Weiner BR, Morell G (2016) Improving cytotoxicity against cancer cells by chemo-photodynamic combined modalities using silver-graphene quantum dots nanocomposites. Int J Nanomed 11:107

Häkkinen H, Abbet S, Sanchez A, Heiz U, Landman U (2003) Structural, electronic, and impuritydoping effects in nanoscale chemistry: supported gold nanoclusters. Angew Chem Int Ed 42:1297–1300

Hamada I, Otani M (2010) Comparative van der Waals density-functional study of graphene on metal surfaces. Phys Rev B 82:153412

Henry CR (1998) Surface studies of supported model catalysts. Surf Sci Rep 31:231–325

Hidalgo C (2012) Physical properties of biological membranes and their functional implications, Springer Science & Business Media

Holt Hindle P, Nigro S, Asmussen M, Chen A (2008) Amperometric glucose sensor based on platinum–iridium nanomaterials. Electrochem Commun 10:1438–1441

Hong Y, Ku M, Heo D, Hwang S, Lee E, Park J, Choi J, Lee HJ, Seo M, Lee EJ (2014) Molecular recognition of proteolytic activity in metastatic cancer cells using fluorogenic gold nanoprobes. Biosens Bioelectron 57:171–178

Hövel H, Becker T, Bettac A, Reihl B, Tschudy M, Williams E (1997) Controlled cluster condensation into preformed nanometer-sized pits. J Appl Phys 81:154–158

Hsin YL, Hwang KC, Yeh CT (2007) Poly (vinylpyrrolidone)-modified graphite carbon nanofibers as promising supports for PtRu catalysts in direct methanol fuel cells. J Am Chem Soc 129:9999–10010

Huang L, Pan Y, Pan L, Gao M, Xu W, Que Y, Zhou H, Wang Y, Du S, Gao HJ (2011) Intercalation of metal islands and films at the interface of epitaxially grown graphene and Ru (0001) surfaces. Appl Phys Lett 99:163107

Huang CC, Chang PY, Liu CL, Xu JP, Wu SP, Kuo WC (2015) New insight on optical and magnetic Fe3O4 nanoclusters promising for near infrared theranostic applications. Nanoscale 7:12689–12697

Hummers Jr WS, Offeman RE (1958) Preparation of graphitic oxide. J Am Chem Soc 80:1339–1339

Hupalo M, Tringides M (2007) Ultrafast kinetics in Pb∕Si (111) from the collective spreading of the wetting layer. Phys Rev B 75:235443

Hupalo M, Conrad E, Tringides M (2009) Growth mechanism for epitaxial graphene on vicinal 6 H-SiC (0001) surfaces: a scanning tunneling microscopy study. Phys Rev B 80:041401

Hupalo M, Binz S, Tringides M (2011a) Strong metal adatom–substrate interaction of Gd and Fe with graphene. J Phys: Condens Matter 23:045005

Hupalo M, Liu X, Wang CZ, Lu WC, Yao YX, Ho KM, Tringides MC (2011b) Metal nanostructure formation on graphene: weak versus strong bonding. Adv Mater 23:2082–2087

Hvolbæk B, Janssens TV, Clausen BS, Falsig H, Christensen CH, Nørskov JK (2007) Catalytic activity of Au nanoparticles. Nano Today 2:14–18

Ivanovskaya V, Zobelli A, Teillet Billy D, Rougeau N, Sidis V, Briddon P (2010) Hydrogen adsorption on graphene: a first principles study. Eur Phys J B 76:481–486

Ivask A, Titma T, Visnapuu M, Vija H, Kakinen A, Sihtmae M, Pokhrel S, Madler L, Heinlaan M, Kisand V (2015) Toxicity of 11 metal oxide nanoparticles to three mammalian cell types in vitro. Curr Top Med Chem 15:1914–1929

Jakob P, Gsell M, Menzel D (1999) Directional preference in particle motion: Self-trapping of vacancies in an ordered adsorbate layer. Phys Rev B 59:13285

Ji K, Chang G, Oyama M, Shang X, Liu X, He Y (2012) Efficient and clean synthesis of graphene supported platinum nanoclusters and its application in direct methanol fuel cell. Electrochim Acta 85:84–89

Jia WZ, Wang K, Zhu ZJ, Song HT, Xia XH (2007) One-step immobilization of glucose oxidase in a silica matrix on a Pt electrode by an electrochemically induced sol-gel process. Langmuir 23:11896–11900

Johnston HJ, Hutchison G, Christensen FM, Peters S, Hankin S, Stone V (2010) A review of the in vivo and in vitro toxicity of silver and gold particulates: particle attributes and biological mechanisms responsible for the observed toxicity. Crit Rev Toxicol 40:328–346

Kalluru P, Vankayala R, Chiang C-S, Hwang KC (2016) Nano-graphene oxide-mediated In vivo fluorescence imaging and bimodal photodynamic and photothermal destruction of tumors. Biomaterials 95:1–10

Kanakia S, Toussaint JD, Chowdhury SM, Tembulkar T, Lee S, Jiang YP, Lin RZ, Shroyer KR, Moore W, Sitharaman B (2014) Dose ranging, expanded acute toxicity and safety pharmacology studies for intravenously administered functionalized graphene nanoparticle formulations. Biomaterials 35:7022–7031

Kang H, Jang SW, Pak JH, Shim S (2015) Glaucine inhibits breast cancer cell migration and invasion by inhibiting MMP-9 gene expression through the suppression of NF-κB activation. Mol Cell Biochem 403:85–94

Kennedy TAC, Maclean JL, Liu J (2012) Blue emitting gold nanoclusters templated by poly-cytosine DNA at low pH and poly-adenine DNA at neutral pH. Chem Commun 48:6845–6847

Ketchie WC, Murayama M, Davis RJ (2007) Promotional effect of hydroxyl on the aqueous phase oxidation of carbon monoxide and glycerol over supported Au catalysts. Top Catal 44:307–317

Kholmanov I, Gavioli L, Fanetti M, Casella M, Cepek C, Mattevi C, Sancrotti M (2007) Effect of substrate surface defects on the morphology of Fe film deposited on graphite. Surf Sci 601:188–192

Khomyakov P, Giovannetti G, Rusu P, Brocks GV, van den Brink J, Kelly P (2009) First-principles study of the interaction and charge transfer between graphene and metals. Physical Review B 79:195425

Kiew SF, Kiew LV, Lee HB, Imae T, Chung LY (2016) Assessing biocompatibility of graphene oxide-based nanocarriers: a review. J Controlled Release 226:217–228

Kitakami O, Okamoto S, Shimada Y (1996) Effect of surface free energy of underlayer materials on crystal growth of Co polycrystalline films. J Appl Phys 79:6880–6883

Kjeldsen L, Bjerrum OW, Hovgaard D, Johnsen AH, Sehested M, Borregaard N (1992) Human neutrophil gelatinase: a marker for circulating blood neutrophils. Purification and quantitation by enzyme linked immunosorbent assay. Eur J Haematol 49:180–191

Koh TW, Hiszpanski AM, Sezen M, Naim A, Galfsky T, Trivedi A, Loo YL, Menon V, Rand BP (2015) Metal nanocluster light-emitting devices with suppressed parasitic emission and improved efficiency: Exploring the impact of photophysical properties. Nanoscale 7:9140–9146

Kondo T, Iwasaki Y, Honma Y, Takagi Y, Okada S, Nakamura J (2009) Formation of nonbonding π electronic states of graphite due to Pt-C hybridization. Phys Rev B 80:233408

Kuila T, Bose S, Khanra P, Mishra AK, Kim NH, Lee JH (2011) Recent advances in graphene-based biosensors. Biosens Bioelectron 26:4637–4648

Lahiri J, Batzill M (2010) Graphene destruction by metal-carbide formation: An approach for patterning of metal-supported graphene. Appl Phys Lett 97:023102

Lalwani G, Sundararaj JL, Schaefer K, Button T, Sitharaman B (2014) Synthesis, characterization, in vitro phantom imaging, and cytotoxicity of a novel graphene-based multimodal magnetic resonance imaging-X-ray computed tomography contrast agent. J Mater Chem B 2:3519–3530

Lang B (1975) A LEED study of the deposition of carbon on platinum crystal surfaces. Surf Sci 53:317–329

Latorre A, Somoza Á (2012) DNA mediated silver nanoclusters: synthesis, properties and applications. ChemBioChem 13:951–958

Le AT, Giang CD, Tuan TQ, Phan VN, Alonso J, Devkota J, Garaio E, García JÁ, Martín Rodríguez R, Fdez Gubieda ML (2016) Enhanced magnetic anisotropy and heating efficiency in multi-functional manganese ferrite/graphene oxide nanostructures. Nanotechnology 27:155707

Lee C, Wei X, Kysar JW, Hone J (2008) Measurement of the elastic properties and intrinsic strength of monolayer graphene. Science 321:385–388

Li Y, Somorjai GA (2010) Nanoscale advances in catalysis and energy applications. Nano Lett 10:2289–2295

Li D, Mueller MB, Gilje S, Kaner RB, Wallace GG (2008) Processable aqueous dispersions of graphene nanosheets. Nat Nanotechnol 3:101–105

Li J, Lyv Z, Li Y, Liu H, Wang J, Zhan W, Chen H, Chen H, Li X (2015a) A theranostic prodrug delivery system based on Pt (IV) conjugated nano-graphene oxide with synergistic effect to enhance the therapeutic efficacy of Pt drug. Biomaterials 51:12–21

Li X, Zhang Y, Wu Y, Duan Y, Luan X, Zhang Q, An Q (2015b) Combined photothermal and surface-enhanced Raman spectroscopy effect from spiky noble metal nanoparticles wrapped within graphene-polymer layers: using layer-by-layer modified reduced graphene oxide as reactive precursors. ACS Appl Mater Interfaces 7:19353–19361

Li Z, Ke H, Wang J, Miao Z, Yue X (2016) Graphene oxide and gadolinium-chelate functionalized poly (lactic acid) nanocapsules encapsulating perfluorooctylbromide for ultrasound/magnetic resonance bimodal imaging guided photothermal ablation of cancer. J Nanosci Nanotechnol 16:2201–2209

Liao Q, Zhang H, Wu K, Li H, Bao S, He P (2011) Nucleation and growth of monodispersed cobalt nanoclusters on graphene moiré on Ru (0001). Nanotechnology 22:125303

Lin CAJ, Yang TY, Lee CH, Huang SH, Sperling RA, Zanella M, Li JK, Shen JL, Wang HH, Yeh HI (2009) Synthesis, characterization, and bioconjugation of fluorescent gold nanoclusters toward biological labeling applications. ACS Nano 3:395–401

Lin J, Chen X, Huang P (2016a) Graphene-based nanomaterials for bioimaging. Adv Drug Delivery Rev

Lin J, Wang X, Shen G, Cui D (2016b) 3D plasmonic ensembles of graphene oxide and nobel metal nanoparticles with ultrahigh SERS activity and sensitivity. J Nanomaterials

Liu X, Wang C, Hupalo M, Yao Y, Tringides M, Lu W, Ho K (2010) Adsorption and growth morphology of rare-earth metals on graphene studied by ab initio calculations and scanning tunneling microscopy. Phys Rev B 82:245408

Liu CL, Wu HT, Hsiao YH, Lai CW, Shih CW, Peng YK, Tang KC, Chang HW, Chien YC, Hsiao JK (2011a) Insulindirected synthesis of fluorescent gold nanoclusters: preservation of insulin bioactivity and versatility in cell imaging. Angew Chem Int Ed 50:7056–7060

Liu K, Zhang J-J, Cheng F-F, Zheng T-T, Wang C, Zhu J-J (2011b) Green and facile synthesis of highly biocompatible graphene nanosheets and its application for cellular imaging and drug delivery. J Mater Chem 21:12034–12040

Liu L, Zhou Z, Guo Q, Yan Z, Yao Y, Goodman DW (2011c) The 2-D growth of gold on single-layer graphene/Ru(0001): Enhancement of CO adsorption. Surf Sci 605:L47–L50

Liu X, Wang CZ, Hupalo M, Lu WC, Thiel PA, Ho KM, Tringides MC (2011d) Fe-Fe adatom interaction and growth morphology on graphene. Phys Rev B 84:235446

Liu X, Hupalo M, Wang CZ, Lu WC, Thiel PA, Ho KM, Tringides MC (2012a) Growth morphology and thermal stability of metal islands on graphene. Phys Rev B 86:081414

Liu X, Wang CZ, Hupalo M, Lu W, Tringides MC, Yao Y, Ho K-M (2012b) Metals on graphene: Correlation between adatom adsorption behavior and growth morphology. Phys Chem Chem Phys 14:9157–9166

Liu X, Wang CZ, Hupalo M, Lin HQ, Ho K-M, Tringides MC (2013a) Metals on graphene: interactions, growth morphology, and thermal stability. Crystals 3:79–111

Liu X, Wang F, Aizen R, Yehezkeli O, Willner I (2013b) Graphene oxide/nucleic-acid-stabilized silver nanoclusters: functional hybrid materials for optical aptamer sensing and multiplexed analysis of pathogenic DNAs. J Am Chem Soc 135:11832–11839

Lopez N, Janssens T, Clausen B, Xu Y, Mavrikakis M, Bligaard T, Nørskov JK (2004) On the origin of the catalytic activity of gold nanoparticles for low-temperature CO oxidation. J Catal 223:232–235

Lu Y, Chen W (2012) Sub-nanometre sized metal clusters: from synthetic challenges to the unique property discoveries. Chem Soc Rev 41:3594–3623

Lu Y, Wu P, Yin Y, Zhang H, Cai C (2014) Aptamer-functionalized graphene oxide for highly efficient loading and cancer cell-specific delivery of antitumor drug. J Mater Chem B 2:3849–3859

Luna LAV, Moraes ACM, Consonni SR, Pereira CD, Cadore S, Giorgio S, Alves OL (2016) Comparative in vitro toxicity of a graphene oxide-silver nanocomposite and the pristine counterparts toward macrophages. J Nanobiotechnol 14:1

Luo Z, Somers LA, Dan Y, Ly T, Kybert NJ, Mele E, Johnson AC (2010) Size-selective nanoparticle growth on few-layer graphene films. Nano Lett 10:777–781

Lux F, Sancey L, Bianchi A, Crémillieux Y, Roux S, Tillement O (2015) Gadolinium-based nanoparticles for theranostic MRI-radiosensitization. Nanomedicine 10:1801–1815

Ma Z, Liang C, Overbury SH, Dai S (2007) Gold nanoparticles on electroless-deposition-derived MnO x/C: synthesis, characterization, and catalytic CO oxidation. J Catal 252:119–126

Ma X, Tao H, Yang K, Feng L, Cheng L, Shi X, Li Y, Guo L, Liu Z (2012) A functionalized graphene oxide-iron oxide nanocomposite for magnetically targeted drug delivery, photothermal therapy, and magnetic resonance imaging. Nano Research 5:199–212

Ma Y, Huang J, Song S, Chen H, Zhang Z (2016) Cancertargeted nanotheranostics: Recent advances and perspectives. Small

Manikandan M, Abdelhamid HN, Talib A, Wu HF (2014) Facile synthesis of gold nanohexagons on graphene templates in Raman spectroscopy for biosensing cancer and cancer stem cells. Biosens Bioelectron 55:180–186

Marchini S, Günther S, Wintterlin J (2007) Scanning tunneling microscopy of graphene on Ru (0001). Phys Rev B 76:075429

Martínez Galera AJ, Brihuega I, Gómez Rodríguez JM (2011) Ethylene irradiation: a new route to grow graphene on low reactivity metals. Nano Lett 11:3576–3580

Martoccia D, Björck M, Schlepütz C, Brugger T, Pauli S, Patterson B, Greber T, Willmott P (2010) Graphene on Ru (0001): a corrugated and chiral structure. New J Phys 12:043028

McChesney JL, Bostwick A, Ohta T, Seyller T, Horn K, González J, Rotenberg E (2010) Extended van Hove singularity and superconducting instability in doped graphene. Phys Rev Lett 104:136803

Meiwes B, Karl H (2012) Metal clusters at surfaces: structure, quantum properties, physical chemistry, Springer Science & Business Media

Meng L, Jin J, Yang G, Lu T, Zhang H, Cai C (2009) Nonenzymatic electrochemical detection of glucose based on palladium—single-walled carbon nanotube hybrid nanostructures. Anal Chem 81:7271–7280

Modugno G, Ménard Moyon C, Prato M, Bianco A (2015) Carbon nanomaterials combined with metal nanoparticles for theranostic applications. Br J Pharmacol 172:975–991

Mokdad A, Dimos K, Zoppellaro G, Tucek J, Perman JA, Malina O, Andersson KK, Datta KKR, Froning JP, Zboril R (2015) The non-innocent nature of graphene oxide as a theranostic platform for biomedical applications and its reactivity towards metal-based anticancer drugs. RSC Adv 5:76556–76566

Molina L, Hammer B (2005) Some recent theoretical advances in the understanding of the catalytic activity of Au. Appl Catal A 291:21–31

Moritz W, Wang B, Bocquet ML, Brugger T, Greber T, Wintterlin J, Günther S (2010) Structure determination of the coincidence phase of graphene on Ru (0001). Phys Rev Lett 104:136102

Muhammed MAH, Verma PK, Pal SK, Kumar R, Paul S, Omkumar RV, Pradeep T (2009) Bright, NIRemitting Au23 from Au25: characterization and applications including biolabeling. Chem Eur J 15:10110–10120

Muthoosamy K, Bai RG, Manickam S (2014) Graphene and graphene oxide as a docking station for modern drug delivery system. Curr Drug Deliv 11:701–718

Muthoosamy K, Geetha Bai R, Abubakar IB, Sudheer SM, Lim HN, Loh H-S, Huang NM, Chia CH, Manickam S (2015) Exceedingly biocompatible and thin-layered reduced graphene oxide nanosheets using an eco-friendly mushroom extract strategy. Int J Nanomed 10:1505

N'Diaye A, Bleikamp S, Feibelman PJ, Michely T (2006) Two dimensional Ir-cluster lattices on Moiré of graphene with Ir (111). Phys Rev Lett 97:215501–215504

N'Diaye AT, Johann C, Tim NP, Carsten B, Thomas M (2008) Structure of epitaxial graphene on Ir (111). New J Phys 10:043033

N'diaye AT, Gerber T, Busse C, Myslivecek J, Coraux J, Michely T (2009) A versatile fabrication method for cluster superlattices. New J Phys 11

Ndlovu GF, Roos WD, Wang ZM, Asante JK, Mashapa MG, Jafta CJ, Mwakikunga BW, Hillie KT (2012) Epitaxial deposition of silver ultra-fine nano-clusters on defect-free surfaces of HOPG-derived few-layer graphene in a UHV multi-chamber by in situ STM, ex situ XPS, and ab initio calculations. Nanoscale Res Lett 7:1–8

Nergiz SZ, Gandra N, Tadepalli S, Singamaneni S (2014) Multifunctional hybrid nanopatches of graphene oxide and gold nanostars for ultraefficient photothermal cancer therapy. ACS Applied Materials & Interfaces 6:16395–16402

Neto AC, Guinea F, Peres NM, Novoselov KS, Geim AK (2009) The electronic properties of graphene. Rev Mod Phys 81:109

Nguyen PD, Cong VT, Baek C, Min J (2015) Fabrication of peptide stabilized fluorescent gold nanocluster/graphene oxide nanocomplex and its application in turn-on detection of metalloproteinase-9. Biosens Bioelectron (In Press)

Niu X, Lan M, Chen C, Zhao H (2012) Nonenzymatic electrochemical glucose sensor based on novel Pt–Pd nanoflakes. Talanta 99:1062–1067

Novotny Z, Netzer F, Dohnalek Z (2016) Ceria nanoclusters on graphene/Ru (0001): a new model catalyst system. Surf Sci 652:230–237

Obliosca JM, Liu C, Yeh H-C (2013) Fluorescent silver nanoclusters as DNA probes. Nanoscale 5:8443–8461

Orecchioni M, Cabizza R, Bianco A, Delogu LG (2015) Graphene as cancer theranostic tool: progress and future challenges. Theranostics 5:710

Overbury SH, Schwartz V, Mullins DR, Yan W, Dai S (2006) Evaluation of the Au size effect: CO oxidation catalyzed by Au/TiO2. J Catal 241:56–65

Pan Y, Dong Xia S, Hong Jun G (2007a) Formation of graphene on Ru (0001) surface. Chin Phys 16:3151

Pan Y, Neuss S, Leifert A, Fischler M, Wen F, Simon U, Schmid G, Brandau W, Jahnen Dechent W (2007b) Sizedependent cytotoxicity of gold nanoparticles. Small 3:1941–1949

Pan Y, Gao M, Huang L, Liu F, Gao HJ (2009a) Directed self-assembly of monodispersed platinum nanoclusters on graphene moiré template. Appl Phys Lett 95:093106

Pan Y, Zhang H, Shi D, Sun J, Du S, Liu F, Gao HJ (2009b) Highly ordered, millimeter-scale, continuous, singlecrystalline graphene monolayer formed on Ru (0001). Adv Mater 21:2777–2780

Park KS, Park HG (2015) A DNA-templated silver nanocluster probe for label-free, turn-on fluorescence-based screening of homo-adenine binding molecules. Biosens Bioelectron 64:618–624

Park S, Chung TD, Kim HC (2003) Nonenzymatic glucose detection using mesoporous platinum. Anal Chem 75:3046–3049

Park S, Lee YK, Jung M, Kim KH, Chung N, Ahn EK, Lim Y, Lee K-H (2007) Cellular toxicity of various inhalable metal nanoparticles on human alveolar epithelial cells. Inhalation Toxicol 19:59–65

Patthey F, Schneider WD (1995) Layer-by-layer resolved surface states of ultrathin silver islands on graphite: a photoemission study. Surf Sci 334:L715–L718

Peng C, Hu W, Zhou Y, Fan C, Huang Q (2010) Intracellular imaging with a graphene based fluorescent probe. Small 6:1686–1692

Petrarca C, Clemente E, Amato V, Pedata P, Sabbioni E, Bernardini G, Iavicoli I, Cortese S, Niu Q, Otsuki T (2015) Engineered metal based nanoparticles and innate immunity. Clin Mol Allergy 13:1

Peyser LA, Vinson AE, Bartko AP, Dickson RM (2001) Photoactivated fluorescence from individual silver nanoclusters. Science 291:103–106

Pong WT, Durkan C (2005) A review and outlook for an anomaly of scanning tunnelling microscopy (STM): Superlattices on graphite. J Phys D Appl Phys 38:R329

Qian X, Li J, Qi L, Wang CZ, Chan TL, Yao YX, Ho KM, Yip S (2008) Quasiatomic orbitals for ab initio tight-binding analysis. Phys Rev B 78:245112

Qu L, Liu Y, Baek J-B, Dai L (2010) Nitrogen-doped graphene as efficient metal-free electrocatalyst for oxygen reduction in fuel cells. ACS Nano 4:1321–1326

Remediakis IN, Lopez N, Nørskov JK (2005) CO oxidation on rutile-supported Au nanoparticles. Angew Chem Int Ed 117:1858–1860

Repain V, Baudot G, Ellmer H, Rousset S (2002) Two-dimensional long-range–ordered growth of uniform cobalt nanostructures on a Au (111) vicinal template. Europhys Lett 58:730

Retnakumari A, Setua S, Menon D, Ravindran P, Muhammed H, Pradeep T, Nair S, Koyakutty M (2009) Molecular-receptor-specific, non-toxic, near-infrared-emitting Au cluster-protein nanoconjugates for targeted cancer imaging. Nanotechnology 21:055103

Richard JA, Jean L, Romieu A, Massonneau M, Noack Fraissignes P, Renard PY (2007) Chemiluminescent probe for the in vitro detection of protease activity. Org Lett 9:4853–4855

Rodems SM, Hamman BD, Lin C, Zhao J, Shah S, Heidary D, Makings L, Stack JH, Pollok BA (2002) A FRET-based assay platform for ultra-high density drug screening of protein kinases and phosphatases. Assay Drug Dev Technol 1:9–19

Rokuta E, Hasegawa Y, Itoh A, Yamashita K, Tanaka T, Otani S, Oshima C (1999) Vibrational spectra of the monolayer films of hexagonal boron nitride and graphite on faceted Ni(755). Surf Sci 427–428:97–101

Román-Velázquez CE, Noguez C, Garzón IL (2003) Circular dichroism simulated spectra of chiral gold nanoclusters: a dipole approximation. J Phys Chem B 107:12035–12038

Rucci N, Sanita P, Angelucci A (2011) Roles of metalloproteases in metastatic niche. Curr Mol Med 11:609–622

Sandin A, Jayasekera T, Rowe J, Kim KW, Nardelli MB, Dougherty DB (2012) Multiple coexisting intercalation structures of sodium in epitaxial graphene-SiC interfaces. Phys Rev B 85:125410

Schmid M, Kresse G, Buchsbaum A, Napetschnig E, Gritschneder S, Reichling M, Varga P (2007) Nanotemplate with holes: ultrathin alumina on Ni 3 Al (111). Phys Rev Lett 99:196104

Schrand AM, Rahman MF, Hussain SM, Schlager JJ, Smith DA, Syed AF (2010) Metal-based nanoparticles and their toxicity assessment. Wiley Interdisc Rev: Nanomed Nanobiotechnol 2:544–568

Sehested J, Gelten JA, Remediakis IN, Bengaard H, Nørskov JK (2004) Sintering of nickel steam-reforming catalysts: effects of temperature and steam and hydrogen pressures. J Catal 223:432–443

Seol JH, Jo I, Moore AL, Lindsay L, Aitken ZH, Pettes MT, Li X, Yao Z, Huang R, Broido D (2010) Two-dimensional phonon transport in supported graphene. Science 328:213–216

Shen Q, Jiang L, Zhang H, Min Q, Hou W, Zhu J-J (2008) Three-dimensional dendritic Pt nanostructures: Sonoelectrochemical synthesis and electrochemical applications. J Phys Chem C 112:16385–16392

Shi J, Nie R, Chen P, Hou Z (2013) Selective hydrogenation of cinnamaldehyde over reduced graphene oxide supported Pt catalyst. Catal Commun 41:101–105

Sicot M, Bouvron S, Zander O, Rüdiger U, Dedkov YS, Fonin M (2010) Nucleation and growth of nickel nanoclusters on graphene Moiré on Rh (111). Appl Phys Lett 96:093115

Siddique YH, Fatima A, Jyoti S, Naz F, Khan W, Singh BR, Naqvi AH (2013) Evaluation of the toxic potential of graphene copper nanocomposite (GCNC) in the third instar larvae of transgenic Drosophila melanogaster (hsp70-lacZ) Bg 9. PLoS ONE 8:e80944

Son KJ, Shin DS, Kwa T, Gao Y, Revzin A (2013) Micropatterned sensing hydrogels integrated with reconfigurable microfluidics for detecting protease release from cells. Anal Chem 85:11893–11901

Song W, Wang Y, Liang R-P, Zhang L, Qiu J-D (2015) Label-free fluorescence assay for protein kinase based on peptide biomineralized gold nanoclusters as signal sensing probe. Biosens Bioelectron 64:234–240

Soy E, Liang Z, Trenary M (2015) Formation of Pt and Rh nanoclusters on a graphene Moiré pattern on Cu (111). J Phys Chem C 119:24796–24803

Stankovich S, Piner RD, Chen X, Wu N, Nguyen ST, Ruoff RS (2006) Stable aqueous dispersions of graphitic nanoplatelets via the reduction of exfoliated graphite oxide in the presence of poly(sodium 4-styrenesulfonate). J Mater Chem 16:155–158

Süle P, Szendrő M, Hwang C, Tapasztó L (2014) Rotation misorientated graphene moiré superlattices on Cu (1 1 1): classical molecular dynamics simulations and scanning tunneling microscopy studies. Carbon 77:1082–1089

Sutter PW, Flege JI, Sutter EA (2008) Epitaxial graphene on ruthenium. Nat Mater 7:406–411

Sutter E, Albrecht P, Sutter P (2009a) Graphene growth on polycrystalline Ru thin films. Appl Phys Lett 95:133109

Sutter P, Hybertsen M, Sadowski J, Sutter E (2009b) Electronic structure of few-layer epitaxial graphene on Ru (0001). Nano Lett 9:2654–2660

Sutter E, Albrecht P, Camino FE, Sutter P (2010) Monolayer graphene as ultimate chemical passivation layer for arbitrarily shaped metal surfaces. Carbon 48:4414–4420

Sutter E, Albrecht P, Wang B, Bocquet M-L, Wu L, Zhu Y, Sutter P (2011) Arrays of Ru nanoclusters with narrow size distribution templated by monolayer graphene on Ru. Surf Sci 605:1676–1684

Sutter E, Wang B, Albrecht P, Lahiri J, Bocquet ML, Sutter P (2012) Templating of arrays of Ru nanoclusters by monolayer graphene/Ru Moirés with different periodicities. J Phys: Condens Matter 24:314201

Swain AK, Pradhan L, Bahadur D (2015) Polymer stabilized Fe3O4-graphene as an amphiphilic drug carrier for thermo-chemotherapy of cancer. ACS Appl Mater Interfaces 7:8013–8022

Talapin DV, Murray CB (2005) PbSe nanocrystal solids for n-and p-channel thin film field-effect transistors. Science 310:86–89

Tao Y, Li M, Ren J, Qu X (2015) Metal nanoclusters: novel probes for diagnostic and therapeutic applications. Chem Soc Rev 44:8636–8663

Tian N, Zhou ZY, Sun SG, Ding Y, Wang ZL (2007) Synthesis of tetrahexahedral platinum nanocrystals with high-index facets and high electro-oxidation activity. Science 316:732–735

Vajda S, Pellin MJ, Greeley JP, Marshall CL, Curtiss LA, Ballentine GA, Elam JW, Catillon Mucherie S, Redfern PC, Mehmood F (2009) Subnanometre platinum clusters as highly active and selective catalysts for the oxidative dehydrogenation of propane. Nat Mater 8:213–216

Valden M, Lai X, Goodman DW (1998) Onset of catalytic activity of gold clusters on titania with the appearance of nonmetallic properties. Science 281:1647–1650

Vallabani N, Mittal S, Shukla RK, Pandey AK, Dhakate SR, Pasricha R, Dhawan A (2011) Toxicity of graphene in normal human lung cells (BEAS-2B). J Biomed Nanotechnol 7:106–107

Van Gastel R, Martínez Galera AJ, Coraux J, Hattab H, Wall D, Zu Heringdorf F-JM, Horn Von Hoegen M, Gómez Rodríguez JM, Poelsema B, Busse C (2009) In situ observation of stress relaxation in epitaxial graphene. New J Phys 11:113056

Vargová V, Pytliak M, Mechírová V (2012) Matrix metalloproteinases. Springer, Matrix Metalloproteinase Inhibitors

Varykhalov A, Sánchez Barriga J, Shikin A, Biswas C, Vescovo E, Rybkin A, Marchenko D, Rader O (2008) Electronic and magnetic properties of quasifreestanding graphene on Ni. Phys Rev Lett 101:157601

Varykhalov A, Scholz MR, Kim TK, Rader O (2010) Effect of noble-metal contacts on doping and band gap of graphene. Phys Rev B 82:121101

Vasala K, Turpeenniemi Hujanen T (2007) Serum tissue inhibitor of metalloproteinase-2 (TIMP-2) and matrix metalloproteinase-2 in complex with the inhibitor (MMP-2:TIMP-2) as prognostic markers in bladder cancer. Clin Biochem 40:640–644

Venkateswara Rao C, Cabrera CR, Ishikawa Y (2011) Graphene-supported Pt–Au alloy nanoparticles: a highly efficient anode for direct formic acid fuel cells. J Phys Chem C 115:21963–21970

Vitos L, Ruban A, Skriver HL, Kollar J (1998) The surface energy of metals. Surf Sci 411:186–202

Wang J (2001) Glucose biosensors: 40 years of advances and challenges. Electroanalysis 13:983

Wang J (2008) Electrochemical glucose biosensors. Chem Rev 108:814–825

Wang B, Bocquet ML (2011) Monolayer graphene and h-BN on metal substrates as versatile templates for metallic nanoclusters. J Phys Chem Lett 2:2341–2345

Wang B, Bocquet ML, Marchini S, Gunther S, Wintterlin J (2008) Chemical origin of a graphene moire overlayer on Ru(0001). Phys Chem Chem Phys 10:3530–3534

Wang S, Zhang Y, Abidi N, Cabrales L (2009) Wettability and surface free energy of graphene films. Langmuir 25:11078–11081

Wang C, Li J, Amatore C, Chen Y, Jiang H, Wang XM (2011a) Gold nanoclusters and graphene nanocomposites for drug delivery and imaging of cancer cells. Angew Chem Int Ed 50:11644–11648

Wang W, Liang S, Yu T, Li D, Li Y, Han X (2011b) The study of interaction between graphene and metals by Raman spectroscopy. J Appl Phys 109:07C501

Wang Y, Zhang P, Liu CF, Zhan L, Li YF, Huang CZ (2012) Green and easy synthesis of biocompatible graphene for use as an anticoagulant. RSC Adv 2:2322–2328

Wang C, Ravi S, Garapati US, Das M, Howell M, Mallela J, Alwarappan S, Mohapatra SS, Mohapatra S (2013a) Multifunctional chitosan magnetic-graphene (CMG) nanoparticles: a theranostic platform for tumor-targeted co-delivery of drugs, genes and MRI contrast agents. J Mater Chem B 1:4396–4405

Wang Y, Wang K, Zhao J, Liu X, Bu J, Yan X, Huang R (2013b) Multifunctional mesoporous silica-coated graphene nanosheet used for chemo-photothermal synergistic targeted therapy of glioma. J Am Chem Soc 135:4799–4804

Wang S, Zhang Q, Luo XF, Li J, He H, Yang F, Di Y, Jin C, Jiang XG, Shen S (2014a) Magnetic graphene-based nanotheranostic agent for dual-modality mapping guided photothermal therapy in regional lymph nodal metastasis of pancreatic cancer. Biomaterials 35:9473–9483

Wang Y, Huang R, Liang G, Zhang Z, Zhang P, Yu S, Kong J (2014b) MRI-visualized, dualtargeting, combined tumor therapy using magnetic graphenebased mesoporous silica. Small 10:109–116

Wang Y, Polavarapu L, Liz Marzán LM (2014c) Reduced graphene oxide-supported gold nanostars for improved SERS sensing and drug delivery. ACS Appl Mater Interfaces 6:21798–21805

Wang F, Sun Q, Feng B, Xu Z, Zhang J, Xu J, Lu L, Yu H, Wang M, Li Y (2016a) Polydopaminefunctionalized graphene oxide loaded with gold nanostars and doxorubicin for combined photothermal and chemotherapy of metastatic breast cancer. Adv Healthc Mater

Wang Y, Deng R, Xie X, Huang L, Liu X (2016b) Nonlinear spectral and lifetime management in upconversion nanoparticles by controlling energy distribution. Nanoscale 8:6666–6673

Wehling T, Katsnelson M, Lichtenstein A (2009) Impurities on graphene: midgap states and migration barriers. Phys Rev B 80:085428

Wei G, Xu F, Li Z, Jandt KD (2011) Protein-promoted synthesis of Pt nanoparticles on carbon nanotubes for electrocatalytic nanohybrids with enhanced glucose sensing. J Phys Chem C 115:11453–11460

Weiss N, Cren T, Epple M, Rusponi S, Baudot G, Rohart S, Tejeda A, Repain V, Rousset S, Ohresser P (2005) Uniform magnetic properties for an ultrahigh-density lattice of noninteracting Co nanostructures. Phys Rev Lett 95:157204

Wen Q, Gu Y, Tang LJ, Yu R-Q, Jiang JH (2013) Peptide-templated gold nanocluster beacon as a sensitive, label-free sensor for protein post-translational modification enzymes. Anal Chem 85:11681–11685

Whelan C, Barnes C (1997) An STM study of structural transitions during the nucleation and growth of Pd and Cu cluster catalysts on HOPG. Appl Surf Sci 119:288–300

Wilcoxon J, Abrams B (2006) Synthesis, structure and properties of metal nanoclusters. Chem Soc Rev 35:1162–1194

Williams WD, Shekhar M, Lee WS, Kispersky V, Delgass WN, Ribeiro FH, Kim SM, Stach EA, Miller JT, Allard LF (2010) Metallic corner atoms in gold clusters supported on rutile are the dominant active site during water—gas shift catalysis. J Am Chem Soc 132:14018–14020

Wintterlin J, Bocquet ML (2009) Graphene on metal surfaces. Surf Sci 603:1841–1852

Wu Z, Jin R (2010) On the ligand's role in the fluorescence of gold nanoclusters. Nano Lett 10:2568–2573

Wu ZS, Wu Q, Yang JH, Wang HQ, Ding XD, Yang F, Xu XC (2008) Prognostic significance of MMP-9 and TIMP-1 serum and tissue expression in breast cancer. Int J Cancer 122:2050–2056

Wu GH, Song XH, Wu YF, Chen XM, Luo F, Chen X (2013) Non-enzymatic electrochemical glucose sensor based on platinum nanoflowers supported on graphene oxide. Talanta 105:379–385

Xiaofei W, Ruiyi L, Zaijun L, Junkang L, Guangli W, Zhiguo G (2014) Synthesis of double gold nanoclusters/graphene oxide and its application as a new fluorescence probe for Hg2+ detection with greatly enhanced sensitivity and rapidity. RSC Adv 4:24978–24985

Xu C, Wang X, Zhu J (2008a) Graphene–metal particle nanocomposites. J Phys Chem C 112:19841–19845

Xu Y, Bai H, Lu G, Li C, Shi G (2008b) Flexible graphene films via the filtration of water-soluble noncovalent functionalized graphene sheets. J Am Chem Soc 130:5856–5857

Xu Y, Semidey Flecha L, Liu L, Zhou Z, Goodman DW (2011) Exploring the structure and chemical activity of 2-D gold islands on graphene moiré/Ru (0001). Faraday Discuss 152:267–276

Xu C, Yang D, Mei L, Li Q, Zhu H, Wang T (2013a) Targeting chemophotothermal therapy of hepatoma by gold nanorods/graphene oxide core/shell nanocomposites. ACS Appl Mater Interfaces 5:12911–12920

Xu C, Yang D, Mei L, Lu B, Chen L, Li Q, Zhu H, Wang T (2013b) Encapsulating gold nanoparticles or nanorods in graphene oxide shells as a novel gene vector. ACS Appl Mater Interfaces 5:2715–2724

Yang X, Xu M, Qiu W, Chen X, Deng M, Zhang J, Iwai H, Watanabe E, Chen H (2011) Graphene uniformly decorated with gold nanodots: in situ synthesis, enhanced dispersibility and applications. J Mater Chem 21:8096–8103

Yang K, Hu L, Ma X, Ye S, Cheng L, Shi X, Li C, Li Y, Liu Z (2012) Multimodal imaging guided photothermal therapy using functionalized graphene nanosheets anchored with magnetic nanoparticles. Adv Mater 24:1868–1872

Yang K, Gong H, Shi X, Wan J, Zhang Y, Liu Z (2013) In vivo biodistribution and toxicology of functionalized nano-graphene oxide in mice after oral and intraperitoneal administration. Biomaterials 34:2787–2795

Yang L, Tseng YT, Suo G, Chen L, Yu J, Chiu WJ, Huang CC, Lin CH (2015) Photothermal therapeutic response of cancer cells to aptamer–gold nanoparticle-hybridized graphene oxide under nir illumination. ACS Appl Mater Interfaces 7:5097–5106

Yao Y, Wang C, Ho K (2010) Chemical bonding analysis for solid-state systems using intrinsic oriented quasiatomic minimal-basis-set orbitals. Phys Rev B 81:235119

Yazyev OV, Pasquarello A (2010) Metal adatoms on graphene and hexagonal boron nitride: Towards rational design of self-assembly templates. Phys Rev B 82:045407

Yin PT, Shah S, Chhowalla M, Lee KB (2015) Design, synthesis, and characterization of graphene–nanoparticle hybrid materials for bioapplications. Chem Rev 115:2483–2531

Yoo E, Okata T, Akita T, Kohyama M, Nakamura J, Honma I (2009) Enhanced electrocatalytic activity of Pt subnanoclusters on graphene nanosheet surface. Nano Lett 9:2255–2259

Yoon B, Häkkinen H, Landman U (2003) Interaction of O2 with gold clusters: molecular and dissociative adsorption. J Phys Chem A 107:4066–4071

Yu J, Yin W, Zheng X, Tian G, Zhang X, Bao T, Dong X, Wang Z, Gu Z, Ma X (2015) Smart MoS2/Fe3O4 nanotheranostic for magnetically targeted photothermal therapy guided by magnetic resonance/photoacoustic imaging. Theranostics 5:931

Yuan Z, Chen YC, Li HW, Chang HT (2014) Fluorescent silver nanoclusters stabilized by DNA scaffolds. Chem Commun 50:9800–9815

Yuan Y, Zhang Y, Liu B, Wu H, Kang Y, Li M, Zeng X, He N, Zhang G (2015) The effects of multifunctional MiR-122-loaded graphene-gold composites on drug-resistant liver cancer. J Nanobiotechnol 13:1

Zedan AF, Moussa S, Terner J, Atkinson G, el Shall MS (2012) Ultrasmall gold nanoparticles anchored to graphene and enhanced photothermal effects by laser irradiation of gold nanostructures in graphene oxide solutions. ACS Nano 7:627–636

Zhang L, Wang E (2014) Metal nanoclusters: New fluorescent probes for sensors and bioimaging. Nano Today 9:132–157

Zhang J, Sessi V, Michaelis C, Brihuega I, Honolka J, Kern K, Skomski R, Chen X, Rojas G, Enders A (2008) Ordered layers of Co clusters on BN template layers. Phys Rev B 78:165430

Zhang H, Fu Q, Cui Y, Tan D, Bao X (2009a) Fabrication of metal nanoclusters on graphene grown on Ru (0001). Chin Sci Bull 54:2446–2450

Zhang H, Fu Q, Cui Y, Tan D, Bao X (2009b) Growth mechanism of graphene on Ru (0001) and O2 adsorption on the graphene/Ru (0001) surface. J Phys Chem C 113:8296–8301

Zhang Y, Gu YE, Lin S, Wei J, Wang Z, Wang C, Du Y, Ye W (2011) One-step synthesis of PtPdAu ternary alloy nanoparticles on graphene with superior methanol electrooxidation activity. Electrochim Acta 56:8746–8751

Zhang M, Cao Y, Chong Y, Ma Y, Zhang H, Deng Z, Hu C, Zhang Z (2013) Graphene oxide based theranostic platform for T 1-weighted magnetic resonance imaging and drug delivery. ACS Appl Mater Interfaces 5:13325–13332

Zhang H, Wu H, Wang J, Yang Y, Wu D, Zhang Y, Zhang Y, Zhou Z, Yang S (2015) Graphene oxide-BaGdF5 nanocomposites for multi-modal imaging and photothermal therapy. Biomaterials 42:66–77

Zhao X, Liu L, Li X, Zeng J, Jia X, Liu P (2014) Biocompatible graphene oxide nanoparticle-based drug delivery platform for tumor microenvironment-responsive triggered release of doxorubicin. Langmuir 30:10419–10429

Zheng J, Dickson RM (2002) Individual water-soluble dendrimer-encapsulated silver nanodot fluorescence. J Am Chem Soc 124:13982–13983

Zheng J, Petty JT, Dickson RM (2003) High quantum yield blue emission from water-soluble Au8 nanodots. J Am Chem Soc 125:7780–7781

Zheng J, Nicovich PR, Dickson RM (2007) Highly fluorescent noble metal quantum dots. Annu Rev Phys Chem 58:409

Zhi F, Dong H, Jia X, Guo W, Lu H, Yang Y, Ju H, Zhang X, Hu Y (2013) Functionalized graphene oxide mediated adriamycin delivery and miR-21 gene silencing to overcome tumor multidrug resistance in vitro. PLoS ONE 8:e60034

Zhou R, Shi M, Chen X, Wang M, Chen H (2009) Atomically monodispersed and fluorescent sub-nanometer gold clusters created by biomoleculeassisted etching of nanometersized gold particles and rods. Chem—Eur J 15:4944–4951

Zhou Z, Gao F, Goodman DW (2010) Deposition of metal clusters on single-layer graphene/Ru (0001): factors that govern cluster growth. Surf Sci 604:L31–L38

Zhou X, Dorn M, Vogt J, Spemann D, Yu W, Mao Z, Estrela Lopis I, Donath E, Gao C (2014) A quantitative study of the intracellular concentration of graphene/noble metal nanoparticle composites and their cytotoxicity. Nanoscale 6:8535–8542

Zhu M, Aikens CM, Hollander FJ, Schatz GC, Jin R (2008) Correlating the crystal structure of a thiol-protected Au25 cluster and optical properties. J Am Chem Soc 130:5883–5885
Acknowledgements

The authors would like to thank the University of Nottingham Malaysia Campus for the Internal Grant (UNR20007).
Copyright information

© 2017 Springer Nature Singapore Pte Ltd.
About this chapter
Cite this chapter
Muthoosamy, K., Bai, R., Manickam, S. (2017). Graphene Metal Nanoclusters in Cutting-Edge Theranostics Nanomedicine Applications. In: Tripathi, A., Melo, J. (eds) Advances in Biomaterials for Biomedical Applications. Advanced Structured Materials, vol 66. Springer, Singapore. https://doi.org/10.1007/978-981-10-3328-5_11
DOI: https://doi.org/10.1007/978-981-10-3328-5_11

Published:

Publisher Name: Springer, Singapore

Print ISBN: 978-981-10-3327-8

Online ISBN: 978-981-10-3328-5