Abstract
The Tasmanian wedge-tailed eagle (WTE, Aquila audax fleayi) and the white-bellied sea-eagle (WBSE, Haliaeetus leucogaster) are present on the Bluff Point (37 Vestas V66 turbines) and Studland Bay (25 Vestas V90 turbines) Wind Farms in north-west Tasmania, Australia. These species have been intensively studied since the commencement of operations in 2002 and 2007, respectively, as part of compliance monitoring. Monitoring has included documenting collisions with turbines, breeding success surveys, and movement and behaviour studies. Additional investigations (outside regulatory requirements) have also been conducted, including targeted studies and trials of collision mitigation techniques. Both species of eagle have continued to use the sites during construction and operation of the wind farms. The average collision rates for WTE were 1.54 and 0.95 per year, and for WBSE 0.36 and 0 per year at Bluff Point and Studland Bay, respectively (calculated up to October 2012). These are below maximum rates estimated in collision risk modeling which formed part of the information for the assessment of the wind farms. The collision rate for WTE was constant across years, although there was some evidence the rate could be declining at Studland Bay. Analyses could not be conducted on WBSE due to small sample sizes. Seasonal and other temporal patterns were tested for in the collision data, but all evidence supported the theory that the strikes were independent and random in time, with no support found for some proposed theories about why eagles collide with turbines. A spatial analysis of collisions was not possible, again due to small sample sizes. Eagles continued to breed at the sites, with at least the same level of success as nests outside the wind farms. The observational studies provided useful data about how eagles interacted with turbines at these sites. These data were used to calculate turbine avoidance rates and to assess how rates changed with development of the wind farm and when turbines were operational or not.
Keywords
Eagles

Wind farms

Collisions

Monitoring

Mitigation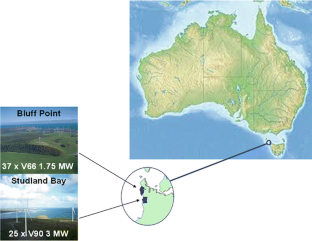 References
Barrios, L., and A. Rodríguez. 2004. Behavioural and environmental correlates of soaring-bird mortality at on-shore wind turbines. Journal of Applied Ecology 41: 72–81.

Chamberlain, D.E., M.R. Rehfisch, A.D. Fox, M. Desholm, and S.J. Anthony. 2006. The effect of avoidance rates on bird mortality predictions made by wind turbine collision risk models. Ibis 148: 198–202.

Dahl, E.L., K. Bevanger, T. Nyågrd, E. Roskaft, and B.G. Stokke. 2012. Reduced breeding success in white-tailed eagles at Smøla windfarm, western Norway, is caused by mortality and displacement. Biological Conservation 145: 79–85.

Forest Practices Authority. 2013. Wedge-tailed eagle nest monitoring project 2007–12: Nest site use, timing of breeding, and a review of the nesting habitat model. Report to Roaring 40s, Threatened Species and Marine Section (DPIPWE). April 2013. Forest Practices Authority Scientific Report.

Garvin, J.C., C.S. Jennelle, D. Drake, and S.M. Grodsky. 2011. Response of raptors to a windfarm. Journal of Applied Ecology 48: 199–209.

Hoover, S. 2002. The response of red-tailed hawks and golden eagles to topographical features, weather, and abundance of a dominant prey species at the Altamont Pass Wind Resource Area, California. April 1999 – December 2000. National Renewable Energy Laboratory, Golden Colorado, USA, 64 pp.

Hull, C.L., and L. Cawthen. 2013. Bat fatalities at two wind farms in Tasmania, Australia: Bat characteristics, and spatial and temporal patterns. New Zealand Journal of Zoology 40(1): 5–15.

Hull, C.L., and S.C. Muir. 2010. Search areas for monitoring bird and bat carcasses at wind farms using a Monte-Carlo model. Australasian Journal of Environmental Management 17: 77–87.

Hull, C.L., and S.C. Muir. 2013. Behavior and turbine avoidance rates of eagles at two wind farms in Tasmania, Australia. Wildlife Society Bulletin 37(1): 49–58.

Hull, C.L., E.M. Stark, S. Peruzzo, and C.A. Sims. 2013. Avian collisions at two wind farms in Tasmania, Australia: The role of taxonomy and ecology in collision risk. New Zealand Journal of Zoology 40(1): 47–62.

Hunt, G. 2002. Golden eagles in a perilous landscape: Predicting the effects of mitigation for wind turbines blade-strike mortality. California Energy Commission, California, USA, 52 pp + appendices.

Hydro Tasmania. 2000. West Coast Wind Farm Woolnorth, North-West Tasmania. Hobart: Development Proposal and Environmental Management Plan.

Hydro Tasmania. 2012. Bluff Point wind farm and Studland Bay Wind Farm annual environmental performance report 2011. Hydro Tasmania. Available at: http://www.hydro.com.au/environment/wind-environment-program.

Hydro Tasmania. 2013. Results and analysis of eagle data from the Bluff Point and Studland Bay Wind Farms 2002–2012.

Langston, R.H.W., and J.D. Pullan. 2003. Windfarms and birds: An analysis of the effects of windfarms on birds, and guidance on environmental assessment criteria and site selection issues. Convention on the Conservation of European Wildlife and Natural habitats, Strasbourg, France.

Madders, M., and D.P. Whitfield. 2006. Upland raptors and the assessment of wind farm impacts. Ibis 148: 43–56.

Marchant, S., and P.J. Higgins. 1993. Handbook of Australian, New Zealand and Antarctic birds, volume 2. Raptors to lapwings. Melbourne: Oxford University Press.

Masden, E.A., D.T. Haydon, A.D. Fox, R.W. Furness, R. Bullman, and M. Desholm. 2009. Barriers to movement: Impacts of wind farms on migrating birds. ICES Journal of Marine Science 66: 746–753.

Nygård, T, K. Bevanger, E.L. Dahl, O. Flagstand, A. Follestad, P.L. Hoel, R. May, and O. Reitan. 2010. A study of white-tailed eagle Haliaeetus albicilla movements and mortality at a wind farm in Norway. In BOU proceedings of climate change and birds. Downloaded from: http://www.bou.org.uk/bouproc-net/ccb/nygard-etal.pdf.

Orloff, S., and A. Flannery. 1992. Wind turbine effects on avian activity, habitat use, and mortality in Altamont Pass and Solano County Wind Resource Areas: 1989–1991. Report to the California Energy Commission, Sacramento, USA.

Rasran, L., T. Dürr, and H. Hőtker. 2008. Analysis of collision victims in Germany. In Birds of prey and wind farms: An analysis of problems and possible solutions. Documentation of an international workshop in Berlin, 21st and 22nd October 2008, 26–30.

Sims, C., C.L. Hull, E. Stark, and R. Barbour. This volume. Key learnings from ten years of monitoring and management actions at the Bluff Point and Studland Bay Wind Farms: Results of a review. In Proceedings of the conference on wind energy and wildlife impacts. Melbourne, Australia 2012. Dordrecht: Springer.

Smales, I., S. Muir, C. Meredith, and R. Baird. 2013. A description of the Biosis model to assess risk of bird collisions with wind turbines. Wildlife Society Bulletin 37(1): 59–65.

Smallwood, K.S., and C.G. Thelander. 2004. Developing methods to reduce bird mortality in the Altamont Pass Wind Resource Area. Final report by BioResource Consultants to the California Energy Commission, Public Interest Energy Research-Environmental Area, Contract No. 500-01-019: L. Spiegel, Program Manager, 363 pp + appendices.

Stein, P.L. 1999. Are Decision makers too cautious with the Precautionary Principle? Speech delivered at the Land and Environment Court of NSW Annual Conference, Peppers Hydro Majestic, Medlow Bath, Blue Mountains 14–15 October 1999 http://www.lawlink.nsw.gov.au/lawlink/supremecourt/ll_sc.nsf/pages/SCO_speech_stein_141099.

Walker, D., M. McGrady, A. McCluskie, M. Madders, and D.R.A. McLeod. 2005. Resident golden eagle ranging behaviour before and after construction of a windfarm in Argyll. Scottish Birds 25: 24–40.

Wiersma, J., and A.J. Koch. 2012. Using surveys of nest characteristics to assess the breeding activity of the Tasmanian wedge-tailed eagle. Corella 36(2): 38–44.
Acknowledgements
The field data was conducted predominantly by Wildspot Consulting for which we thank them. We also thank Robert Barbour for his involvement in recent years. The various owners of these wind farms have provided the necessary support for the scientific analysis of the monitoring data. We thank two referees for their useful comments.
Appendix: Eagle Collisions Detected at the BPWF and SBWF 2002–2012
Appendix: Eagle Collisions Detected at the BPWF and SBWF 2002–2012
Date found

Estimated date of collision

Age

Sex

BPWF – WTE

December 2003

Detection estimated to be close to collision date (within a few days)

Adult

Male

April 2006

Detection estimated to be close to collision date (within a few days)

Adult

Female

May 2006

Detection estimated to be close to collision date (within a few days)

Adult

Male

August 2006

Detection estimated to be close to collision date (within a few days)

Adult?

Male

October 2006

Unknown, carcass found in vegetationa

?

?

October 2006

Unknown, old carcass perhaps 1–2 years found in vegetationa

?

?

October 2006

Detection estimated to be close to collision date (within a few days)

Adult

Male

February 2007

Unknown, perhaps 3–5 months old found in vegetationa

Adult

?

August 2008

Detection estimated to be close to collision date (within a few days)

Immature

Male

August 2008

Observed collision, so date known

Immature

Female

December 2008

Unknown, estimated to be within the week detected

Immature

Male

September 2009

Unknown estimated to be within the week detected

Immature

?

March 2010

Unknown, heavily scavenged, but estimated to be within the week detected

Adult

?

SBWF – WTE

 
 
 

September 2007

Detection estimated to be close to collision date (within a few days)

Adult

Male

September 2007

Detection estimated to be close to collision date (within a few days)

Immature

Male

October 2007

Observed collision, date known

Juvenile

Male

April 2008

Unknown, in the order of a few months old, found in vegetationa

Adult or late immature

?

October 2010

Detection estimated to be close to collision date (within a few days)

Juvenile

Male

BPWF – WBSE

 
 
 

April 2008

Detection estimated to be close to collision date (within a few days)

Adult

Male

November 2009

Found injured so detection likely to represent date of collision

Adult

Female

December 2009

Detection estimated to be close to collision date (within a few days)

Sub-adult

Male

SBWF – WBSE

 
 
 

No mortalities

–

–

–
Copyright information
© 2015 Springer Science+Business Media Dordrecht
About this paper
Cite this paper
Hull, C., Sims, C., Stark, E., Muir, S. (2015). Results and Analysis of Eagle Studies from the Bluff Point and Studland Bay Wind Farms 2002–2012. In: Hull, C., Bennett, E., Stark, E., Smales, I., Lau, J., Venosta, M. (eds) Wind and Wildlife. Springer, Dordrecht. https://doi.org/10.1007/978-94-017-9490-9_6
DOI: https://doi.org/10.1007/978-94-017-9490-9_6

Published:

Publisher Name: Springer, Dordrecht

Print ISBN: 978-94-017-9489-3

Online ISBN: 978-94-017-9490-9