Abstract
This paper presents a measurement-based exploration of designing styles within the context of different design disciplines and tasks based on the design cognition of small design teams. Twelve final-year industrial design and twelve mechanical engineering design students were recruited to form teams of two. Each team undertook two conceptual product design tasks with different classes of requirements. Protocols of conversations and observations of design activities were then examined using an ontologically-based coding scheme. A problem–solution index was proposed to classify design sessions into problem-focused and solution-focused designing styles. Results suggest that industrial design student teams have a designing style that is more focused on the design problem than mechanical engineering student teams. The same design team may change its relative focusing on problem or solution in response to different classes of design requirements.
Keywords
Design Sessions

Engineering Design Students

Small Design Team

Design Knowledge

Mixed Teams
These keywords were added by machine and not by the authors. This process is experimental and the keywords may be updated as the learning algorithm improves.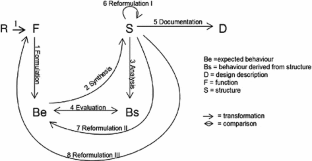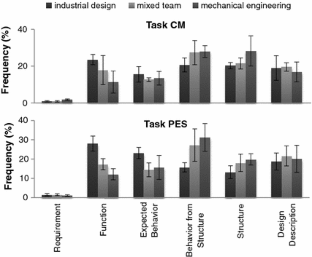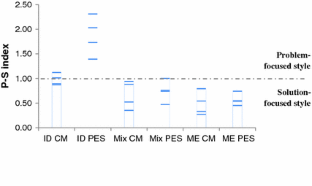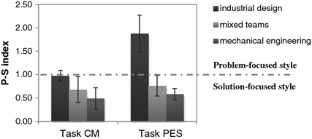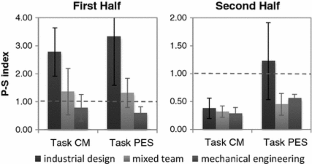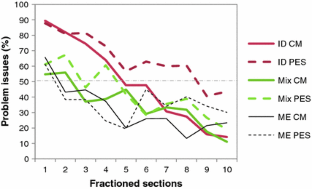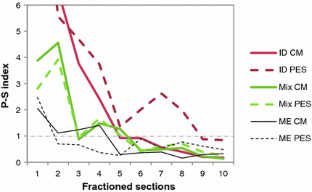 References
Goel V, Pirolli P (1992) The structure of design problem spaces. Cogn Sci 16(3):395–429

Dorst K (2010) The nature of design thinking. In: Dorst K, Stewart S, Staudinger I, Paton B, Dong A (eds) Design thinking research symposium (DTRS) 8: interpreting design thinking, pp 131–139. University of Technology Sydney, 19–20 Oct 2010

Lawson BR (1979) Cognitive strategies in architectural design. Ergonomics 22(1):59–68

Darke J (1979) The primary generator and the design process. Des Stud 1(1):36–44

Schön DA (1992) Designing as reflective conversation with the materials of a design situation. Knowl-Based Syst 5(1):3–14

Schön DA (1991) The reflective practitioner: how professionals think in action, Paperback edn. Ashgate, Aldershot, UK

Dorst K, Cross N (2001) Creativity in the design process: co-evolution of problem–solution. Des Stud 22(5):425–437

Maher ML, Tang H-H (2003) Co-evolution as a computational and cognitive model of design. Res Eng Design 14(1):47–64

Restrepo J, Christiaans H (2004) Problem structuring and information access in design. J Des Res 4(2). doi: 10.1504/JDR.2004.009842

Kruger C, Cross N (2006) Solution driven versus problem driven design: strategies and outcomes. Des Stud 27(5):527–548

Lloyd P, Scott P (1994) Discovering the design problem. Des Stud 15(2):125–140

Gero JS (1990) Design prototypes: a knowledge representation schema for design. AI Mag 11(4):26–36

Gero JS, Kannengiesser U (2004) The situated function-behaviour-structure framework. Des Stud 25(4):373–391

Gero JS, McNeill T (1998) An approach to the analysis of design protocols. Des Stud 19(1):21–61

Pourmohamadi M, Gero JS (2011) Linkographer: An analysis tool to study design protocols based on FBS coding scheme. In: 18th international conference on engineering design (ICED'11), Copenhagen, Denmark, 15–18 Aug

Gero JS (2010) Generalizing design cognition research. In: Dorst K, Stewart SC, Staudinger I, Paton B, Dong A (eds) DTRS 8: interpreting design thinking, pp 187–198

Jiang H, Yen CC (2010) Understanding senior design students' product conceptual design activities: a comparison between industrial and engineering design students. In: The 2010 design research society (DRS) international conference "Design & Complexity", Montreal, Canada, 7–9 July, CD un-numbered

McDonnell J, Lloyd P (eds) (2009) About: designing: analysing design meetings. CRC Press, Boca Raton

Keinonen T (2006) Introduction to concept design. In: Keinonen T, Takala R (eds) Product concept design: a review of the conceptual design of products in industry. Springer, Berlin, pp 1–31

Dorst K (2003) The problem of design problems. In: Cross N, Edmonds E (eds) Expertise in design, design thinking research symposium 6, pp 135–147

Purcell T, Gero JS, Edwards H, McNeill T (1996) The data in design protocols: the issue of data coding, data analysis in the development of models of the design process. In: Cross N, Christiaans H, Dorst K (eds) Analysing design activity. Wiley, Hoboken, NJ, pp 225–252
Acknowledgements
The second author's contribution to this work is funded by the US National Science Foundation under grant numbers CMMI–0926908 and IIS-1002079. Any opinions, findings, and conclusions or recommendations expressed in this material are those of the authors and do not necessarily reflect the views of the National Science Foundation.
Copyright information
© 2014 Springer Science+Business Media Dordrecht
About this paper
Cite this paper
Jiang, H., Gero, J.S., Yen, CC. (2014). Exploring Designing Styles Using a Problem–Solution Division. In: Gero, J. (eds) Design Computing and Cognition '12. Springer, Dordrecht. https://doi.org/10.1007/978-94-017-9112-0_5
DOI: https://doi.org/10.1007/978-94-017-9112-0_5

Published:

Publisher Name: Springer, Dordrecht

Print ISBN: 978-94-017-9111-3

Online ISBN: 978-94-017-9112-0

eBook Packages: EngineeringEngineering (R0)