Abstract

This chapter synthesizes the growing empirical literature on transaction costs to identify pragmatic design recommendations for water markets and related institutions. The New Institutional Economics literature recognizes that appropriate policy choice and design will be a function of the specific characteristics of the problem. The physical and institutional determinants of both transaction costs and transformation costs should be considered in the design of water markets due to potential interactions between them. Analysts also need to incorporate the extent to which the technologies, institutional environment, governance structures, or policy designs can be changed; some factors can only be adjusted to or "designed around" while others can be designed differently. This framework highlights the importance of property rights, historic water use patterns, and path dependency since transaction costs will be incurred to obtain or retain property rights to water. The physical complexity associated with water resources increases transformation costs as well as transaction costs. Uncertainty and changing societal preferences highlight the importance of flexibility and conflict resolution mechanisms in institutional design. Sequencing of policy changes is also revealed as a key design consideration.
Keywords
Institutions

Policy design

Property rights

Transaction costs

Water markets
Portions of this chapter have previously appeared in McCann (2013) and are used with permission of Elsevier. Partial funding from USDA-NIFA Multistate Project W2190 is gratefully acknowledged.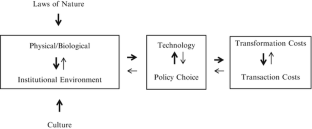 Notes
1.

The definition of transaction costs used in this paper is that of Marshall (2013) "Transaction costs are the costs of the resources used to (i) define, establish, maintain, use and change institutions and organizations, and (ii) define the problems that these institutions and organizations are intended to solve." This definition expands on the definition in McCann et al. (2005) and thus is broad enough to examine the institutional environment (North 1990).

2.

This chapter's framework takes the benefits of reallocation as given although the optimal amount of change will depend on both costs and benefits, both of which may change due to preferences and technical change. Nevertheless, in some cases the amount of change needed to solve a problem is a function of physical and biological factors.
References
Aguilera-Klink F, Sanchez-Garcia J (2005) Water markets in Tenerife: the conflict between instrumental and ceremonial functions of the institutions. Int J Water 3(2):166–185

Batie SS (2008) Wicked problems and applied economics. Am J Agric Econ 90(5):1176–1191

Bauer CJ (1997) Bringing markets down to earth: the political economy of water rights in Chile 1975–1996. World Dev 25(5):639–659

Bennett J (2005) The evolution of markets for water. Edward Elgar Publishing, Northampton

Birner R, Wittner H (2004) On the efficient boundaries of the state: the contribution of transaction-costs economics to the analysis of decentralization and devolution in natural resource management. Environ Plann C Gov Policy 22(5):667–685

Bjornlund H (2004) What impedes water markets? Water 31(7):47–51

Bjornlund H, Zuo A, Wheeler S, Xu W (2014) Exploring the reluctance to embrace water markets in Alberta, Canada. In: Easter KW, Huang QQ (eds) Water markets for the 21st century: what have we learned? Springer, Dordrecht

Bougherara D, Grolleau G, Mzoughi N (2009) The 'make or buy' decision in private environmental transactions. Eur J Law Econ 27(1):79–99

Boutry O (2011) Agriculture et environnement: une analyse néo-institutionnelle de l'évolution des pratiques agricoles. Le cas de la gestion quantitative de la ressource en eau en Charente-Maritime. Ph.D. Dissertation, University of Poitiers, France

Bromley DW (1991) Environment and economy: property rights and public policy. Blackwell Publishers, Cambridge

Bromley DW (1992) Entitlements and public policy in environmental risks. In: Bromley DW, Kathleen S (eds) The social response to environmental risk: policy formulation in an age of uncertainty. Kluwer Academic Publishers, Boston

Brown T (2006) Trends in water market activity and price in the western United States. Water Resour Res 42(9):1–14

Cacho OJ, Lipper L, Moss J (2013) Transaction costs of carbon offset projects: a comparative study. Ecol Econ 88:232–243

Carey J, Sunding DL, Zilberman D (2002) Transaction costs and trading behavior in an immature water market. Environ Dev Econ 7(4):733–750

Challen R (2000) Institutions, transaction costs, and environmental policy: institutional reform for water resources. Edward Elgar, Cheltenham/England

Clifford P, Landry C, Larsen-Hayden A (2004) Analysis of water banks in the Western States. Washington Department of Ecology. Publication number 04-11-011

Coase RH (1960) The problem of social cost. J Law Econ 3:1–44

Coggan A, Whitten SM, Bennett J (2010) Influences of transaction costs in environmental policy. Ecol Econ 69(9):1777–1784

Coggan A, Buitelaar E, Whitten SM, Bennett J (2013) Factors that influence transaction costs in development offsets: who bears what and why? Ecol Econ 88:222–231

Connell D (2007) Water politics in the Murray-Darling Basin. Federation Press, Sydney

Crase L, O'Keefe S, Dollery B (2013) Talk is cheap, or is it? The cost of consulting about uncertain reallocation of water in the Murray-Darling Basin, Australia. Ecol Econ 88:206–213

Demsetz H (1967) Toward a theory of property rights. Am Econ Rev 57(2):347–359

Easter W, McCann L (2010) Nested institutions and the need to improve international water institutions. Water Policy 12:500–516

Easter KW, Dinar A, Rosegrant WM (1998) Chap. 1, Water markets: transaction costs and institutional options. In: Easter KW, Rosegrant WM, Ariel D (eds) Water markets: potential and performance. Kluwer Academic Publishers, Boston

Ervin DE, Graffy EA (1996) Leaner environmental policies for agriculture. Choices Fourth Q 11:27–33

Fernandez F (2001) Cutting edge fixture technology: manufacturers perspective. PM Eng 7(7):38–42

Friedman T (2008) Hot, flat and crowded: why we need a green revolution and how it can change America. Farrar, Straus & Giroux, New York

Garrick DE, Aylward B (2012) Transaction costs and institutional performance. Land Econ 88(3):536–560

Garrick D, Lane-Miller C, McCoy A (2011) Institutional innovations to govern environmental water in the western United States: lessons for Australia's Murray-Darling Basin. Econ Pap 30(2):167–184

Garrick D, Whitten S, Coggan A (2013) Understanding the evolution and performance of market-based water allocation reforms: a transaction costs analysis framework. Ecol Econ 88:195–205

Garrido A (2007) Water markets design and evidence from experimental economics. Environ Resour Econ 38:311–330

Grafton RQ, Libecap G, McGlennon S, Landry C, O'Brien B (2011) An integrated assessment of water markets: a cross-country comparison. Rev Environ Econ Policy 5(2):219–239

Griffin RC, Peck DE, Maestu J (2012) Myths, principles and issues in water trading. In: Maestu J (ed) Water trading and global water scarcity: international experiences. RFF Press, New York

Grolleau G, McCann L (2012) Designing watershed programs to pay farmers for water quality services: case studies of Munich and New York City. Ecol Econ 76:87–94

Hayami Y, Ruttan VW (1971) Agricultural development: an international perspective. John Hopkins University Press, Baltimore

Hearne R, Donoso G (2014) Water markets in Chile: are they meeting needs? In: Easter KW, Huang QQ (eds) Water markets for the 21st century: what have we learned? Springer, Dordrecht

Hicks JR (1963) The theory of wages, 2nd edn. St. Martin's Press, New York

Howitt RE (1994) Empirical analysis of water market institutions: the 1991 California water market. Resour Energy Econ 16(4):357–371

Howitt RE (2014) Are lease water markets still emerging in California? In: Easter KW, Huang QQ (eds) Water markets for the 21st century: what have we learned? Springer, Dordrecht

King RP (2012a) The science of design. Am J Agric Econ 94(2):275–284

King RP (2012b) Climate change policy and the science of design. Distinguished fellows address presented at the Australian agricultural and resource economics society annual conference, Fremantle, Western Australia, 10 February, 2012

Krutilla K, Krause R (2011) Transaction costs and environmental policy: an assessment framework and literature review. Int Rev Environ Resour Econ 4:262–354

Kubasek NK, Silverman GS (1997) Environmental law, 2nd edn. Prentice Hall, Upper Saddle River

Laurenceau M (2012) A transaction cost approach for environmental policy analysis: the case of the water framework directive in the Scheldt International river basin district. Ph.D. thesis, ENGEES, Strasbourg, France

Libecap G (2005) The problem of water. National Bureau of Economic Research working paper. Available at: http://www.aeaweb.org/annual_mtg_papers/2006/0108_1300_0702.pdf

Libecap G (2008) Chinatown revisited: Owens Valley and Los Angeles—bargaining costs and fairness perceptions of the first major water rights exchange. J Law Econ Organ 24(2):1–28

Libecap G (2011) Institutional path dependence in climate adaptation: Coman's "some unsettled problems of irrigation". Am Econ Rev 101: 1–19

Liberherr E (2011) Acceptability of the Deschutes groundwater mitigation program. Ecol Law Curr 38:25–35

Makridis C (2012) Multilateral water governance: prospects for transboundary water banking. Global Water Forum Discussion Paper

Marshall G (2013) Transaction costs, collective action and adaptation in managing complex social-ecological systems. Ecol Econ 88:185–194

McCann L (1998) Implications of a deterministic coin toss for economic modeling. Assoc Environ Resour Econ Newsl 19(1):18–19

McCann L (2013) Transaction costs and environmental policy design. Ecol Econ 88:253–262

McCann L, Easter KW (2004) A framework for estimating the transaction costs of alternative mechanisms for water exchange and allocation. Water Resour Res 40(9) July 2004. Reprinted in The economics of water quality. K. William Easter, Naomi Zeitouni (eds) Ashgate Publishing, Williston 2006

McCann L, Hafdahl A (2007) Agency perceptions of alternative salinity policies: the role of fairness. Land Econ 83(3):331–352

McCann L, Colby B, Easter KW, Kasterine A, Kuperan KV (2005) Transaction cost measurement for evaluating environmental policies. Ecol Econ 52(4):527–542

Murray-Darling Basin Authority (MDBA) (2010) Guide to the basin plan. Murray Darling Basin Authority, Canberra

National Water Commission (NWC) (2006) Investing in irrigation: achieving efficiency and sustainability. Available online at: http://archive.nwc.gov.au/data/assets/pdffile/0020/18173/Investing-in-Irrigation-PUB-0306.pdf

North DC (1990) Institutions, institutional change and economic performance. Cambridge University Press, Cambridge

Ostrom E (1990) Governing the commons: the evolution of institutions for collective action. Cambridge University Press, Cambridge

Pannell DJ, Roberts AM, Park G, Alexander J (2013) Improving environmental decisions: a transaction cost story. Ecol Econ 88:244–252

Perry J, Easter KW (2004) Resolving the scale incompatibility dilemma in river basin management. Water Resour Res 40 (2004), W08S06, doi: 10.1029/2003WR002882

Pujol J, Raggi M, Viaggi D (2006) The potential impact of markets for irrigation water in Italy and Spain: a comparison of two study areas. Aust J Agric Resour Econ 50:361–380

Richards K (2000) Framing environmental policy instrument choice. Duke Environ Law Policy Forum X(2):221–285

Roberts AM, Pannell DJ, Doole G, Vigiak O (2012) Agricultural land management strategies to reduce phosphorus loads in the Gippsland Lakes, Australia. Agr Syst 106(1):11–22

Rorstad PK, Vatn A, Kvakkestad V (2007) Why do transaction costs of agricultural policies vary? Agric Econ 36:1–11

Ruml CC (2005) The Coase theorem and western U.S. appropriative water rights. Nat Resour J 45(1):169–200

Saliba BC, Bush D (1987) Water markets in theory and practice: market transfers, water values and public policy. Westview Press, Boulder

Schlager E, Blomquist W (2008) Embracing watershed politics. University Press of Colorado, Boulder

Schmid AA (1995) The environment and property rights issues. In: Daniel WB (ed) Handbook of environmental economics. Basil Blackwell Ltd., Cambridge, MA

Schmid AA (2004) Conflict and cooperation: institutional and behavioral economics. Blackwell Publishing, Hoboken

Schorr D (2005) Appropriation as agrarianism: distributive justice in the creation of property rights. Ecol Law Q 32:3–71

Skurray JH, Roberts EJ, Pannell DJ (2012) Hydrological challenges to groundwater trading: lessons from south-west Western Australia. J Hydrol 412–413:256–268

Stavins RN (1995) Transaction costs and tradeable permits. J Environ Econ Manage 29(2):133–148

Tietenberg T (2005) Environmental and natural resource economics, 7th edn. Addison Wesley, Lebanon

Tisdell J (2014) The evolution of water Legislation in Australia. In: Easter KW, Huang QQ (eds) Water markets for the 21st century: what have we learned? Springer, Dordrecht

Vatn A (2005) Institutions and the environment. Edward Elgar Publishing, Cheltenham

Williamson OE (1985) The economic institutions of capitalism. Free Press, New York

Williamson OE (2000) The new institutional economics: taking stock, looking ahead. J Econ Lit 38(3):595–613

Young MD, McColl JC (2009) Double trouble: the importance of accounting for and defining water entitlements consistent with hydrological realities. Aust J Agric Resour Econ 53(1):19–35
Copyright information

© 2014 Springer Science+Business Media Dordrecht
About this chapter
Cite this chapter
McCann, L., Garrick, D. (2014). Transaction Costs and Policy Design for Water Markets. In: Easter, K., Huang, Q. (eds) Water Markets for the 21st Century. Global Issues in Water Policy, vol 11. Springer, Dordrecht. https://doi.org/10.1007/978-94-017-9081-9_2
DOI: https://doi.org/10.1007/978-94-017-9081-9_2

Published:

Publisher Name: Springer, Dordrecht

Print ISBN: 978-94-017-9080-2

Online ISBN: 978-94-017-9081-9