Abstract
Music impulses are transmitted in the brain via two different routes labelled "upper" (cognitive and relatively slow) and "lower" (emotional and relatively fast). The fact that the emotional processes are much faster than the cognitive ones is the basis for the "emotional surprises" that cultural experiences can offer. Part of the music experience literally speaks more directly to the brain than does cognitive reasoning. This creates the basis of the therapeutic principles in music therapy. There are diversified effects of music listening (sad, joyful, anxiety provoking etc.) on heart rate, heart rate variability, hormones related to energy mobilisation and hormones associated with regeneration/anabolism. Dance movements and music experiences are closely correlated in complicated ways. Individuals have very different reaction patterns, but some general principles can still be formulated
Keywords
Anxiety

Emotion

Amygdala

Mirror neurons

Longevity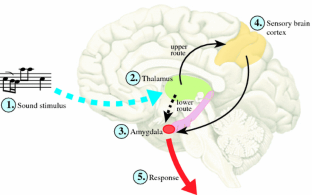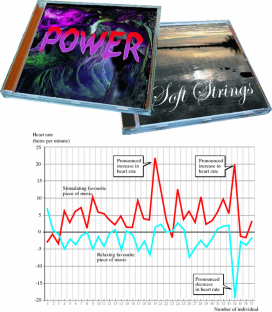 References
Arnetz, B., Theorell, T., Levi, L., Kallner, A., & Eneroth, P. (1983). An experimental study of social isolation of elderly people: Psychoendocrine and metabolic effects. Psychosomatic Medicine, 45, 395–406.

Atkinson, G., Wilson, D., & Eubank, M. (2004). Effects of music on work-rate distribution during a cycling time trial. International Journal of Sports Medicine, 25(8), 611–615.

Barlett, D. L. (1996). Physiological responses to music and sound stimuli. In D. A. Hodges (Ed.), Handbook of music psychology (2nd ed.). San Antonio: IMR Press.

Beeli, G., Esslen, M., & Jäncke, L. (2005). When coloured sounds taste sweet. Nature, 434, 38.

Bernardi, L., & Sleight, P. (2007). Music and biological rhythms. In M. Klockars & M. Peltomaa (Eds.), Music meets medicine. Acta Gyllenbergiana VII. Helsinki: The Signe and Ane Gyllenberg Foundation.

Bettermann, H., von Bonin, D., Fruwirth, M., Cysarz, D., & Moser, M. (2002). Effects of speech therapy with poetry on heart rate rhythmicity and cardiorespiratory coordination. International Journal of Cardiology, 84, 77–88.

Bittman, B. B., Berk, L., Shannon, M., Sharaf, M., Westengard, J., Guegler, K. J., et al. (2005). Recreational music-making modulates the human stress response: A preliminary individualized gene expression strategy. Medical Science Monitor, 11(2), BR31.

Bittman, B. B., Snyder, C., Bruhn, K. T., Liebfried, F., Stevens, C. K., Westengard, J., Umbach, P. O. (2004). Recreational music-making: An integrative group intervention for reducing burnout and improving mood states in first year associate degree nursing students: Insights and economic impact. International Journal of Nursing Education Scholarship 1(1) (Article12. Epub 2004 Jul 9)

Blood, A. J., & Zatorre, R. J. (2001). Intensely pleasurable responses to music correlate with activity in brain regions implicated in reward and emotion. Proceedings of the National Academy of Sciences, 98, 11818–11823.

Boso, M., Politi, P., Barale, F., & Enzo, E. (2006). Neurophysiology and neurobiology of the musical experience. Functional Neurology, 21(4), 187–191. Review.

Bygren, L. O., Konlaan, B. B., & Johansson, S. E. (1996). Attendance at cultural events, reading books or periodicals, and making music or singing in a choir as determinant of survival. Swedish fourteen-year cohort follow-up. British Medical Journal, 313, 1577–1580.

Bygren, L. O., Johansson, S.-E., Konlaan, B. B., Grjibovski, A. M., Wilkinson, A. V., & Sjöström, M. (2009). Attending cultural events and cancer mortality: A Swedish cohort study arts & health. An International Journal for Research Policy and Practice, 1, 64–73.

Chen, D. D., Xu, X., Zhao, Q., Yin, J., Sallam, H., & Chen, J. D. (2005). Alteration of gastric myoelectrical and autonomic activities with audio stimulation in healthy humans. Scandinavian Journal of Gastroenterology, 40(7), 814–821.

Copeland, B. L., & Franks, B. D. (1991). Effects of types and intensities of background music on treadmill endurance. The Journal of Sports Medicine and Physical Fitness, 31(1), 100–103.

Daoussis, L., & Mc Kelvie, S. J. (1986). Musical preferences and effects of music on a reading comprehension test for extraverts and introverts. Perceptual and Motor Skills, 62, 283–289.

Fagius, J. (2002). Hemisfärernas musik. Uppsala: Bo Ejeby förlag.

Gabrielsson, A. (2011). Strong experiences with music: Music is much more than just music. Oxford: Oxford University Press.

Hartzell, M., Theorell, T. (2007). Regelbundet återkommande kulturella aktiviteter på arbetsplatsen. Regularly occurring cultural activities in the workplace. National Institute for Psychosocial Factors and Health, p. 2665, Stockholm.

Juslin, P. N., & Sloboda, J. A. (2013). Music and emotion. In D. Deutsch (Ed.), The psychology of music (3rd ed., pp. 583–645). Amsterdam: Elsevier.

Khalfa, S., Bella, S. D., Roy, M., Peretz, I., & Lupien, S. J. (2003). Effects of relaxing music on salivary cortisol level after psychological stress. Annals of the New York Academy of Sciences, 999, 374–376.

Krantz, G., Madison, G., & Merker, B. (2006). Melodic intervals as reflected in body movement. In Ninth International Conference on Music Perception and Cognition, Bologna August 22–26, 2006

Krantz, G., Kreutz, G., Ericson, M., & Theorell, T. (2010). Bodily movements influence heart rate variability (HRV) responses to isolated melodic intervals. Music and Medicine, 3(2), 108–113.

Krumhansl, C. L. (1997). An exploratory study of musical emotions and psychophysiology. Canadian Journal of Experimental Psychology, 51, 336–352.

Körlin, D. (2005). Creative arts therapy in psychiatry: A clinical application of the Bonny method of guided imagery and music and creative arts groups. Academic thesis, Karolinska Institute, Stockholm.

Le Doux, J. (1998). The emotional brain. New York: Weidenfeld and Nicolson.

Lingham, J., & Theorell, T. (2009). Self-selected "favourite" stimulative and sedative music listening—How does familiar and preferred music listening affect the body? Nordic Journal of Music Therapy, 18, 150–166.

Panksepp, J. (1995). The emotional sources of "chills" induced by music. Music Perception, 13, 171–207.

Rider, M. S., Achterberg, J., Lawlis, G. F., Goven, A., Toledo, R., & Butler, J. R. (1990). Effect of immune system imagery on secretory IgA. Biofeedback and Self-Regulation, 15, 317–333.

Szmedra, L., & Bacharach, D. W. (1998). Effect of music on perceived exertion, plasma lactate, norepinephrine and cardiovascular hemodynamics during treadmill running. International Journal of Sports Medicine, 19, 32–37.

Väänänen, A., Murray, M., Koskinen, A., Vahtera, J., Kouvonen, A., & Kivimäki, M. (2009). Engagement in cultural activities and cause-specific mortality: Prospective cohort study. Preventive Medicine, 49, 142–147.

Vickhoff, B., Åström, R., Theorell, T., von Scheele, B., & Nilsson, M. (2012). Musical piloerection. Music and Medicine, 4, 82–89.

Vickhoff, B. (2008). A perspective theory of music perception and emotion. Skrifter från musikvetenskap, Göteborgs universitet, nr 90, ISBN 978 91-85974-06-1, ISSN 1654-6261.
About this chapter
Cite this chapter
Theorell, T. (2014). Music for Body and Soul: Physiological Effects of Listening to Music. In: Psychological Health Effects of Musical Experiences. SpringerBriefs in Psychology. Springer, Dordrecht. https://doi.org/10.1007/978-94-017-8920-2_5