Abstract

Each year during the season (December–January), dense fog engulfs the Indo-Gangetic Plains (IGP) in Southern Asia, extending over a stretch of 1,500 km, for more than a month disrupting day-to-day life of millions of people inhabiting in the IGP. Increasing atmospheric pollution combined with sufficient moisture available due to the passage of frequent north-westerlies favor fog formation in this region. Trends in poor visibility suggest a significant increase in worsening air quality and foggy days over the IGP. The persistent and widespread nature of the winter fog is strongly influenced by the regional meteorology during winter-time, i.e., a stable boundary layer, cold temperatures, high relative humidity, and light winds. The valley-type topography of the IGP, adjacent to the towering Himalaya, and high concentrations of pollution aerosols/particulates, further favors the persistence of hazy/fog conditions. A satellite- and surface-based observational portrayal is presented here, using various cloud, aerosol, and meteorological datasets, to characterize the widespread nature of winter fog. While the understanding of fog formation is known in the literature, detailed surface observations are needed to help build sophisticated fog forecast and early warning systems to minimize its impact on public safety. Additionally, linkages between the seasonal fog cover, regional meteorology, and increasing air pollution should be further investigated against the backdrop of a changing climate scenario.
Keywords
Fog

Haze

Remote sensing

Fog forecasting

Aerosols

Air quality

Indo-Gangetic Plains

South Asia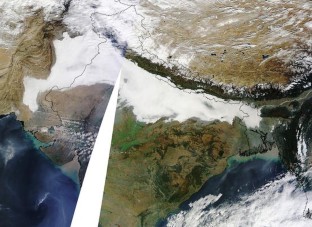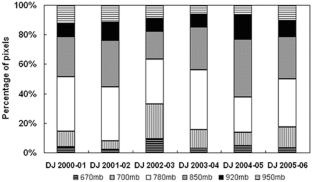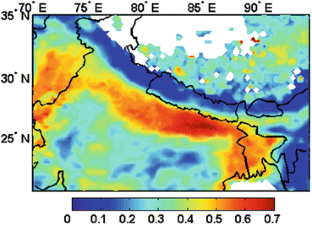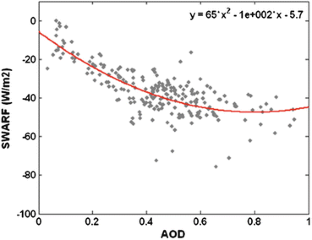 References
De US, Dandekar MM (2001) Natural disasters in urban areas. Deccan Geogr 39(2):1–12

Gautam R, Hsu NC, Kafatos M, Tsay S-C (2007) Influences of winter haze on fog/low cloud over the Indo-Gangetic plains. J Geophys Res. doi:10.1029/2005JD007036

Girolamo LD, Bond TC, Bramer D, Diner DJ, Fettinger F, Kahn RA, Martonchik JV, Ramana MV, Ramanathan V, Rasch PJ (2004) Analysis of Multi-angle Imaging SpectroRadiometer (MISR) aerosol optical depths over greater India during winter 2001–2004. Geophys Res Lett. doi:10.1029/2004GL021273

Habib G, Venkataraman C, Chiapello I, Ramachandran S, Boucher O, Reddy MS (2006) Seasonal and interannual variability in absorbing aerosols over India derived from TOMS: relationship to regional meteorology and emissions. Atmos Environ 40(11):1909–1921

Hahn CJ, Rossow WB, Warren SG (2001) ISCCP cloud properties associated with standard cloud types identified in individual surface observations. J Climate. doi:10.1175/1520-0442(2001)

Hameed S, Mirza MI, Ghauri BM, Siddiqui ZR, Javed R, Khan AR, Rattigan OV, Qureshi S, Husain L (2000) On the widespread winter fog in Northeastern Pakistan and India. Geophys Res Lett. doi:10.1029/1999GL011020

Hsu NC, Gautam R, Sayer AM, Bettenhausen C, Li C, Jeong MJ, Tsay SC, Holben BN (2012) Global and regional trends of aerosol optical depth over land and ocean using Sea WiFS measurements from 1997 to 2010. Atmos Chem Phys. doi:10.5194/acp-12-8037-2012

Jenamani RK (2007) Alarming rise in fog and pollution causing a fall in maximum temperature over Delhi. Curr Sci 93(3):314–322

Kaskaoutis DG, Singh RP, Gautam R, Sharma M, Kosmopoulos PG, Tripathi SN (2012) Variability and trends of aerosol properties over Kanpur, northern India using AERONET data (2001–2010). Environ Res Lett. doi:10.1088/1748-9326/7/2/024003

Massie ST, Torres O, Smith SJ (2004) Total Ozone Mapping Spectrometer (TOMS) observations of increases in Asian aerosol in winter from 1979 to 2000. J Geophys Res. doi:10.1029/2004JD004620

Pasricha PK, Gera BS, Shastri S, Maini MK, Ghosh AB, Tiwari MK, Garg SC (2003) Role of the water vapor greenhouse effect in the forecasting of fog occurrence. Bound Layer Meteorol 107(2):469–482

Prasad AK, Singh RP, Kafatos M (2006) Influence of coal based thermal power plants on aerosol optical properties in the Indo‐Gangetic basin. Geophys Res Lett. doi:10.1029/2005GL023801

Ramanathan V, Ramana MV (2005) Persistent, widespread, and strongly absorbing haze over the Himalayan foothills and the Indo-Gangetic plains. Pure Appl Geophys 162:1609–1626

Sarkar S, Chokngamwong R, Cervone G, Singh RP, Kafatos M (2006) Variability of aerosol optical depth and aerosol forcing over India. Advin Space Res. doi:10.1016/j.asr.2005.09.043

Singh S, Singh R, Rao VUM (2004) Temporal dynamics of dew and fog events and their impact on wheat productivity in semi-arid Region of India, In: The third international conference on fog, fog collection and dew, 11–15 October 2004, South Africa, Temporal dynamics of dew and fog events and their impact on wheat productivity in semi-Arid Region of India

Wielicki BA, CessRD KMD, Randall DA, Harrison EF (1995) Mission to planet earth: role of clouds and radiation in climate. Bull Am Meteorol Soc 76:2125–2155
Acknowledgments

MODIS and CERES science teams are acknowledged for provision of satellite aerosol, cloud and radiation data products that were used in this chapter, as well as the surface meteorological database. The author is grateful to Christina Hsu, NASA/GSFC, for useful suggestions related to the satellite-based analysis of fog characterization.
Copyright information

© 2014 Springer Science+Business Media Dordrecht
About this chapter
Cite this chapter
Gautam, R. (2014). Challenges in Early Warning of the Persistent and Widespread Winter Fog over the Indo-Gangetic Plains: A Satellite Perspective. In: Singh, A., Zommers, Z. (eds) Reducing Disaster: Early Warning Systems For Climate Change. Springer, Dordrecht. https://doi.org/10.1007/978-94-017-8598-3_3
DOI: https://doi.org/10.1007/978-94-017-8598-3_3

Published:

Publisher Name: Springer, Dordrecht

Print ISBN: 978-94-017-8597-6

Online ISBN: 978-94-017-8598-3

eBook Packages: EnergyEnergy (R0)