Abstract

The ecosystem services concept has been proposed as a response to threats to biodiversity. It is based on a utilitarian view of nature, complementing other conservation strategies—ecosystem services are seen as a way of mitigating climate change and as an adaptive strategy for societies. However, the question remains as to how ecosystems will continue to provide those services in a time of rapid climate change. Most biological communities are disappearing due to climate change combined with other anthropogenic pressures, affecting the functionality of ecosystems that are close to collapse. Rather than maintaining existing ecosystems intact, the focus should be on recognizing their dynamic nature and protecting the functions and services they provide.
Keywords
Ecosystem Service

Biodiversity Conservation

Ecological Function

Millennium Ecosystem Assessment

Provision Ecosystem Service
These keywords were added by machine and not by the authors. This process is experimental and the keywords may be updated as the learning algorithm improves.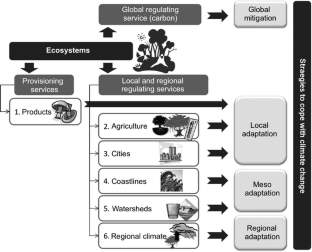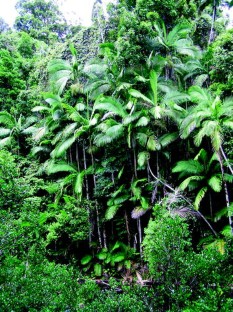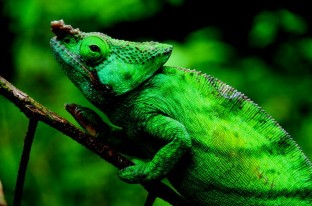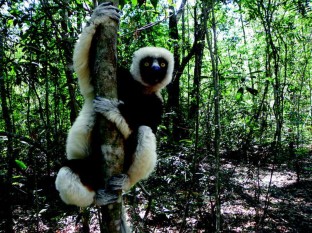 References
Adams WM (2014) The value of valuing nature. Science 346:549–551

Brouwer R, Akter S, Brander L, Haque E (2007) Socioeconomic vulnerability and adaptation to environmental risk: a case study of climate change and flooding in Bangladesh. Risk Anal 27:313–326

Cardinale BJ, Duffy JE, Gonzalez A, Hooper DU, Perrings C, Venail P, Narwani A, Mace GM, Tilman D, Wardle DA, Kinzig AP, Daily GC, Loreau M, Grace JB, Larigauderie A, Srivastava D, Naeem S (2012) Biodiversity loss and its impact on humanity. Nature 486:59–67

Costanza R, d'Arge R, de Groot R, Farberk S, Grasso M, Hannon B, Limburg K, Naeem S, O' Neill RV, Paruelo J, Raskin RG, Sutton P, van den Belt M (1997) The value of the world's ecosystem services and natural capital. Nature 387:253–260

Cury PM, Shin YJ, Planque B, Durant JM, Fromentin JM, Kramer-Schadt S, Stenseth NC, Travers M, Grimm V (2008) Ecosystem oceanography for global change in fisheries. Trends Ecol Evol 23:338–346

Gallai N, Salles JM, Settele J, Vaissière BE (2009) Economic valuation of the vulnerability of world agriculture confronted with pollinator decline. Ecol Econ 68:810–821

Goldman RL, Tallis H (2009) A critical analysis of ecosystem services as a tool in conservation projects: the possible perils, the promises, and the partnerships. Ann NY Acad Sci 1162:63–78

Harley CDG, Randall Hughes A, Hultgren KM, Miner BG, Sorte CJB, Thornber CS, Rodriguez LF, Tomanek L, Williams SL (2006) The impacts of climate change in coastal marine systems. Ecol Lett 9:228–241

Locatelli B, Kanninen M, Brockhaus M, Colfer CJP, Murdiyarso D, Santoso H (2008) Facing an uncertain future: how forests and people can adapt to climate change. For Perspect 5, 97 p

Malcolm J, Liu C, Neilson R, Hansen L, Hannah L (2006) Global warming and extinctions of endemic species from biodiversity hotspots. Conserv Biol 20:538–548

Maris V (2014) Nature à vendre. Les limites des services écosystémiques. Versailles, Éditions Quæ 96 p

McCauley DJ (2006) Selling out on nature. Nature 443:27–28

Millennium Ecosystem Assessment (MEA) (2005) Ecosystems and human well-being: synthesis report. Island Press, Washington 100 p

Morand S, Binot A (2014) Quels services rendus par les écosystèmes ? In: Morand S, Moutou F, Richomme C (eds) Faune sauvage, biodiversité et santé, quels défis ? Versailles, Éditions Quæ, pp 147–155

Naidoo R, Balmford A (2008) Global mapping of ecosystem services and conservation priorities. Proc Natl Acad Sci 105:9495–9500

Nelson EJ, Kareiva P, Ruckelshaus M, Arkema K, Geller G, Girvetz E, Goodrich D, Matzek V, Pinsky M, Reid W, Saunders M, Semmens D, Tallis H (2013) Climate change's impact on key ecosystem services and the human well-being they support in the US. Front Ecol Environ 11:483–893

Pramova E, Locatelli B, Djoudi H, Somorin O (2012) Forests and trees for social adaptation to climate variability and change. WIREs Clim Change 3:581–596

Schröter M, Zanden EH, Oudenhoven APE, Remme RP, Serna-Chavez HM, Groot RS, Opdam P (2014) Ecosystem services as a contested concept: a synthesis of critique and counter-arguments. Ecol Lett 7:514–523

Stern N (2007) The economics of climate change: the stern review. Cambridge University Press, Cambridge

The Economics of Ecosystems and Biodiversity (TEEB) (2009) The economics of ecosystems and biodiversity for national and international policy makers. Summary: Responding to the Value of Nature, Wesseling, Germany, 47 p

Valle D, Clark J (2013) Conservation efforts may increase malaria burden in the Brazilian Amazon. PLoS ONE 8(e57519):10

Worm B, Barbier EB, Beaumont N, Duffy JE, Folke C, Halpern BS, Jackson JBC, Lotze HK, Micheli F, Palumbi SR, Sala E, Selkoe KA, Stachowicz JJ, Watson R (2006) Impacts of biodiversity loss on ocean ecosystem services. Science 314:787–790

Zhang DD, Lee HF, Wang C, Li B, Pei Q, Zhang J, An Y (2011) The causality analysis of climate change and large-scale human crisis. Proc Natl Acad Sci 108:17296–17301
About this chapter
Cite this chapter
Pedrono, M., Locatelli, B., Ezzine-de-Blas, D., Pesche, D., Morand, S., Binot, A. (2016). Impact of Climate Change on Ecosystem Services. In: Torquebiau, E. (eds) Climate Change and Agriculture Worldwide. Springer, Dordrecht. https://doi.org/10.1007/978-94-017-7462-8_19