Abstract
Renal function fails abruptly in a bewildering variety of clinical situations which lack any common clinical pattern. This makes it impossible to define acute renal failure in the same way as heart failure or liver failure. Even oliguria, the commonest sign, is not invariably present. As a result, the detection of acute renal failure (ARF) depends on biochemical tests, which are fortunately simple to perform and are commonly available.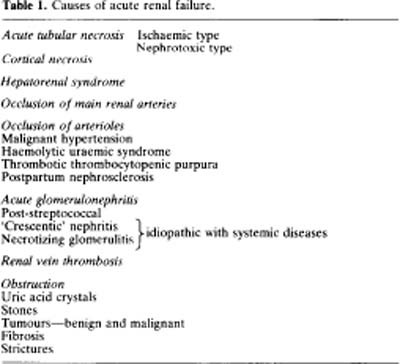 Keywords
Acute Renal Failure 
Thrombotic Thrombocytopenic Purpura 
Acute Tubular Necrosis 
Haemolytic Uraemic Syndrome 
Hepatorenal Syndrome 
These keywords were added by machine and not by the authors. This process is experimental and the keywords may be updated as the learning algorithm improves.