Abstract
Immunotoxins consist of a monoclonal antibody (MoAb) or other targeting agent conjugated to a toxin which has the capability of causing cell death. Although many substances, including chemotherapeutic agents and radionuclides, are toxic to cells, the term 'immunotoxin' has generally been reserved for conjugates in which the toxic moiety is a ribosomal inhibiting protein. These substances act enzymatically to inhibit protein synthesis. Ribosomal inhibiting proteins occur naturally in a variety of bacteria, plants and animals. Many of them are lectins which bind to sugars and agglutinate cells [37, 106]. Examples of ribosomal inhibiting proteins are illustrated in Table 1.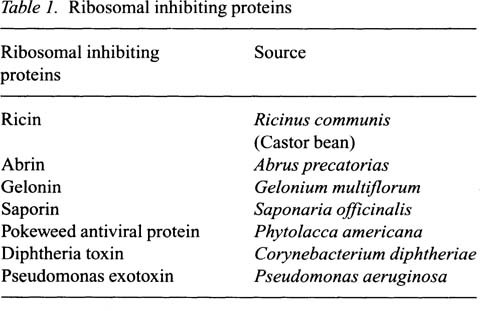 Keywords
Maximum Tolerate Dose 
Graft Versus Host Disease 
Diphtheria Toxin 
Autologous Bone Marrow Transplantation 
Capillary Leak Syndrome 
These keywords were added by machine and not by the authors. This process is experimental and the keywords may be updated as the learning algorithm improves.
Copyright information
© Springer-Verlag Berlin Heidelberg 1998