Abstract
This chapter analyzes the distribution of geocoded social media data (also referred to as a cyberscape) that references "beer" and related terms. Drawing upon an ongoing research project that archives every geocoded tweet in the world, this chapter explores differences in the frequency and geographic distribution of the everyday commentary made by Twitter users about beer. While the sheer volume of activity, close to a million geocoded beer tweets in 2012, is notable in its own right, it is only when comparisons between subsets of the data are made that the most intriguing spatial patterns emerge. In order to showcase these patterns of differences within online social media, this chapter compares beer tweets to twitter commentary on other topics, i.e., contrasting the geography of wine and beer tweets as well as examining differences within the online conversations about beer, i.e., how do references to light beers or regional "cheap" beers vary over space. These geographical differences (e.g., where are the hot spots for "beer" vs. "wine" or "Bud Light" versus "Coors Light") illuminates how the commentary and views expressed online, reflect offline practices and preferences. In short, the visualization of "beer space" produced by mapping tweets represents the complex intertwining of offline preferences for specific brews which are expressed via an online practice of presenting ones views.
Keywords
Social Medium

Point Pattern

Volunteer Geographic Information

Social Media Data

Geographic Position System
These keywords were added by machine and not by the authors. This process is experimental and the keywords may be updated as the learning algorithm improves.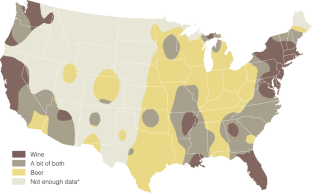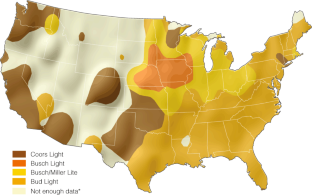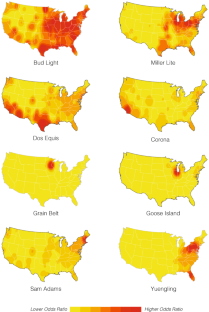 Notes
1.

The Boolean search "AND beer" was included in order to ensure that the gathered tweets were specifically referencing beer. A visual examination of tweets without the Boolean parameter showed that some keywords, e.g., Lonestar, Olympia and Hudepohl, were finding a high level of non-beer tweets relative to other beer brand keywords.
References
Ball GH, Hall DJ (1965) Isodata: a method of data analysis andpattern classification. Office of Naval Research. Information Sciences Branch.Stanford Research Institute, Menlo Park

Crutcher M, Zook M (2009) Placemarks and waterlines: racializedcyberscapes in post-Katrina Google Earth. Geoforum40(4):523–534

DBJ Staff (2013) Top 20 selling beers of 2012. January 11. Dayton Business Journal. http://www.bizjournals.com/dayton/news/2013/01/11/top-20-selling-beers-of-2012.html. Accessed August 28, 2013

Diggle PJ (1985) A kernel method for smoothing point process data.Appl Stat (Journal of the Royal Statistical Society, Series C)34:138–147

Diggle PJ (2003) Statistical analysis of spatial point patterns,2nd edn. Arnold

FloatingSheep Blog (2010) The beer belly of America. February 1. http://www.floatingsheep.org/2010/02/beer-belly-of-america.html. Accessed August 28, 2013

FloatingSheep Blog (2012) Church or beer? Americans on Twitter.July 4. http://www.floatingsheep.org/2012/07/church-or-beer-americans-on-twitter.html. Accessed August 28, 2013

Gibson W (1984) Neuromancer. Ace

Goodchild M (2007) Citizens as sensors: the world of volunteeredgeography. Geo J 69(4):211–221

Graham M, Zook M (2013) Augmented realities and uneven geographies:exploring the geolinguistic contours of the web. Environ Plann A45(1):77—99

Graham M, Zook M, Boulton A (2013) Augmented reality in urbanplaces: contested content and the duplicity of code. T I Brit Geogr38(3):464–479

Graham M (2010) Neogeography and the palimpsests of place: web 2.0and the construction of a virtual earth. Tijdschr Econ Soc Ge101:422–36

Graham S, Marvin S (1996) Telecommunications and the city:electronic spaces. Urban places. Routledge

Haklay M (2013) Neogeography and the delusion of democratisation.Environ Plann A 45(1):55–69

Kitchin R, Dodge M (2011) Code/space: software and everyday life.The MIT Press, Cambridge, MA

Lamy J (2012) Where are America's leading wine markets? http://enobytes.com/2012/12/13/leading-wine-markets/. Accessed August 28, 2013

O'Donnell B (2013) Wine challenging beer as America'sdrink of choice. The Wine Spectator. August 5. http://www.winespectator.com/webfeature/show/id/48770. Accessed August 28, 2013

Pickles J (1995) Ground truth. The Guilford Press, NewYork.

Salon Staff (2011) The United States of cheap beer. Salon. August11. http://www.salon.com/2008/08/11/cheap_beer/. Accessed August 28, 2013

Shelton T, Zook M, Graham M (2012) The technology of religion:mapping religious cyberscapes. Prof Geogr 64(4):602–617

Thrift N, French S (2002) The automatic production of space. T IBrit Geogr 27(3):309–335

Zook M, Graham M (2007) The creative reconstruction of theInternet: google and the privatization of cyberspace and DigiPlace. Geoforum38(6):1322–1343
Copyright information
© 2014 Springer Science+Business Media Dordrecht
About this chapter
Cite this chapter
Zook, M., Poorthuis, A. (2014). Offline Brews and Online Views: Exploring the Geography of Beer Tweets. In: Patterson, M., Hoalst-Pullen, N. (eds) The Geography of Beer. Springer, Dordrecht. https://doi.org/10.1007/978-94-007-7787-3_17
DOI: https://doi.org/10.1007/978-94-007-7787-3_17

Published:

Publisher Name: Springer, Dordrecht

Print ISBN: 978-94-007-7786-6

Online ISBN: 978-94-007-7787-3