Abstract

In this chapter, school climate variables are employed in order to explore school principals' influence on student achievement through the Pashiardis-Brauckmann Holistic Leadership Framework. The aim is to identify the mechanisms through which leadership influences student learning. For the purposes of the LISA project, a number of school climate variables were used as mediating variables between the principal's leadership styles and student achievement. All analyses pointed towards a model comprising seven such mediating factors. The seven school climate factors were labeled as follows: Professional Development Opportunities, Evaluation and Feedback, Teacher Commitment, Parental Involvement, Teaching and Learning Practices, Student-Teacher Interactions, and Student Expectations. Then, an analysis was performed that examined the degree to which school leadership styles reliably predicted school climate variables. The findings suggest that the Instructional, the Structuring, and the Entrepreneurial leadership styles are utilized by school principals in order to enhance student achievement.
Keywords
School Climate

Leadership Style

School Leader

Learn Practice

Professional Development Opportunity
These keywords were added by machine and not by the authors. This process is experimental and the keywords may be updated as the learning algorithm improves.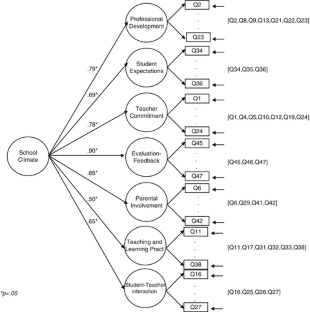 Notes
1.

It should be noted that the responsibility for the school systems and schools in Germany rests within the different Länder (provinces). For more information, the reader is directed to Döbert (2007).

2.

Again, the reader should be cautioned that each participating country was represented by four schools each which do not allow us to talk about Europe at large; however, we might be leading towards a European perspective of certain leadership styles since these communalities are described as trends across seven different school systems.
References
Barnett, K., & McCormick, J. (2004). Leadership and individual principal-teacher relationships in schools. Educational Administration Quarterly, 40(3), 406–434.

Dinham, S. (2005). Principal leadership for outstanding educational outcomes. Journal of Educational Administration, 43(4), 338–356.

Döbert, H. (2007). Germany. In H. Döbert, W. Hörner, B. Kop, & W. Mitter (Eds.), Educational systems in Europe (pp. 299–325). Dordrecht, The Netherlands: Springer.

Hallinger, P. (2005). Instructional leadership and the school principal: A passing fancy that refuses to fade away. Leadership and Policy in Schools, 4, 221–239.

Harris, A., & Chapman, C. (2002). Effective leadership in schools facing challenging circumstances. London: NCSL.

Kruger, M. L., Witziers, B., & Sleegers, P. (2007). The impact of school leadership on school level factors: Validation of a causal model. School Effectiveness and School Improvement, 18(1), 1–20.

Leithwood, K., & Jantzi, D. (2006). Transformational school leadership for large-scale reform: Effects on students, teachers, and their classroom practices. School Effectiveness and School Improvement, 17(2), 201–227.

Leithwood, K., & Mascall, B. (2008). Collective leadership effects on student achievement. Educational Administration Quarterly, 44(4), 529–561.

Nettles, S. M., & Herrington, C. (2007). Revisiting the importance of the direct effects of school leadership on student achievement: The implications for school improvement policy. Peabody Journal of Education, 82(4), 724–736.

Pashiardis, P. (1998). Researching the characteristics of effective primary school principals in Cyprus. A qualitative approach. Educational Management & Administration, 26(2), 117–130.

Pashiardis, P., & Brauckmann, S. (2008, November 13–15). Introduction to the LISA framework from a social system's perspective. Paper presented during the LISA conference, Budapest, Hungary.

Waters, T., Marzano, R. J., & McNulty, B. (2003). Balanced leadership: What 30 years of research tells us about the effect of leadership on student achievement. Denver, CO: Mid-continent Research for Education and Learning.
Copyright information

© 2014 Springer Science+Business Media Dordrecht
About this chapter
Cite this chapter
Pashiardis, P., Brauckmann, S. (2014). Leadership Styles and School Climate Variables of the Pashiardis-Brauckmann Holistic Leadership Framework: An Intimate Relationship?. In: Pashiardis, P. (eds) Modeling School Leadership across Europe. Springer, Dordrecht. https://doi.org/10.1007/978-94-007-7290-8_5