Abstract

Blooms and strandings of Chrysaora plocamia are reported to occur along both Atlantic and Pacific South American coasts. First described in Peruvian waters by Lesson (1830) almost two centuries ago as Cyanea plocamia, there is surprisingly little ecological information about this conspicuous animal. This chapter reviews current knowledge about C. plocamia biology and ecology, its relationship with pelagic fisheries and climate and the problems blooms cause in the Humboldt Current and Patagonian shelf ecosystems. Chrysaora plocamia has important ecological roles, including trophic and symbiotic interactions with fish and sea turtles. Population variability has a clear relationship with climate where phases of high C. plocamia biomass were associated with El Niño events occurring during warm "El Viejo" regimes. Interestingly, their estimated biomass occasionally approached those of sardines or anchovies. This large jellyfish negatively affects human industries in the region when abundant, including fisheries, aquaculture, desalination plants and tourism. Understanding relationships between jellyfish blooms and environmental drivers (e.g. ENSO, regime shifts) should allow forecasting of the jellyfish abundance and potential vulnerabilities such that resource managers and industrial fisheries owners may prepare for costly outbreaks.
Keywords
Jellyfish blooms

Chrysaora plocamia

Humboldt Current

Patagonia shelf

ENSO

Climate variability

Biological productivity

Commensalism

Feeding ecology

Socio-economic impacts

Fisheries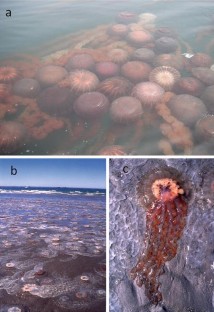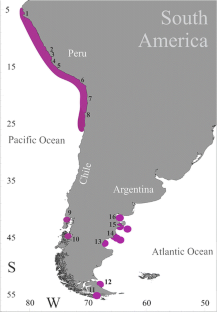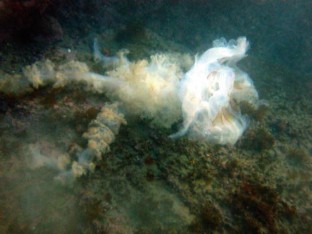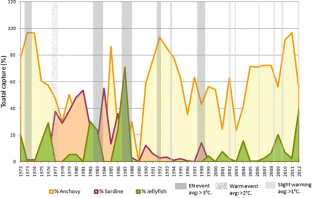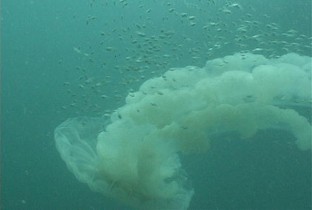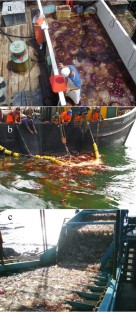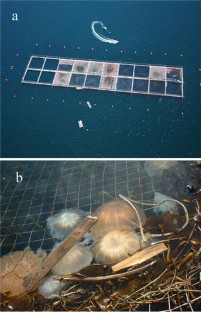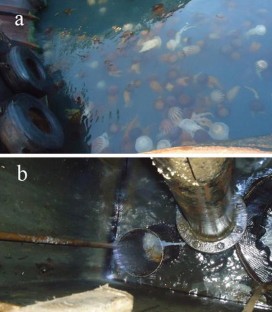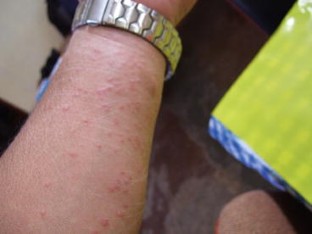 References
Acha EM, Mianzan HW, Guerrero RA, Favero M, Bava J (2004) Marine fronts at the continental shelves of austral South America. Physical and ecological processes. J Mar Syst 44:83–105

Alfaro-Shigueto J, Mangel JC, Pajuelo M, Dutton PH, Seminoff JA, Godley BJ (2010) Where small can have a large impact: structure and characterization of small-scale fisheries in Peru. Fish Res 106:8–17

Alvial A, Fuenzalida R, Herrera G, Prado L, Soto D, Zapata B (1984) Presencia del fenómeno "El Niño" en la zona costera de Iquique, con especial referencia al período 1982–1983. Ambiente y Desarrollo 1:133–136

Arai MN (1988) Interactions of fish and pelagic coelenterates. Can J Zool 66:1913–1927

Arai MN (1997) A functional biology of Scyphozoa. Chapman & Hall, London

Arntz WE, Valdivia J (1985) Visión integral del problema "El Niño": Introducción. In: Arntz W, Landa A, Tarazona J (eds) "El Niño" su impacto en la fauna marina. BolInst Mar Perú. Vol. Extraordinario: 5–10

Bakun A (1996) Patterns in the ocean. Ocean processes and marine population dynamics. California Sea Grant, National Oceanic and Atmospheric Administration and Centro de Investigaciones Biológicas del Noroeste, La Paz, BCS México, 323 pp

Baxter EJ, Sturt MM, Ruane NM, Doyle TK, McAllen R, Harman L, Rodger HD (2011) Gill damage to Atlantic Salmon (Salmo salar) caused by the common jellyfish (Aurelia aurita) under experimental challenge. PLoS One 6:1–6

Bravo V, Palma S, Silva N (2011) Seasonal and vertical distribution of medusae in Aysén region, southern Chile. Lat Am J Aquat Res 39:359–377

Brodeur RD, Decker MB, Ciannelli L, Purcell JE, Bond NA, Stabeno PJ, Acuna E, Hunt GL Jr (2008) Rise and fall of jellyfish in the eastern Bering Sea in relation to climate regime shifts. Prog Oceanogr 77:103–111

Chavez FP, Ryan J, Lluch-Cota SE, Ñiquen MC (2003) From anchovies to sardines and back: multidecadal change in the Pacific Ocean. Science 299:217–221

Chavez FP, Bertrand A, Guevara-Carrasco R, Soler P, Csirke J (2008) The northern Humboldt Current System: brief history, present status and a view towards the future. Prog Oceanogr 792–794:95–105

Dong Z, Liu D, Keesing JK (2010) Jellyfish blooms in China: dominant species, causes and consequences. Mar Pollut Bull 60:954–963

Doyle TK, De Haas H, Cotton D, Dorschel B, Cummins V, Houghton JDR, Davenport J, Hays GC (2008) Widespread occurrence of the jellyfish Pelagia noctiluca in Irish coastal and shelf waters. J Plankton Res 30:963–968

Elliot W, Gonzáles R, Becerra W, Ramírez A (1999) Biología y pesquería del pampanito pintado Stromateus stellatus Cuvier en la zona de Huacho (Perú) durante enero a setiembre 1999. InformeProgresivo, Institutodel Mar del Perú (Ene 2000) no 112, 23 pp

Flynn BA, Richardson AJ, Brierley AS, Boyer DC, Axelsen BE, Scott L, Moroff NE, Kainge PI, Tjizoo BM, Gibbons MJ (2012) Temporal and spatial patterns in the abundance of jellyfish in the northern Benguela upwelling ecosystem and their link to thwarted pelagic fishery recovery. Afr J Mar Sci 34:131–146

Fréon P, Bouchon M, Mullon C, García C, Ñiquen C (2008) Interdecadal variability of anchoveta abundance and overcapacity of the fishery in Peru. Prog Oceanogr 79:401–412

Gasca R, Haddock SHD (2004) Associations between gelatinous zooplankton and hyperiid amphipods (Crustacea: Peracarida) in the Gulf of California. Hydrobiologia 530/531:529–535

Goya E, Quiñones J, de Paz N (2011) Informe Nacional sobre la Situación de las Tortugas Marinas en el Perú. Comisión Permanente del Pacifico Sur (CPPS), Lima, 72 pp

Graham WM, Martin DL, Felder DL, Asper VL (2003) Ecological and economical implications of a tropical jellyfish invader in the Gulf of Mexico. Biol Invasions 5:53–69

Hays GC, Farquhar MR, Luschi P, Teo SLH, Thys TM (2009) Vertical niche overlap by two ocean giants with similar diets: ocean sunfish and leatherback turtles. J Exp Mar Biol Ecol 370:134–143

Heileman S (2009) Patagonian Shelf LME. In: Sherman K, Hempel G (eds) The UNEP Large marine ecosystem report: a perspective on changing conditions in LMEs of the world's regional seas. UNEP Regional Seas Report and Studies Nº 182, United Nations Environment Programme, Nairobi, pp 735–746

Heileman S, Guevara R, Chávez F, Bertrand A, Soldi H (2009) XVII-56 Humboldt Current LME. In: Sherman K, Hempel G (eds) The UNEP large marine ecosystems report: a perspective on changing conditions in LMEs of the world's regional seas. UNEP Regional Seas Report and Studies Nº 182, United Nations Environment Programme, Nairobi, 14 pp

Kawahara M, Uye S, Ohtsu K, Iizumi H (2006) Unusual population explosion of the giant jellyfish Nemopilema nomurai (Scyphozoa: Rhizostomeae) in East Asian waters. Mar Ecol Prog Ser 307:161–173

Laval P (1980) Hyperiid amphipods as crustacean parasitoids associated with gelatinous zooplankton. Oceanogr Mar Biol Ann Rev 18:11–56

Lesson RP (1830) Voyage autour du monde, exècutè par ordre du roi sur la corvette La Coquille, pendant les annes 1822–1825. Zoologie 2(2):135

Lynam CP, Gibbons MJ, Axelsen BE, Sparks CAJ, Coetzee J, Heywood BG, Brierley AS (2006) Jellyfish overtake fish in a heavily fished ecosystem. Curr Biol 16:492–493

Mianzan HW (1986) Estudio sistemático y bioecológico de algunas medusas Scyphozoa de la región Subantártica. Ph.D. thesis, Universidad Nacional de La Plata, La Plata

Mianzan HW (1989) Sistemática y zoogeografía de scyphomedusae en aguas neríticas argentinas. Invest Mar CICIMAR 4:15–34

Mianzan HW, Cornelius PFS (1999) Cubomedusae and Scyphomedusae. In: Boltovskoy D (ed) South Atlantic zooplankton, vol 1. Blackuys Publishers, Leyden, pp 513–559

Mianzan HW, Marí N, Prenski B, Sanchez F (1996) Fish predation on neritic ctenophores from the Argentine continental shelf: a neglected food resource? Fish Res 27:69–79

Mianzan HW, Ramirez F, Costello J, Chiaverano L (2005) Un Mar de gelatina? Ciencia Hoy 15(86):48–55

Miloslavich P, Klein E, Díaz JM, Hernández CE, Bigatti G, Campos L, Artigas F, Castillo J, Penchaszadeh PE, Neill PE, Carranza A, Retana MV, Díaz de Astarloa JM, Lewis M, Yorio P, Piriz ML, Rodríguez D, Yoneshigue-Valentin Y, Gamboa L, Martín A (2011) Marine biodiversity in the Atlantic and Pacific Coasts of South America: knowledge and gaps. PLoS One 6:e14631

Möller H (1984) Effects of jellyfish predation on fishes. Workshop on jellyfish blooms in the Mediterranean. UNEP, Athens, pp 45–59

Morandini AC, Marques AC (2010) Revision of the genus Chrysaora Péron & Lesueur, 1810 (Cnidaria: Scyphozoa). Zootaxa 2464:1–97

Nagata RM, Haddad MA, Nogueira MJ (2009) The nuisance of medusae (Cnidaria, Medusozoa) to shrimp trawls in central part of southern Brazilian Bight, from the perspective of artisanal fishermen. Pan Am J Aquat Sci 4:312–325

Oliva ME, Maffet A, Laudien J (2010) Association between Chrysaora plocamia (Cnidaria, Scyphozoa) and Hyperia curticephala (Peracarida: Amphipoda) in Mejillones Bay, Northern Chile. Rev Biol Mar Oceanogr 45:127–130

Palma S, Apablaza P, Silva N (2007) Hydromedusae (Cnidaria) of the Chilean southern channels (from Corcovado Gulf to Pulluche-Chacabuco Channels). Sci Mar 71(1):65–74

Palma S, Silva N, Retamal MC, Castro L (2011) Seasonal and vertical distributional patterns of siphonophores and medusae in the Chiloé inland sea, Chile. Cont Shelf Res 31:260–271

Purcell JE (2012) Jellyfish and ctenophore blooms coincide with human proliferations and environmental perturbations. Ann Rev Mar Sci 4:209–235

Purcell JE, Arai MN (2001) Interactions of pelagic cnidarians and ctenophores with fish: a review. Hydrobiologia 451:27–44

Purcell JE, Uye SI, Lo WT (2007) Anthropogenic causes of jellyfish blooms and direct consequences for humans: a review. Mar Ecol Prog Ser 350:153–174

Quiñones J (2010) Chrysaora plocamia Lesson, 1830 (Cnidaria, Scyphozoa), frente a Pisco, Perú. Informe Instit Mar Peru 35:221–230

Quiñones J, González Carman V, Zeballos J, Purca S, Mianzan HW (2010) Effects of El Niño-driven environmental variability on black turtle migration to Peruvian foraging grounds. Hydrobiologia 645:69–79

Quiñones J, Monroy A, Acha EM, Mianzan HW (2013) Jellyfish bycatch diminishes profit in an anchovy fishery off Peru. Fish Res 139:47–50

Riascos JM, Vergara M, Fajardo J, Villegas V, Pacheco AS (2012a) The role of hyperiid parasites as a trophic link between jellyfish and fishes. J Fish Biol 81(5):1686–1695

Riascos JM, Villegas V, Cáceres I, González JE, Pacheco AS (2012b) Patterns of a novel association between the scyphomedusa Chrysaora plocamia and the parasitic anemone Peachia chilensis. J Mar Biol Assoc UK 1(1):1–5

Robinson KL, Graham WM (2013) Long-term change in the abundances of northern Gulf of Mexico scyphomedusae Aurelia spp. and Chrysaora sp. in the northern Gulf of Mexico with links to climate variability. Limnol Oceanogr 58(1):235–253

Servicio Nacional de Pesca (SERNAPESCA) (2012) Anuarios estadísticos de pesca. http://www.sernapesca.cl/index.php?option=com_remository&Itemid=246&func=select&id=460. Reviewed: 30 July 2012

Soto MR (1985) Efectos del fenómeno El Niño 1982–83 en ecosistemas de la I Region. Invest Pesq (Chile) 32:199–206

Soto D, Jara F, Moreno C (2001) Escaped salmon in the inner seas, southern Chile: facing ecological and social conflicts. Ecol Appl 11:1750–1762

Suchman C, Brodeur RD, Daly EA, Emmett RL (2012) Large medusae in surface waters of the Northern California Current: variability in relation to environmental conditions. Hydrobiologia 690:113–125

Towanda T, Thuesen EV (2006) Ectosymbiotic behavior of Cancer gracilis and its trophic relationships with its host Phacellophora camtschatica and the parasitoid Hyperia medusarum. Mar Ecol Prog Ser 315:221–236

Uye S (2008) Blooms of the giant jellyfish Nemopilema nomurai: a threat to the fisheries sustainability of the East Asian Marginal Seas. Plank Benth Res 3:125–131

Uye S, Ueta U (2004) Recent increase of jellyfish populations and their nuisance to fisheries in the Inland Sea of Japan. Bull Jap Soc Fish Oceanogr 68:9–19

Vanhöffen E (1888) Untersuchungenübersemiostome und rhizostomemedusen. Bibliotheca Zoolog, Stuttgart, Bd. 1, heft 3, 52 pp. 6 pls

Vannucci M, Tundisi J (1962) Las medusas existentes en los museos de La Plata y Buenos Aires. Comunicaciones del Museo Argentino de Ciencias Naturales "Bernardino Rivadavia", Ciencias Zoológicas 3(8):203–215

Vega MA, Ogalde JP (2008) First results on qualitative characteristics and biological activity of nematocyst extracts from Chrysaora plocamia (Cnidaria, Scyphozoa). Lat Am J Aquat Res 36:83–86

Vera C, Kolbach M, Zegpi MS, Vera F, Lonza JP (2004) Picaduras de medusas: actualización. Rev Med Chil 132:223–241

Vera C, Kolbach M, Lonza JP, Zegpi MS, Vera F (2005) Medusas en Chile: a Propósito de un Caso. Rev Chilena Dermatol 21:96–101

Verner B (1984) Jellyfish flotation by means of bubble barriers to prevent blockage of cooling water supply and a proposal for a semi-mechanical barrier to protect bathing beaches from jellyfish. Workshop on jellyfish blooms in the Mediterranean. UNEP, Athens, pp 205–210

Williamson JAH, Fenner PJ, Burnett JW, Rifkin JF (1996) Venomous and poisonous marine animals: a medical and biological handbook. University of New South Wales Press, Brisbane
Acknowledgements

 We deeply thank Mike Dawson and Liza Gomez Daglio (University of California at Merced, USA), Stefan Gelcich (PUC, Chile), Andre Morandini (USP, Brazil), Ricardo "Bebote" Vera (CENPAT-CONICET, Argentina) and Sara Purca (IMARPE), for literature suggestions and for constructive comments on particular sections of this chapter. Photographic material was provided by Mario Rosina, Yuri Hooker (Peru), José Luis Esteves (CENPAT-CONICET, Argentina), José Adrián Acosta Fabio (Argentina), John (Jack) Costello (Providence College, USA). We also thank as well the Peruvian Research Institute (IMARPE) for providing valuable information on jellyfish by-catch. This chapter was supported by CONICET PIP 0152 and by a grant from the Inter American Institute for Global Change Research (IAI) CRN 3070 sponsored by the US National Science Foundation (Grant GEO-1128040) to H.M. and E.M.A. This chapter is INIDEP contribution Nº 1793.
Copyright information

© 2014 Springer Science+Business Media Dordrecht
About this chapter
Cite this chapter
Mianzan, H. et al. (2014). Chrysaora plocamia: A Poorly Understood Jellyfish from South American Waters. In: Pitt, K., Lucas, C. (eds) Jellyfish Blooms. Springer, Dordrecht. https://doi.org/10.1007/978-94-007-7015-7_10