Abstract
In this paper, a single-feed wideband circularly polarized antenna has been proposed for UHF RFID reader. This antenna is designed to cover the frequency range from 860 to 960 MHz. In this antenna, the main patch is a modified form of the conventional E-shaped patch to obtain a circular polarization. A parasite patch is placed at the same layer of main patch to enhance axial ratio bandwidth. A short-circuited cylinder is also added in main patch to broaden the impedance bandwidth. The 3 dB axial ratio bandwidth is over 11 %, from 850 to 960 MHz. The impedance bandwidth is of 17 % (850–1000 MHz). Thus, The impedance bandwidth and 3 dB axial ratio bandwidth totally covers the universal UHF RFID band (860–960 MHz). The simulated and measured results indicate that the proposed antenna will be a good candidate for UHF RFID reader system.
Keywords
Wideband

UHF

RFID

Circularly polarized antenna

LHCP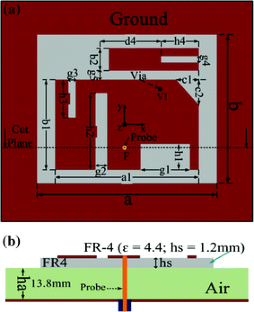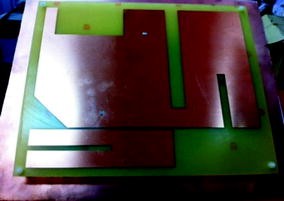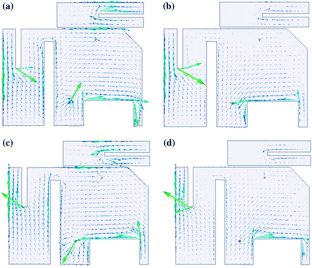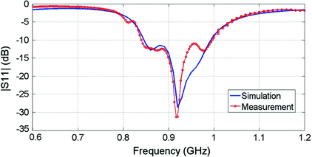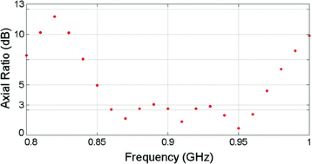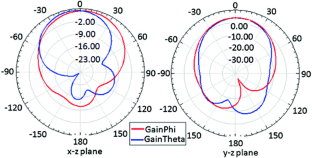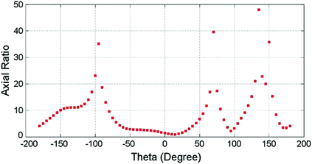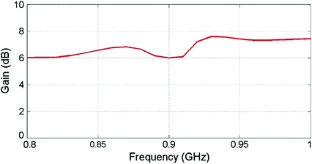 References
Chen W-S, Wu CK, Wong K-L (1998) Single feed square-ring microstrip antenna with truncated corner for compact circular polarization operation. Electron Lett 34:1045–1047

Targonski SD, Pozar DM (1993) Design of wideband circularly polarized aperture-coupled microstrip antenna. IEEE Trans Antennas Propag 41:214–220

Chen ZN, Qing X, Chung HL (2009) A universal UHF RFID reader antenna. IEEE Trans Microw Theory Tech 57(5):1275–1282

Lau P-Y, Yung KK-O, Yung EK-N (2010) A low-cost printed CP patch antenna for RFID smart bookshelf in library. IEEE Trans Industr Electron 57(5):1583–1589

Wang P, Wen G, Li J, Huang Y, Yang L, Zhang Q (2012) Wideband circularly polarized UHF RFID reader antenna with high gain and wide axial ration beam widths. Prog Electromagn Res 129:365–385

Kwa HW, Qing X, Chen ZN (2008) Broadband single-fed single-patch circularly polarized antenna for UHF RFID applications. In: IEEE AP-S International Symposium on Antennas and Propagation, San Diego, pp 1–4

Yang F, Zhang XX, Ye X, Ramat-Samii Y (2001) Wide band E-shaped patch antenna for wireless communications. IEEE Trans Antennas Propag 49(7):1094–1100
Acknowledgments
The authors would like to thank Advantech Jsc Company for their support of Ansoft Designer HFSS used as simulation tool to obtain these results in this paper.
Copyright information
© 2013 Springer Science+Business Media Dordrecht(Outside the USA)
About this paper
Cite this paper
HuuTo, P., Nguyen, B.D., Tran, VS., Van, T., Pham, K.T. (2013). Single-Feed Wideband Circularly Polarized Antenna for UHF RFID Reader. In: Park, J., Ng, JY., Jeong, HY., Waluyo, B. (eds) Multimedia and Ubiquitous Engineering. Lecture Notes in Electrical Engineering, vol 240. Springer, Dordrecht. https://doi.org/10.1007/978-94-007-6738-6_106
DOI: https://doi.org/10.1007/978-94-007-6738-6_106

Published:

Publisher Name: Springer, Dordrecht

Print ISBN: 978-94-007-6737-9

Online ISBN: 978-94-007-6738-6

eBook Packages: EngineeringEngineering (R0)