Abstract

At its heart, climate denial is the rejection of the scientific consensus that humans are disrupting the climate. Denial of a consensus can be identified by five telltale characteristics: fake experts, cherry picking, logical fallacies, impossible expectations and conspiracy theories. These techniques are observed in the tactics and strategies of the climate denial movement, disseminated by ideological think-tanks, some conservative governments and vested interests through a range of media streams. The key to responding to climate misinformation is to provide alternative narratives that are more compelling than the myths they replace.
Keywords
Climate denial

Denier

Consensus

Peer-review

Uncertainty

Fake experts

Cherry picking

Logical fallacies

Impossible expectations

Conspiracy theories "Climategate"

Intergovernmental Panel on Climate Change, IPCC

Conservative ideology

Media balance-as-bias

Conservative think tanks

Government

Corporate vested interests

Internet

Misinformation

Refutation

Backfire effect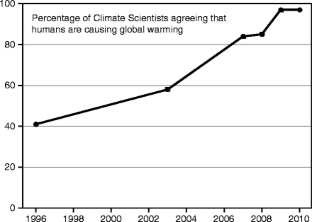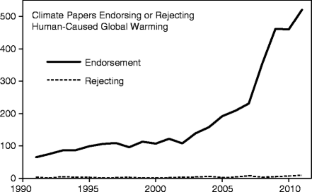 Additional Readings
Anderegg, W. R. L., Prall, J. W., Harold, J., & Schneider, S. H. (2010). Expert credibility in climate change. Proceedings of the National Academy of Science, 107, 12107–12109.

Avery, D. (2007). 500 scientists whose research contradicts man-made global warming scares, Heartland Institute website. Captured on 1 June 2012 from http://heartland.org/sites/all/modules/custom/heartland_migration/files/pdfs/21977.pdf

Bedford, D. (2010). Agnotology as a teaching tool: Learning climate science by studying misinformation. Journal of Geography, 109(4), 159–165.

Boykoff, M. T., & Boykoff, J. M. (2004). Balance as bias: Global warming and the US prestige press. Global Environmental Change, 14, 125–136.

Bray, D. (2010). The scientific consensus of climate change revisited. Environmental Science & Policy, 13(5), 340–350.

Cook, J., & Lewandowsky, S. (2011). The debunking handbook. St. Lucia: University of Queensland. Nov 5. ISBN 978-0-646-56812-6. http://sks.to/debunk

Correia, V. (2011). Biases and fallacies: The role of motivated irrationality in fallacious reasoning. Cogency, 3(1), 107–126.

Diethelm, P., & McKee, M. (2009). Denialism: What is it and how should scientists respond? European Journal of Public Health, 19, 2–4.

Ding, D., Maibach, E., Zhao, X., Roser-Renouf, C., & Leiserowitz, A. (2011). Support for climate policy and societal action are linked to perceptions about scientific agreement. Nature Climate Change, 1, 462–466.

Doran, P. T., & Zimmerman, M. K. (2009). Examining the scientific consensus on climate change. EOS, 90(3), 21–22.

Freudenburg, W. R., Gramling, R., & Davidson, D. J. (2008). Scientific certainty argumentation methods (SCAMs): Science and the politics of doubt. Sociological Inquiry, 78(2), 5.

Greenpeace (2011). Koch industries secretly funding the climate denial machine. Captured on 5 June from http://www.greenpeace.org/usa/Global/usa/report/2010/3/koch-industries-secretly-fund.pdf

Hamilton, L. (2009). Education, politics and opinions about climate change evidence for interaction effects. Springer Science+Business Media B.V. doi 10.1007/s10584-010-9957-8.

Hansen, J. (2009). Storms of my grandchildren. New York: Bloomsbury. p. 304.

Heath, Y., & Gifford, R. (2006). Free-market ideology and environmental degradation: The case of belief in global climate change. Environment and Behavior, 38, 48–71.

Hoggan, J. (2009). Climate cover-up. Vancouver: Greystone Books.

Hoofnagle, C., & Hoofnagle, M. (2007). What is denialism?. Captured on 16 Apr 2012 from http://scienceblogs.com/denialism/about.php

Inhofe, J. (2012). The Greatest Hoax: How the Global Warming Conspiracy Threatens Your Future(WND Books, Washington, DC).

Jacques, P. J., Dunlap, R. E., & Freeman, M. (2008). The organisation of denial: Conservative think tanks and environmental scepticism. Environmental Politics, 17, 349–385.

Jensen, C. (1998). How many climate researchers support the "Leipzig Declaration"?. Captured on 4 June from http://naturalscience.com/ns/letters/ns_let08.html

Johnson, T. J., Bichard, S. L., & Zhang, W. (2009). Communication communities or "cyberghettos?": A path analysis model examining factors that explain selective exposure to blogs. Journal of Computer-Mediated Communication, 15, 60–82.

Kahan, D., Braman, D., Gastil, J., Slovic, P., & Mertz, C. K. (2007). Culture and identity-protective cognition: Explaining the white-male e_ect in risk perceptions. Journal of Empirical Legal Studies, 4, 465–505.

Kahan, D., Jenkins-Smith, H., & Braman, D. (2011). Cultural cognition of scientific consensus. Journal of Risk Research, 14, 147–174.

Kurtz, P., et al. (2009). The credibility project. Captured on 1 June 2012 from http://www.centerforinquiry.net/opp/news/senate_minority_report_on_global_warming_not_credible/

Leiserowitz, A., Maibach, E., Roser-Renouf, C., & Smith, N. (2010). Climate change in the American Mind: Americans' global warming beliefs and attitudes in June 2010. Yale University and George Mason University. New Haven, CT: Yale Project on Climate Change Communication. Available at: http://environment.yale.edu/climate/files/ClimateBeliefsJune2010.pdf

Lewandowsky, S., Oberauer, K., & Gignac, C. E. (in press). NASA faked the moon landing-therefore (climate) science is a hoax: An anatomy of the motivated rejection of science. Psychological Science.

Lindzen, R. S., & Choi, Y. S. (2009). On the determination of climate feedbacks from ERBE data. Geophysical Research Letters, 36, L16705. doi:10.1029/2009GL039628.

Malka, A., et al. (2009). Featuring skeptics in news media stories about global warming reduces public beliefs in the seriousness of global warming. Palo Alto: Woods Institute for the Environment, Stanford University.

Mann, M. (2012). The hockey stick and the climate wars: Dispatches from the front lines. New York: Columbia University Press.

McCright, A. M., & Dunlap, R. E. (2010). Anti-reflexivity: The American conservative movement's success in undermining climate science and policy. Theory Culture & Society, 27, 100–133.

McCright, A. M., & Dunlap, R. E. (2011). Cool dudes: The denial of climate change among conservative white males in the United States. Global Environmental Change, 21, 1163–1172.

Morano, M. (2008). More than 650 international scientists dissent over man-made global warming claims. Captured on 1 June 2012 from http://epw.senate.gov/public/index.cfm?FuseAction=Minority.Blogs&ContentRecord_id=2158072e-802a-23ad-45f0-274616db87e6

Nisbet, M. C., & Myers, T. (2007). The polls – trends – twenty years of public opinion about global warming. Public Opinion Quarterly, 71, 444–470.

OISM (1999). Captured on 1 June 2012 from http://www.petitionproject.org/

Oreskes, N. (2004). Beyond the ivory tower. The scientific consensus on climate change. Science, 306:1686.

Oreskes, N., & Conway, E. M. (2010). Merchants of doubt. London: Bloomsbury.

Prasad, M., Perrin, A. J., Bezila, K., Hoffman, S. G., Kindleberger, K., Manturuk, K., et al. (2009). "There must be a reason": Osama, Saddam, and inferred justification. Sociological Inquiry, 79, 142–162.

Reisman, J. P. (2011). Exposing the climate hoax: It's all about the economy. Lyra Books (http://www.lyrabooks.com/about/).

Seitz, F. (1996). Major deception on global warming. Wall Street Journal, 12 June.

Talisse, R., & Aikin, S. (2006). Two forms of the straw man. Argumentation, 20(3), 345–352.
Copyright information

© 2013 Springer Science+Business Media Dordrecht
About this chapter
Cite this chapter
Farmer, G.T., Cook, J. (2013). Understanding Climate Change Denial. In: Climate Change Science: A Modern Synthesis. Springer, Dordrecht. https://doi.org/10.1007/978-94-007-5757-8_23
DOI: https://doi.org/10.1007/978-94-007-5757-8_23

Published:

Publisher Name: Springer, Dordrecht

Print ISBN: 978-94-007-5756-1

Online ISBN: 978-94-007-5757-8