Abstract
For the practical implementation of Developmental Education, a play-based curriculum has been developed for 3–7 year-old children, called Basisontwikkeling. Its intention is to offer teachers information and examples of educational practices and tools by which they can create meaningful and developmentally appropriate practices. The current chapter introduces the notion of "broad development" and suggests core activities that may promote young children's broad development (object play and role play, constructive play, conversations, literacy and mathematical activities). Specific teaching strategies aim to get children meaningfully engaged in socio-cultural activities, and to stimulate play development and learning experiences in the perspective of broad development. The strategies include, for instance, guidelines for thematic settings in interaction with the children, as well as didactic impulses when participating in joint activities. This chapter illustrates the Developmental Education approach with examples of play as the leading activity (object play and role play).
Keywords
Play Activity

Core Activity

Proximal Development

Basic Development

Flight Attendant
These keywords were added by machine and not by the authors. This process is experimental and the keywords may be updated as the learning algorithm improves.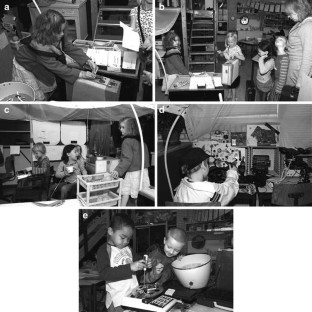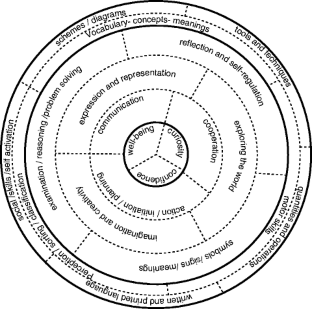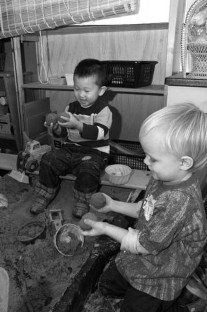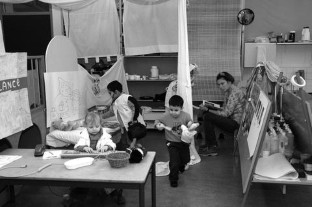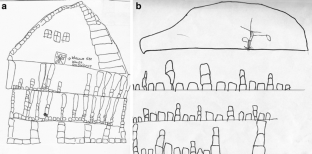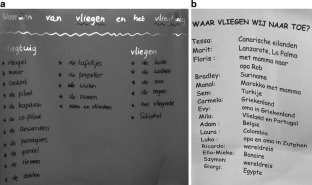 Notes
1.

Members of the project group are Bea Pompert (by that time Hogeschool Alkmaar), Trudy Schiferli (School Advisory Institute) Henk Vink and Frea Janssen-Vos (APS Amsterdam). Bert van Oers is the group's external adviser.

2.

The story-telling table is a table where children can replay and retell a story from a (picture) book, in their own way and by using self-made props, miniature figures and objects.
References
Allington, R. L., & Cunningham, P. M. (2007). Schools that work: Where all children read and write. Boston: Allyn & Bacon.

El'konin, D. B. (1972). Toward the problem of stages in the mental development of the child. Soviet Psychology, 10(3), 225–251.

Goorhuis-Brouwer, S. (2008). De mythe van het vroege leren [The myth of early learning]. In Mythes in het onderwijs. Amsterdam: Uitgeverij SWP.

Janssen-Vos, F. (2008). Basisontwikkeling voor peuters en de onderbouw [Basic Development for preschool and early grades]. Assen: van Gorcum.

Janssen-Vos, F., & Pompert, B. (2007). Horeb. Handelingsgericht observeren, registreren en evalueren van Basisontwikkeling [Action-oriented observation, registration and evaluation of Basic Development]. Assen: Van Gorcum.

Karpov, Y. V. (2005). The neo-Vygotskian approach to child development. Cambridge: University Press.

Klafki, W. (1976). Zum Verhaltnis von Didaktik und Methodik. Zeitschrift für Pädagogik, 22, 77–94.

Kravtsova, E. (2007). Vygotsky's approach to education. In Rediscovering Vygotsky (A children in Europe special edition). Edinburgh/Scotland: Children in Scotland.

Pinar, W., & Pinar, W. F. (1995). Understanding curriculum (p. 860). New York: Peter Lang.

Pompert, B. (2010). Spelenderwijs wijs [Playing wise]. In A. Beets-Kessens et al. (Eds.), Hoera! Ik krijg kleuters. Onderwijs aan het jonge kind. Amersfoort: Thieme Meulenhof.

van Oers, B. (2010). Children's enculturation through play. In L. Brooker & S. Edwards (Eds.), Engaging play (pp. 195–209). Maidenhead: McGraw Hill.

Vingerhoets, I. (2010). Spel en taal begeleiden in Startblokken met de vijf didactische impulsen [Guiding play and language in Startblokken with the five didactic impulses]. Zone, 9(1), 19–21.
Publications About Basic Development
Bacchini, S., et al. (1998). De voeten van de kip schminken. Tweede-taalverwerving in Basisontwikkeling [Making up the chicken's feet. Second language acquisition in Basic Development]. Utrecht: APS.

Fijma, N., & Vink, H. (1998). Op jou kan ik rekenen [I can count on you]. Assen: van Gorcum.

Janssen-Vos, F. (2004). Spel en ontwikkeling. Spelen en leren in de onderbouw [Play and development]. Assen: van Gorcum.

Janssen-Vos, F. (2008). Basisontwikkeling voor peuters en de onderbouw [Basic Development for preschool and early grades]. Assen: van Gorcum.

Janssen-Vos, F., & Pompert, B. (2001). Startblokken van Basisontwikkeling [Starting Blocks of Basic Development]. Assen: van Gorcum.

Janssen-Vos, F., & Pompert, B. (2007). Horeb. Handelingsgericht observeren, registreren en evalueren van Basisontwikkeling [Action-oriented observation, registration and evaluation in Basic Development]. Assen: Van Gorcum.

Janssen-Vos, F., Pompert, B., & Vink, H. (1991). Naar lezen, schrijven en rekenen [Towards reading, writing and arithmetic]. Assen: van Gorcum.

Knijpstra, H., Pompert, B., & Schiferli, T. (1997). Met jou kan ik lezen en schrijven [With you I can read and write]. Assen: van Gorcum.

Nellestijn, B., & Janssen-Vos, F. (2005). Het materialenboek. Een rijke leeromgeving in de onderbouw [The materials book. A rich learning environment in the early grades]. Assen: van Gorcum.

Pompert, B., Hagenaar, J., & Brouwer, L. (2009). Zoeken naar woorden. Gespreksactiviteiten in de onderbouw [Searching for words. Conversation activities in the early grades]. Assen: van Gorcum.

van Oers, B. (Ed.). (2003). Narratives of childhood. Amsterdam: VU Press.

van Oers, B., Janssen-Vos, F., Pompert, B., & Schiferli, T. (2003). Teaching as a joint activity. In B. van Oers (Ed.), Narratives of childhood (pp. 110–126). Amsterdam: VU Press.

In addition to these book titles many more publications have appeared since 1990 in articles and practice brochures. For more information see: www.de-activiteit.nl
Copyright information
© 2012 Springer Science+Business Media Dordrecht
About this chapter
Cite this chapter
Janssen-Vos, F., Pompert, B. (2012). Developmental Education for Young Children: Basic Development. In: van Oers, B. (eds) Developmental Education for Young Children. International perspectives on early childhood education and development, vol 7. Springer, Dordrecht. https://doi.org/10.1007/978-94-007-4617-6_4