Abstract

Ventilatory effects of chronic cigarette smoke (CS) alone or associated to chronic hypoxia (CH), as frequently occurs in chronic obstructive pulmonary disease (COPD), remain unknown. We have addressed this problem using whole-body plethysmography in guinea-pigs, common models to study harmful effects of CS on the respiratory system. Breathing frequencies (Bf) in control (2–5 months old) guinea pigs is 90–100 breaths/min, their tidal volume (TV) increased with age but lagged behind body weight gain and, as consequence, their minute volume (MV)/Kg decreased with age. MV did not change by acutely breathing 10% O2 but doubled while breathing 5% CO2 in air. Exposure to chronic sustained hypoxia (15 days, 12% O2, CH) did not elicit ventilatory acclimatization nor adaptation. These findings confirm the unresponsiveness of the guinea pig CB to hypoxia. Exposure to CS (3 months) increased Bf and MV but association with CH blunted CS effects. We conclude that CS and CH association accelerates CS-induced respiratory system damage leading to a hypoventilation that can worsen the ongoing COPD process.
Keywords
Guinea pig

Ventilation

Tobacco

Hypoxia

Carotid body.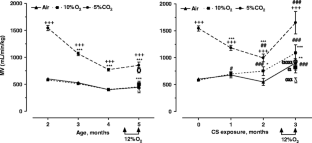 References
Agapito MT, Sanz-Alfayate G, Gomez-Niño A, Gonzalez C, Obeso A (2009) General redox environment and carotid body chemoreceptor function. Am J Physiol Cell Physiol 296:C620–C631

Blake and Banchero (1985) Effects of cold and hypoxia on ventilation and oxygen consumption in awake guinea pigs. Respir Physiol 61:357–368

Caceres AI, Obeso A, Gonzalez C, Rocher A (2007) Molecular identification and functional role of voltage-gated sodium channels in rat carotid body chemoreceptor cells regulation of expression by chronic hypoxia in vivo. J Neurochem 102:231–245

Churg A, Sin DD, Wright JL (2011) Everything prevents emphysema: are animal models of cigarette smoke-induced chronic obstructive pulmonary disease any use? Am J Respir Cell Mol Biol 45(6):1111–1115

Coleta KD, Silveira LV, Lima DF, Rampinelli EA, Godoy I (2008) Predictors of first-year survival in patients with advanced COPD treated using long-term oxygen therapy. Respir Med 102:512–518

Crosfill ML, Widdicombe JG (1961) Physical characteristics of the chest and lungs and the work of breathing in different mammalian species. J Physiol 158:1–14

Curran AK, O'Halloran KD, Bradford A (1995) Effects of superior laryngeal nerve section on ventilation in neonatal guinea-pigs. Respir Physiol 101:23–29

Fernández R, Arriagada I, Garrido AM, Larraín C, Zapata P (2003) Ventilatory chemosensory drive in cats, rats and guinea-pigs. Adv Exp Med Biol 536:489–495

Ferrer E, Peinado VI, Díez M, Carrasco JL, Musri MM, Martínez A, Rodríguez-Roisin R, Barberà JA (2009) Effects of cigarette smoke on endothelial function of pulmonary arteries in the guinea pig. Respir Res 10(1):76

Ferrer E, Peinado VI, Castañeda J, Prieto-Lloret J, Olea E, González-Martín MC, Vega-Agapito MV, Díez M, Domínguez-Fandos D, Obeso A, González C, Barberà JA (2011) Effects of cigarette smoke and hypoxia on the pulmonary circulation in the guinea pig. Eur Respir J 38:617–627

Gonzalez C, Almaraz L, Obeso A, Rigual R (1994) Carotid body chemoreceptors: from natural stimuli to sensory discharges. Physiol Rev 74:829–898

Gonzalez C, Agapito MT, Rocher A, Gonzalez-Martin MC, Vega-Agapito V, Gomez-Niño A, Rigual R, Castañeda J, Obeso A (2007) Chemoreception in the context of the general biology of ROS. Respir Physiol Neurobiol 157:30–44

Gonzalez C, Agapito MT, Rocher A, Gomez-Niño A, Rigual R, Castañeda J, Conde SV, Obeso A (2010) A revisit to O2 sensing and transduction in the carotid body chemoreceptors in the context of reactive oxygen species biology. Respir Physiol Neurobiol 174(3):317–330

Gorini M, Misuri G, Corrado A, Duranti R, Iandelli I, De Paola E, Scano G (1996) Breathing pattern and carbon dioxide retention in severe chronic obstructive pulmonary disease. Thorax 51(7):677–683

Hill JR (1959) The oxygen consumption of new-born and adult mammals its dependence on the oxygen tension in the inspired air and on the environmental temperature. J Physiol 149:346–373

Kinney HC, Thach BT (2009) The sudden infant death syndrome. N Engl J Med 361(8):795–805

Mortola JP (2001) Respiratory physiology of newborn mammals: a comparative perspective. The Johns Hopkins University Press, Baltimore

Olea E, Ferrer E, Prieto-Lloret J, Gonzalez-Martin C, Vega-Agapito V, Gonzalez-Obeso E, Agapito T, Peinado V, Obeso A, Barbera JA, Gonzalez C (2011) Effects of cigarette smoke and chronic hypoxia on airways remodeling and resistance. Clinical significance. Respir Physiol Neurobiol 179(2–3):305–313

Schwenke DO, Bolter CP, Cragg PA (2007) Are the carotid bodies of the guinea-pig functional? Comp Biochem Physiol A Mol Integr Physiol 146:180–188

Tobin MJ, Chadha TS, Jenouri G, Birch SJ, Gazeroglu HB, Sackner MA (1983) Breathing patterns. 2. Diseased subjects. Chest 84:286–294

Wiester MJ, Costa DL, Tepper JS, Winsett DW, Slade R (2005) Agonist-mediated airway challenge: cardiopulmonary interactions modulate gas exchange and recovery. Respir Physiol Neurobiol 145:183–199

Wright JL, Churg A (1991) Effect of long-term cigarette smoke exposure on pulmonary vascular structure and function in the guinea pig. Exp Lung Res 17(6):997–1009

Wright JL, Churg A (2002) Animal models of cigarette smoke-induced COPD. Chest 122:301S–306S

Yanbaeva DG, Dentener MA, Creutzberg EC, Wesseling G, Wouters EF (2007) Systemic effects of smoking. Chest 131:1557–1566

Yilmaz C, Hogg DC, Ravikumar P, Hsia CC (2005) Ventilatory acclimatization in awake guinea pigs raised at high altitude. Respir Physiol Neurobiol 145:235–242
Acknowledgements

We want to thank Mª de los Llanos Bravo and Elena Gonzalez for technical assistance. The work was supported by the "Ministerio de Ciencia e Innovación of Spain"(grant number BFU2007-61848) and by the "Instituto Carlos III"(grant number CIBER CB06/06/0050).
Copyright information

© 2012 Springer Science+Business Media Dordrecht
About this paper
Cite this paper
Olea, E. et al. (2012). Effects of Cigarette Smoke and Chronic Hypoxia on Ventilation in Guinea Pigs. Clinical Significance. In: Nurse, C., Gonzalez, C., Peers, C., Prabhakar, N. (eds) Arterial Chemoreception. Advances in Experimental Medicine and Biology, vol 758. Springer, Dordrecht. https://doi.org/10.1007/978-94-007-4584-1_44