Abstract
This empirical study of Fortune 1000 firms assesses the degree to which those firms have adopted various practices associated with corporate ethics programs. The study examines the following aspects of formalized corporate ethics activity: ethics-oriented policy statements; formalization of management responsibilities for ethics; free-standing ethics offices; ethics and compliance telephone reporting/advice systems; top management and departmental involvement in ethics activities; usage of ethics training and other ethics awareness activities; investigatory functions; and evaluation of ethics program activities. Results show a high degree of corporate adoption of ethics policies, but wide variability in the extent to which these policies are implemented by various supporting structures and managerial activities. In effect, the vast majority of firms have committed to the low cost, possibly symbolic side of ethics management (e.g., adoption of ethics codes and policies, etc.). But firms differ substantially in their efforts to see that those policies or codes actually are put into practice.
Keywords
Corporate Ethics

Formal Ethics Programs

Ethics Officer

Company Ethics Policies

United States Sentencing Commission
These keywords were added by machine and not by the authors. This process is experimental and the keywords may be updated as the learning algorithm improves.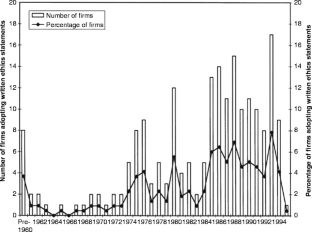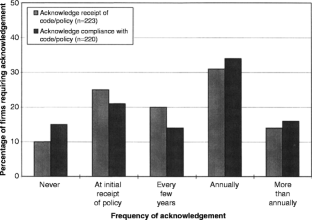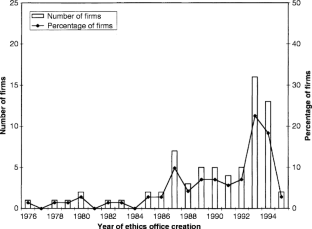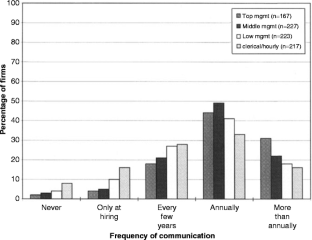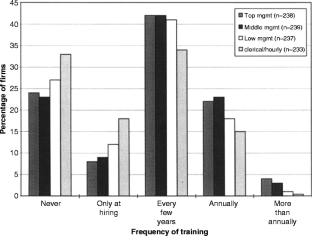 References
Beneish, M.D., and R. Chatov. 1993. Corporate codes of conduct: Economic determinants and legal implications for independent auditors. Journal of Accounting and Public Policy 12: 3–35.

Berenbeim, R. 1987. Corporate ethics. New York: The Conference Board.

Berenbeim, R. 1992. Corporate ethics practices. New York: The Conference Board.

Center for Business Ethics. 1986. Are corporations institutionalizing ethics? Journal of Business Ethics 5: 85–91.

Center for Business Ethics. 1992. Instilling ethical values in large corporations. Journal of Business Ethics 11: 863–867.

Chatov, R. 1980. What corporate ethics statements say. California Management Review 22(4): 20–29.

Close, A.C., J. Valerie Steele, and M.E. Buckner. 1994. National directory of corporate public affairs: 1994. Washington, DC: Columbia Books.

Cressey, D.R., and C.A. Moore. 1983. Managerial values and corporate codes of ethics. California Management Review 25(4): 53–77.

Dalton, D.R., M.B. Metzger, and J.W. Hill. 1994. The "New" U.S. sentencing commission guidelines: A wake-up call for corporate America. The Academy of Management Executive 8(1): 7–13.

Fernandes, M.F., and D.M. Randall. 1992. The nature of social desirability response effects in ethics research. Business Ethics Quarterly 2: 183–206.

Hambrick, D.C., M.A. Geletkanycz, and J.W. Fredrickson. 1993. Top executive commitment to the status quo: Some tests of its determinants. Strategic Management Journal 14: 401–418.

Kaplan, J.M., J.E. Murphy, and W.M. Swenson. 1993. Compliance programs and the corporate sentencing guideline. Deerfield: Clark Boardman Callaghan.

Mathews, M.C. 1988. Strategic intervention in organizations: Resolving ethical dilemmas. Newbury Park: Sage.

Paine, L.S. 1994. Managing for organizational integrity. Harvard Business Review 72: 106–117.

Pfeffer, J. 1981. Management as symbolic action. Research in Organizational Behavior 3: 1–52.

Randall, D.M., and M.F. Fernandes. 1991. The social desirability response bias in ethics research. Journal of Business Ethics 10: 805–817.

Sweeney, R.B., and H.L. Siers. 1990. Ethics in corporate America. Management Accounting June, 34–40.

Treviño, L.K. 1990. A cultural perspective on changing and developing organizational ethics. Research in Organizational Change and Development 4: 195–230.

Weaver, G.R. 1993. Corporate codes of ethics: Purpose, process, and content issues. Business and Society 32(1): 44–58.

Weaver, G.R., L.K. Treviño, and P.L. Cochran. 1995. Environmental and managerial influences on the intensity and integration of corporate ethics programs: An empirical study. Presented at Academy of Management Annual Meeting, Aug 1995.

Weaver, G.R., L.K. Treviño, and P.L. Cochran. 1996. Defining and explaining the character of corporate ethics programs, Proceedings of the International Association for Business and Society.

White, B.J., and R. Montgomery. 1980. Corporate codes of conduct. California Management Review 23(2): 80–87.
Acknowledgement
This research was supported by the Ethics in Business Research Fund of the American Institute of Certified Public Accountants. The authors are grateful for this support.
Copyright information
© 2013 Springer Science+Business Media B.V.
About this chapter
Cite this chapter
Weaver, G.R., Treviño, L.K., Cochran, P.L. (2013). Corporate Ethics Practices in the Mid-1990s: An Empirical Study of the Fortune 1000. In: Michalos, A., Poff, D. (eds) Citation Classics from the Journal of Business Ethics. Advances in Business Ethics Research, vol 2. Springer, Dordrecht. https://doi.org/10.1007/978-94-007-4126-3_31