Abstract
Citrullus lanatus is indigenous to tropical Africa and subtropical southern Africa, occurring naturally in South Africa, Namibia, Botswana, Zimbabwe, Mozambique, Zambia and Malawi. It was introduced into Mediterranean areas, the Middle East and West Asia more than 3,000 years ago and easterly to India and subsequently to China around the tenth century and Japan in the sixteenth century. It was introduced to the Americas in early post-Columbian times. It is now widespread in cultivation and frequently naturalized in warmer parts of the world. Tsamma watermelon is the ancestral form of the cultivated dessert watermelon.
Keywords
Tomato Juice

Anopheles Stephensi

Lycopene Content

Plasma Citrulline

Watermelon Seed
These keywords were added by machine and not by the authors. This process is experimental and the keywords may be updated as the learning algorithm improves.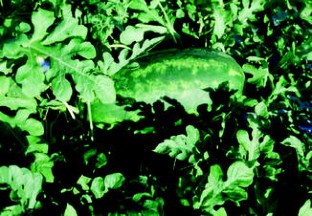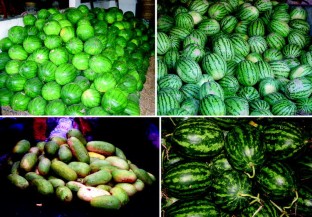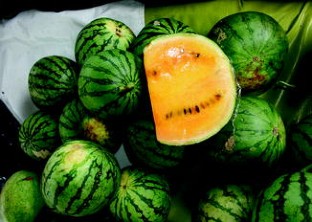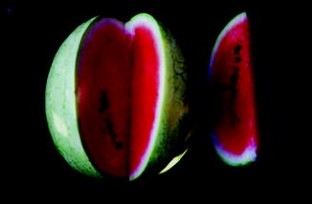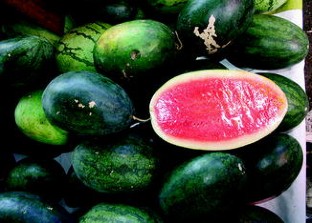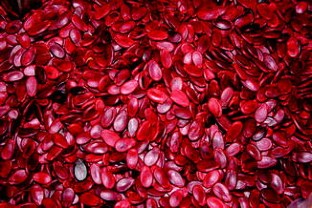 Selected References
Anhwange BA, Ikyenge BA, Nyiatagher DT, Ageh JT (2010) Chemical analysis of Citrullus lanatus (Thunb.), Cucumeropsis mannii (Naud.) and Telfairia occidentalis (Hook f.) seeds oils. J Appl Sci Res 6(3):265–268

Atrooz OM (2009) The antioxidant activity and polyphenolic contents of different plant seeds extracts. Pak J Biol Sci 12(15):1063–1068

Bates DM, Robinson RW (1995) Cucumbers, melons and water-melons. In: Smartt J, Simmonds NW (eds.) Evolution of crop plants. Longman, London, pp 89–96

Bates DM, Robinson RW, Jeffrey C (eds.) (1990) Biology and utilization of the Cucurbitaceae. Cornell University Press, New York, 485 pp

Beaulieu JC, Lea JM (2006) Characterization and semiquantitative analysis of volatiles in seedless watermelon varieties using solid-phase microextraction. J Agric Food Chem 54(20):7789–7793

Burkill HM (1985) The useful plants of West Tropical Africa. Vol. 1. Families A-D. Royal Botanic Gardens, Kew, 960 pp

Chandrika UG, Fernando KS, Ranaweera KK (2009) Carotenoid content and in vitro bioaccessibility of lycopene from guava (Psidium guajava) and watermelon (Citrullus lanatus) by high-performance liquid chromatography diode array detection. Int J Food Sci Nutr 60(7):558–566

Chiej R (1984) The macdonald encyclopaedia of medicinal plants. Macdonald & Co., London, 447 pp

Chopra RN, Nayar SL, Chopra IC (1986) Glossary of Indian medicinal plants. (Including the supplement). Council Scientific Industrial Research, New Delhi, 330 pp

Collins JK, Wu G, Perkins-Veazie P, Spears K, Claypool PL, Baker RA, Clevidence BA (2007) Watermelon consumption increases plasma arginine concentrations in adults. Nutrition 23(3):261–266

Davis AR, Collins J, Fish WW, Tadmor Y, Webber CL 3rd, Perkins-Veazie P (2007) Rapid method for total carotenoid detection in canary yellow-fleshed watermelon. J Food Sci 72(5):S319–S323

Duke JA, Ayensu ES (1985) Medicinal plants of China, vols 1 & 2. Reference Publications, Inc., Algonac, 705 pp

Edwards AJ, Vinyard BT, Wiley ER, Brown ED, Collins JK, Perkins-Veazie P, Baker RA, Clevidence BA (2003) Consumption of watermelon juice increases plasma concentrations of lycopene and beta-carotene in humans. J Nutr 133(4):1043–1050

Facciola S (1990) Cornucopia. A source book of edible plants. Kampong, Vista, 677 pp

Feher T (1993) Watermelon, Citrullus lanatus (Thunb.) Matsum. & Nakai. In: Kalloo G, Bergh BO (eds.) Genetic improvement of vegetable crops. Pergamon Press, Oxford, pp 295–311

Fu WJ, Haynes TE, Kohli R, Hu J, Shi W, Spencer TE, Carroll RJ, Meininger CJ, Wu G (2005) Dietary L-arginine supplementation reduces fat mass in Zucker diabetic fatty rats. J Nutr 135(4):714–721

Gill N, Bansal R, Garg M, Sood S, Muthuraman A, Bali M (2010) Evaluation of antioxidant, anti-inflammatory and analgesic potential of Citrullus lanatus seed extract in rodent model. Internet J Nutr Wellness 9(2)

Grieve M (1971) A modern herbal, Penguin, 2 vols. Dover, New York, 919 pp

Kemp TR (1975) Identification of some volatile compounds from Citrullus vulgaris. Phytochemistry 14:2637–2638

Kemp TR, Knavel DE, Stoltz LP (1974) 3,6-Nonadien-1-ol from Citrullus vulgaris and Cucumis melo. Phytochemistry 13:1167–1170

Mandel H, Levy N, Izkovitch S, Korman SH (2005) Elevated plasma citrulline and arginine due to consumption of Citrullus vulgaris (watermelon). J Inherit Metab Dis 28(4):467–472

Mullai K, Jebanesan A, Pushpanathan T (2008a) Effect of bioactive fractions of Citrullus vulgaris Schrad. leaf extract against Anopheles stephensi and Aedes aegypti. Parasitol Res 102(5):951–955

Mullai K, Jebanesan A, Pushpanathan T (2008b) Mosquitocidal and repellent activity of the leaf extract of Citrullus vulgaris (Cucurbitaceae) against the malarial vector, Anopheles stephensi Liston (Diptera Culicidae). Eur Rev Med Pharmacol Sci 12(1):1–7

Otlewski J, Whatley H, Polanowski A, Wilusz T (1987) Amino-acid sequences of trypsin inhibitors from watermelon (Citrullus vulgaris) and red bryony (Bryonia dioica) seeds. Biol Chem Hoppe Seyler 368(11):1505–1507

Pacific Island Ecosystems at Risk (PIER) (2004) Citrullus lanatus (Thunb.) Matsum. & Nakai, Cucurbitaceae. http://www.hear.org/Pier/scientificnames/.%5Cspecies%5citrullus_lanatus.htm

Paje MM, van der Vossen HAM (1994) Citrullus lanatus (Thunberg) Matsum. & Nakai. In: Siemonsma JS, Kasem Piluek (eds.) Plant resources of South-East Asia No. 8. Vegetables. Prosea Foundation, Bogor, pp 144–148

Parmar HS, Kar A (2008) Possible amelioration of atherogenic diet induced dyslipidemia, hypothyroidism and hyperglycemia by the peel extracts of Mangifera indica, Cucumis melo and Citrullus vulgaris fruits in rats. Biofactors 33(1):13–24

Parmar HS, Kar A (2009) Protective role of Mangifera indica, Cucumis melo and Citrullus vulgaris peel extracts in chemically induced hypothyroidism. Chem Biol Interact 177(3):254–258

Perkins-Veazie P, Collins JK, Davis AR, Roberts W (2006) Carotenoid content of 50 watermelon cultivars. J Agric Food Chem 54(7):2593–2597

Perkins-Veazie P, Collins JK, Edwards A, Wiley E, Clevidence B (2003) Watermelon: rich in the antioxidant lycopene. Acta Hort ISHS 628:663–668

Pino JA, Marbot R, Aguero J (2003) Volatile components of watermelon (Citrullus lanatus [Thunb.] Matsum. et Nakai) fruit. J Essent Oil Res 15(6):379–380

Polanowski A, Cieślar E, Otlewski J, Nienartowicz B, Wilimowska-Pelc A, Wilusz T (1987) Protein inhibitors of trypsin from the seeds of Cucurbitaceae plants. Acta Biochim Pol 34(4):395–406

Prakash O, Bhushan G (1998) A study of inhibition of urease from seeds of the water melon (Citrullus vulgaris). J Enzyme Inhib 13(1):69–77

Rimando AM, Perkins-Veazie PM (2005) Determination of citrulline in watermelon rind. J Chromatogr A 1078(1–2):196–200

Robinson RW, Decker-Walters DS (1997) Cucurbits. CAB International, Wallingford, 226 pp

Romero MJ, Platt DH, Caldwell RB, Caldwell RW (2006) Therapeutic use of citrulline in cardiovascular disease. Cardiovasc Drug Rev 24(3–4):275–290

U.S. Department of Agriculture, Agricultural Research Service (2010) USDA National Nutrient Database for Standard Reference, Release 23. Nutrient data laboratory home page. http://www.ars.usda.gov/ba/bhnrc/ndl

van der Vossen HAM, Denton OA, El Tahir IM (2004) Citrullus lanatus (Thunb.) Matsum. & Nakai. [Internet] Record from protabase. In: Grubben GJH, Denton OA (eds.) PROTA (Plant Resources of Tropical Africa/Ressources Végétales de l'Afrique Tropicale), Wageningen. http://database.prota.org/search.htm. Accessed 10 Oct 2010

Van Wyk EB, Gericke N (2000) People's plants: a guide to useful plants of Southern Africa, 1st edn. Brizza Publications, Pretoria, 351 pp

Wani AA, Sogi DS, Singh P, Wani IA, Shivhare US (2011) Characterisation and functional properties of watermelon (Citrullus lanatus) seed proteins. J Sci Food Agric 91(1):113–121

Wu G, Collins JK, Perkins-Veazie P, Siddiq M, Dolan KD, Kelly KA, Heaps CL, Meininger CJ (2007) Dietary supplementation with watermelon pomace juice enhances arginine availability and ameliorates the metabolic syndrome in Zucker diabetic fatty rats. J Nutr 137(12):2680–2685

Yajima IH, Sakakibara H, Ide J, Yanai T, Hayashi K (1985) Volatile flavor compounds of watermelon (Citrullus vulgaris). Agric Biol Chem 49:3145–3159
Copyright information
© 2012 Springer Science+Business Media B.V.
About this chapter
Cite this chapter
Lim, T.K. (2012). Citrullus lanatus. In: Edible Medicinal And Non-Medicinal Plants. Springer, Dordrecht. https://doi.org/10.1007/978-94-007-1764-0_29