Abstract

This chapter explores two concurrent processes in the fisheries of Tamil Nadu, India, over the past century: technological modernization and demographic growth. The first process is closely connected to the Blue Revolution instigated by the Government of India after Independence, as well as to the globalization of markets. It has resulted in substantial increases in sectoral wealth. The second process is the increasing size of the fishing population through natural growth and immigration. I situate the poverty that still occurs in Indian fisheries in the confluence of these two processes, arguing that varying institutional arrangements which structure participation have an important effect on poverty's availability and location. The chapter centers on one particular district – Ramnathapuram – which has witnessed particularly dramatic increases in its fishing population compared to other parts of the South Indian coastline. This has resulted in specific patterns of poverty and riches.
Keywords
Fishing Population

Fishing Ground

Trawl Fishery

Capture Fishery

Legal Pluralism
These keywords were added by machine and not by the authors. This process is experimental and the keywords may be updated as the learning algorithm improves.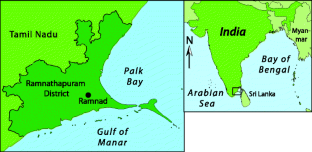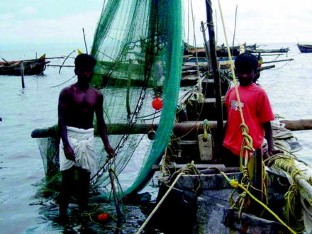 Notes
1.

 Compare Salagrama's (2004, p. 13) analysis of all-India trends which argues that catch per unit effort (CPUE) of artisanal fishers has declined since 1980.

2.

 Debates on the correlation between caste and occupation in India are heated and inconclusive as to the details. Observers will agree, however, on the main marine fishing castes of Tamil Nadu – the Pattinavar, Paravar, and Mukkuvar – who dominate the Coromandel Coast, the Gulf of Mannar, and the southern reaches of Tamil Nadu, respectively.

3.

 The 2000 census of the Fisheries Department of Tamil Nadu mentions 184 fishing settlements in Ramnad District. This includes, however, a large number of interior villages in which marine fishing is not the dominant, but a supplementary, activity.

4.

 Interestingly, this expansion has not resulted in a significant growth of the average size of the settlements in Ramnad (see Table 9.5). Instead, it seems as if expansion has been complemented by a process of administrative subdivision. At specific locations, I therefore observe a clustering of fisher settlements into smaller and larger towns.

5.

 In 2007, the Tamil Nadu government announced an effort to re-count and re-register trawler vessels in the state. This exercise was considered necessary in lieu of evidence of gross over-registration.

6.

 These non-state institutions are found throughout rural India, and are to be distinguished from the Gram Panchayats instituted by the government of India as the lowest tier of administration and political representation.
References
Anugraham DD (1940) The fisherfolk of Madras – an economic survey. Ph.D. dissertation, University of Madras, Madras (unpublished)

Bathal B (2005) Historical reconstruction of Indian marine fisheries catches, 1950–2000, as a basis for testing the marine trophic index. Fisheries Centre Research Report, Fisheries Centre. University of British Colombia, Vancouver

Bavinck M (1996) Fisher regulations along the Coromandel Coast: a case of collective control of common pool resources. Mar Policy 20(6):475–482

Bavinck M (1997) Changing balance of power at sea; motorization of artisanal fishing craft. Econ Polit Wkly 32(5):198–200

Bavinck M (1998) 'A matter of maintaining the peace' – state accommodation to subordinate legal systems: the case of fisheries along the Coromandel Coast of Tamil Nadu, India. J Leg Plur 40:151–170

Bavinck M (2001a) Marine resource management: conflict and regulation in the fisheries of the Coromandel Coast. Sage, New Delhi

Bavinck M (2001b) Caste panchayats and the regulation of fisheries along Tamil Nadu's Coromandel Coast. Econ Polit Wkly 36(13):1088–1094

Bavinck M (2003) The spatially splintered state: myths and realities in the regulation of marine fisheries in Tamil Nadu, India. Dev Change 34(4):633–657

Bavinck M (2005) Understanding fisheries conflicts in the South – a legal pluralist perspective. Soc Nat Resour 18(9):805–820

Bavinck M, Johnson D (2008) Handling the legacy of the blue revolution in India – social justice and small-scale fisheries in a negative growth scenario. Am Fish Soc Symp 49:585–599

Bavinck M, Karunaharan K (2006) Legal pluralism in the marine fisheries of Ramnad District, Tamil Nadu, India. IDPAD Report 2. Indo-Dutch Programme for Alternative Development, New Delhi

Bavinck M, Vivekanandan V (in press) Conservation, conflict and the governance of fisher wellbeing – analysis of the establishment of the Gulf of Mannar national park and biosphere reserve. Environ Manage 47:593–602

Bharathi SB (1999) Coromandel fishermen: an ethnography of Pattanavar subcaste. Pondicherry Institute of Linguistics and Culture, Pondicherry

Bromley DW (2006) Sufficient reason: volitional pragmatism and the meaning of economic institutions. Princeton University Press, Princeton

Charles A (2001) Sustainable fishery systems. Blackwell Science, Oxford

Chacko PI, George S, Krishnaswamy PP (1957) Census of the sea fisherfolk and fishing crafts and gear in Madras state, 1957. Madras Fisheries Statistics Report No. 53. Government Press, Madras

Delgado CL, Wada N, Rosegrant MW, Meijer S, Ahmed M (2003) Fish to 2020: supply and demand in changing global markets. In association with WorldFish Centre. International Food Policy Research Institute, Washington, DC

Department of Fisheries (2000) Tamil Nadu marine fisherfolk census year 2000. Government of Tamil Nadu, Chennai

Director of Fisheries (1982) Census report on marine fisheries. Government of Tamil Nadu, Madras

Government of India (1952) Census of India 1951. Census Commissioner for India, New Delhi

Government of India (2001) Census of India 2001. Registrar General of India, New Delhi

Government of Tamil Nadu (2003) Human development report. Social Science Press, New Delhi

Harriss J (2007) Bringing politics back into poverty analysis: why understanding social relations matters more for policy on chronic poverty than measurement. CPRC Working Paper 77. Simon Fraser University, Vancouver

Hopewell J (2004) 'When the Shore Seine is Shot, the Whole Village Eats!' The change in shore seine organization in Valinokkam village and the decline of shore seining in southern Ramnad District, Tamil Nadu, India. Masters thesis, University of Amsterdam, Amsterdam (unpublished)

Jentoft S (2004) Institutions in fisheries: what they are, what they do, and how they change. Mar Policy 28:137–149

Jentoft S, Bavinck M, Johnson DS, Thomson KT (2009) Fisheries co-management and legal pluralism: how an analytical problem becomes an institutional one. Hum Organ 68(1):27–38

Johnson DS (2006) Category, narrative, and value in the governance of small-scale fisheries. Mar Policy 30:747–756

Kurien J (1978) Entry of big business into fishing, its impact on fish economy. Econ Polit Wkly 13(36):1557–1565

Kurien J (1995) Income spreading mechanisms in common property resource – Karanila system in Kerala's fishery. Economic and Political Weekly, July 15, pp 1780–1785

Madras Fisheries Bureau (1916) Madras fisheries statistics and information, West and East coasts. Bulletin 9, Madras

Mandelbaum DG (1970) Society in India, vol 2. University of California Press, Berkeley

North DC (1990) Institutions, institutional change and economic performance. Cambridge University Press, New York

Raja Ram Rao T (c. 1889) Ramnad manual, [title page missing]. Madras Presidency, Madras

Rajagopalan R (2008) Marine protected areas in India, SAMUDRA Monograph. International Collective for Support of Fishworkers, Chennai

Ram K (1991) Mukkuvar women: gender, hegemony and capitalist transformation in a South Indian fishing community. Zed Press, London and New Jersey

Salagrama V (2004) Policy research: implications of liberalization of fish trade for developing countries – a case study for India. Report Project PR 26109. Food and Agriculture Organization, Rome

Salagrama V (2006) Trends in poverty and livelihoods in coastal fishing communities of Orissa state, India. Fisheries Technical Paper 490. Food and Agriculture Organization, Rome

Salagrama V (2008) The social, economic, technological and environmental aspects of beachseining in India. ICM Integrated Coastal Management, Kakinada (unpublished report)

Schlager E, Ostrom E (1993) Property rights regimes and coastal fisheries – an empirical analysis. In: Anderson TL, Simmons RT (eds.) The political economy of customs and culture: informal solutions to the commons problem. Rowman and Littlefield, Lanham, pp 13–41

Smith HD (2000) The industrialization of the world ocean. Ocean Coast Manage 43:11–28

Subramanian S (2009) Shorelines: space and rights in South India. Stanford University Press, Stanford

Sundar A (1999) Sea changes: organizing around the fishery in a South Indian community. In: Barker J (ed.) Street-level democracy: political settings at the margins of global power. Kumarian Press, Toronto, pp 79–114

Suryanarayan V (2005) Conflict over fisheries in the Palk Bay region. Lancer Publishers & Distributors, New Delhi

Thomson KT (1989) Political economy of fishing: a study of an indigenous social system in Tamilnadu. Ph.D. dissertation, University of Madras, Madras (unpublished)

Vanderlinden J (1971) Le Pluralism Juridique: Essai de Synthèse. In: Gilissen J (ed.) Le Pluralisme Juridique. L'Université Bruxelles, Brussels, pp 19–56

Vivekanandan E, Srinath M, Kuriakose S (2005) Fishing the marine food web along the Indian coast. Fish Res 72(2–3):241–252

Von Benda-Beckmann F (2002) Who's afraid of legal pluralism? J Leg Plur 47:37–82
Acknowledgments

In writing this chapter, I have benefited greatly from the constructive comments of Svein Jentoft, Ratana Chuenpagdee, and other members of the PovFish group. I am also grateful to the Netherlands Organisation for Scientific Research (NWO), and particularly to the IDPAD program which funded my Ramnad research under Project Nr 5.2.110 entitled: Cooperation in a Context of Crisis: Public-Private Management of Marine Fisheries in South Asia. Appreciation is extended to the Norwegian Research Council for funding the PovFish project.
Copyright information

© 2011 Springer Science+Business Media B.V.
About this chapter
Cite this chapter
Bavinck, M. (2011). Wealth, Poverty, and Immigration: The Role of Institutions in the Fisheries of Tamil Nadu, India. In: Jentoft, S., Eide, A. (eds) Poverty Mosaics: Realities and Prospects in Small-Scale Fisheries. Springer, Dordrecht. https://doi.org/10.1007/978-94-007-1582-0_9
DOI: https://doi.org/10.1007/978-94-007-1582-0_9

Published:

Publisher Name: Springer, Dordrecht

Print ISBN: 978-94-007-1581-3

Online ISBN: 978-94-007-1582-0