Abstract

The results of parcel model studies seem to indicate that increasing particulate pollution and decreasing solubility suppresses rain formation. In individual and short time cloud simulations this behaviour was confirmed in our 3D model studies. However, taking into account entire cloud fields over longer periods of time yields the strong spatial and temporal variability of the results with isolated regions of inverse correlation of the effects. Even though in general the expected behaviour was found, after several hours of simulation, the integrated precipitation of the more polluted cases caught up. This suggests that a changing pollution will affect the spatial and temporal pattern of precipitation, but will probably not reduce the overall long term precipitation amount which might be entirely governed by the moisture state of the atmosphere.
Keywords
Clouds

Aerosol particles

Pollution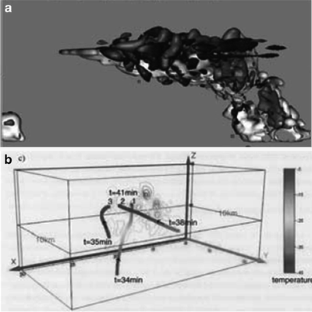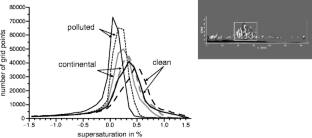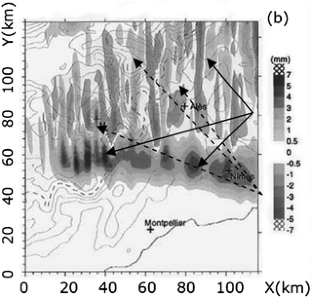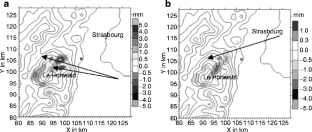 References
Clark TL, Hall WD (1991) Multi-domain simulations of the time dependent Navier-Stokes equation: benchmark error analysis of some nesting procedures. J Comput Phys 92:456–481

Cotton WR, Pielke RA (1992) Human impacts on weather and climate. Cambridge University Press, Cambridge, 288 pp

Flossmann AI, Wobrock W (2010) A review of our understanding of the aerosol – cloud interaction from the perspective of a bin resolved cloud scale modelling, accepted. Atmos Res. doi:10.1016/j.atmosres.2010.05.008

Leroy D, Wobrock W, Flossmann AI (2009) The role of boundary layer aerosol particles for the development of deep convective clouds: a high-resolution 3D model with detailed (bin) microphysics applied to CRYSTAL-FACE. Atmos Res 91(1):62–78. doi:10.1016/j.atmosres.2008.06.001

Levin Z, Cotton WR (eds) (2009) Aerosol pollution impact on precipitation, a scientific review. Springer, Dordrecht, 386 pp

Planche C, Wolfram W, Andrea IF, Frédéric T, Van Joël B, Yves P, Martin H (2010) The influence of aerosol particle number and hygroscopicity on the evolution of convective cloud systems and their precipitation: A numerical study based on the COPS observations on 12 August 2007. Atmos Res 98(1):40–56. doi:10.1016/j.atmosres.2010.05.003

Pruppacher HR, Klett JD (1997) Microphysics of clouds and precipitation, 2nd edn. Kluwer Academic, Dordrecht, 954 p
Copyright information

© 2011 Springer Science+Business Media B.V.
About this paper
Cite this paper
Flossmann, A.I., Wobrock, W. (2011). Will Pollution Reduce Precipitation?. In: Steyn, D., Trini Castelli, S. (eds) Air Pollution Modeling and its Application XXI. NATO Science for Peace and Security Series C: Environmental Security. Springer, Dordrecht. https://doi.org/10.1007/978-94-007-1359-8_92
DOI: https://doi.org/10.1007/978-94-007-1359-8_92

Published:

Publisher Name: Springer, Dordrecht

Print ISBN: 978-94-007-1358-1

Online ISBN: 978-94-007-1359-8