Abstract

Transport plays an important role in all human activities, especially in urban areas where most economic and social activities involve the movement of persons or goods. Many transport decision-makers in developing countries are already confronted with extreme weather events, such as flooding, subsidence and storms, all of which are expected to increase with climate change. In the worst case, transportation systems may be unable to recover from such events, resulting in exponential damages. In order to deal with climate change, transport systems must be designed to cater for the mobility demand of all urban populations under changing climatic conditions and to minimise transport-related greenhouse gas emissions. In many cities, decision-makers are not prepared to address these needs at the planning and design stages of urban development. As many urban areas in developing countries are still undergoing rapid development, the time to build climate-proof urban systems is now. This paper gives an overview of the expected impacts of climate change on urban passenger transport as well as possible adaptation measures. It further discusses how to integrate climate proofing into urban transport planning and policy implementation, emphasising the importance of cross-departmental cooperation. Seven steps towards developing an adaptation strategy for urban transport and how they integrate into the main steps of transport planning are presented.
Keywords
Adaptation

Climate change

Developing cities

Urban transport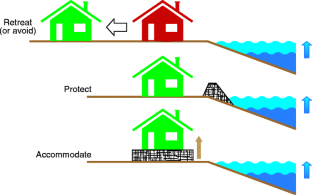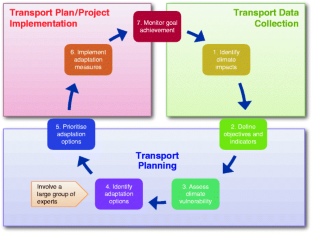 Notes
1.

Although many impacts on freight transport are similar to passenger transport, in particular regarding transport infrastructure, freight transport is subject to different dynamics and requires a separate assessment, which is beyond the scope of this paper.
References
Barros JX (2004) Urban growth in Latin American cities. Exploring urban dynamics through agent-based simulation. Ph.D. thesis, University of London

Cochran I (2009) Climate change vulnerabilities and adaptation possibilities for transport infrastructures in France. Climate Report Issue No. 18. Available via http://www.caissedesdepots.fr/fileadmin/PDF/finance_carbone/etudes_climat/09-09_climate_report_n18_transport_infrastructures_in_france.pdf. Cited 21 Sept 2009

Dawson R (2007) Re-engineering cities: a framework for adaption to global change. Philos Trans R Soc A 365:3085–3098

Dessai SH, Hulme M, Lempert R, Pielke R Jr (2009) Climate prediction: a limit to adaptation? In: Adger NL (ed) Adapting to climate change: thresholds, values, governance. Cambridge University Press, Cambridge

Economics of Climate Adaptation (ECA) (2009) Shaping climate-resilient development – a framework for decision-making. Available via www.swissre.com/resources/387fd3804f928069929e92b3151d9332-ECA_Shaping_Climate_Resilent_Development.pdf. Cited 17 Sept 2009

Eddowes MJ, Waller D, Taylor P, Briggs B, Meade T, Ferguson I (2003) Railway safety implications of weather, climate and climate change: Final report. Commissioned by the Rail Safety and Standards Board. Available via http://www.rssb.co.uk/pdf/reports/research/Safety%20implications%20of%20weather,%20climate%20and%20climate%20change.pdf. Cited 1 Sept 2009

Eichhorst U (2009) Adapting urban transport to climate change. Deutsche Gesellschaft für Technische Zusammenarbeit (GTZ) GmbH, Germany

International Energy Agency (IEA) (2008) CO2 emissions from fuel combustion. IEA, Paris, France

Intergovernmental Panel on Climate Change (IPCC) (2007) Climate change 2007: synthesis report. Contribution of working groups I, II and III to the fourth assessment report of the intergovernmental panel on climate change. Core writing team: Pachauri RK, Reisinger A. Geneva

Koetse M, Rietveld P (2009) The impact of climate change and weather on transport: an overview of empirical findings. Transp Res D 14:205–201

Litman T (2006) Lessons from Katrina and Rita. What major disasters can teach transportation. Available via http://www.vtpi.org/katrina.pdf. Cited 20 Sept 2009

Office of the Deputy Prime Minister (ODPM) (2004) The planning response to climate change: Advice on better practice. ODPM, London. Available via http://www.communities.gov.uk/documents/planningandbuilding/pdf/147597.pdf. Cited 16 Aug 2009

Renne J (2005) Car-less in the eye of Katrina. Planetizen 6 September 2005. Available via http://www.planetizen.com/node/17255. Cited 7 Aug 2009

Savonis MJ, Burkett VR, Potter JR (eds) (2008) Impacts of climate change and variability on transportation systems and infrastructure: Gulf coast study, Phase I. A report by the U.S. Climate Change Science Program and the Subcommittee on Global Change Research. Department of Transportation, Washington, DC. Available via http://www.climatescience.gov/Library/sap/sap4-7/final-report/sap4-7-final-all. Cited 29 Sept 2009

Transportation Research Board (2008) Potential impacts of climate change on U.S. transportation. Transportation Research Board special report 290. Washington, DC. Available via http://onlinepubs.trb.org/onlinepubs/sr/sr290.pdf. Cited 1 Oct 2009

Wooler S (2004) The changing climate: Impact on the department for transport. DfT, UK. Available via http://www.dft.gov.uk/pgr/scienceresearch/key/thechangingclimateitsimpacto1909. Cited 28 Aug 2009

Woolston H (undated): Climate change adaptation for London's transport system. Available via http://www.sd-research.org.uk/wp-content/uploads/cc_adaptation.pdf. Cited 15 Sept 2009
Copyright information

© 2011 Springer Science+Business Media B.V.
About this paper
Cite this paper
Eichhorst, U., Bongardt, D., Miramontes, M. (2011). Climate-Proof Urban Transport Planning: Opportunities and Challenges in Developing Cities. In: Otto-Zimmermann, K. (eds) Resilient Cities. Local Sustainability, vol 1. Springer, Dordrecht. https://doi.org/10.1007/978-94-007-0785-6_9
DOI: https://doi.org/10.1007/978-94-007-0785-6_9

Published:

Publisher Name: Springer, Dordrecht

Print ISBN: 978-94-007-0784-9

Online ISBN: 978-94-007-0785-6