Abstract

This paper reviews the key issues with regard to land resource governance and its dimensions in terms of sustainability and rural development. It explains the links between these areas and the related research and policy implications. It concludes by recommending the required priority actions at the global and country level to move the land resource governance agenda forward within the perspective of promoting sustainability and development of the rural areas and communities. The paper presumes that the land resource governance is expected to remain a key area of national and international engagement in the near future, especially in the context of climate change and food crisis, because the access to land is becoming ever more relevant for livelihood enhancement, food security, and rural development. Moreover, the poor land governance and policies that undermine tenure security often tend to diminish investments and encourage unsustainable practices of land management that generate short-term gains at the cost of social and environmental balance. Based on this, pro-poor, democratic and sustainable governance solutions are urgently required that respect and strengthen the tenure rights and security for smallholder farmers, pastoralists, forest dependent people and indigenous people.
Keywords
Land

Pro-poor governance

Tenure security

Land grabbing

Sustainability

Rural development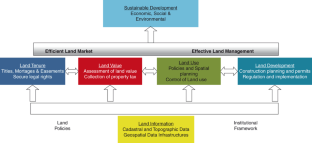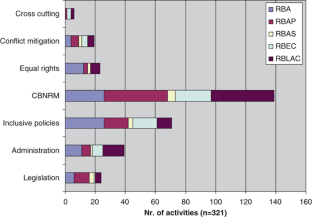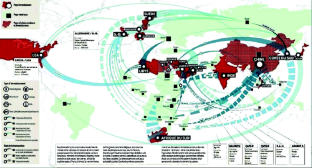 Notes
1.

According to IFAD (2010), there are more than 1.4 billion extremely poor people in the world, struggling to survive on less than US$ 1.25 a day, 70% of them live in the rural areas of the developing countries.

2.

Land access is broader than land rights in a legalistic sense. Land rights do determine access, not only rights of full ownership but also a much wider range of entitlements (e.g., various types of use rights). But access to land is also shaped by social relations, including control over markets, capital, and technology; by relations of power, authority, and social identity; and by relations of reciprocity, kinship, and friendship. These factors may entail a disconnection between having a legal right to use land and being able to claim and enjoy that right in practice (Ribot and Peluso 2003).

3.

Land tenure pertains to all rules, norms and institutions that govern access to land.

4.

With countries and businesses now recognizing the potential of growing some fuel crops on land that cannot sustain food crops, even less-fertile land may now have value (IFAD 2010).

5.

During the current food crisis, most statements of concern and proposed solutions in the international summits—addressing how to achieve increased food security for more than one billion undernourished people—have not focused on the deeper form of insecurity related to the crisis that is also on the rise: insecurity in access to land for more than 1.5 billion people in smallholder households involved in agriculture.

6.

The Tanzanian government, like many African countries, is currently committed to fast-tracking agrofuel initiatives, and switching over vast areas of land to sugar cane, palm oil, and jatropha. The most fertile lands, with best access to water are being targeted, even though these lands are already used for food production by small-scale farmers (African Biodiversity Network 2007).

7.

Important studies are the International Land Coalition (ILC), Global Initiative on Commercial Pressures on Land (CPL), and the Dutch IS Academy on Land Governance. For documents on the ILC Global Initiative studies see http://www.landcoalition.org/cplblog/?cat = 149.

8.

Significant seminars that were organized on the topic were the 3D Seminar "Land Grab: a Human Rights Approach" held in Geneva 16 May 2009, see http://www.3dthree.org/en/page.php?IDcat=-19&IDpage = 51; and the Development Policy Review Network (DPRN) Expert Seminar "Commercial Pressures on Land" held in Utrecht on 8 July 2009. An international academic workshop on "Global Land Grabbing" will be held on 6–8 April 2011 at the Institute of Development Studies (IDS), University of Sussex, Brighton, UK.

9.

Grain has kept an inventory of media releases on land grabs which date back to 2002 (and a lost article from 1989). This inventory today counts a total of 1187 articles. A spur in new coverage is found in May 2008. The peak is noticed from April 2009, and still lasts today. See www.farmlandgrab.org. Under a relatively narrower definition, the International Land Coalition has started an inventory in 2009, in which today some 387 articles are kept. For more information: http://www.landcoalition.org/cpl-blog/?cat = 149.

10.

Investors include the private sector (banks, agribusiness, investment companies, institutional investors, trading companies, mining companies), and in some cases governments (directly or indirectly), through sovereign funds, domestic investors.

11.

A 2009 study titled "Land Grab or Development Opportunity?" jointly produced by the Food and Agriculture Organization of the United Nations (FAO), the International Fund for Agricultural Development (IFAD) and the International Institute for Environment and Development (IIED), analyzed land acquisitions of 1,000 ha or more between 2004 and 2009 from Ethiopia, Ghana, Madagascar, and Mali (FAO, IFAD and IIED 2009). According to the study, about 2 million ha of land across the four countries had been signed over to foreign interests, including a 100,000 ha project in Mali and a 450,000 ha plantation for agrofuel in Madagascar. IIED (2009) identified a cumulative increase in land acquisition in the four countries with the past five years seeing an upward trend in both project numbers and allocated land areas; it also identified further growth of these activities. For example, in July of 2009, the Government of Ethiopia marked out 1.6 million ha of land, extendable to 2.7 million, for investors willing to develop commercial farms. The size of single acquisitions can be very large. Allocations include a 452,500 ha agrofuel project in Madagascar, a 150,000 ha livestock project in Ethiopia and a 100,000 ha irrigation project in Mali.

12.

13.

Malagasy Law No 2007–036 for instance stipulates "foreign natural or legal entities cannot directly have land access. However they are free, without any prior authorization, to agree to a renewable perpetual lease which duration cannot exceed ninety nine years". In Ethiopia the Government owns all the land, which is leased for periods from 20 to 45 years. Such leases vary in price depending on land use etc. (see Foreign Direct Investment in the Agricultural Sector in Ethiopia, EcoFair Trade Dialogue: Discussion paper No. 12 by Lucie Weissleder, University of Bonn, Heinrich Boll Stiftung, Misereor, October 2009. Available at: http://www.ecofair-trade.org/pics/en/FDIs_Ethiopia_15_10_09_c.pdf).
References
African Biodiversity Network (ABN) (2007) Agrofuels in Africa; the impacts on land, food and forests. http://www.biofuelwatch.org.uk/docs/ABN_Agro.pdf

Bertrand M (2000) La question foncière dans les villes du Mali. Karthala, Paris

Borras Jr SM, Franco JC (2008) Land policy and governance: gaps and challenges in policy studies. OGC Brief 1. Oslo Governance Centre/UNDP, Oslo

Braun VJ, Meinzen-Dick R (2009) Land grabbing by foreign investors in developing countries: risks and opportunities. IFPRI Policy Brief 13, April 2009. http://www.landcoalition.org/pdf/ifpri_land_grabbing_apr_09.pdf

Brown D, Slaymaker T, Mann NK (2007) Access to assets: implications of climate change for land and water policies and management. Overseas Development Institute, London

Bruce JW, Migot-Adholla SE (1994) Searching for land tenure security in Africa. Kendall/Hunt, Dubuque, p 282

Comby J, Renard V (1996) Les politiques foncières. Coll. Que Sais-je? PUF, Paris

Cotula L (2006) Gender and law: women's rights in agriculture. Legislative Study No. 76, 2nd edn. FAO, Rome

Cotula L (2007) Legal empowerment for local resource control: securing local resource rights within foreign investment projects in Africa. IIED, London

Cotula L, Nat D, Vermeulen S (2008) Fuelling exclusion? The biofuels boom and poor people's access to land. FAO/IIED, London

Cotula L, Vermeulen S, Leonard R, Keeley J (2009) Land grab or development opportunity? Agricultural investment and international land deals in Africa. IIED/FAO/IFAD, London, p 130

Daley E, Hobley M (2005) Land: changing contexts, changing relationships, changing rights. Document prepared for DFID. DFID, London

Deininger K (2003) Land policies for growth and poverty reduction. World Bank Policy Research Report. World Bank, Washington

Deininger K, Enemark S (2010) Land governance and the millennium development goals. In: Deininger K, Augustinus C, Enemark S, Munro-Faure P (eds) Innovations in land rights recognition, administration, and governance, Washington DC: World Bank Publications, pp 1–11

Don R (2008) Presentation to the Council of Forest Industries 2008 Annual Convention, Kelowna, BC, 17–18 April, 2008

Du Plessis J, Leckie S (2006) Property rights and the need for more inclusive concepts, laws, policies, and practices. In: De Soto H, Cheneval F (eds) Realizing property rights. Rüffer & Rug, Bern, pp 194–303

Enemark S (2004) Building land information policies. In: Proceedings of special forum on building land information policies in the Americas, Aguascalientes, Mexico, 26–27 October 2004 (Gender and access to land, Food and Agriculture Organization)

FAO (2005) Voluntary guidelines to support the progressive realization of the right to adequate food in the context of national food security. Adopted by the 127th Session of the Food and Agriculture Organization Council, November 2004. FAO, Rome

FAO (2007) Good governance in land tenure and administration. In: FAO Land Tenure Studies, vol 9. FAO, Rome

FAO, IFAD, IIED (2009) Land grab or development opportunity? Study jointly produced by the Food and Agriculture Organization of the United Nations (FAO), the International Fund for Agricultural Development (IFAD) and the International Institute for Environment and Development (IIED)

Fernandes E (2006) Principles, bases to support sustainable urban land regularization in Brazil. In: Huchzermeyer M, Karam A (eds) Informal settlements. A perpetual challenge? University of Cape Town Press, Cape Town, pp 62–83

FIAN (2010) Land grabbing in Kenya and Mozambique: a report on two research missions—and a human rights analysis of land grabbing. FIAN International Secretariat, Heidelberg

Government of Kenya (2004) Report of the Commission of Inquiry into the Illegal/Irregular Allocation of Public Land. Government Printer, Nairobi

GRAIN (2008) The 2008 land grab for food and financial security. GRAIN Briefing October 2008. http://www.grain.org/briefings_files/landgrab-2008-en.pdf

Hallam D (2009) Investment in developing country agriculture—issues, policy implications and international response. Paper presented at the Global Forum on International Investment, OECD, 7–8 December 2009

IFAD (2007) Land tenure indicators. International Fund for Agriculture and Development, Rome

IFAD (2010) Land tenure security and poverty reduction. International Fund for Agriculture and Development, Rome

IIED (2009) 'Land grabs' in Africa: can the deals work for development? IIED Briefing Note. http://www.iied.org/pubs/pdfs/17069IIED.pdf

Kameri-Mbote P (2006) Women, land rights and the environment: the Kenyan experience. Development 49(3):43–48

Lavigne Delville PH (2006) Sécurité, insécurités, et sécurisation foncières: un cadre conceptual. Réforme agraire et coopératives 2006/2, pp 18–25. FAO, Rome

Lavigne Delville PH, Toulmin C, Colin JP, Chauveau JP (2001) Negotiating access to land in West Africa: a synthesis of findings from research on derived rights to land. IIED, London

Le Bris E, Le Roy E, Leimdorfer F (1982) Enjeux fonciers en Afrique noire. Orstom-Karthala, Paris

Le Bris E, Le Roy E, Mathieu P (eds) (1991) L'appropriation de la terre en Afrique noire, manuel d'analyse et de gestion foncières. Karthala, Paris

Norfolk S (2004) Examining access to natural resources and linkages to sustainable livelihoods: a case study of Mozambique. FAO LSP Working Paper No 17. FAO, Rome

Ojalammi S (2006) Contested lands: land disputes in semi-arid parts of Northern Tanzania. Department of Geography, Faculty of Science, University of Helsinki, Helsinki

Palmer D, Fricska S, Wehrmann B (2009) Towards improved land governance. Land Tenure Working Paper 11. Food and Agriculture Organization of the United Nations and the United Nations Human Settlements Programme, Rome

Platteau JP, de Janvry A, Sadoulet E, Gordillo G (eds) (2001) Access to land, rural poverty, and public action. Clarendon, Oxford

Quan J, Dyer N (2008) Climate change and land tenure: the implications of climate change for land tenure and land policy. Land Tenure Working Paper 2. Food and Agriculture Organization of the United Nations, Rome

Ribot JC, Peluso NL (2003) A theory of access. Rural Sociol 68(2):153–181

Shipton P, Goheen M (1992) Understanding African landholding: power, land and meaning. Africa 62(3):307–325

Transparency International (2009) Global corruption barometer 2009. Transparency International, Berlin

Transparency International India (2005) India corruption study 2005. Transparency International, New Delhi

UNEP (2007) Governance of land in Africa. http://www.eoearth.org/article/Governance_of_land_in_Africa. Accessed Aug 2010

United Nations Conference on Trade and Development (UNCTAD) (2009) World Investment Report 2009. UNCTAD, Geneva

UNPD (2009) Fighting climate change: human solidarity in a divided world. Human Development Report 2007/2008. United Nations Development Programme, New York

Verie Aarts LLM (2009) Unravelling the land grab: how to protect the livelihoods of the poor? CIDIN, Radboud University Nijmegen/Oxfam Novib, The Hague
Acknowledgements

The authors gratefully acknowledge the contribution of Dr. Sidney Draggan (Scientist and Science Policy Advisor at the Environmental Information Coalition, National Council for Science and the Environment, United States of America) for his precious comments on the original version of the paper. Special thanks are also addressed to Dr. Touria Nakouch (Professor at Ibn Zohr University of Agadir, Morocco) for her relevant suggestions on the paper's grammatical and linguistic consistency.
Copyright information

© 2011 Springer Science+Business Media B.V.
About this chapter
Cite this chapter
Behnassi, M., Yaya, S. (2011). Land Resource Governance from a Sustainability and Rural Development Perspective. In: Behnassi, M., Shahid, S., D'Silva, J. (eds) Sustainable Agricultural Development. Springer, Dordrecht. https://doi.org/10.1007/978-94-007-0519-7_1
DOI: https://doi.org/10.1007/978-94-007-0519-7_1

Published:

Publisher Name: Springer, Dordrecht

Print ISBN: 978-94-007-0518-0

Online ISBN: 978-94-007-0519-7