Abstract

TRPM7 is a ubiquitously expressed nonselective cation channel fused to a C-terminal alpha kinase. TRPM7 current is typically small at physiological magnesium concentrations, but large outwardly rectifying currents develop in low-magnesium extracellular solution when cells are dialyzed with magnesium free solutions during whole-cell patch clamp recordings. In addition to regulation by magnesium, TRPM7 current is potentiated by low extracellular pH and inhibited by depletion of phosphatidylinositol 4,5-bisphosphate (PIP2) during phospholipase C mediated signaling events. A diverse body of literature has implicated TRPM7 in fundamental cellular processes including death, survival, proliferation, cell cycle progression, magnesium homeostasis and responses to shear stress and oxidative stress. Global deletion of TRPM7 in mouse results in embryonic lethality and a thymocyte-restricted conditional knockout exhibits defective thymopoeisis, suggesting a role for TRPM7 in development and organogenesis. In disease states, TRPM7 has been linked to Guamanian amyotrophic lateral sclerosis and parkinsonian dementia (ALS/PD), various forms of neoplasia, hypertension and delayed neuronal death following cerebral ischemia.
Keywords
Transient receptor potential

TRP

Channel-kinase

Magnesium

Calcium

Divalent

Organogenesis

Electrophysiology

PLC

PIP2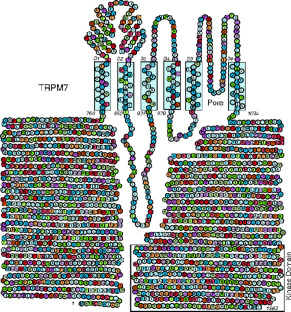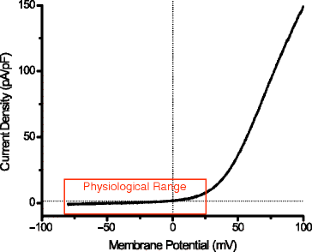 References
Runnels LW, Yue L, Clapham DE (2001) TRP-PLIK, a bifunctional protein with kinase and ion channel activities. Science 291:1043–1047

Ryazanov AG (2002) Elongation factor-2 kinase and its newly discovered relatives. FEBS Lett 514(1):26–29

Nadler MJS, Hermosura MC, Inabe K, Perraud AL, Zhu Q, Stokes AJ, Kurosaki T, Kinet JP, Penner R, Scharenberg AM, Fleig A (2001) LTRPC7 is a MgATP-regulated divalent cation channel required for cell viability. Nature 411:590–595

Fujiwara Y, Minor DL (2008) X-ray crystal structure of a TRPM assembly domain reveals an antiparallel four-stranded coiled coil. J Mol Biol 383:854–870

Jin J, Desai BN, Navarro B, Donovan A, Andrews NC, Clapham DE (2008) Deletion of TRPM7 disrupts embryonic development and thymopoiesis without altering Mg2+ homeostasis. Science 322:756–760

Fonfria E, Murdock PR, Cusdin FS, Benham CD, Kelsell RE, McNulty S (2006) Tissue distribution profiles of the human TRPM7 cation channel family. J Recept Signal Transduct Res 26:159–178

Kunert-Keil C, Bisping F, Kruger J, Brinkmeier H (2006) Tissue-specific expression of TRP channel genes in the mouse and its variation in three different mouse strains. BMC Genomics 7:159

Schlingmann KP, Weber S, Peters M, Nejsum LN, Vitzthum H, Klingel K, Kratz M, Haddad E, Ristoff E, Dinour D, Syrrou M, Nielsen S, Sassen M, Waldegger S, Seyberth HW, Konrad M (2002) Hypomagnesemia with secondary hypocalcemia is caused by mutations in TRPM6, a new member of the TRPM gene family. Nat Genet 31(2):166–170

Chubanov V, Waldegger S, Mederos y Schnitzler M, Vitzthum H, Sassen MC, Seyberth HW, Konrad M, Gudermann T (2004) Disruption of TRPM6/TRPM7 complex formation by a mutation in the TRPM6 gene causes hypomagnesemia with secondary hypocalcemia. PNAS 101(9):2894–2899

Voets T, Nilius B, Hoefs S, van der Kemp AW, Droogmans G, Bindels RJ, Hoenderop JG (2004) TRPM6 forms the Mg2+ channel involved in intestinal and renal Mg2+ absorption. J Biol Chem 279(1):19–25

Li M, Jiang J, Yue L (2006) Functional characterization of homo- and heteromeric channel kinases TRPM6 and TRPM7. J Gen Physiol 127(5):525–537

Hermosura MC, Nayakanti H, Dorovkov MV, Calderon FR, Ryazanov AG, Haymer DS, Garruto RMA (2005) TRPM7 variant shows altered sensitivity to magnesium that may contribute to the pathogenesis of two guamanian neurodegenerative disorders. PNAS 102(32):11510–11515

Hara K, Kokubo Y, Ishiura H, Miyashita A, Kuwano R, Sasaki R, Goto J, Nishizawa M, Kuzuhara S, Tsuji S (2010) TRPM7 is not associated with amyotrophic lateral sclerosis-parkinsonism dementia complex in the Kii Peninsula of Japan. Am J Med Genet B Neuropsychiatr Genet 153B(1):310–313

Landman N, Jeong SY, Shin SY, Voronov SV, Serban G, Kang MS, Park MK, Di Paolo G, Chung S, Kim TW (2006) Presenilin mutations linked to familial Alzheimer's disease cause an imbalance in phosphoinositidyl 4,5-bisphosphate metabolism. PNAS 103(51):19524–19529

Monteilh-Zoller MK, Hermosura MC, Nadler MJS, Scharenberg AM, Penner R, Fleig A (2003) TRPM7 provides an ion channel mechanism for cellular entry of trace metal ions. J Gen Physiol 121:49–60

Langeslag M, Clark K, Moolenaar WH, van Leeuwen FN, Jalink K (2007) Activation of TRPM7 channels by phospholipase C-coupled receptor agonists. J Biol Chem 282(1): 232–239

Kozak JA, Cahalan MDMIC (2003) Channels are inhibited by internal divalent cations but not ATP. Biophys J 84:922–927

Jiang J, Li M, Yue L (2005) Potentiation of TRPM7 inward current by protons. J Gen Physiol 126(2):137–150

Cherny VV, Henderson LM, DeCoursey DE (1997) Proton and chloride currents in chinese hamster ovary cells. Membr Cell Biol 11(3):337–347

Numata T, Okada Y (2008) Proton conductivity through TRPM7 and its molecular determinants. J Biol Chem 283(22):15097–15103

Schmitz C, Dorovkov MV, Zhao X, Davenport BJ, Ryazanov AG, Perraud AL (2005) The channel-kinases TRPM6 and TRPM7 are functionally nonredundant. J Biol Chem 280(45):37763–37771

Bakowski D, Parekh AB (2002) Permeation through store-operated CRAC channels in divalent-free solution: potential problems and implications for putative CRAC channel genes. Cell Calcium 32(5-6):379–391

Kozak JA, Kerschbaum HH, Cahalan MD (2002) Distinct properties of CRAC and MIC channels in RBL cells. J Gen Physiol 120(2):221–235

Zakharov SI, Smani T, Dobrydneva Y, Monje F, Fichandler C, Blackmore PF, Bolotina VM (2004) Diethylstilbestrol is a potent inhibitor of store-operated channels and capacitative Ca2+ influx. Mol Pharmacol 66(3):702–707

Prakriya M, Lewis R (2002) Separation and characterization of currents through store-operated CRAC channels and Mg2+-inhibited cation (MIC) channels. J Gen Physiol 119: 487–507

Ryazanova LV, Dorovkov MV, Ansari A, Ryazanov AG (2004) Characterization of the protein kinase activity of TRPM7/ChaK1, a protein kinase fused to the transient receptor potential ion channel. J Biol Chem 279(5):3708–3716

Runnels LW, Yue L, Clapham DE (2002) The TRPM7 channel is inactivated by PIP2 hydrolysis. Nat Cell Biol 4(5):329–336

Takezawa R, Schmitz C, Demeuse P, Scharenberg AM, Penner R, Fleig A (2004) Receptor-mediated regulation of the TRPM7 channel through its endogenous protein kinase domain. PNAS 101(16):6009–6014

Dorovkov MV, Ryazanov AG (2004) Phosphorylation of annexin I by TRPM7 channel-kinase. J Biol Chem 279(49):50643–50646

Clark K, Middelbeek J, Dorovkov MV, Figdor CG, Ryazanov AG, Lasonder E, van Leeuwen FN (2008) The α-kinases TRPM6 and TRPM7, but not eEF-2 kinase, phosphorylate the assembly domain of myosin IIA, IIB and IIC. FEBS Lett 582(20):2993–2997

Clark K, Langeslag M, van Leeuwen B, Ran L, Ryazanov AG, Figdor CG, Moolenaar WH, Jalink K, van Leeuwen FN (2006) TRPM7, a novel regulator of actomyosin contractility and cell adhesion. EMBO J 25:290–301

Lu W, Seeholzer SH, Han M, Arnold AS, Serrano M, Garita B, Philp NJ, Farthing C, Steele P, Chen J, Linask KK (2008) Cellular nonmuscle myosins NMHC-IIA and NMHC-IIB and vertebrate heart looping. Devl Dyn 237(12):3577–3590

Matsushita M, Kozak JA, Shimizu Y, McLachlin DT, Yamaguchi H, Wei FY, Tomizawa K, Matsui H, Chait BT, Cahalan MD, Nairn AC (2005) Channel function is dissociated from the intrinsic kinase activity and autophosphorylation of TRPM7/ChaK1. J Biol Chem 280(21):20793–20803

Su LT, Agapito MA, Li M, Simonson WTN, Huttenlocher A, Habas R, Yue L, Runnels LW (2006) TRPM7 regulates cell adhesion by controlling the calcium-dependent protease calpain. J Biol Chem 281(16):11260–11270

Su LT, Chen HC, Gonzales-Pagan O, Overton JD, Xie J, Yue L, Runnels LW (2010) TRPM7 activates m-Calpain by stress-dependent stimulation of p38 MAPK and c-Jun N-terminal kinase. J Mol Biol 396(4):858–869

Schmitz C, Perraud AL, Johnson CO, Inabe K, Smith MK, Penner R, Kurosaki T, Fleig A, Scharenberg AM (2003) Regulation of vertebrate cellular Mg2+ homeostasis by TRPM7. Cell 114:191–200

Mishra R, Rao V, Ta R, Shobeiri N, Hill CEA (2009) Mg2+ and MgATP-inhibited and Ca2+/calmodulin-sensitive TRPM7 current-like current in hepatoma and hepatocytes. Am J Physiol Gastrointest Liver Physiol 297:G587–G694

Wykes RC, Lee M, Duffy SM, Yang W, Seward EP, Bradding P (2007) Functional transient receptor potential melastatin 7 channels are critical for human mast cell survival. J Immunol 179(6):4045–4052

Kim BJ, Park EJ, Lee JH, Jeon JH, Kim SJ, So I (2008) Suppression of transient receptor melastatin 7 channel induces cell death in gastric cancer. Cancer Sci 99(12):2502–2509

Rondon LJ, Rayssiguier Y, Dietary MA (2008) Inulin in mice stimulates Mg2+ absorption and modulates TRPM6 and TRPM7 expression in large intestine and kidney. Magnes Res 21(4):224–231

Guilbert A, Gautier M, Dhennin-Duthille I, Haren N, Sevestre H, Ouadid-Ahidouch H (2009) Evidence that TRPM7 is required for breast cancer cell proliferation. Am J Physiol Cell Physiol 297(3):C493–C502

Abed E, Moreau R (2007) Importance of melastatin-like transient receptor potential 7 and cations (magnesium, calcium) in human osteoblast-like cell proliferation. Cell Prolif 40(6):849–865

Abed E, Moreau R (2009) Importance of melastatin-like transient receptor potential 7 and magnesium in the stimulation of osteoblast proliferation and migration by platelet-derived growth factor. Am J Physiol Cell Physiol 297(2):C360–C368

Tani D, Monteilh-Zoller MK, Fleig A, Penner R (2007) Cell cycle-dependent regulation of store-operated ICRAC and Mg2+-nucleotide-regulated MagNuM (TRPM7) currents. Cell Calcium 41(3):249–260

Allridge LC, Bryant CE, Annexin I (2003) Regulates cell proliferation by disruption of cell morphology and inhibition of cyclin D1 expression through sustained activation of the ERK1/2 MAPK signal. Exp Cell Res 290(1):93–107

Oancea E, Wolfe JT, Clapham DE (2006) Functional TRPM7 channels accumulate at the plasma membrane in response to fluid flow. Circ Res 98:245–253

Numata T, Shimizu T, Okada Y (2002) TRPM7 is a stretch- and swelling-activated cation channel involved in volume regulation in human epithelial cells. Am J Physiol Cell Physiol 292:C460–C467

Numata T, Shimizu T, Okada Y (2007) Direct mechano-stress sensitivity of TRPM7 channel. Cell Physiol Biochem 19(1-4):1–8

Bessac BF, Fleig A (2007) TRPM7 channel is sensitive to osmotic gradients in human kidney cells. J Physiol 582(3):1073–1086

Krapivinsky G, Mochida S, Krapivinsky L, Cibulsky SM, Clapham DE (2006) The TRPM7 ion channel functions in cholinergic synaptic vesicles and affects transmitter release. Neuron 52(3):485–496

Brauchi S, Krapivinsky G, Krapivinsky L, Clapham DE (2008) TRPM7 facilitates cholinergic vesicle fusion with the plasma membrane. PNAS 105(24):8304–8308

Aarts M, Iihara K, Wei W, Xiong Z, Arundine M, Cerwinski W, MacDonald JF, Tymianski MA (2003) Key role for TRPM7 channels in anoxic neuronal death. Cell 115(7):863–877

Inoue K, Branigan D, Xiong ZG (2010) Zinc-induced neurotoxicity mediated by transient receptor potential melastatin channels. J Biolo Chem 285(10):7430–7439

Sun HS, Jackson MF, Martin LJ, Jansen K, Teves L, Cui H, Kiyonaka S, Mori Y, Jones M, Forder JP, Golde TE, Orser BA, Macdonald JF, Tymianski M (2009) Suppression of hippocampal TRPM7 protein prevents delayed neuronal death in brain ischemia. Nat Neurosci 12(10):1300–1307

Romero JR, Ridker PM, Zee RYL (2009) Gene variation of the transient receptor potential cation channel, subfamily M, member 7 (TRPM7), and risk of incident ischemic stroke: prospective, nested, case-control study. Stroke 40(9):2965–2968

Yogi A, Callera GE, Tostes R, Touyz RM (2009) Bradykinin regulates calpain and proinflammatory signaling through TRPM7-sensitive pathways in vascular smooth muscle cells. Am J Physiol Regulatory Integrative Comp Physiol 296:R201–R207

Callera GE, He Y, Yogi A, Montezano AC, Paravincini T, Yao G, Touyz RM (2009) Regulation of the novel Mg2+ transporter transient receptor potential melastatin 7 (TRPM7) cation channel by bradykinin in vascular smooth muscle cells. J Hypertens 27(1):155–166

Touyz RM, He Y, Montezano ACI, Yao G, Chubanov V, Gudermann T, Callera GE (2006) Differential regulation of transient receptor potential melastatin 6 and 7 cation channels by ANG II in vascular smooth muscle cells from spontaneously hypertensive rats. Am J Physiol Regulatory Integrative Comp Physiol 290(1):R73–R78

He Y, Yao G, Savoia C, Touyz RM (2005) Transient receptor potential melastatin 7 ion channels regulate magnesium homeostasis in vascular smooth muscle cells. Circ Res 96:207–215

Du J, Xie J, Zhang Z, Tsujikawa H, Fusco D, Silverman D, Liang B, Yue L (2010) TRPM7-mediated Ca2+ signals confer fibrogenesis in human atrial fibrillation. Circ Res 106(5): 992–1003
Copyright information

© 2011 Springer Science+Business Media B.V.
About this chapter
Cite this chapter
Bates-Withers, C., Sah, R., Clapham, D.E. (2011). TRPM7, the Mg2+ Inhibited Channel and Kinase. In: Islam, M. (eds) Transient Receptor Potential Channels. Advances in Experimental Medicine and Biology, vol 704. Springer, Dordrecht. https://doi.org/10.1007/978-94-007-0265-3_9